Print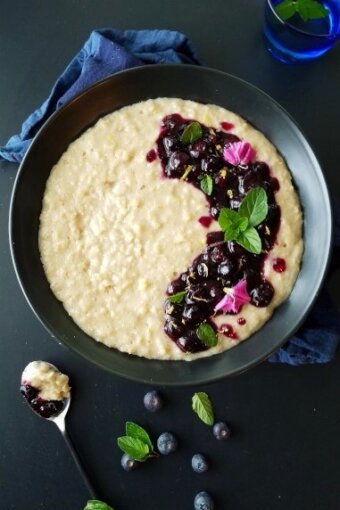 How to Make the Perfect Oatmeal
Learn how to make the perfect oatmeal for breakfast indulgence or a fiber-loaded dessert. These 4 tips guarantee the creamiest and most delicious oatmeal ever! 
1

cup

old fashioned or rolled oats

3

cups

water

A pinch

sea salt (fine crystals), optional

1

teaspoon

pure vanilla extract

2-4

Tablespoons

heavy cream (or coconut milk for a DF version)

1/4

cup

light brown sugar (or more if desired)

You can replace this with another sweetener of your choice
In a saucepan, combine oats, water, and salt. Bring to a boil over high heat.

Reduce heat to medium-low and stir constantly with a pointed wooden spoon or the handle end of a wooden spoon.

Let simmer, while stirring, until cooked (about 5-10 minutes). If using steel-cut oats this will take around 12-15 minutes.

Remove from heat and stir in vanilla, heavy cream or coconut milk, and sweetener.

Enjoy by itself or with a topping of your choice!
Tips adapted from Jaime Oliver.
Mix/Topping suggestions: 

Mixed

with apple sauce, spices, cocoa powder, Nutella, or peanut butter to your cooked oatmeal.

Topped

with blueberry sauce, chocolate chips. dried fruits and/or chopped nuts, fresh berries, banana rounds and honey drizzle, preserves,  a smear of butter and a sprinkle of brown sugar for a caramel-like flavor, etc. The options are endless! ;)