Learn how to make the perfect oatmeal for breakfast indulgence or a fiber-loaded dessert. Our 4 tips guarantee the creamiest and most delicious oatmeal ever!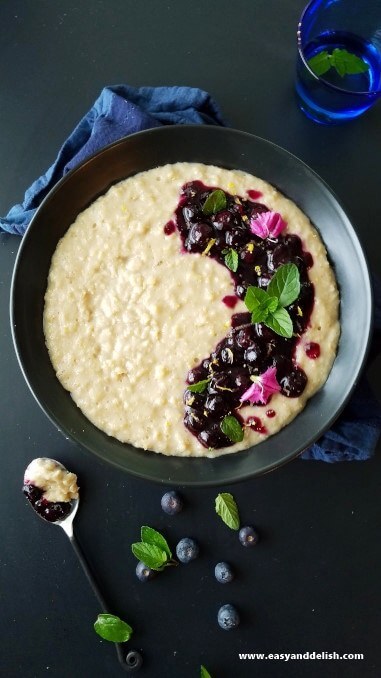 Oatmeal is a very popular breakfast dish in many countries, including in the United States. But do you how to make the perfect oatmeal?
If not, check out our 4 tips below.  Our method is both gluten free and dairy-free!
How To Make the Perfect Oatmeal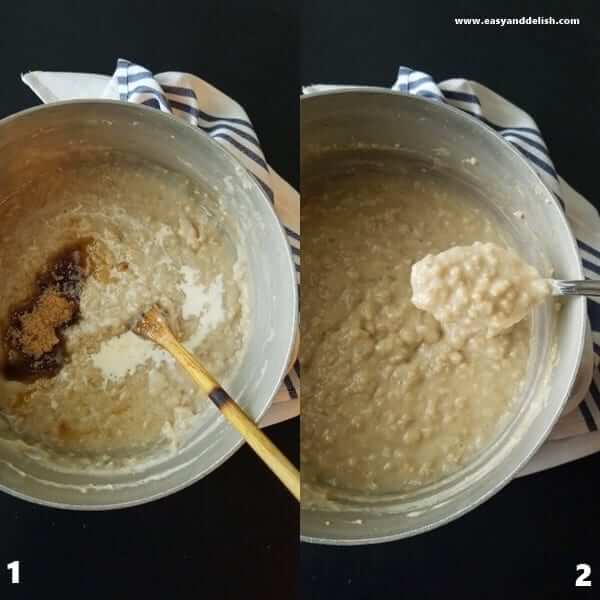 The type of oats: Either steel-cut/Scottish oats or old fashioned oats/rolled oats (100% whole grains) — both are less processed than instant oatmeal and hold their shape better once cooked. They also take longer to cook, absorb more liquid, and produce a smooth texture (while instant oatmeal cooks faster, yet often winds up mushy and/or lumpy).
Water rather than dairy: Water is the ideal liquid for cooking oats because in contrast to milk, there is less of a chance for scorching. A touch of dairy (whole milk, half-half or heavy cream) or canned coconut milk can be added after cooking for extra creaminess and richness.
Proportion of oats to water: The right proportion is 1:3– that means, for example, 1 cup of oats to 3 cups of water in order to cook the oats perfectly. The best way to cook them is by first bringing the mixture of oats/water to a boil over high heat, and then reducing heat to medium-low for a simmer.
Breaking oats down by stirring until cooked: The ideal tool is either a pointed wooden spoon or the end of a wooden spoon.  Steel-cut oats should take about 12-15 minutes to cook, while rolled oats will take approximately 5-10 minutes. This makes rolled oats my preferred oats because they cook quicker than steel-cut, while holding still their shape relatively well. The heat and stirring cause both oats to release their starch, which adds to the creaminess.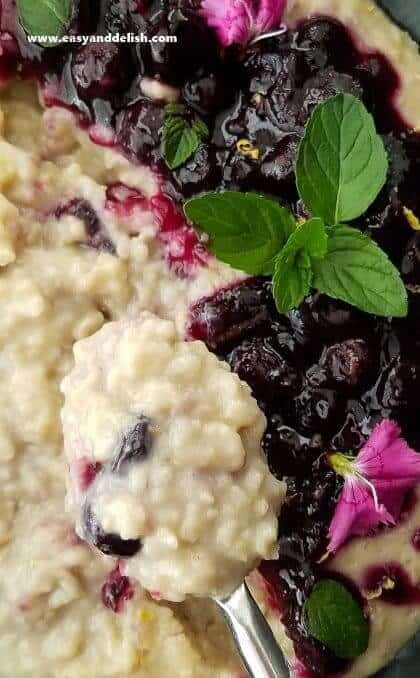 Toppings are a whole separate chapter. I used a blueberry lemon sauce for my oatmeal, but one can vary according to one's preference. My daughters love theirs mixed with a bit of heavy cream and apple sauce.
However, you can add spices, applesauce, cocoa powder, Nutella, or peanut butter to your cooked oatmeal.  Top with chocolate chips, dried fruits and/or chopped nuts, fresh berries, or banana rounds and honey (the latter, very common in Brazil)…
… or use preserves as a topping, or a smear of butter and a sprinkle of brown sugar for a caramel-like flavor, etc. The options are endless! 😉
Every time, it comes out consistently creamy and delicious, but the different toppings make it exciting! That is the beauty of it all!
In addition, if you're serving oatmeal for breakfast it can be less sweet than serving as a dessert. The type of sweeteners also vary according to each person's choice — granulated sugar, brown sugar, honey, maple syrup, agave, sugar substitute, etc.
Adding a pinch of salt while cooking oatmeal is not required but certainly helps to bring out the sweetness of the topping or added mix.
Well, I hope these tips help you to make the best oatmeal that you have ever had. It certainly helped me because my family says that I make the best!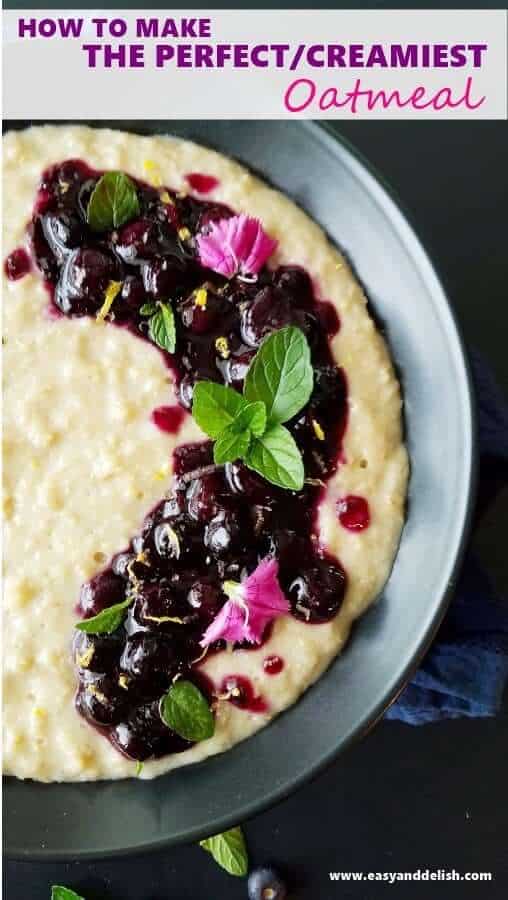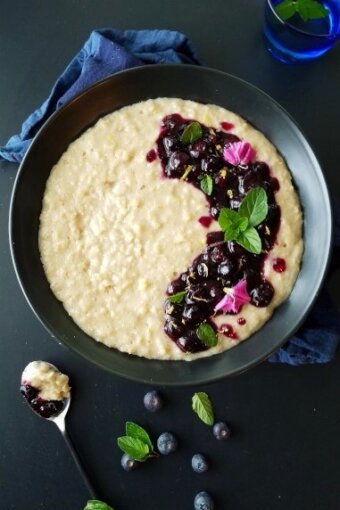 How to Make the Perfect Oatmeal
Learn how to make the perfect oatmeal for breakfast indulgence or a fiber-loaded dessert. These 4 tips guarantee the creamiest and most delicious oatmeal ever! 
Ingredients
1

cup

old fashioned or rolled oats

3

cups

water

A pinch

sea salt (fine crystals), optional

1

teaspoon

pure vanilla extract

2-4

Tablespoons

heavy cream (or coconut milk for a DF version)

1/4

cup

light brown sugar (or more if desired)

You can replace this with another sweetener of your choice
Instructions
In a saucepan, combine oats, water, and salt. Bring to a boil over high heat.

Reduce heat to medium-low and stir constantly with a pointed wooden spoon or the handle end of a wooden spoon.

Let simmer, while stirring, until cooked (about 5-10 minutes). If using steel-cut oats this will take around 12-15 minutes.

Remove from heat and stir in vanilla, heavy cream or coconut milk, and sweetener.

Enjoy by itself or with a topping of your choice!
Recipe Notes
Tips adapted from Jaime Oliver.
Mix/Topping suggestions: 

Mixed

with apple sauce, spices, cocoa powder, Nutella, or peanut butter to your cooked oatmeal.

Topped

with blueberry sauce, chocolate chips. dried fruits and/or chopped nuts, fresh berries, banana rounds and honey drizzle, preserves,  a smear of butter and a sprinkle of brown sugar for a caramel-like flavor, etc. The options are endless! 😉