Print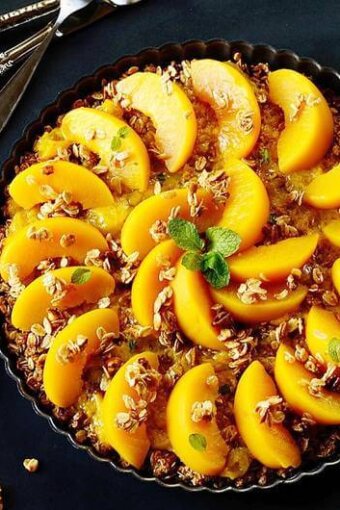 Peach Maple Breakfast Pie
A simple, healthy, and delicious Peach Maple Breakfast Pie that combines a crust made of granola, maple syrup, spices, and pecans, topped with a microwave-prepared peach sauce.
Preheat oven to 375 F.

Grease a 11-inch pie/tart pan with no stick cooking spray. Set aside.

In a large mixing bowl, combine 4 cups of granola, flour, spices, maple syrup, and pecans (if desired), stirring until completely combined. Use a greased wooden spoon or spatula to combine ingredients of the crust, or you can spray your hands with no stick cooking spray so that the mixture doesn't stick. Press mixture into greased pie/tart pan.

Bake for about 8-10 minutes, or until golden brown. Let pan cool completely on a rack.

Meanwhile, prepare the peach sauce. Stir water and cornstarch in a microwave-safe bowl until well blended. Use a fork to mash about 10 sliced peaches, mix in in the water/cornstarch mixture, and microwave for 2-3 minutes, or until sauce is thickened.

Spread sauce on top of cooled pie and then arrange decoratively about 22-26 Dole Sliced Peaches on top, cover, and refrigerate for 30 minutes, or until chilled.

Garnish peach maple breakfast pie with 1/2 cup of granola and serve. It can be topped with a dollop of Greek yogurt if desired. Enjoy! INACTIVE TIME: 30 minutes.
STORAGE: Leftovers can be covered and refrigerated for up to 2-3 days.