Print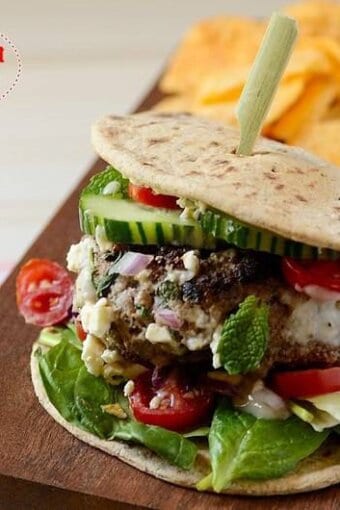 Beef and Bulgur Wheat Cheeseburger (Kibe X-Tudo)
Beef and Bulgur Wheat Cheeseburger, also known as Kibbeh Cheeseburger, has a chubby patty made from a mixture of ground beef, cracked wheat, spices, red onion, parsley, and mint. One of the tastiest burgers ever!
2

tablespoons

bulgur or cracked wheat

150

g

ground beef

about 1/3 of a pound

1/2

teaspoon

salt

1/2

teaspoon

ground black pepper

1/2

teaspoon

ground cumin

A few drops of fresh lime juice

2

tablespoons

red onion

minced

2

tablespoons

fresh mint

finely chopped

2

tablespoons

fresh parsley

finely chopped

1

Flatout Foldit® Artisan Flatbread

1-2

tablespoons

hummus

1/3

cup

salad mix of your choice

2-3

slices

grape tomatoes

sliced (or 2of a medium/large tomato)

4

slices

of cucumber

1-2

tablespoons

crumbled goat cheese or feta cheese
Place bulgur or cracked wheat in a small bowl and stir in about 1/3 cup boiling water. Let sit for about 10 minutes or until water is fully absorbed by the wheat. Then, press the wheat in a colander to remove any excess water.

In a medium bowl, mix the wheat well with the ground beef, seasonings, drops of lime juice, red onion, mint, and parsley. Shape into a chubby burger patty and then cook over medium heat (large burner) for about 4 minutes per side.

On a plate or flat surface, arrange the burger: lay flatbread open, spread hummus on (bottom), place salad leaves on top and then arrange 1/2 of the slices of tomato and cucumber. Place cooked burger patty on top. Arrange the remaining slices of tomato and cucumber on top of the patty, spoon on the cheese, and finish by spreading more hummus on the top section of flatbread. Cover the burger with the top flatbread. Serve with a wedge of lime to squeeze over the patty if desired, chips, and a chilled beverage. Enjoy!
No egg, cornstarch, or any other binding ingredient is necessary to form the burger patty because of the bulgur wheat. The bulgur/cracked wheat will give the patty a nice crust.