Disclosure: This is a compensated campaign in collaboration with Flatout Bread and Society Culinaria. Thank you, friends, for supporting the brands that I work with and love! 
When you think about street food, what springs to mind? Kibbeh Cheeseburger (Kibe X-Tudo) is one Brazilian dish that makes my mouth water just thinking about it. But instead of just dreaming, I brought it to reality for my big ole mouth. 😉 It is none other than a tall beef and bulgur wheat cheeseburger with several delicious and fresh toppings...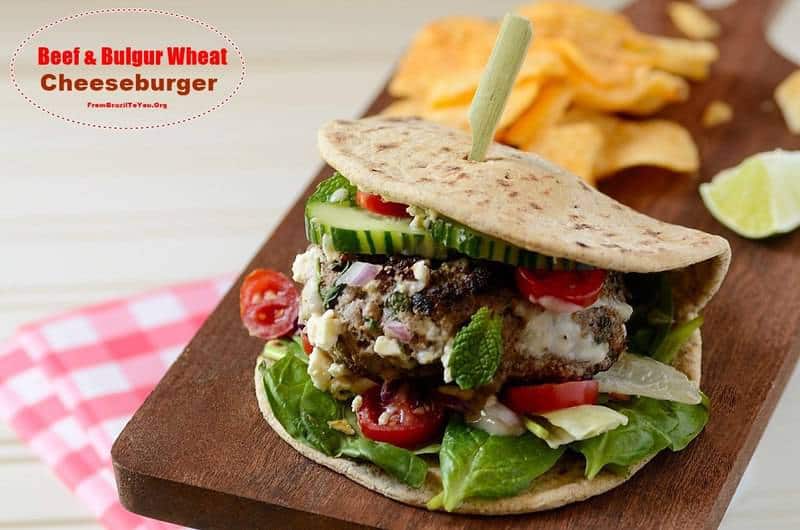 ... but the composition of the patty is what makes this chubby burger quite special. Ground beef combined with bulgur or cracked wheat (a binding ingredient that gives a nice crust to the patty), salt, pepper, cumin, lime juice, red onion, parsley and refreshing mint make this ONE UNFORGETTABLE burger patty.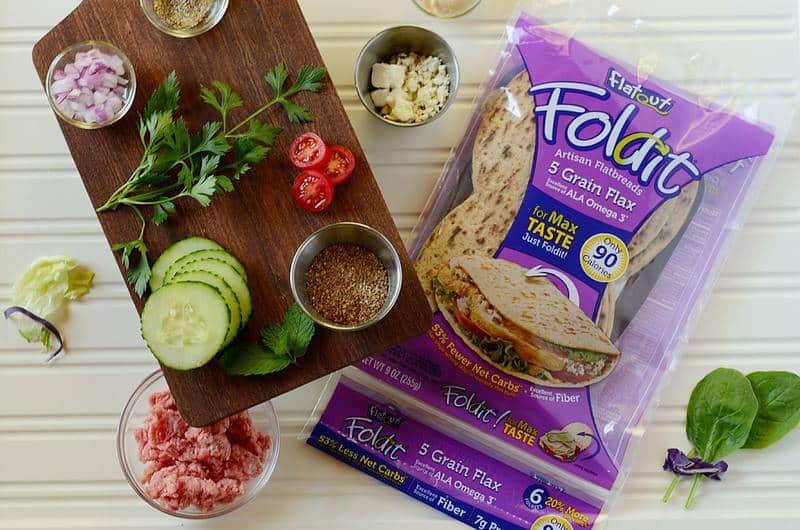 Of course, fresh leaves and vegetables, crumbled feta cheese, hummus... and especially a 5 Grain Flax Flatout Foldit Artisan Flatbread of just 90 calories all complete the package (meaning the burger) deliciously. It is summer food perfection delivered with every bite!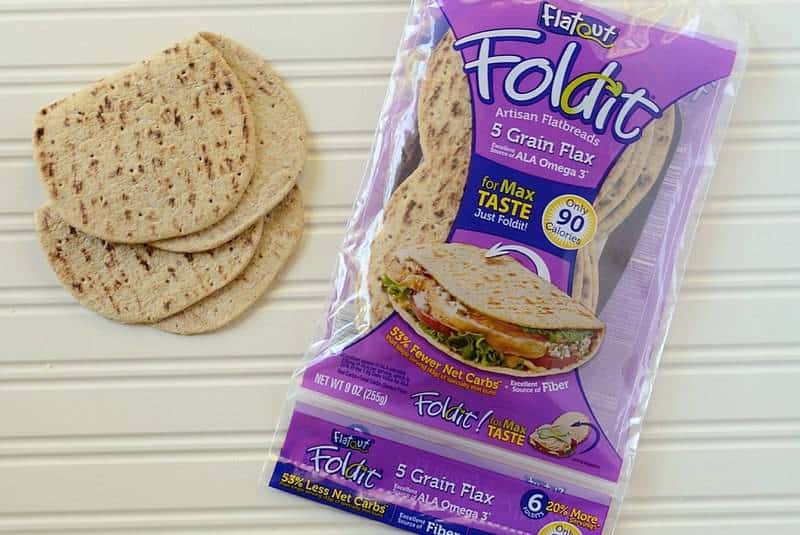 I used a flatbread instead of a regular burger bun or pita pocket, because it contains less calories and carbs, and is a blank canvas. It's the perfect partner for helping people of all ages to make healthier choices... and helping us all to prepare extraordinary dishes without fuss. Actually, every Flatout flatbread variety is low in fat, a good source of fiber, and of course perfect for burgers and sandwiches, wraps, pinwheels, and pizzas.
All ingredients are available at your local supermarket, but you can use this store locator to see where Flatout bread is available near you.
This must-have Southeastern Brazilian kibbeh cheeseburger has its roots in of our most popular immigrant cuisines: namely, Lebanese cuisine. In Brazil, our so-called kibe x-tudo sandwich is stuffed with a torpedo-shaped fried croquette made with basically the same ingredients as our pan-fried patty... and served in a pita bread pocket with fresh vegetables, hummus, and cheese. Despite a few tweaks that we made, you can still have the same experience as ordering a kibbeh cheeseburger from a snack shack or street stand in Brazil -- but all without leaving home. 😉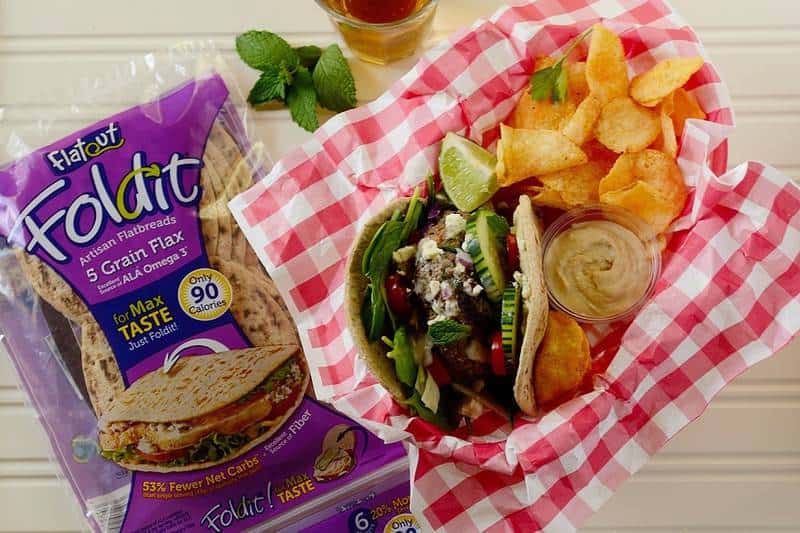 Yes, we brought the best of Brazil's street food... to you!
Now sit on your patio, open your mouth wide, and enjoy... because, my friend, there is no burger like this beef and bulgur wheat cheeseburger!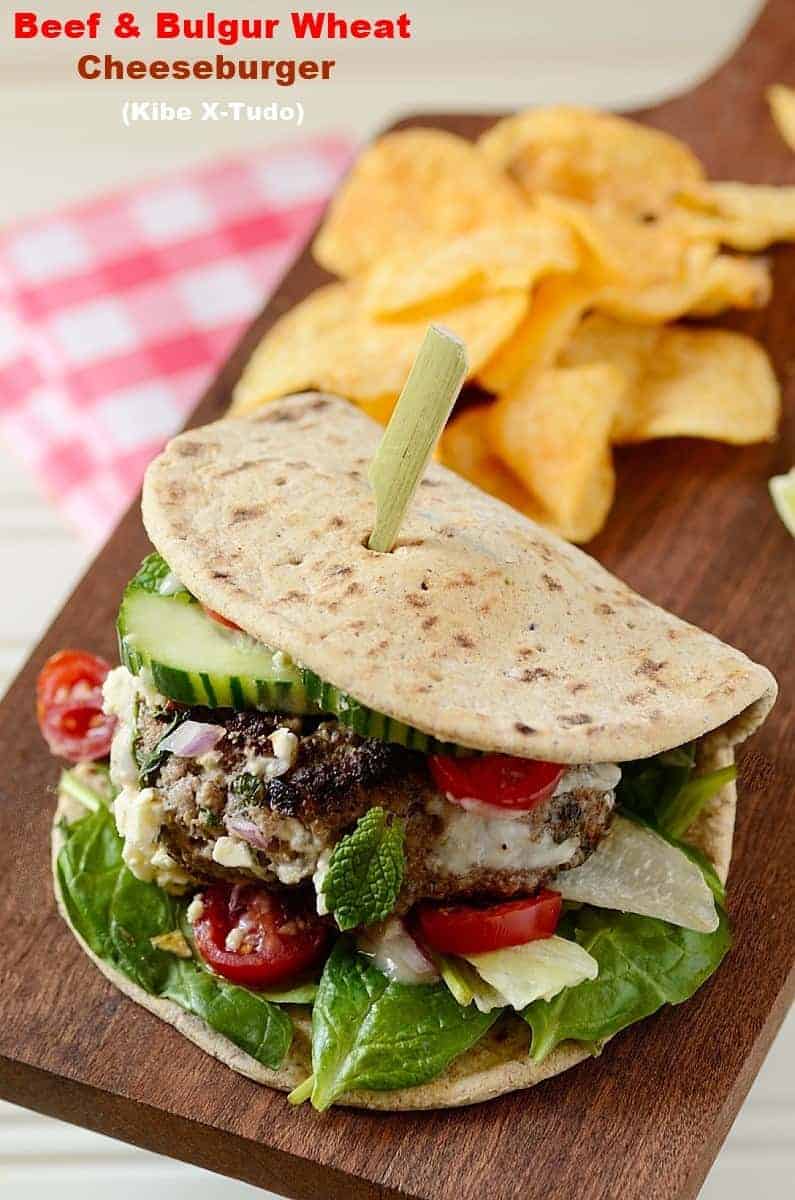 Grab yourself a chilled beverage too, and have a happy summer!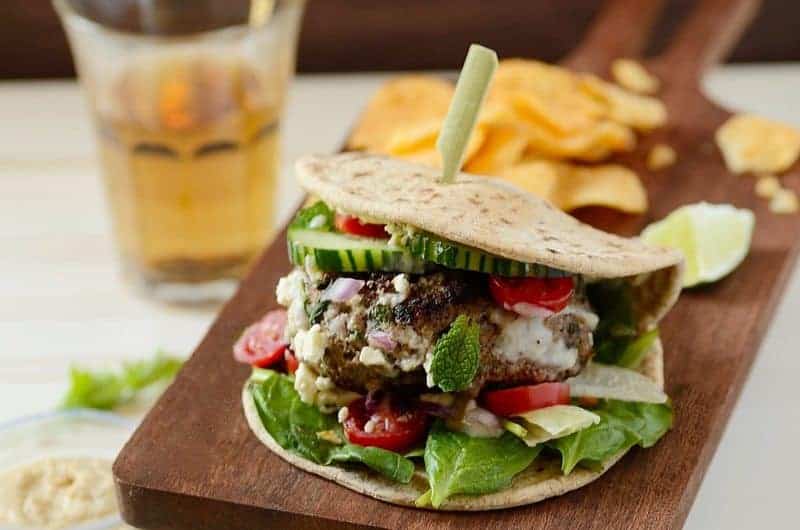 Beef and Bulgur Wheat Cheeseburger (Kibe X-Tudo)
Beef and Bulgur Wheat Cheeseburger, also known as Kibbeh Cheeseburger, has a chubby patty made from a mixture of ground beef, cracked wheat, spices, red onion, parsley, and mint. One of the tastiest burgers ever!
Ingredients
2

tablespoons

bulgur or cracked wheat

150

g

ground beef

about ⅓ of a pound

½

teaspoon

salt

½

teaspoon

ground black pepper

½

teaspoon

ground cumin

A few drops of fresh lime juice

2

tablespoons

red onion

minced

2

tablespoons

fresh mint

finely chopped

2

tablespoons

fresh parsley

finely chopped

1

Flatout Foldit® Artisan Flatbread

1-2

tablespoons

hummus

⅓

cup

salad mix of your choice

2-3

slices

grape tomatoes

sliced (or 2of a medium/large tomato)

4

slices

of cucumber

1-2

tablespoons

crumbled goat cheese or feta cheese
Instructions
Place bulgur or cracked wheat in a small bowl and stir in about ⅓ cup boiling water. Let sit for about 10 minutes or until water is fully absorbed by the wheat. Then, press the wheat in a colander to remove any excess water.

In a medium bowl, mix the wheat well with the ground beef, seasonings, drops of lime juice, red onion, mint, and parsley. Shape into a chubby burger patty and then cook over medium heat (large burner) for about 4 minutes per side.

On a plate or flat surface, arrange the burger: lay flatbread open, spread hummus on (bottom), place salad leaves on top and then arrange ½ of the slices of tomato and cucumber. Place cooked burger patty on top. Arrange the remaining slices of tomato and cucumber on top of the patty, spoon on the cheese, and finish by spreading more hummus on the top section of flatbread. Cover the burger with the top flatbread. Serve with a wedge of lime to squeeze over the patty if desired, chips, and a chilled beverage. Enjoy!
Recipe Notes
No egg, cornstarch, or any other binding ingredient is necessary to form the burger patty because of the bulgur wheat. The bulgur/cracked wheat will give the patty a nice crust.
** Nutrition labels on easyanddelish.com are for educational purposes only. This info is provided as a courtesy and is only an estimate, since the nutrition content of recipes can vary based on ingredient brand or source, portion sizes, recipe changes/variations, and other factors. We suggest making your own calculations using your preferred calculator, based on which ingredients you use, or consulting with a registered dietitian to determine nutritional values more precisely.
Please note that health-focused and diet information provided on easyanddelish.com is for educational purposes and does not constitute medical advice, nor is it intended to diagnose, treat, cure, or prevent disease. Consult with your doctor or other qualified health professional prior to initiating any significant change in your diet or exercise regimen, or for any other issue necessitating medical advice.
DID YOU MAKE THIS RECIPE?
Comment and rate the recipe. Also follow us on Pinterest at @easyanddelish for more delish recipes.