Print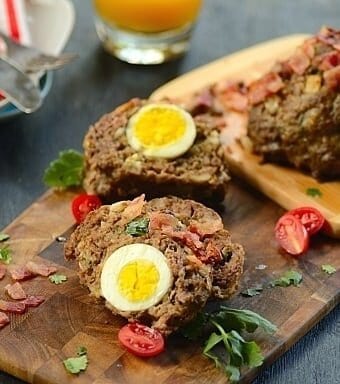 Egg Stuffed Meatloaf (Bolo de Carne Alemão)...From Southern Brazil to You!
An authentic, rustic, and juicy meatloaf stuffed with hard-boiled egg and topped with bacon -- no mold is necessary and cooking time drops considerably.
For the Meatloaf:

1.8

lbs

ground beef

800 g, with 20 to 30% fat

1

garlic clove

minced

1

small yellow or white onion

chopped

1

tablespoon

salt

1/4 - 1/2

teaspoon

ground black pepper

1/4

cup

chopped green onions

2

tablespoons

chopped parsley

2

tablespoons

tomato paste

2

large eggs

1-1/2

cups

bread crumbs

1/2

cup

water

Olive oil for brushing

For the Filling:

3

large eggs

hard-boiled and peeled

For the Topping :

optional

4

strips of uncooked bacon

chopped
Preheat oven to 482° F (250 ° C).

In a large bowl, mix together the ground beef, garlic, onion , salt , pepper, green onions and parsley, tomato paste, 2 eggs, bread crumbs and water. Let rest for 10 minutes at room temperature. Separate into 3 equal portions, form each portion into a round meatloaf, open a hole in the center of each meatloaf, and stuff with 1 peeled hard-boiled egg per meatloaf. Cover each egg with the ground beef, shaping each meatloaf well. Transfer the stuffed meatloaves to a large rectangular baking sheet, greased with olive oil. Brush the meatloaves with olive oil and bake. Meanwhile, cook chopped strips of bacon for about 2-3 minutes in a skillet over medium heat. Set aside.

After the meatloaves have baked in the oven for 15 minutes, remove baking pan and distribute the strips of chopped bacon over the meatloaves (and some of the rendered bacon fat as well). Return pan to the oven and let bake for 5 more minutes, (i.e. for 20 minutes total cooking time for the meatloaves). The meatloaves should be golden outside and the inner portions well cooked before removing from the oven. Serve with potato salad or mashed potatoes.