Hello, y'all! I hope you had a great weekend. I have a special recipe that I'd like to share with you today: Egg Stuffed Meatloaf or Bolo de Carne Alemão. Excited?
As you can see, meatloaf is not just unique to the American table. As a result of German immigration to Southern Brazil in the first quarter of the 19th century, we enjoy this traditional dish at our table as well. The difference here is that our meatloaf is stuffed with hard-boiled egg, and sometimes topped with pieces of bacon. Although I could have used a mold to shape our meatloaf, I didn't because I wanted to make this recipe as authentic as possible... and also because our meatloaf is smaller and cooks much faster. I am telling you, this one tasty meatloaf!!! It is commonly accompanied by potato salad or mashed potatoes... I can already foresee your smile!!!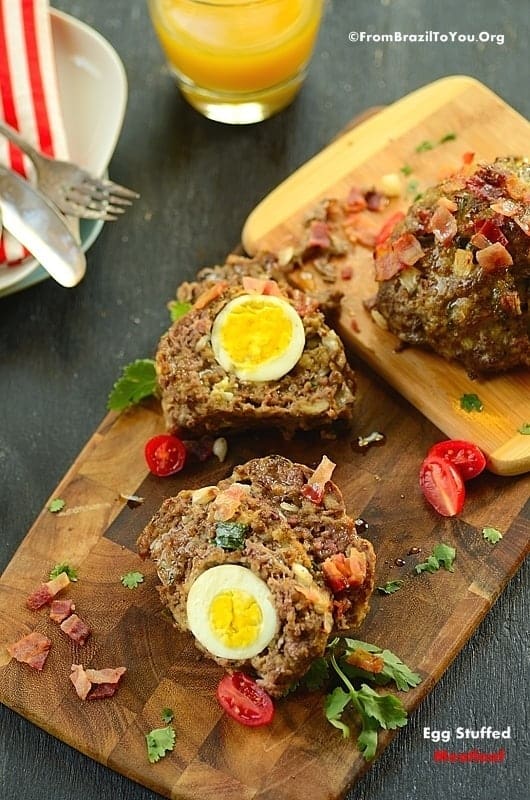 I bet you didn't know that Brazil is home to the second largest number of Germans outside of Germany. They used to appear in fourth place among immigrants to Brazil, but dropped to fifth place when Japanese immigration increased in the beginning of the 20th century.
As you can see below, German immigrants have influenced our architecture...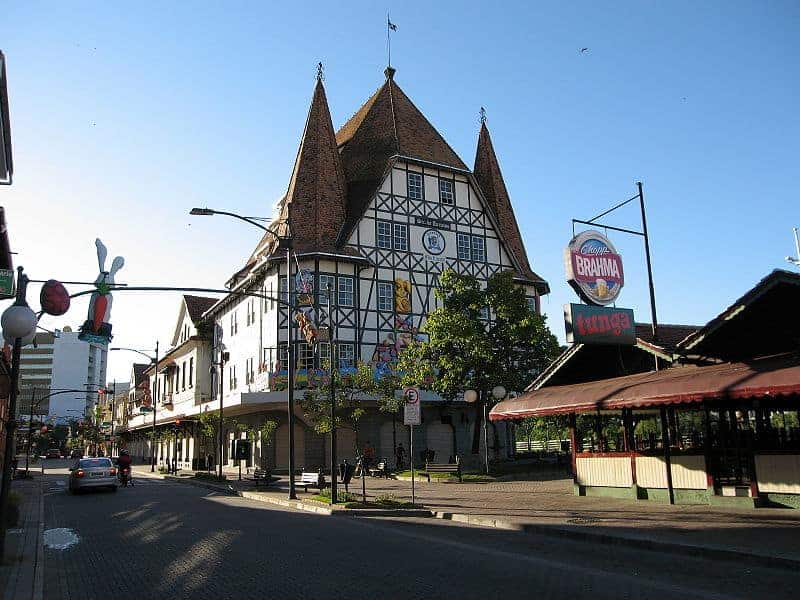 Downtown Blumenau, Santa Catarina, Brazil. 
... ethnic composition and culture...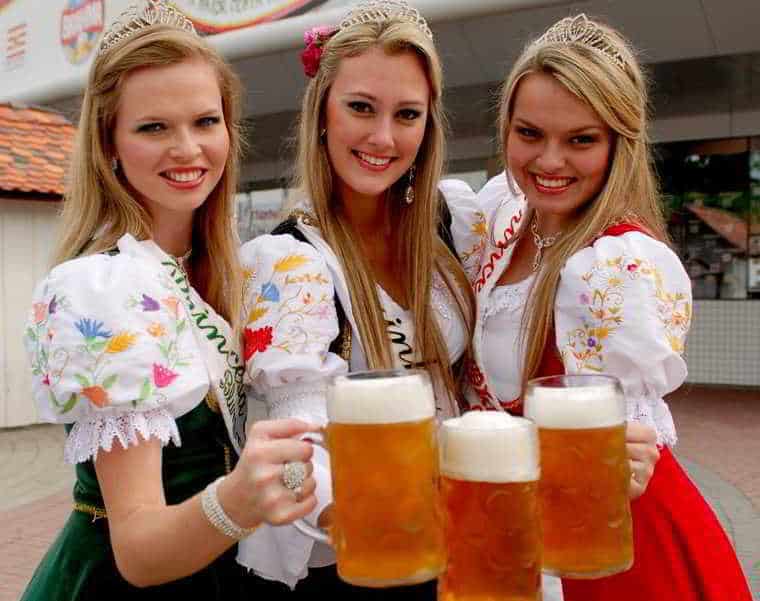 Oktoberfest, in Blumenau, Santa Catarina, Brazil.
...and  cuisine with their coffee cakes, sausages, jams, cold meats, breads, cheeses, cookies, beer, and many other delicious food items.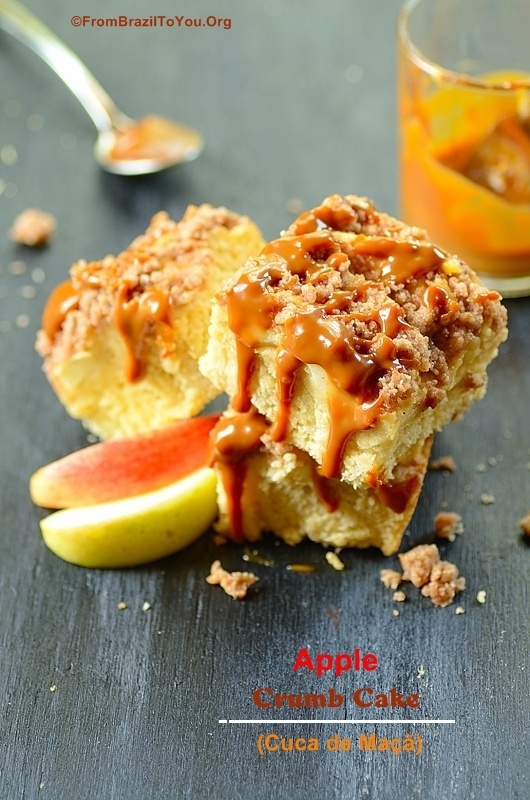 Applekuchen or Cuca de Maçã-- A German coffee cake!
Would you like to have a taste of German food from Southern Brazil? Well, how about preparing a meal where you serve this amazing egg stuffed meatloaf and have for dessert our cuca de maçã (apfelkuchen)? I will be awaiting your feedback!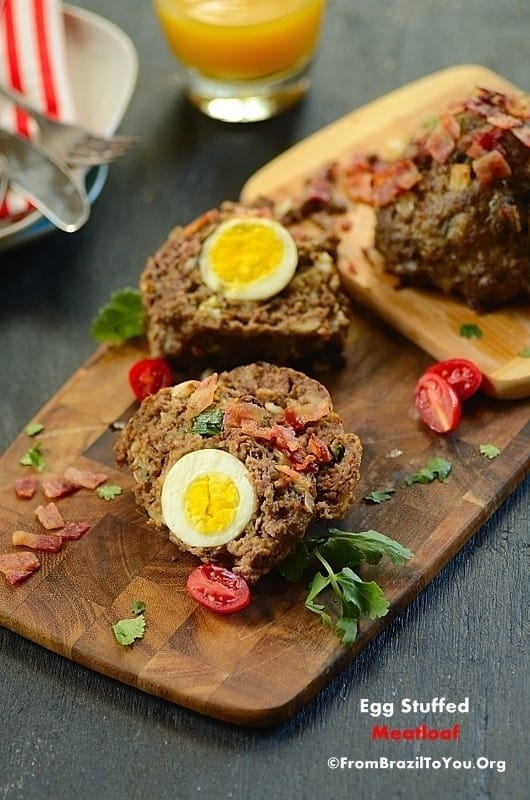 xx
Egg Stuffed Meatloaf (Bolo de Carne Alemão)...From Southern Brazil to You!
An authentic, rustic, and juicy meatloaf stuffed with hard-boiled egg and topped with bacon -- no mold is necessary and cooking time drops considerably.
Ingredients
For the Meatloaf:

1.8

lbs

ground beef

800 g, with 20 to 30% fat

1

garlic clove

minced

1

small yellow or white onion

chopped

1

tablespoon

salt

¼ - ½

teaspoon

ground black pepper

¼

cup

chopped green onions

2

tablespoons

chopped parsley

2

tablespoons

tomato paste

2

large eggs

1-½

cups

bread crumbs

½

cup

water

Olive oil for brushing

For the Filling:

3

large eggs

hard-boiled and peeled

For the Topping :

optional

4

strips of uncooked bacon

chopped
Instructions
Preheat oven to 482° F (250 ° C).

In a large bowl, mix together the ground beef, garlic, onion , salt , pepper, green onions and parsley, tomato paste, 2 eggs, bread crumbs and water. Let rest for 10 minutes at room temperature. Separate into 3 equal portions, form each portion into a round meatloaf, open a hole in the center of each meatloaf, and stuff with 1 peeled hard-boiled egg per meatloaf. Cover each egg with the ground beef, shaping each meatloaf well. Transfer the stuffed meatloaves to a large rectangular baking sheet, greased with olive oil. Brush the meatloaves with olive oil and bake. Meanwhile, cook chopped strips of bacon for about 2-3 minutes in a skillet over medium heat. Set aside.

After the meatloaves have baked in the oven for 15 minutes, remove baking pan and distribute the strips of chopped bacon over the meatloaves (and some of the rendered bacon fat as well). Return pan to the oven and let bake for 5 more minutes, (i.e. for 20 minutes total cooking time for the meatloaves). The meatloaves should be golden outside and the inner portions well cooked before removing from the oven. Serve with potato salad or mashed potatoes.
** Nutrition labels on easyanddelish.com are for educational purposes only. This info is provided as a courtesy and is only an estimate, since the nutrition content of recipes can vary based on ingredient brand or source, portion sizes, recipe changes/variations, and other factors. We suggest making your own calculations using your preferred calculator, based on which ingredients you use, or consulting with a registered dietitian to determine nutritional values more precisely.
Please note that health-focused and diet information provided on easyanddelish.com is for educational purposes and does not constitute medical advice, nor is it intended to diagnose, treat, cure, or prevent disease. Consult with your doctor or other qualified health professional prior to initiating any significant change in your diet or exercise regimen, or for any other issue necessitating medical advice.
DID YOU MAKE THIS RECIPE?
Comment and rate the recipe. Also follow us on Pinterest at @easyanddelish for more delish recipes.
Credits:
** Downtown Blumenau, Santa Catarina, Brazil. Credit to Schmidt. Creative Commons Attribution-ShareAlike version 1.0.
** Oktoberfest-Blumenau-2011 by oktoberfestblumenau.org