Print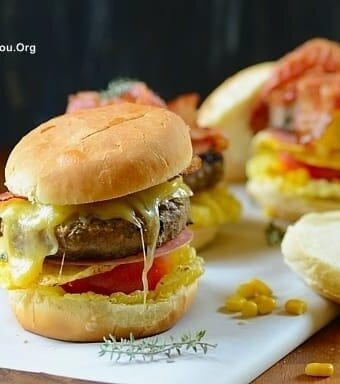 X-Tudo -- The Brazilian Burger on Steroids!
An outrageously delicious, tall burger with many, many toppings...
1 1/2

pounds

ground chuck

80 percent lean

1/2

teaspoon

salt

1/2

teaspoon

freshly ground black pepper

3/4

teaspoon

granulated garlic powder

1

pinch

cumin

1-1/2

tablespoons

vegetable oil

4

slices

mozzarella cheese

4

hamburger buns

split and toasted, if desired

Mayonnaise

I like to use Hellman's lime mayonnaise

4

lettuce leaves

4

tablespoons

steamed corn kernels

4

slices

tomato

large slices

4

fried eggs

4

slices

deli ham or hard salami

I used hard salami on mine

8

strips of smoked bacon

cooked

Shoestring potatoes

Ketchup and either deli or Dijon mustard
Prepare the burger patties: In a large mixing bowl, combine together the ground beef, salt, pepper, garlic powder, and cumin. Mix until well incorporated. Divide the ground meat into 4 equal portions of 6 ounces each. Form each portion loosely into an approximately 3/4-inch-thick burger patty.

In a large cast-iron griddle pan, spread and heat the oil until just beginning to shimmer. Cook the burger patties for about 3 minutes or until slightly charred on the first side. Then, flip over the burger patties and cook for 3 minutes or until slightly charred on the second side. Top each patty with one slice of cheese and cover the pan so cheese can melt (about 1 minute).

To assemble the X-Tudo: Spread mayonnaise on the inside of the buns. Top the bottom part of the bun with one lettuce leaf, 1 tablespoon of cooked corn kernels, one slice of tomato, one burger patty with melted cheese, one fried egg, one slice of ham or salami, a sprinkle of crushed or ground black pepper, 2 strips of bacon, and shoestring potatoes. Squeeze on ketchup and deli mustard, and then top with the other half of the bun. Serve x-tudo immediately with guaraná soda or beer. Enjoy!