X-Tudo is the Brazilian burger of all burgers! It has beef patty, melted cheese, fried egg, deli ham, bacon, tomato, lettuce, corn, and shoestring potatoes. So delish!
America is the land of burgers... and so is Brazil!!! Huh? To be more specific: Brazil is the land of the X-Tudo -- a hamburger on Steroids!!!! And X-Tudo (pronounced: sheess-TOO-doo) is what I have for you today! How about that?
What's X-Tudo?
X-Tudo (translated as 'cheese-everything') is a TALL Brazilian burger with many toppings. In fact, its is so tall that you can't get your mouth, no matter how big, around the whole burger.
Yes, eating this burger is a fun, deliciously messy experience which one must have at least once in life... It is so good that it makes every single calorie consumed worthwhile.
Just like any other burger, x-tudo is about taste -- not aesthetics...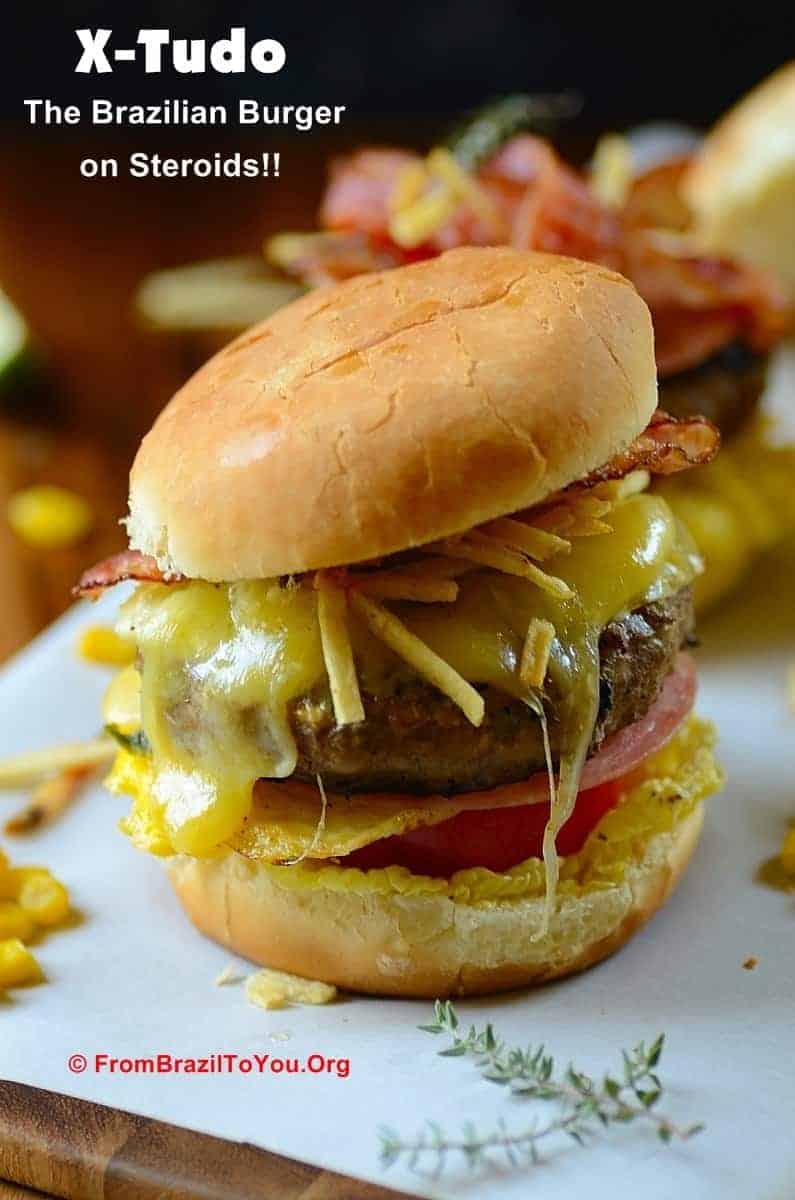 X-Tudo Variations
In Brazil, X-tudo is available at snack bars and on the streets.
There are many variations of x-tudo e.g.:
X-Caipira (sausage, egg, tomato, and onion),
X-Salada (hamburger patty, cheese, lettuce, and tomato),
X-Bacon (hamburger patty, cheese, bacon, lettuce, and tomato),
X-Frango (chicken breast, cheese, lettuce, and tomato), etc...
Which one of the above would you pick as your favorite?
Well, mine is still the classic burger which is pretty much composed of a juicy hamburger patty, melted cheese, fried egg, deli ham, bacon, corn, lettuce, tomato, and shoestring potatoes -- all sandwiched between a burger bun. 🙂 It is often eaten with mayonnaise, ketchup, and mustard.
Does it sound good to you? Well, the good news is that you don't need to travel to Brazil to eat this cheeseburger.
Have a ball eating this classic X-Tudo!
Storage:
Store beef patties in an airtight container in the fridge for up to 4 days. Freeze for up to 2 months. Thaw, reheat, assemble this Brazilian burger, and enjoy!
Other sandwiches that you might also enjoy:
PIN & ENJOY!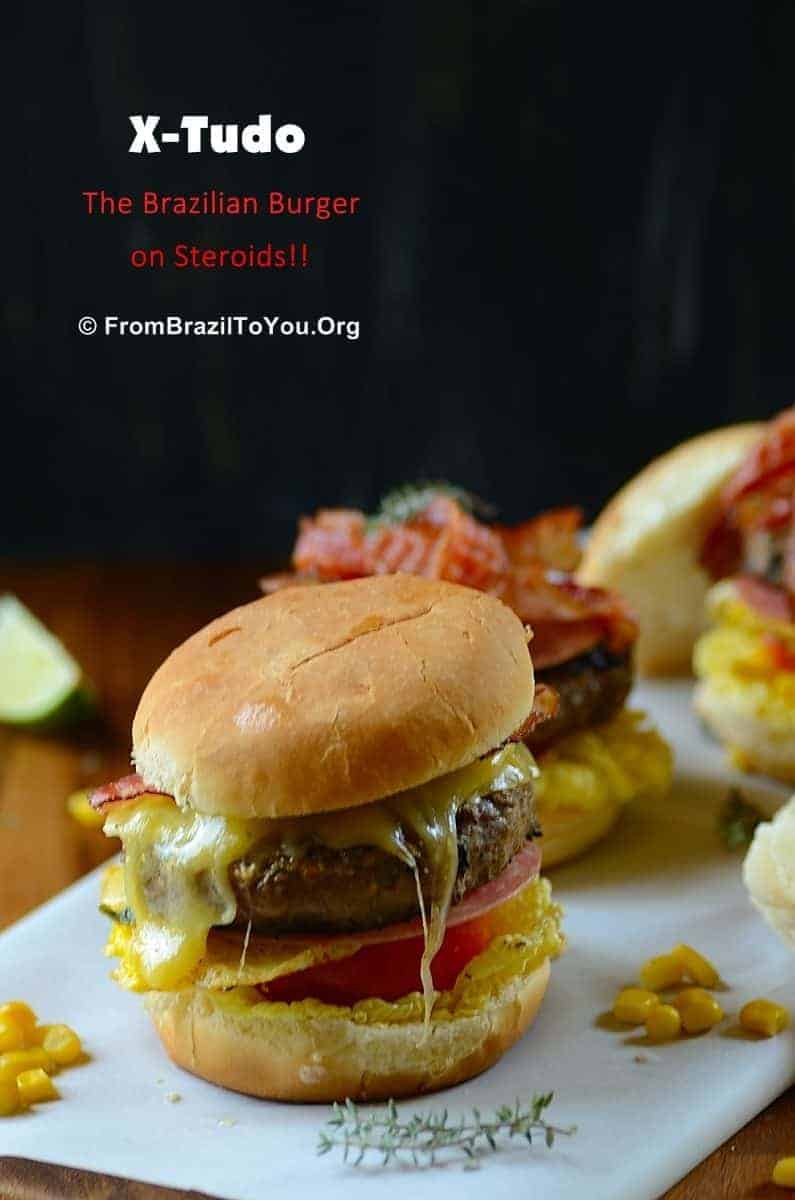 X-Tudo -- The Brazilian Burger of All Burgers!
An outrageously delicious, tall burger with beef patty, melted cheese, fried egg, shoestrings potatoes, and fresh veggies.
Ingredients
1 ½

pounds

ground beef

80 percent lean

½

teaspoon

salt

½

teaspoon

freshly ground black pepper

¾

teaspoon

granulated garlic powder

1

pinch

cumin

1-½

tablespoons

vegetable oil

4

slices

mozzarella cheese

4

hamburger buns

split and toasted, if desired

Mayonnaise

I like to use Hellman's lime mayonnaise

4

lettuce leaves

4

tablespoons

steamed corn kernels

4

slices

tomato

large slices

4

fried eggs

4

slices

deli ham or hard salami

I used hard salami on mine

8

strips of smoked bacon

cooked

Shoestring potatoes

Ketchup and either deli or Dijon mustard
Instructions
Prepare the burger patties: In a large mixing bowl, combine together the ground beef, salt, pepper, garlic powder, and cumin. Mix until well incorporated. Divide the ground meat into 4 equal portions of 6 ounces each. Form each portion loosely into an approximately ¾-inch-thick burger patty.

In a large cast-iron griddle pan, spread and heat the oil until just beginning to shimmer. Cook the burger patties for about 3 minutes or until slightly charred on the first side. Then, flip over the burger patties and cook for 3 minutes or until slightly charred on the second side. Top each patty with one slice of cheese and cover the pan so cheese can melt (about 1 minute).

To assemble the X-Tudo: Spread mayonnaise on the inside of the buns. Top the bottom part of the bun with one lettuce leaf, 1 tablespoon of cooked corn kernels, one slice of tomato, one burger patty with melted cheese, one fried egg, one slice of ham or salami, a sprinkle of crushed or ground black pepper, 2 strips of bacon, and shoestring potatoes. Squeeze on ketchup and deli mustard, and then top with the other half of the bun. Serve x-tudo immediately with guaraná soda or beer. Enjoy!
Recipe Notes
STORE beef patties in an aritight container in the fridge for up to 3 days. Freeze for up to 2 months. 
Nutrition
Calories:
989
kcal
|
Carbohydrates:
28
g
|
Protein:
58
g
|
Fat:
70
g
|
Saturated Fat:
28
g
|
Cholesterol:
353
mg
|
Sodium:
1519
mg
|
Potassium:
894
mg
|
Fiber:
2
g
|
Sugar:
5
g
|
Vitamin A:
2447
IU
|
Vitamin C:
9
mg
|
Calcium:
284
mg
|
Iron:
6
mg
** Nutrition labels on easyanddelish.com are for educational purposes only. This info is provided as a courtesy and is only an estimate, since the nutrition content of recipes can vary based on ingredient brand or source, portion sizes, recipe changes/variations, and other factors. We suggest making your own calculations using your preferred calculator, based on which ingredients you use, or consulting with a registered dietitian to determine nutritional values more precisely.
Please note that health-focused and diet information provided on easyanddelish.com is for educational purposes and does not constitute medical advice, nor is it intended to diagnose, treat, cure, or prevent disease. Consult with your doctor or other qualified health professional prior to initiating any significant change in your diet or exercise regimen, or for any other issue necessitating medical advice.
DID YOU MAKE THIS RECIPE?
Comment and rate the recipe. Also follow us on Pinterest at @easyanddelish for more delish recipes.