America is the land of burgers… and so is Brazil!!!  Huh?  To be more specific: Brazil is the land of the X-Tudo — a hamburger on Steroids!!!!  And X-Tudo (pronounced: sheess-TOO-doo) is what I have for you today!  How about that?
X-Tudo (translated as 'cheese-everything') is a TALL burger with many toppings.  In fact,  x-tudo is so tall that you can't get your mouth, no matter how big, around the whole burger. Yes, eating a x-tudo is a fun, deliciously messy experience which one must have at least once in life… It is so good that it makes every single calorie consumed worthwhile.  Just like any other burger, x-tudo is about taste — not aesthetics…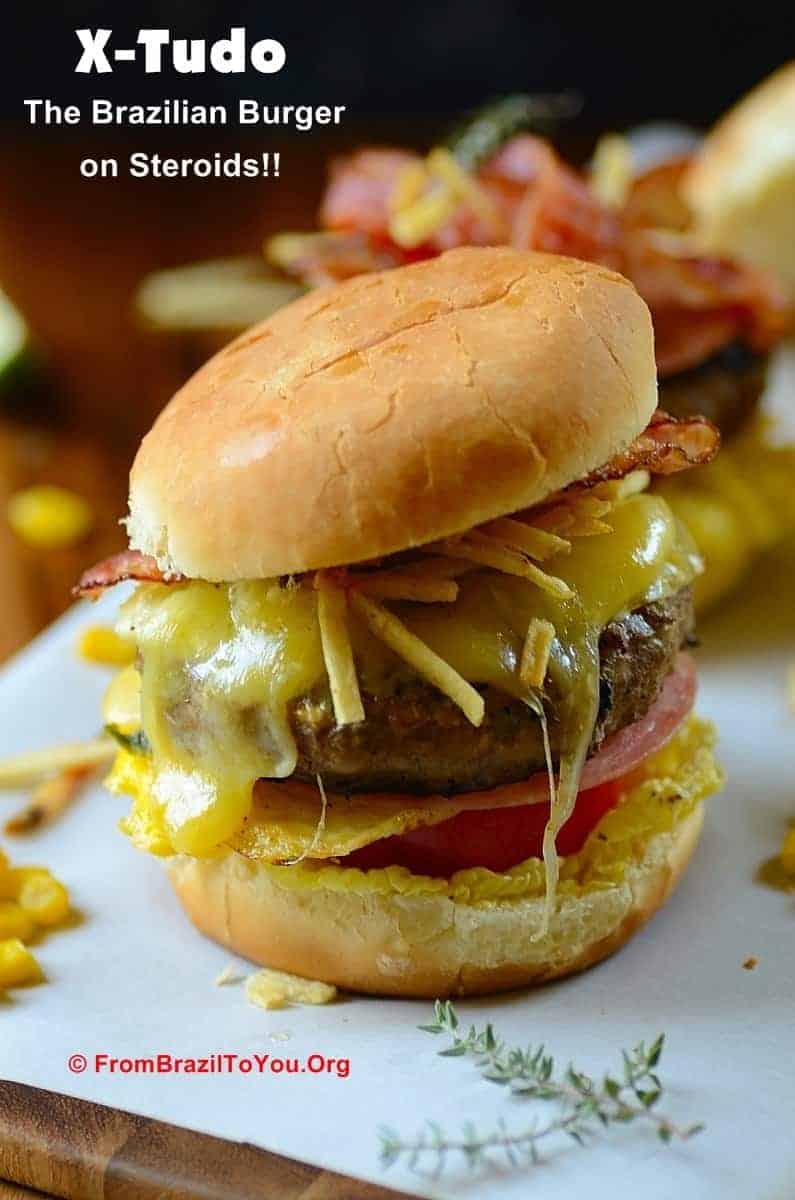 In Brazil, X-tudo is available at snack bars and on the streets.  There are many variations of  x-tudo e.g.: X-Caipira (sausage, egg, tomato, and onion), X-Salada (hamburger patty, cheese, lettuce, and tomato), X-Bacon (hamburger patty, cheese, bacon, lettuce, and tomato), X-Frango (chicken breast, cheese, lettuce, and tomato), etc… But my favorite is still the classic which is pretty much composed of a juicy hamburger patty, melted cheese, fried egg, deli ham, bacon, corn, lettuce, tomato, and shoestring potatoes — all sandwiched between a burger bun. 🙂  It is often eaten with mayonnaise, ketchup, and mustard.
Does it sound good to you? Well, the good news is that you don't need to travel to Brazil to eat x-tudo.  FBTY bought it directly to you!
Have a ball eating my classic X-Tudo!
xx
We have teamed up with Stay a Stay at Home Mom and other bloggers to bring you this Feed The Pig Giveaway… It will run from August 8 to 28, 2013. It is open worldwide to those 18 and older. To have a chance to win $ 100 Paypal cash, please click on the link below and fill out the Rafflecopter. Winner will be chosen randomly via Rafflecopter; entry methods are verified, only those who complete entry methods claimed are eligible to win. Good luck!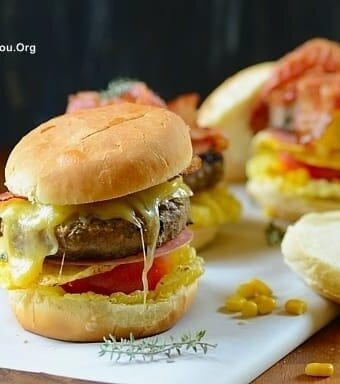 X-Tudo -- The Brazilian Burger on Steroids!
An outrageously delicious, tall burger with many, many toppings...
Ingredients
1 1/2

pounds

ground chuck

80 percent lean

1/2

teaspoon

salt

1/2

teaspoon

freshly ground black pepper

3/4

teaspoon

granulated garlic powder

1

pinch

cumin

1-1/2

tablespoons

vegetable oil

4

slices

mozzarella cheese

4

hamburger buns

split and toasted, if desired

Mayonnaise

I like to use Hellman's lime mayonnaise

4

lettuce leaves

4

tablespoons

steamed corn kernels

4

slices

tomato

large slices

4

fried eggs

4

slices

deli ham or hard salami

I used hard salami on mine

8

strips of smoked bacon

cooked

Shoestring potatoes

Ketchup and either deli or Dijon mustard
Instructions
Prepare the burger patties: In a large mixing bowl, combine together the ground beef, salt, pepper, garlic powder, and cumin. Mix until well incorporated. Divide the ground meat into 4 equal portions of 6 ounces each. Form each portion loosely into an approximately 3/4-inch-thick burger patty.

In a large cast-iron griddle pan, spread and heat the oil until just beginning to shimmer. Cook the burger patties for about 3 minutes or until slightly charred on the first side. Then, flip over the burger patties and cook for 3 minutes or until slightly charred on the second side. Top each patty with one slice of cheese and cover the pan so cheese can melt (about 1 minute).

To assemble the X-Tudo: Spread mayonnaise on the inside of the buns. Top the bottom part of the bun with one lettuce leaf, 1 tablespoon of cooked corn kernels, one slice of tomato, one burger patty with melted cheese, one fried egg, one slice of ham or salami, a sprinkle of crushed or ground black pepper, 2 strips of bacon, and shoestring potatoes. Squeeze on ketchup and deli mustard, and then top with the other half of the bun. Serve x-tudo immediately with guaraná soda or beer. Enjoy!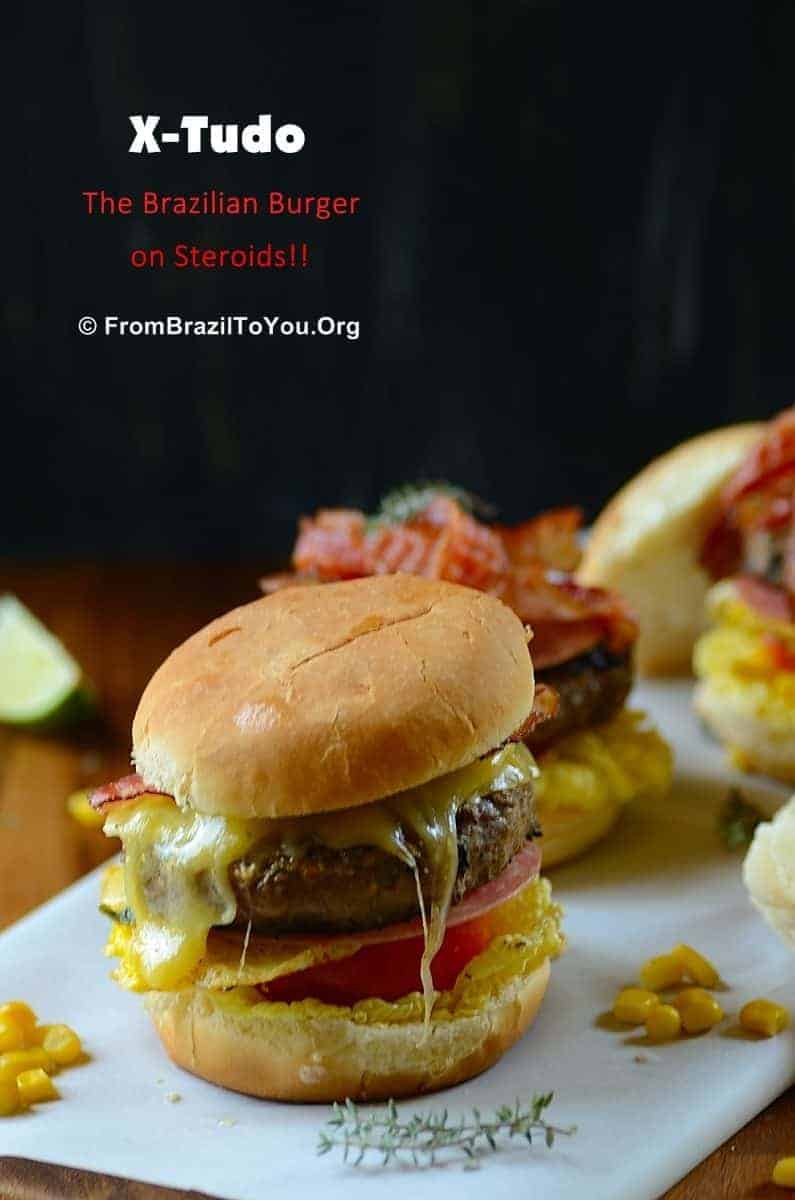 Other sandwiches that you might also enjoy: