Print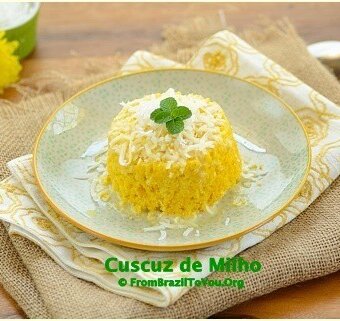 Sweet Cornmeal Couscous (Cuscuz de Milho) and Tools of a Brazilian Kitchen...
Sweet cornmeal couscous (cuscuz de milho) is a gluten-free Brazilian dish from the Northeastern region made with coconut flakes and sweetened condensed milk that can be served as a snack.
1/2

cup

good quality

yellow coarse cornmeal

1/8

teaspoon

salt

1/4

cup

water plus extra to fill the pot

1/3

cup

coconut milk

1/4

teaspoon

sugar

1/4

cup

condensed milk

for both a dairy-free and vegetarian version, omit this ingredient and add coconut milk*

2

tablespoons

coconut flakes

Ground cinnamon to sprinkle*

*These ingredients are not part of the traditional recipe. They reflect my personal tastes.
In a medium bowl, mix the cornmeal with the salt; then add the water little by little, mixing well with your hands. Let rest for about 5 minutes. Grease with butter both the couscous strainer plate and sides of the pot that are above the line (this will help couscous to be unmolded much easier). Fill the bottom of the couscous pan with water (to a level slightly beneath the groove where the strainer plate rests); then place the strainer plate into the pot, fill the remainder of the pot above the strainer plate with the couscous mixture, and cover. Tip: Please, do not press wettened couscous down or it won't be cooked evenly.

Bring to a boil over medium-high heat. Reduce the heat to medium-low and let cook for 3 - 5 minutes more (if cornmeal is pre-cooked), or 8 - 10 minutes (if cornmeal is not pre-cooked). Remove from heat and let cool down a bit, covered. Meanwhile, mix both milks with sugar and the coconut flakes, stirring well. Reserve. If you wish, heat a bit the milk mixture before pouring it over cooked and unmolded couscous.

Remove couscous from pan, pulling it out by its aluminum stick (use gloves for this). Invert onto a plate, separating the couscous from the strainer plater with a butter knife. Pour the liquid mixture over the couscous and sprinkle cinnamon. Serve immediately. Yield: 1 cornmeal couscous that serves 2-4 people.
ALTERNATEVELY, this sweet cornmeal couscous can be prepared in the microwave. For this, follow the recipe. The variation here is the coking method only. Place wettened cornmeal loosely in a microwavable bowl. Cover with a paper towel and microwave on high for about 60 to 90 seconds (depending on the potency of your microwave) or until cornmeal is cooked and fluffy. Unmold and follow the recipe.