Sweet cornmeal couscous (cuscuz de milho) is a gluten-free Brazilian dish from the Northeastern region made with coconut flakes and sweetened condensed milk that can be served as a snack.
I have another confession to make.  Today I had planned to make Romeo & Juliet Stuffed French Toast — translation: Brazilian-style french toast stuffed with cheese and guava paste — but again I changed my mind at the very last minute.   I guess that you will have to wait just a little bit longer for that one– but I promise it will be soon.  🙂
If you follow me here, I am sure you already know that such a sudden change of mind is not at all uncommon.  I just hope that you can get used to that. 🙂  Creating a little excitement in life is the best way to get out of a repetitive routine, especially when your work area is limited most of the time to your house.   Don't you agree?
But how did I ended up making the dish that you are about to see, and introducing all these tools, instead of making that french toast?
I realized that I was homesick for the people of Northeast Brazil, and its comforting cuisine.  It got to the point that today I did not want to make the french toast, a dish that normally would make me dance with joy.  Instead, today my mind, heart, and stomach all pointed to one, and only one dish: cuscuz de milho or cuscuz nordestino (Cornmeal Couscous from Northeast Brazil), a regional specialty that could transport me to my beloved home land like almost no other.
Preparing the couscous reminded me that I needed to introduce the pot that we use to make this dish– something that resembles a tamalera or tamale pot but much smaller.   In Brazil, the couscous pot or cuscuzeira can be found in different sizes, as you can see in the picture below. If you don't have one, this cornmeal couscous can be made in the microwave. 
For quite some time I have wanted to introduce here the characteristic tools used in Brazilian cuisine, but have been procrastinating. 🙂  So I told myself that today the moment had finally arrived.  Since I was making couscous and was going to be presenting the couscous pot, I had better take this opportunity to also tell about the other interesting tools of a Brazilian kitchen. 🙂
Come with me…
Tools of a Brazilian kitchen:
Pilão: similar to a "mortar and pestle," although made of metal, which in Brazil is usually used to crush garlic cloves.  This task is facilitated by adding salt on top of the garlic.  It is a heritage from the Africans.
Capirinha Smasher: used to crush limes to make Brazil's national drink, Caipirinha.  A regular cup and a simple pestle can be substituted this tool.
Cones: used to mold a savory pastry that is usually filled with shrimp paste, called canudinho de camarão or shrimp cone.  The pastry is similar in form to cannoli.
Pastel or empanada crimper: As you see, it comes in different sizes. It can be substituted by a fork to crimp the edge of the pastel or empanada.
Empada molds: come in different sizes with either straight or crimped edges. These are filled with a savory crust, and usually a chicken filling that resembles a mini chicken pot pie.
Coxinha molds: used to mold a popular savory pastry filled with chicken or shrimp that resembles a chicken drumstick.  This pastry can also be shaped by hand.
Quindim cups : made of aluminum and used to bake quindim, an African-Brazilian custard made mostly of yolks and coconut.  Their shape and size slighty resemble condiment cups, although these are made of stainless steel.
Brazilian BBQ skewers: the single blade type is used to skewer the meats that will be either grilled or roasted, called churrasco, and then served on the same skewer. If you have ever visited a Brazilian Steakhouse you know exactly what I am talking about. The double skewer is often used to cook sausage. These can be found for purchase on Ebay.
Coffee filter: it is not so common nowadays anymore, although still used and appreciated by some coffee lovers because according to them,  it leaves a hint of the various coffees filtered there.
Egg thread strainer: Please, see its use and substitution in one of our posts about Portuguese Egg Threads.
Couscous pot: it reminds me of a tamalera or tamale steaming pot although much smaller.  It can be used to steam vegetables as well. In Brazil, the plain couscous can be either sweet, like the recipe presented below or savory, eaten with butter, milk, meats, or beans.  It can also used to make farofa.  This is the smallest couscous pot that I found online in the U.S.  It can make enough couscous to serve 6 to 8, and will not have the exact same shape as the Brazilian one, but steam the cornmeal just the same way. You can also use a vegetable steamer (2.75 Qt) instead.
If shape and size is not important to you, you can also steam the cornmeal in a Moroccan couscousiere, which can also be found on Amazon.com or at Moroccan markets.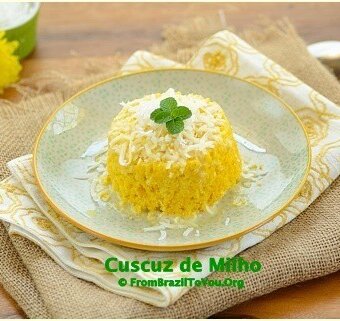 Sweet Cornmeal Couscous (Cuscuz de Milho) and Tools of a Brazilian Kitchen...
Sweet cornmeal couscous (cuscuz de milho) is a gluten-free Brazilian dish from the Northeastern region made with coconut flakes and sweetened condensed milk that can be served as a snack.
Ingredients
1/2

cup

good quality

yellow coarse cornmeal

1/8

teaspoon

salt

1/4

cup

water plus extra to fill the pot

1/3

cup

coconut milk

1/4

teaspoon

sugar

1/4

cup

condensed milk

for both a dairy-free and vegetarian version, omit this ingredient and add coconut milk*

2

tablespoons

coconut flakes

Ground cinnamon to sprinkle*

*These ingredients are not part of the traditional recipe. They reflect my personal tastes.
Instructions
In a medium bowl, mix the cornmeal with the salt; then add the water little by little, mixing well with your hands. Let rest for about 5 minutes. Grease with butter both the couscous strainer plate and sides of the pot that are above the line (this will help couscous to be unmolded much easier). Fill the bottom of the couscous pan with water (to a level slightly beneath the groove where the strainer plate rests); then place the strainer plate into the pot, fill the remainder of the pot above the strainer plate with the couscous mixture, and cover. Tip: Please, do not press wettened couscous down or it won't be cooked evenly.

Bring to a boil over medium-high heat. Reduce the heat to medium-low and let cook for 3 - 5 minutes more (if cornmeal is pre-cooked), or 8 - 10 minutes (if cornmeal is not pre-cooked). Remove from heat and let cool down a bit, covered. Meanwhile, mix both milks with sugar and the coconut flakes, stirring well. Reserve. If you wish, heat a bit the milk mixture before pouring it over cooked and unmolded couscous.

Remove couscous from pan, pulling it out by its aluminum stick (use gloves for this). Invert onto a plate, separating the couscous from the strainer plater with a butter knife. Pour the liquid mixture over the couscous and sprinkle cinnamon. Serve immediately. Yield: 1 cornmeal couscous that serves 2-4 people.
Recipe Notes
ALTERNATEVELY, this sweet cornmeal couscous can be prepared in the microwave. For this, follow the recipe. The variation here is the coking method only. Place wettened cornmeal loosely in a microwavable bowl. Cover with a paper towel and microwave on high for about 60 to 90 seconds (depending on the potency of your microwave) or until cornmeal is cooked and fluffy. Unmold and follow the recipe.
*Egg threads tool image from www.domingosproforno.com.br.