Print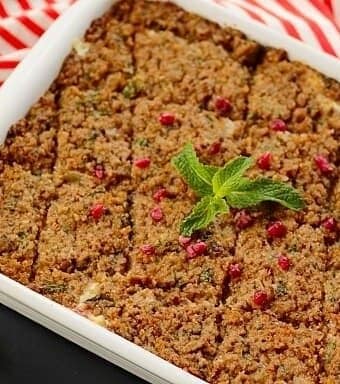 Baked Kibbeh (Kibe Assado Recheado)
Brazilian Baked Kibbeh is a ground lamb-bulgur wheat pie filled with lots of cheese. It is a complete dish that can be accompanied by a fresh salad.
Total Time
1
hour
15
minutes
For the Kibbeh:

1½

cups

fine bulgur

4

cups

boiling water

3

tablespoons

oilve oil

divided (plus 1-2 tablespoons to drizzle)

1

tablespoons

unsalted butter

1

medium yellow onion

finely chopped

6

garlic cloves

minced

28

ounces

ground lamb

800 g

2

teaspoons

tomato paste

2

teaspoons

salt

2

teaspoons

freshly ground black pepper

1½

teaspoons

ground cumin

1/2

cup

chopped fresh mint leaves

1/2

cup

chopped fresh green onions

For the Filling:

10.5

ounces

store-bought or homemade requeijão cremoso

(300g) see this link (or 8oz softened cream cheese whipped with 4 ounces full fat ricotta cheese)

10.5

ounces

shredded mozzarella cheese

300 g

For Garnishing :

optional

Mint leaves

Pomegranate seeds
To prepare the kibbeh: Soak the bulgur wheat in boiling water for about 30 minutes. Drain well, pressing to eliminate excess water. Set aside.

Heat a large non-stick skillet over medium heat, add the 1 tablespoon of oil and 1 tablespoon of butter. When butter melts, add onions and cook for about 2-3 minutes or until softened, stirring occasionally. The goal is cook the onions not brown them. Add the garlic and cook for about 30 seconds, stirring occasionally. Don't let brown. Mix with the reserved, drained bulghur wheat.

Using the same pan, heat the remaining 2 tablespoons of oil over medium-high heat and cook ground lamb for about 4-6 minutes or just until brown. Stir in the tomato paste until combined. Mix with the bulgur mixture, add salt, pepper, cumin, mint, and green onions. Stir very well to combine and let cool enough to handle.

Preheat oven to 350° F (about 180°C). Grease a medium, deep baking dish (about 10x9-inch) with oil or butter.

Spoon half of the kibbeh mixture onto the baking dish, then flatten to form an uniform layer. Make sure there are no gaps. Spoon and then gently spread the requeijão or cream cheese mixture on top, and subsequently layer the mozzarella cheese. Next, top the filling with the rest of the kibbeh mixture using the same technique. Drizzle with 1-2 tablespoons of olive oil and bake for about 20 minutes. Remove from the oven and slice in desired pattern using a sharp knife. Return to the oven and bake for an additional 15-20 minutes or until golden brown. Garnish with mints leaves and pomegranate seeds if desired. Serve warm, accompanied by a fresh salad.