Have ever told you that I am craaaazy for lamb? One of my favorite dishes to prepare with this tasty meat is Kibe Assado Recheado (Brazilian-Style Baked Kibbeh), a ground meat-bulgur wheat pie filled with lots of cheese. Mmmm!!!
This baked version, as well as the fried one (croquettes), bring back precious memories from my home city in Brazil, Recife. Huh? I know, I know… Kibbeh is a dish characteristic of Levantine cuisine — popular in many Middle-Eastern countries such as Jordan, Palestine, Syria, and Lebanon. However, since the late 19th and early 20th centuries, Brazil has been home to Lebanese (and Syrian) immigrants and their descendants. These same immigrants have influenced Brazilian cuisine with their flavorful dishes, kibbeh being one of the most well-known.
In Brazil, the traditional kibbeh recipe was adapted to make use of the available local ingredients. Accordingly, in the Brazilian version mint, garlic, cumin, and pepper replace baharat (a Middle-Eastern spice blend), while requeijão cremoso is used as a filling instead of the conventional mixture of ground meat, bulgur and pinenuts. The differences don't stop there. In the Middle East kibbeh is prepared with ground lean beef, lamb, goat or camel meat, while Brazilians almost invariably use ground beef.
Although I am Brazilian, I personally prefer to prepare mine with lamb because it is tastier, and provides almost 5 times the amount of essential omega-3 fatty acids than beef. Not only that…. American lamb is local, available year round, and well known for its quality, flavor, and tenderness. Another advantage is that lamb naturally lends itself well to a wide variety of global flavors, including Latin, Middle Eastern, Asian and Mediterranean cuisines.
For my baked kibbeh with Latin flavors and cheese filling, I used delicious, grass-fed, natural ground lamb — raised without antibiotics and hormones. Yes, our baked kibbeh was quite a treat and made my family very happy!
To find many other great lamb recipes and more information about American lamb, click HERE.
Enjoy!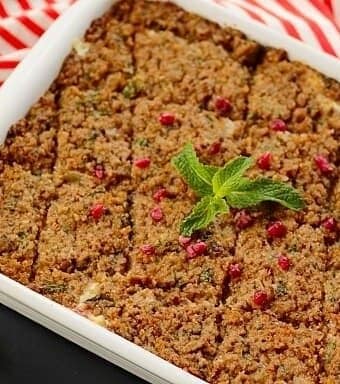 Baked Kibbeh (Kibe Assado Recheado)
Brazilian Baked Kibbeh is a ground lamb-bulgur wheat pie filled with lots of cheese. It is a complete dish that can be accompanied by a fresh salad.
Total Time
1
hour
15
minutes
Ingredients
For the Kibbeh:

1½

cups

fine bulgur

4

cups

boiling water

3

tablespoons

oilve oil

divided (plus 1-2 tablespoons to drizzle)

1

tablespoons

unsalted butter

1

medium yellow onion

finely chopped

6

garlic cloves

minced

28

ounces

ground lamb

800 g

2

teaspoons

tomato paste

2

teaspoons

salt

2

teaspoons

freshly ground black pepper

1½

teaspoons

ground cumin

1/2

cup

chopped fresh mint leaves

1/2

cup

chopped fresh green onions

For the Filling:

10.5

ounces

store-bought or homemade requeijão cremoso

(300g) see this link (or 8oz softened cream cheese whipped with 4 ounces full fat ricotta cheese)

10.5

ounces

shredded mozzarella cheese

300 g

For Garnishing :

optional

Mint leaves

Pomegranate seeds
Instructions
To prepare the kibbeh: Soak the bulgur wheat in boiling water for about 30 minutes. Drain well, pressing to eliminate excess water. Set aside.

Heat a large non-stick skillet over medium heat, add the 1 tablespoon of oil and 1 tablespoon of butter. When butter melts, add onions and cook for about 2-3 minutes or until softened, stirring occasionally. The goal is cook the onions not brown them. Add the garlic and cook for about 30 seconds, stirring occasionally. Don't let brown. Mix with the reserved, drained bulghur wheat.

Using the same pan, heat the remaining 2 tablespoons of oil over medium-high heat and cook ground lamb for about 4-6 minutes or just until brown. Stir in the tomato paste until combined. Mix with the bulgur mixture, add salt, pepper, cumin, mint, and green onions. Stir very well to combine and let cool enough to handle.

Preheat oven to 350° F (about 180°C). Grease a medium, deep baking dish (about 10x9-inch) with oil or butter.

Spoon half of the kibbeh mixture onto the baking dish, then flatten to form an uniform layer. Make sure there are no gaps. Spoon and then gently spread the requeijão or cream cheese mixture on top, and subsequently layer the mozzarella cheese. Next, top the filling with the rest of the kibbeh mixture using the same technique. Drizzle with 1-2 tablespoons of olive oil and bake for about 20 minutes. Remove from the oven and slice in desired pattern using a sharp knife. Return to the oven and bake for an additional 15-20 minutes or until golden brown. Garnish with mints leaves and pomegranate seeds if desired. Serve warm, accompanied by a fresh salad.
I was selected for this opportunity as a member of Clever Girls and the content and opinions expressed here are all my own.