Requeijão Cremoso (Brazilian cream cheese spread)… Yummmm! Just the thought of it makes my mouth water. If you've never given it a taste, you've just got to try it. Ah, requeijao!
But first one must put aside any preconceived notions. Requeijão cremoso or Brazilian Cream Cheese Spread is not the same thing as American cream cheese. Both are milk-derived products, mild-flavored, and white in color, but their texture is totally different. That's right! The Brazilian cream cheese has a consistency similar to that of condensed milk, and is usually sold in Brazil in glass jars or plastic cups. Its mild taste varies from brand to brand, with Catupiry being the most famous brand in Brazil. requeijao

Requeijão cremoso (a rough English approximation might be heck-ay-ZHOWN cray-MOH-zoo where the ZH sound is the sound that "s" makes in the word "measure") is a versatile product! It can be used as a spread on toast, as an ingredient in pasta dishes such as macarronada, in baked rices (arroz de forno) as a substitute for mornay sauce, in casseroles (escondidinhos) as one of the cheese layers, incorporated into stews (morangas), dolloped and stirred into mashed potatoes to make them creamier, as a filling for pão de queijo, and as a companion for serving along with guava paste (Romeo e Julieta), among other uses.
Well, from now on you won't have to go to a Brazilian or Middle-Eastern market in order to buy this amazing Brazilian cream cheese spread. You can make it in the convenience of your own home with only 5 ingredients from your pantry and fridge! Requeijao is a …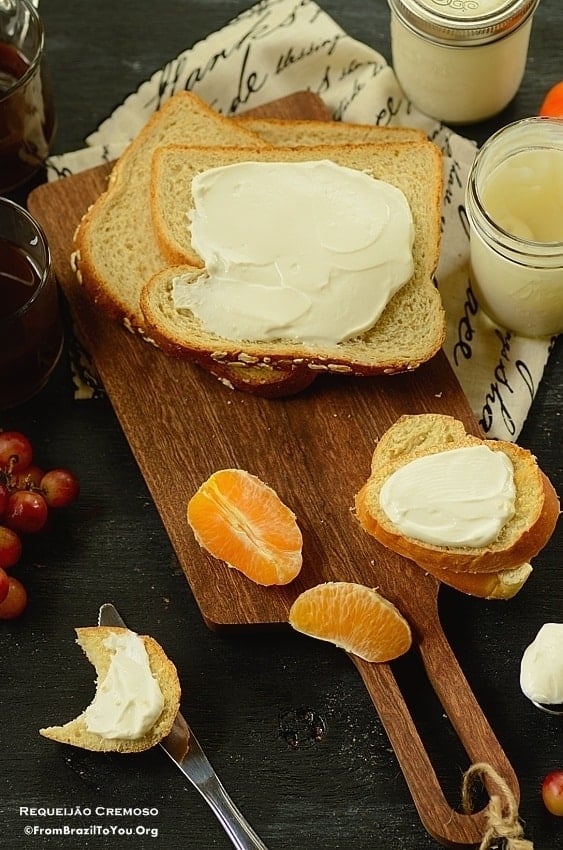 One must take care not to confuse requeijão cremoso with a different product known as simply requeijão de corte, a cow's milk-based, artesanal, light yellow food product whose appearance could easily be confused with that of cheese. The  latter one is a component in the gastronomy of the Brazilian states of  Goiás, São Paulo, Minas Gerais, and Bahia. requeijao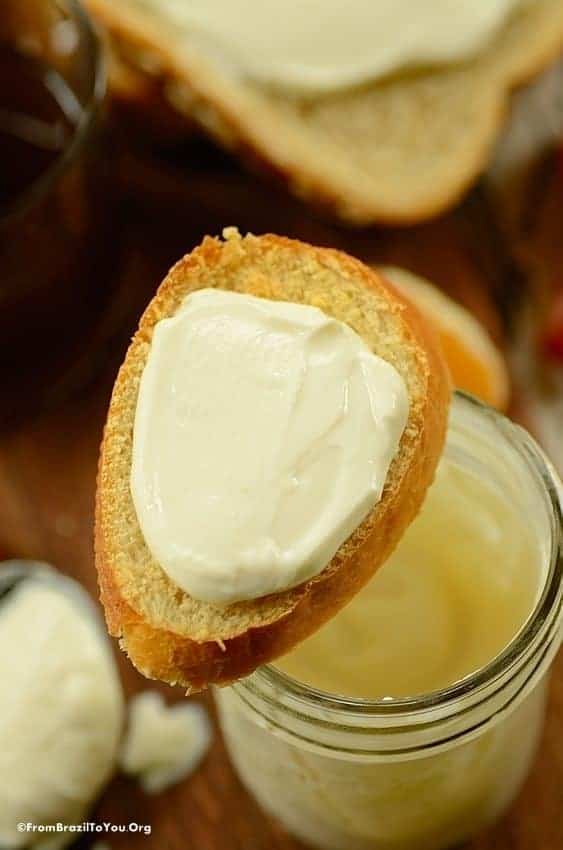 Brazilians are crazy for it… and I am sure that you will be, too! (Crazy for requeijao).
xx requeijao
How to Make the Best Requeijão Cremoso (Brazilian Cream Cheese Spread)
A white, mild, creamy cheese spread that is similar in both taste and texture to store-bought requeijão cremoso.
Ingredients
2

liters

reduced fat milk

plus 1¼ cup warm milk, about 2 qt., 2% milkfat

4

tablespoons

white vinegar

2

tablespoons

unsalted butter

softened

½

teaspoon

salt

½

cup

shredded mozzarella
Instructions
In a large saucepan, bring 2 liters/quarts of milk to a boil over high heat. Then, turn off the heat and stir in the vinegar. Once curds form, ladle the content of the pan into a strainer placed over a large bowl, wash curds well with running water (to eliminate vinegar sour taste) and press down on the strained curds with a spoon to eliminate any excess liquid. Only curds should be left in the strainer.

In a blender, blend together curds, butter, salt, cheese, and 1¼ cup of warm milk for about 2 to 3 minutes on high speed or until mixture is very

creamy and smooth

.

NOTE:

For a softer consistency, add a bit more milk.

Carefully pour mixture into sterilized and dried glass jar(s) or container(s) with tight lid(s). Store in the refrigerator for at least 4 hours before using as a spread for toast.

NOTE: Both the taste and texture of this homemade Brazilian cream cheese are similar to the one sold under the brand Tirolez.
Recipe Notes
STORAGE: It can be stored in the refrigerator for up to 8 days. It can be used in pastas such as macarronada or Brazilian Mac and Cheese, in stews, baked rice (arroz de forno) as a substiture for mornay, in casseroles as one of the layers of cheese, etc.
DID YOU MAKE THIS RECIPE?
Comment and rate the recipe. Also follow us on Pinterest at @easyanddelish for more delish recipes.
Requeijao cremoso is quick and delicious…Try requeijao and you will fall in love with it. Requeijao is my favorite homemade cream cheese spread. Ah, requeijao! Requeijao is so good! I love requeijao on toast!