An easy to make coconut cornmeal cake with a creamy center that it is to die for. It is basically prepared in the blender and baked. So comforting!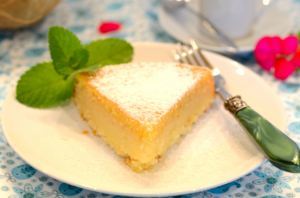 Finally a cake!
And what a cake…
To start off, there could be nothing tastier than the beloved bolo de fubá, a simple yet delicious coffee cake — which is usually served either for breakfast or as an afternoon snack, accompained by a strong cup of coffee.
It has been so many years since I last had Coconut Cornmeal Cake (bolo de fubá com coco) that when I came across a recipe for it this afternoon, I jumped at the chance to make it.  It contains two of my favorite ingredients: corn and coconut, and this one in particular is deliciously creamy.  Besides this, it reminds me of the afternoon coffees at my Grandma's house in Brazil, which were served religiously at the same time every day.
All of those wonderful aromas, the voices, and smiles seem never to fade from my mind.  It was a time when people did not need an invitation to visit each other, say a friendly hello, or drink a cup of coffee together over a piece of cake.  Not only family members, but neighbors and acquaintances were always welcome.
At the table, one could expect to find at least coffee, toasted french bread, butter, cheese, and of course, coffee cakes.  My Grandpa sat at the table with his cane resting by his side, while my Grandma helped to cook all the sweet treats, and a steady stream of visitors came in and out, conversing about their day, family, business, and politics…. Good old coconut cornmeal cake (bolo de fubá com coco) was a part of it all.  Proudly, I was too, although but a child.
What precious memories I have…. I hope you have good ones, too.
Well, I'll let you at least have a bite of this delish coconut cornmeal cake.  Enjoy!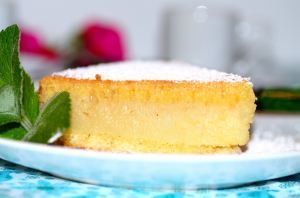 | | |
| --- | --- |
| | |
Preheat the oven to 350 F (180º C).

Grease and flour a medium round baking pan. Mix all the ingredients in the blender until well blended and homogeneous. Pour batter into the pan.

Bake for about 45 -50 minutes (half way, cover loosely with a sheet of aluminum foil to avoid a dark top).

Let cool for a while on a wire rack and plate when slightly warm.

Serve decorated with either coconut flakes or powdered sugar on top.