Valentine's day is almost here! Who is going to be your Valentine? Mine are my hubby and children... who are craaaaazy for cupcakes. Since such a special occasion deserves an exquisite treat, then decadent and romantic Romeo and Juliet Cupcakes is what we will be having for this year. We are also celebrating our third blog anniversary on February 6th -- with cupcakes, of course!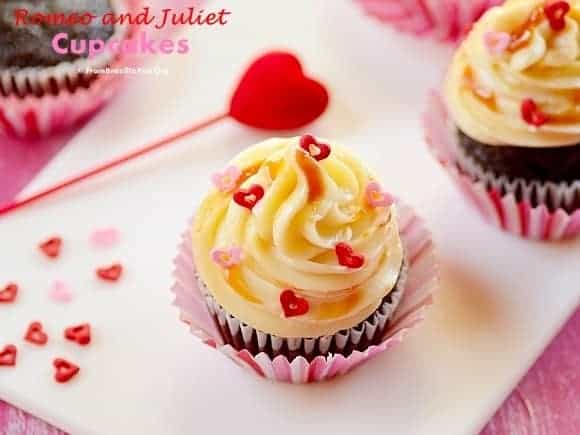 Our Romeo and Juliet cupcakes consist of moist chocolate cupcakes filled with melted guava paste and topped with a cream cheese and guava frosting ...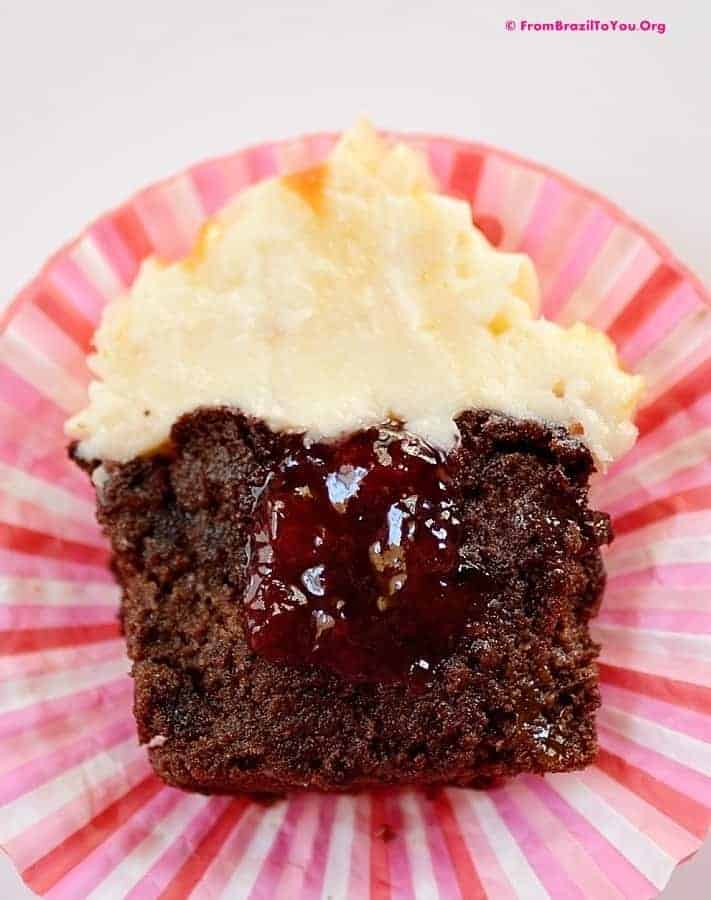 I know, I know!!! You might be asking: "OK!!! That may be so, but why are they named Romeo and Juliet though?" Well, in Brazil Romeo & Juliet (Romeo e Julieta) means more than just characters from Shakespeare's drama. It is also a term to describe the perfect combination of cheese and guava… For us, like the characters in the play, they were made for each other, although unlike the classic love story, this ending is quite a happy one. 🙂
In my home country, cheese and guava is as popular a pairing as peanut butter and jelly in the U.S. Got it?! 🙂
If you have a WHO valentine, award him/her with this scrumptious treat. If you don't, you still can have a WHAT valentine....these Romeo and Juliet cupcakes will be love at first bite!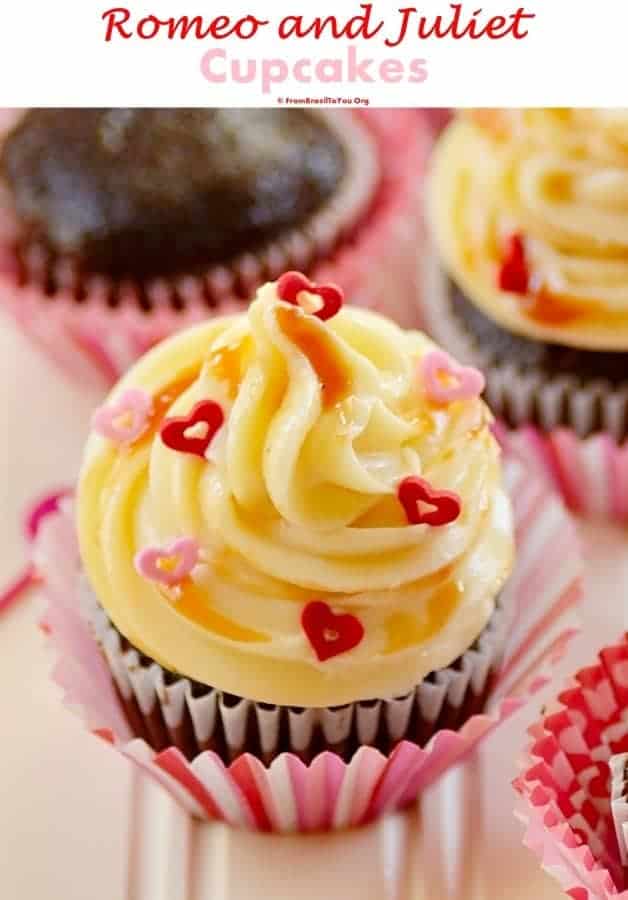 Wishing you and your Valentine a very delicious day!!
"Did my heart love till now? forswear it, sight! For I ne'er saw true beauty till this night."
(William Shakespeare, Romeo and Juliet)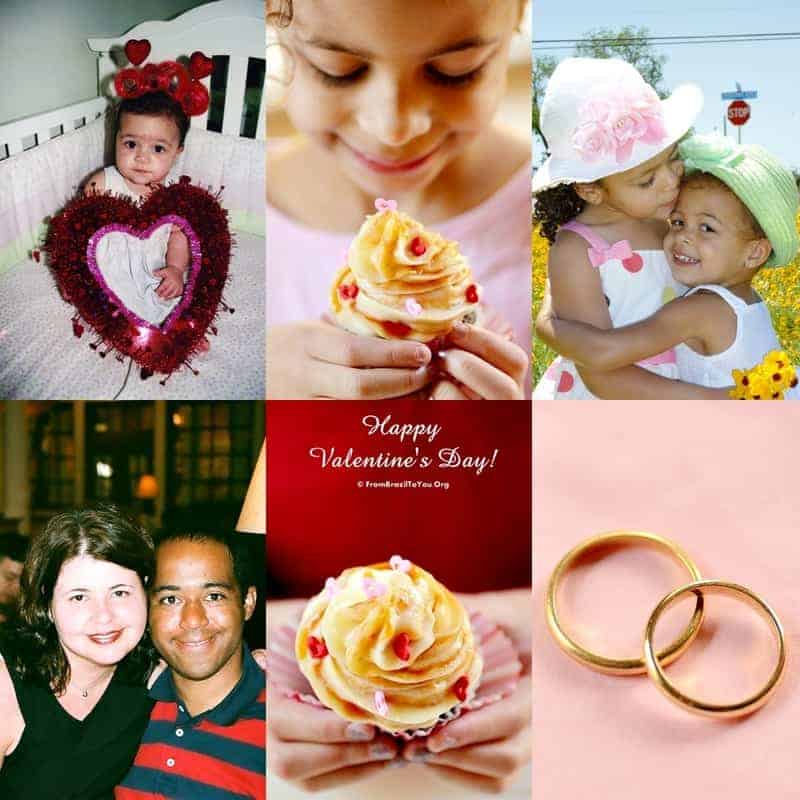 Romeo and Juliet Cupcakes
Romeo and Juliet cupcakes are decadent, moist chocolate cupcakes with cream cheese frosting and guava paste swirl.
Ingredients
For the Romeo and Juliet cupcake batter:

Homemade chocolate cupcake recipe or use a chocolate cupcake mix of your choice

For the Cream Cheese Frosting:

32

ounces

cream cheese

at room temperature

16

ounces

unsalted butter

or 4 sticks , cut into chunks, at room temperature

4-6

cups

powdered sugar

to taste

2-4

teaspoons

pure vanilla extract

For the Guava Paste "Jelly" Swirl:

16

oz

guava paste

cut into chunks (guava paste is available at Latin markets and also in the Latin aisle of some Walmart supermarkets)

1

cup

water

2

teaspoons

Port wine

optional

NOTE: If you would like to fill cupcakes with the guava paste jelly, increase quantity of ingredients described above for the guava paste "jelly" recipe by ¼ to ½.
Instructions
To prepare Romeo and Juliet cupcakes batter:
Follow the instructions in the link, or from a chocolate cupcake mix of your choice.
Prepare the cream cheese frosting:
Place room temperature cream cheese and butter in a standing mixer bowl. Beat on high speed for 3 to 4 minutes, or until mixture is light, fluffy, and well blended. Beat in powdered sugar on slow speed until fully incorporated. Add the vanilla extract beating until incorporated (about 30 seconds).
To prepare the guava paste swirl:
Place the chopped guava paste, water, and Port wine (optional) in a small nonstick pan. Let boil for 3-5 minutes over medium high heat or until guava paste chunks have softened.

Then, mash the guava paste chunks with a potato masher or fork until chunks melt.

Next, stir with a wooden spoon until mixture is reasonably homogeneous although tiny chunks will remain (Great! Because when piped one can taste the guava paste). However, if you prefer mixture to be completely smooth, blend in a blender until no pieces are found. Pour into a ramekin or small bowl and let come to room temperature.

If you would like to fill the Romeo and Juliet cupcakes with guava paste "jelly," open a medium hole (starting from the top to the middle -- don't go all the way to the bottom) in the center of each cupcake and fill/pipe in a good amount of the frosting or "jelly." Using a closed star tip or other tip of your preference, pipe the swirled frosting on top of cupcake. In order to produce swirling of the frosting, spoon the cream cheese frosting into one side of the piping bag and the guava jelly paste into the other side. Refrigerate! Decorate Romeo and Juliet cupcakes as desired. Enjoy!
Recipe Notes
GUAVA PASTE SUBSTITUTIONS: Use a store-bought strawberry or raspberry jelly instead, thinned with a bit of water.
** Nutrition labels on easyanddelish.com are for educational purposes only. This info is provided as a courtesy and is only an estimate, since the nutrition content of recipes can vary based on ingredient brand or source, portion sizes, recipe changes/variations, and other factors. We suggest making your own calculations using your preferred calculator, based on which ingredients you use, or consulting with a registered dietitian to determine nutritional values more precisely.
Please note that health-focused and diet information provided on easyanddelish.com is for educational purposes and does not constitute medical advice, nor is it intended to diagnose, treat, cure, or prevent disease. Consult with your doctor or other qualified health professional prior to initiating any significant change in your diet or exercise regimen, or for any other issue necessitating medical advice.
DID YOU MAKE THIS RECIPE?
Comment and rate the recipe. Also follow us on Pinterest at @easyanddelish for more delish recipes.