Brazilian Chocolate Truffle filled Doughnut Holes (Bolinho de Chuva com Chocolate) are some of the easiest and most versatile sweet bites that you can ever prepare... That's right! You can have them for breakfast, an afternoon snack, or as holiday dessert. These doughnut holes have a dense cake-like texture inside, and are golden and crunchy outside. Although the filling is optional, who could possibly resist the chance to bite into a melted chocolate truffle, right?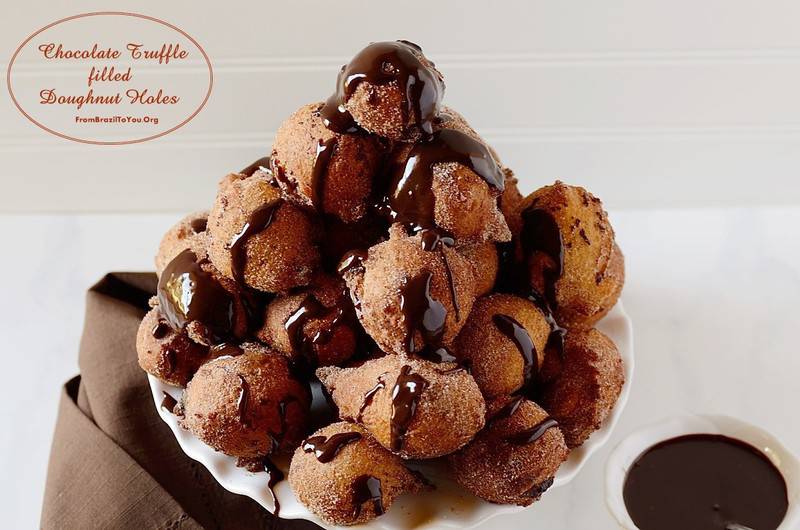 I am serious, folks! All you need to do is to quickly mix flour, baking powder, salt, milk, eggs, and vanilla extract, spoon the batter, fill with a little chocolate truffle in the center, fry in hot oil for up to two minutes, and roll in a cinnamon-sugar mixture. The result? Pure addiction!
These were named Bolinho de chuva (literal translation: rain cakes) because of their raindrop shape, acquired when effortless dropping the spooned batter into the oil, forming little peaks. Despite the name, they can be enjoyed any time of year, regardless of the weather conditions. They are also known as Quero Quero, Mata a Fome, and Bolinho de Negra in my home country.
They became famous thanks to the writer Monteiro Lobato and his fictional character, Aunt Anastasia, who lived in a countryside ranch called Sítio do Picapau Amarelo (Yellow Woodpecker Ranch). Aunt Anastasia, the cook of the ranch, captured the heart of many generations of Brazilians, and is now considered a staple of national culture.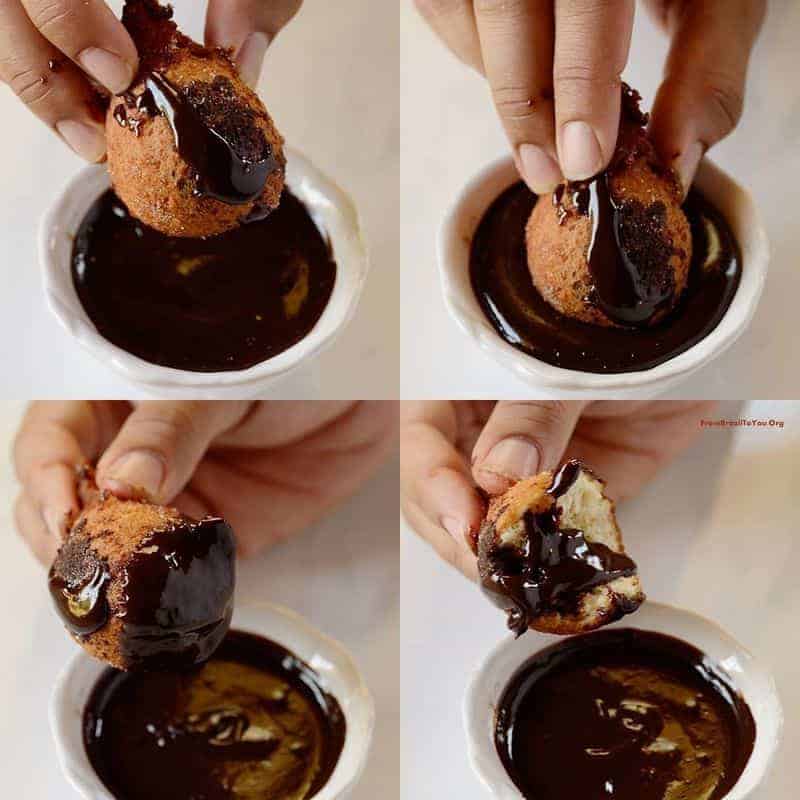 The traditional recipe for bolinho de chuva has no filling but it is not uncommon nowadays to see them filled with chocolate truffle, nutella, guava paste, or dulce de leche. What to say? Brazilians love to put a twist on traditional recipes. 🙂
When and how to serve them is completely up to you! Whether you pile them up like a Christmas tree and drizzle them with chocolate ganache, like we did, in order to serve as a holiday sweet bite...or simply serve them in a basket or bag accompanied by a cup of coffee for breakfast or afternoon snack...or put them in a holiday box to give as a gift... the fact is, they will be a hit.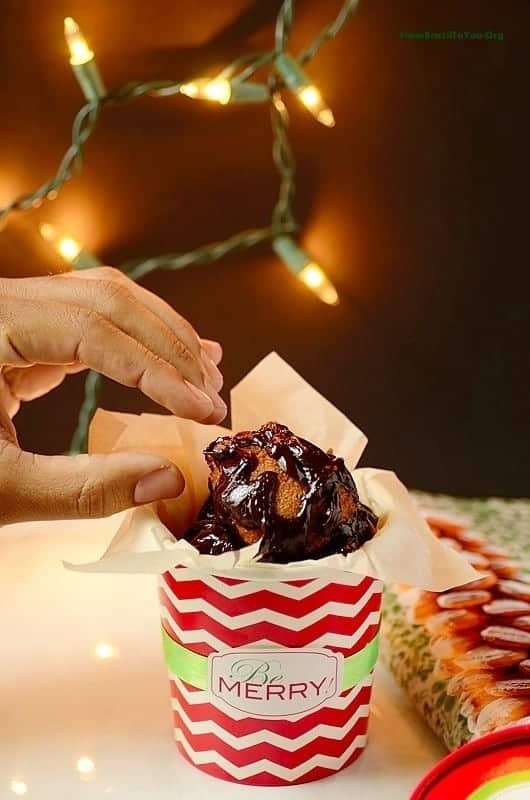 Well, enjoy our Chocolate Truffle filled Doughnut Holes and have yourself a very delicious,
Merry Christmas!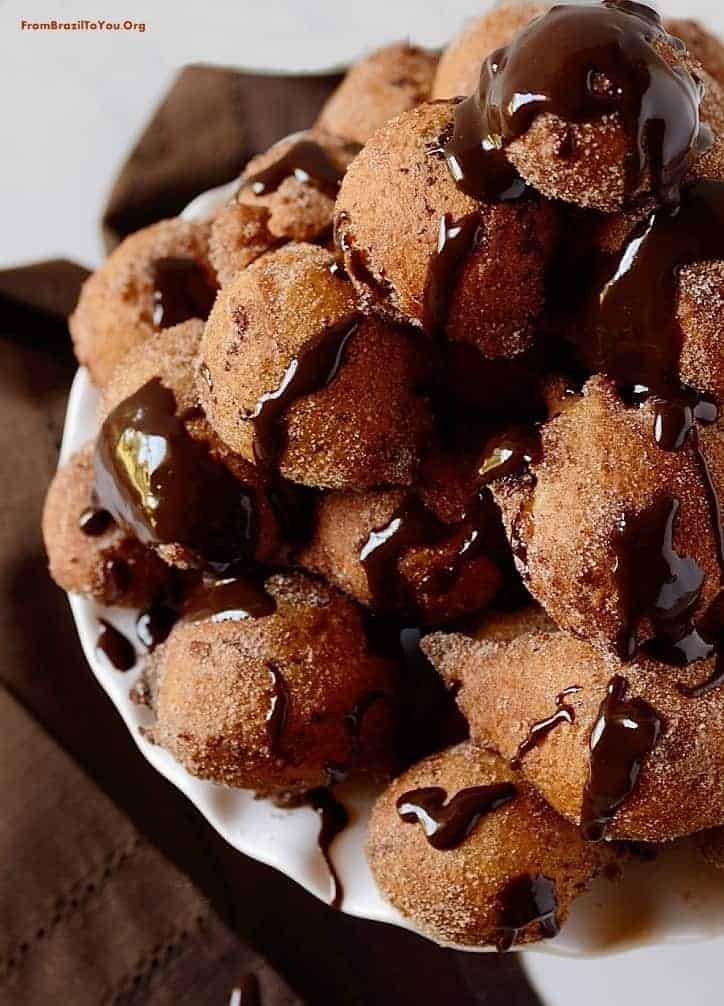 Chocolate Truffle filled Doughnut Holes
Brazilian Chocolate Truffle filled Doughnut Holes that are easy to prepare and a crowd-pleasing snack.
Ingredients
For the chocolate truffle filling:

1

cup

semi-sweet chocolate chips

¾

cup

heavy whipping cream

For the doughnut holes:

¾

cup

plus ⅓ cup of granulated sugar

divided

1

tablespoon

ground cinnamon

3

cups

all-purpose flour

¾

teaspoon

salt

1-½

tablespoons

baking powder

3

large eggs

1

cup

plus 2 tablespoons whole milk

2

teaspoons

pure vanilla extract

optional

Vegetable oil for frying
Instructions
Prepare the filling:

In a medium microwavable bowl, mix the chocolate chips with the heavy cream. Microwave mixture at 30-second intervals, stirring between intervals, for about 1-2 minutes or until chocolate has melted. Stir well to obtain a homogeneous mixture. Let cool, cover with a plastic sheet and refrigerate overnight. Using a ½ teaspoon as measurement, spoon filling, form into balls, and place on a baking sheet lined with parchment paper. Freeze for about 20-30 minutes. Then, prepare the doughnut holes.

To prepare the doughnut holes:

In a deep fryer or deep, thick skillet, heat 4 inches or more of vegetable oil to 360 degrees (F).

In a medium bowl, stir ¾ cup of sugar with the cinnamon and set aside. In a large bowl, mix the flour, ⅓ cup sugar, salt, and baking powder together. With a wooden spoon stir in the eggs well and then of all the milk until obtaining a homogeneous mixture. If desired, stir in the vanilla. The batter will be thick and cake-like.

Using 1 Tablespoon as measure (or a small cookie scoop), scoop the batter, and insert one frozen chocolate ball in the center. Carefully cover the top and all around the chocolate ball with the batter, using another spoon to help spread and smooth the batter around the ball. Make sure the chocolate ball is well covered with batter in order to prevent leakage of melted chocolate when frying. Drop the filled doughnut hole into the heated oil, using a second spoon to help scrape any residual dough off of the first one. When dropping it into the oil, make sure the spoon is down close to the surface of the oil in order to avoiding splashes and resultant burns. Repeat with several more doughnut holes, but do not overcrowd the fryer or skillet. Each will form into a ball with a pointy edge that will look like a raindrop. That is why in Brazil these doughnut holes are called bolinhos de chuva ("raindrop cakes").

Cook the doughnuts, turning occasionally after one minute or so, or until they are golden brown on all sides. Remove doughnuts from the oil with a slotted spoon, and place briefly on a baking sheet lined with double sheets of paper towel. Transfer to the cinammon-sugar bowl (or bag) and roll/shake doughnuts in the mixture while still hot. They will have a golden, crunchy exterior and a cake-like interior with melted chocolate. If desired, you can use chocolate kisses or Lindor chocolate truffles for the filling instead of the frozen chocolate ganache. It's up to you!

Cook the rest of the doughnuts in batches. Doughnuts are best served warm by themselves, with a cup of coffee, or drizzled/dipped in chocolate ganache. They can be reheated or kept warm in the oven. Do not cover them or they will become mushy. SUGGESTION: If piling them up as a Christmas tree like we did, you can garnish with a few fresh mint leaves and/or raspberries as ornaments. INACTIVE TIME: 20-30 minutes.
Recipe Notes
Traditionally, these Brazilian doughnut holes have no filling. They are usually served for afternoon snack or breakfast. But they make great sweet bites as well, especially when filled or drizzled with chocolate ganache, dulce de leche/caramel, or melted guava paste.
** Nutrition labels on easyanddelish.com are for educational purposes only. This info is provided as a courtesy and is only an estimate, since the nutrition content of recipes can vary based on ingredient brand or source, portion sizes, recipe changes/variations, and other factors. We suggest making your own calculations using your preferred calculator, based on which ingredients you use, or consulting with a registered dietitian to determine nutritional values more precisely.
Please note that health-focused and diet information provided on easyanddelish.com is for educational purposes and does not constitute medical advice, nor is it intended to diagnose, treat, cure, or prevent disease. Consult with your doctor or other qualified health professional prior to initiating any significant change in your diet or exercise regimen, or for any other issue necessitating medical advice.
DID YOU MAKE THIS RECIPE?
Comment and rate the recipe. Also follow us on Pinterest at @easyanddelish for more delish recipes.