Since so many people have expressed curiosity about Brazilian breakfast customs, instead of answering their questions individually it seemed fitting to write a post about breakfast in Brazil. I am also sharing with you my favorite Brazilian breakfast dish: Tapioca Crepes with Cheese or Tapioca com Queijo.
I will start out by saying that breakfast is served only once per day, usually between 6 and 8 am. Practically speaking, in Brazil there is no such thing as brunch. Most of the time Brazilians eat breakfast at home, or sometimes have a light breakfast at the padaria (bakery) on the weekends. Since the majority of restaurants there serve only lunch and/or dinner, up until recently there was no such thing as going out for breakfast. But what if we are traveling within Brazil, what do we do about breakfast then?  No problem!  Hotels normally serve a plentiful breakfast, which is included within the hotel fee. I can guarantee that neither you nor I will go hungry down there. 🙂
Brazilian breakfasts also tend to be on the lighter side, since lunch is our main meal. So, if you are staying at someone's house in Brazil, generally do not expect to see pancakes, waffles, cooked meats such as bacon and sausage, hash browns, or omelettes on your plate… oftentimes, not even a variety of cereals.
In general, traditional Brazilian breakfast includes a small loaf of french bread or toast, butter, eggs, fruit (usually papaya), a cup of coffee with or without milk, a glass of juice (orange juice being the most customary), and sometimes hot cocoa or fruit smoothies (avocado, banana, guava, or papaya)…. There may also be oatmeal (papa de aveia), yogurt, jams, and sliced or spreadable cheeses, including requeijão — a mildly salty, silky-textured, spreadable cheese sold in glass jars and eaten on bread. Further, you may encounter cold cuts (deli ham, smoked turkey, or salami) and coffee cakes such as orange, plain carrot cake without topping, or cornmeal cake (bolo de fubá).  Cereal is not quite as popular, but some Brazilians do like granola.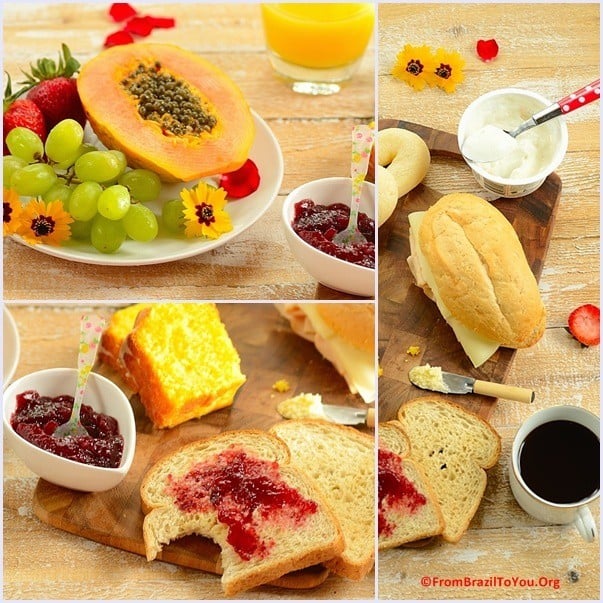 In hotels, depending on how many stars they have, the options can be endless.  Many items typical of an American breakfast are available there, and/or several regional dishes. The wide selection of fruit available at the breakfast stations of high end hotels is designed to impress any tourist, and definitely has to be experienced.
In padarias (bakeries), the most popular items are café pingado (a cup of coffee with a touch of milk) and pão na chapa (half loaves of French bread toasted with butter on a hot griddle).  You may also find misto quente (grilled ham-and-cheese-sandwich).
But that is not all!  Since Brazil is such a large country and has many different regional cuisines, depending on the region or even the state, the breakfast menu may include some local delicacies such as corn couscous (cuscuz de milho), boiled cassava or inhame (true yam), Brazilian cheese rolls (pão de queijo), milk curd (coalhada), mate tea (chá mate), chipas (a cousin of pão de queijo), cookies, German coffee cakes (cuca de maçã and others), and tapioca crepes with butter or filled with cheese (tapioca nordestina).
I am from Pernambuco state in the Northeastern region, where tapioca is a must for breakfast and also for afternoon snack. But remember, please don't conjure up an image of tapioca pudding. 🙂 Our tapioca or tapioca nordestina is a tapioca crepe that is usually served at breakfast time either with butter or filled with cheese, or with a variety of savory or sweet fillings at afternoon snack time.  It is gluten-free and made from sour starch or polvilho azedo, a byproduct of cassava. Tapioca itself comes from our indigenous heritage.
Since tapioca de queijo (tapioca crepes filled with cheese) is my favorite breakfast item, I will leave you today with its recipe.  Tchau and bom apetite!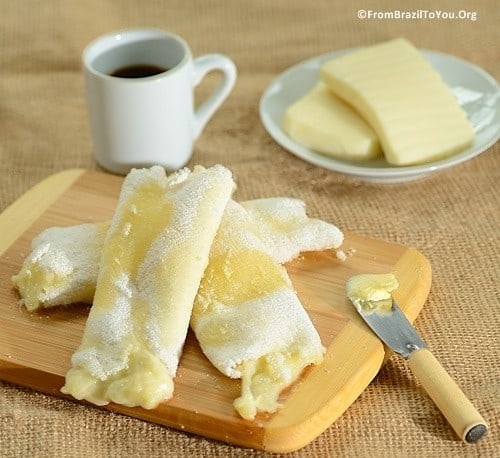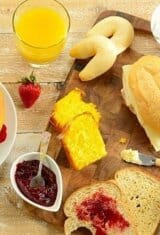 Brazilian Breakfast and Tapioca Crepes with Cheese
Brazilian recipe for tapioca crepes with cheese... A comforting, naturally gluten-free, quick-to-make breakfast/snack dish!
Ingredients
1/3

cup

sour manioc starch or tapioca flour

(polvilho azedo)

1

pinch

salt

2-3

tablespoons

water

Butter to spread

Shredded Mozzarela Cheese
Instructions
Combine the starch and salt in a small bowl and sprinkle the water on top of the mixture uniformly. Stir well using one of your hands so that the starch gets moistened but doesn't form a uniform liquid slurry. Then using the tips of your fingers, gently rub the wet starch to obtain a loose, crumbly texture (similar to a streusel mixture).

Heat a small (5-1/2 inches diameter) non-stick skillet over medium-high heat. Place the wet starch/tapioca flour in a small sieve. Use one hand to hold the sieve over the skillet and the other to press/rub the starch through the sieve. Strain starch in such a way that when it falls into the pan from the sieve it forms a uniform circle.

Let the heat bind and glue the grains so that the starch solidifies and forms a crepe/tortilla (pay close attention, because the crepe/tortilla will be ready in 10-30 seconds). Tip: make sure that the edges have as much starch as the center, so that edges will not be prone to breakage.

Flip the tapioca over using a metal spatula (or with experience, a large spoon) and cook very briefly on the other side, or simply slide the tapioca crepe onto a plate.

Place on a plate, spread butter on both sides of the tapioca crepe, fill with shredded cheese, roll the tapioca crepes up (like an enchilada, or if desired simply fold it like a taco), return to the skillet, and let the cheese melt. Remove from heat and serve immediately.

NOTE: Between making one tapioca and the next, please remove the skillet from heat and wipe both the bottom and sides of the skillet clean with paper towel (being careful to not burn yourself), so that the next tapioca won't be browned by the singed leftover grains of starch.

Storage: Once cooled, the non-filled tapiocas may be stored in sealed containers to be used later as canapés (called beiju); however, they won't be soft like when they were first made. I personally am not fond of beiju (hardened tapiocas) but you are welcome to form your own opinion.
Recipe Notes
Polvilho Azedo/ Sour Starch/ Almidón Agrio is available at local Latin Markets, Brazilian Stores, and online (Amazon.com). It is naturally gluten-free.