Missing an ingredient for your recipe? No problem! Get great charts for baking substitutions such as flour, milk, vegan eggs, sugar, butter and oil, chocolate, and more. They will rescue your recipe!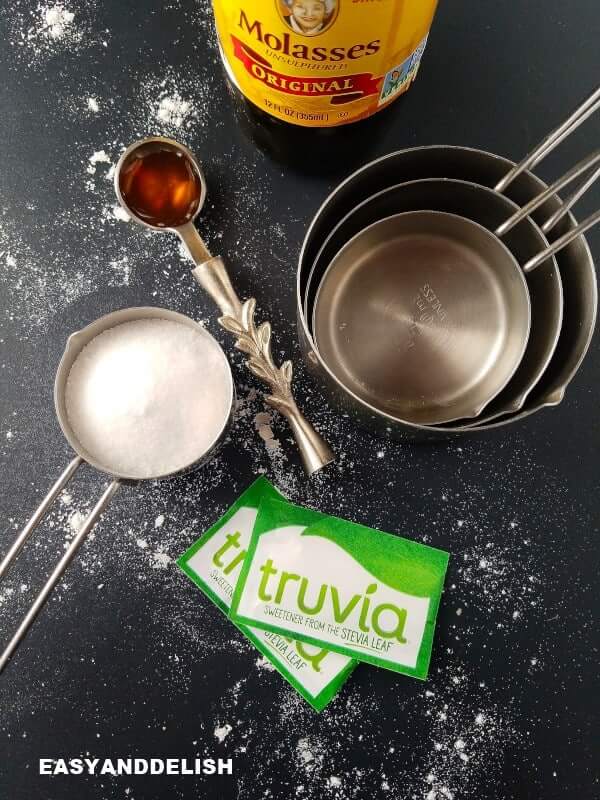 Jump to Butter & Oil Substitutions
Jump to Chocolate Substitution
Jump to Egg Substitutions (Vegan)
Jump to Leavening Agent Subsitutions
I love trying out new recipes, especially when it comes to baking treats for my family and friends. Often, though, one can get so excited to jump into the baking process that one forgets to fully read through the ingredient list or procedures.
What do you do when you reach a step in the recipe and find your tin of baking powder is empty? Or what if you are making a favorite quick bread for a coffee chat but one guest is vegan. Do you know how to substitute on the fly?
Having a well-stocked kitchen helps you keep prepared for just about any recipe. However, one should also be able to prepare substitutions to maintain the structure or flavor of a recipe.
They might not always act the same 100% of the time, but they should still be passable enough to please guests. It really helps to have these tricks up your sleeve!
If you are in the middle of a baking recipe and can't run to the store, or you are trying to make a recipe without having to buy some ingredient you won't ever use again, it helps to know some on-the-fly substitutions and their exact equivalent amounts.
Baking Substitutions
Here you will find the charts for baking substitutions and the measurement conversion for several types of:
Flours (all-purpose, gluten-free flour, coconut flour, almond flour, and self-rising flour)

Milks (buttermilk, heavy cream, coconut milk, half-and-half, etc)

Sweeteners such as sugar, molasses, honey and maple syrup

Eggs and vegan eggs

Fats such as oil, butter, and vegetable shortening

Leaveners such as baking powder, baking soda, and instant yeast.

Spices, including blends or mixes
Other Cooking Conversions to Use
Baking and Cooking Ingredient Substitutions
While it's always best to stick with the ingredients called for in a recipe, sometimes things just happen and you find yourself needing a substitution. Below are some great ingredient substitutions to use in a pinch.
Note: Do be aware that although these substitutes in baking will work well in many recipes, sometimes you might find the end result is different when using a substitute when compared to the result when using the correct ingredient. You may actually like the recipe better with the substituted ingredient, or it may not work to your liking—the only way to know for sure is to try, but be patient and have appropriate expectations.
Flour Substitutions and Conversions
Different types of flour can surprisingly make a big difference in a recipe. For example, bread flour contains more gluten to give the bread a chewier texture. Self-rising flour has salt and leavening ingredients added so that you can use fewer items when making bread, cookies, biscuits, or other foods that need to rise while baking. Each type of flour serves its specific purpose well, but what if you are in the middle of baking and realize you're out of the flour you need? Don't stress! Here are a few substitutes you can try:
Cake Flour
1 cup of cake flour = ¾ cup well sifted all-purpose flour mixed with 2 tablespoons cornstarch.
Cake flour is very light and ultra-sifted to ensure a smooth and fluffy cake. As a substitute for cake flour, I suggest that you sift the all-purpose flour and the cornstarch together. You may want to do this several times before using the flour in a cake batter.
Self-Rising Flour
1 cup self-rising flour = 1 cup all-purpose flour plus 1 ½ teaspoons baking powder and ½ teaspoon salt.
Self-rising flour is simply flour with leavening and a little salt added.
Bread Flour
1 cup bread flour = 1 cup all-purpose flour.
Yes, all-purpose flour works well as a substitute for bread flour. Just be aware that the final result will be a slightly less chewy bread.
| This Quantity... | --> Can Be Substituted With... |
| --- | --- |
| 1 cup all-purpose flour | 1 cup all-purpose gluten-free flour |
| ¼ cup coconut flour | 1 cup almond flour |
| 1 cup cake flour | 1 cup all-purpose flour with 2 Tablespoons replaced with cornstarch |
| 1 cup self-rising flour | 1 cup all-purpose flour plus 1 ½ teaspoons baking power and ¼ teaspoon salt |
Spice Substitutions
If you are making a recipe and suddenly realize you don't have the right spice blend, don't worry! The blends can usually be made easily with other spices.
Pumpkin Pie Spice
1 teaspoon pumpkin pie spice = ½ teaspoon ground cinnamon, ¼ teaspoon ground ginger, ⅛ teaspoon ground allspice, and ⅛ teaspoon ground nutmeg.
Pumpkin pie spice is most commonly called for in pumpkin pie recipes, but might also be used in cakes, bread, cinnamon rolls, pancakes, and many other recipes. Using the proportions above makes the perfect substitute for pumpkin pie spice that you buy at the store.
Apple Pie Spice
1 teaspoon pumpkin pie spice = ½ teaspoon ground cinnamon, ⅛ teaspoon ground nutmeg, and ⅛ teaspoon ground allspice.
As rarely as you might use apple pie spice, you might prefer just to make it yourself whenever needed.
Baking Substitutes for Sugar and Conversions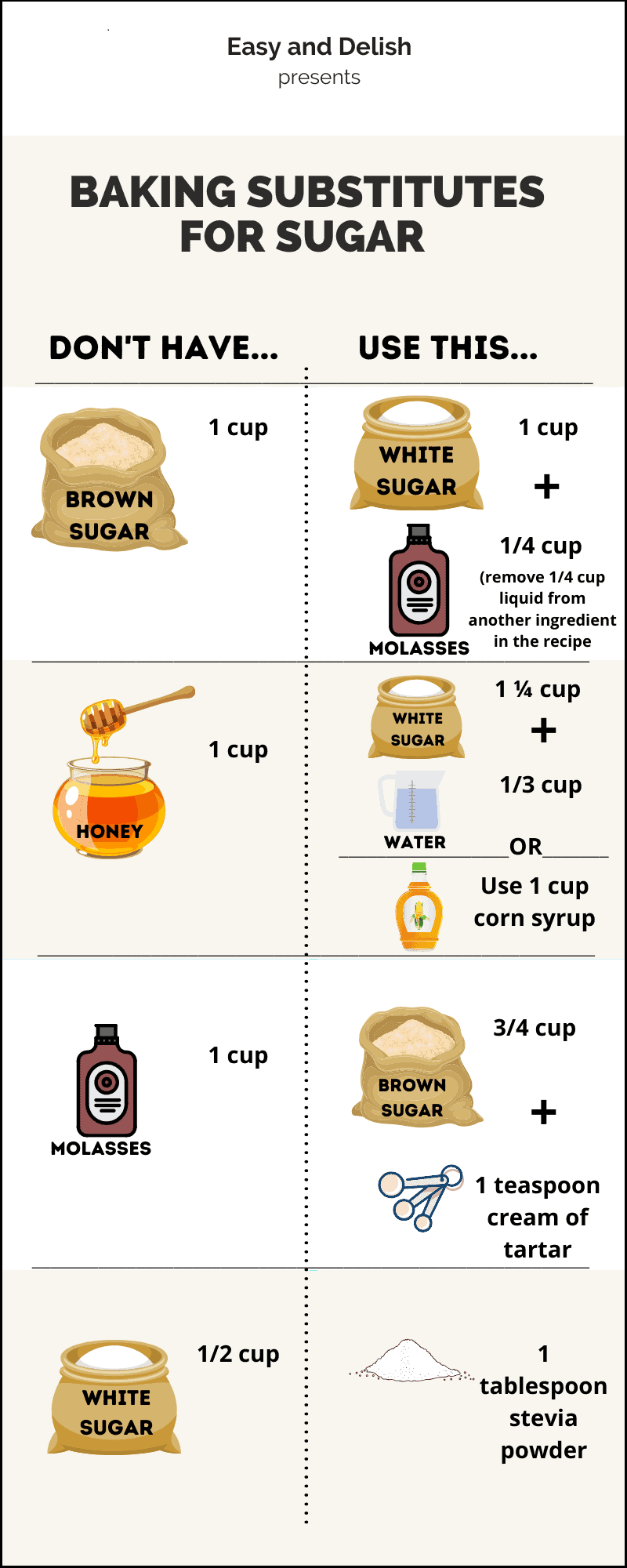 Sugar is such an important part of many recipes. So what do you do if you run out of the specific type of sugar or sweetener called for in a recipe? Try one of these swaps:
Sugar
1 cup granulated sugar = 1 cup brown sugar.
Brown sugar is just granulated sugar and molasses, so you may notice a slightly different taste, texture, and color to your finished recipe, but the sweetness will be great.
Brown Sugar
1 cup brown sugar = 1 cup granulated sugar + 1 tablespoon molasses.
Keeping a jar of molasses on hand in your pantry is always a good idea! Then, if you run out of brown sugar while making cookies or realize your brown sugar is as hard as a rock—no problem! Just mix together your own substitute for brown sugar using the ratios above and you'll be back in business.
Powdered Sugar
1 cup powdered sugar = 1 cup granulated sugar pulsed in the blender or food processor.
Powdered sugar is just regular white sugar that has been processed to be very fine and, well… powdery. So if you every need a substitute for powdered sugar in a jiffy, just grab the granulated sugar, grind in pulses, and you'll be good to go.
Maple Syrup
1 cup maple syrup = 1 cup agave plus 1 teaspoon vanilla extract or 1 cup honey or 1 cup light corn syrup.
Maple syrup and honey are often interchangeable in their measurements, making honey a suitable substitute for maple syrup in many instances. Keep in mind that they have different flavor profiles and that syrup may be used in place of honey to keep a recipe vegan.
Molasses
1 cup molasses = 1 cup dark corn syrup or 1 cup maple syrup or 1 cup honey or ¾ cup packed brown sugar.
Molasses is very thick and sweet, so these equally thick and sweet ingredients can work as substitutes for molasses if needed.
Dairy and Milk Substitutions and Conversions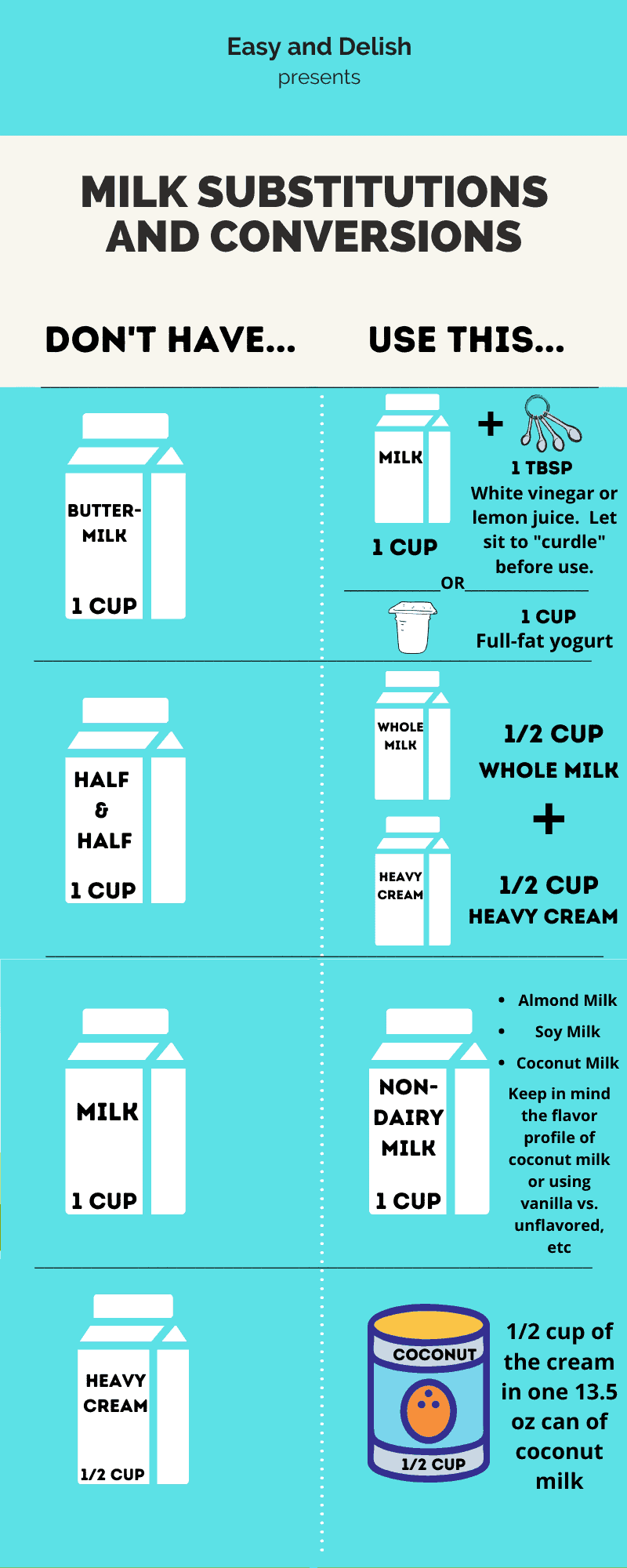 Dairy adds moisture and usually fat to recipes, which impacts the flavor and texture of the food. When you find yourself without a needed dairy ingredient, here are some substitutes for milk that may work:
Butter
1 cup of butter = either 1 cup margarine or 1 cup vegetable shortening plus ½ teaspoon salt or ⅞ cup lard plus ½ teaspoon salt.
Margarine, shortening, and lard all contain different amounts of water than butter, so you will most likely notice a change in the texture of your food, especially baked goods. However, these ingredients can add the needed fat and flavor to replace butter.
Substitutes for Buttermilk
1 cup of buttermilk = add 1 tablespoon of lemon juice or white vinegar to a 1 cup measure, then fill it the rest of the way with milk. Let this mixture stand for 5 minutes before adding to your recipe.
Making buttermilk is fairly simple: just replace with regular milk and an acidic ingredient, such as the lemon juice or white vinegar called for above.
Greek Yogurt
1 cup of Greek yogurt= 1 cup of plain, unsweetened yogurt= 1 cup of sour cream (great in sauces and dressings)= 1 cup cream cheese = ¾ cup buttermilk
Some great substitutes for Greek yogurt include equal amounts of either plain yogurt, sour cream, or cream cheese, or a one-fourth less amount of buttermilk (since it is thinner)
Half and Half
1 cup of half and half = ½ cup whole milk and ½ cup heavy cream.
The name "half and half" refers to the product being approximately half cream and half milk. So, you can make a very easy substitute for half and half if you have those two ingredients.
Substitutes for Heavy cream
½ cup heavy cream= ½ cup of the cream in one 13.5 oz can of coconut milk
Heavy cream can often be replaced in recipes by using one half cup of the cream in a standard size can of coconut milk for every half cup of heavy cream called for in the recipe. Another handy alternative for cooking and baking (but not whipping) is to combine ¼ cup of melted butter with ¾ cup of milk and mix thoroughly to yield the equivalent of 1 cup of heavy cream.
Sour Cream
1 cup sour cream = 1 cup plain yogurt.
Although they do taste different on their own, in a recipe the difference between sour cream and plain yogurt is often very small or even undetectable. Using yogurt as a substitute for sour cream is a wonderful way to lighten a recipe up as well!
Whole Milk
1 cup whole milk = ½ cup evaporated milk mixed with ½ cup water or 1 cup skim milk mixed with 2 tablespoons melted butter.
Sometimes lower fat milks can be used in place of whole milk. But other times the fat in the whole milk is important to the outcome of a recipe, in which case, the substitutes above can work well.
Non-Dairy Milk Swaps
If you're needing to eliminate dairy from a recipe that calls for milk, there are so many great options! Try cashew, almond, oat, hemp, or other non-dairy milk options. They can be used cup-for-cup the same measurement as cow's milk.
Baking Substitutes for Butter and for Oil and Conversions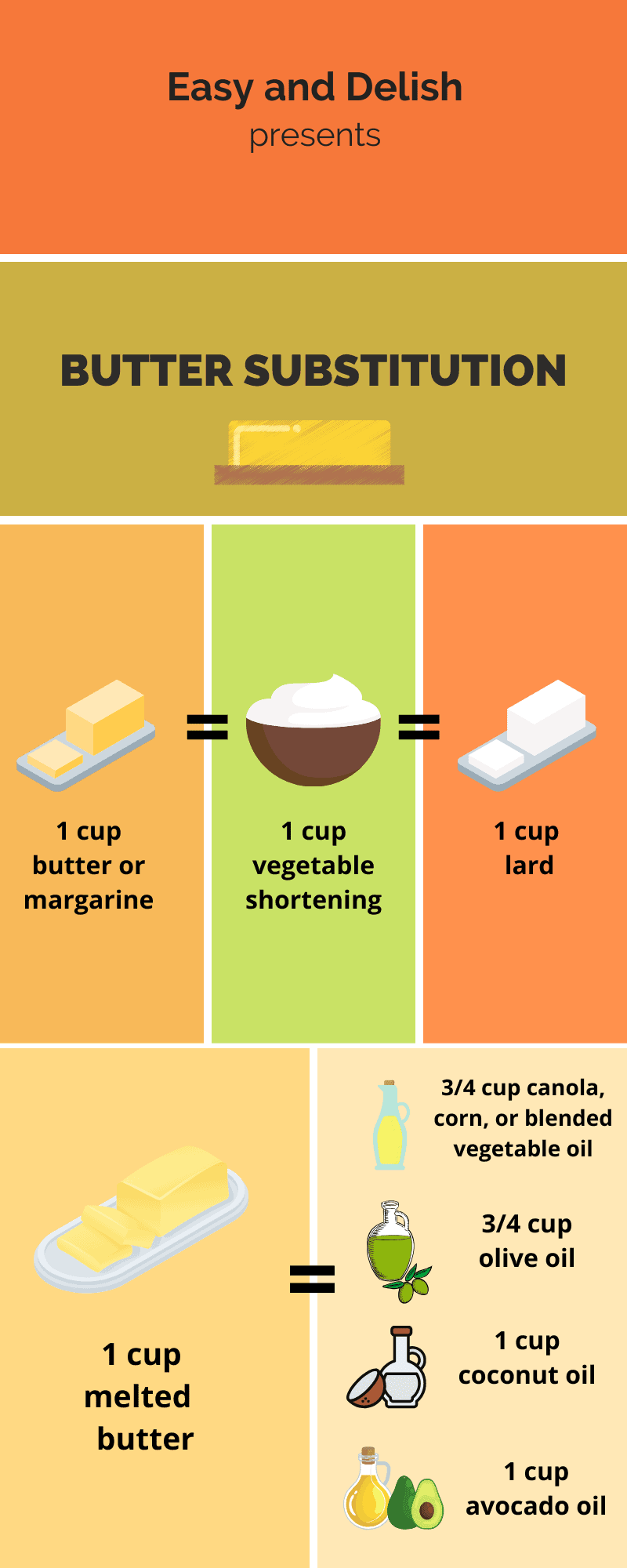 Vegetable Oil
1 cup vegetable oil = 1 cup unsweetened applesauce or 1 cup melted vegetable shortening or 1 cup melted coconut oil or avocado oil.
Applesauce adds moisture that can replace vegetable oil in foods such as cookies, bread, pancakes, and even cakes (specifically, dense and moist cakes like a carrot cake, not light and fluffy cakes like a white wedding cake). Coconut oil makes a great substitute for vegetable oil for baking; just melt before using.
Vegetable Shortening
1 cup vegetable shortening = 1 cup butter or margarine.
As mentioned above, butter and shortening do contain different amounts of water and so the final result of your recipe might be a little different, but it should still work, depending on the recipe.
Leaveners Charts (baking powder, baking soda, and yeast):
You may wonder if there is really a difference between baking soda and baking powder or if you can use them interchangeably. The answer is, yes, there is a big difference. Although they sound and even look very similar and both act as leavening agents, they do function differently in recipes.
Baking powder is a blend of ingredients that includes a base leavening ingredient, an acidic additive, and a buffer that keeps the baking powder fresh and prevents it from activating before it is added to a recipe. Baking soda is just sodium bicarbonate, a leavening agent that causes the dough to rise by creating carbon dioxide. The big difference is that baking soda does not contain any acid that is needed to activate it in a recipe.
If you find you're out of either baking soda or baking powder needed for a recipe, here are substitutes you can use:
Substitute for Baking Soda
1 teaspoon baking soda = 3 teaspoons baking powder and omit the salt from the recipe.
Teaspoon for teaspoon, baking soda is more powerful than baking powder, so you will need more baking powder.
Substitute for Baking Powder
1 teaspoon of baking powder = ¼ teaspoon baking soda plus ½ teaspoon cream of tartar and ¼ teaspoon cornstarch.
The cream of tartar is the acidic ingredient needed to help activate the baking soda.
This Quantity...
Can Be Substituted With...
1 teaspoon baking powder
¼ teaspoon baking soda plus ½ teaspoon cream of tartar
(This is the super-simple recipe for how to make baking powder out of baking soda!)
1 teaspoon baking soda
4 teaspoons baking powder. In this case, any acidic liquids (lemon juice, vinegar, buttermilk) should be swapped out to non-acidic ones
all-purpose flour plus a certain quantity of baking powder or baking soda...
Use the same quantity of _self-rising_ flour as that called for in the original recipe, but simply omit the baking soda or baking powder
2 teaspoons instant yeast
1 scant Tablespoon active dry yeast (or 1 cake fresh yeast)
Vegan egg substitute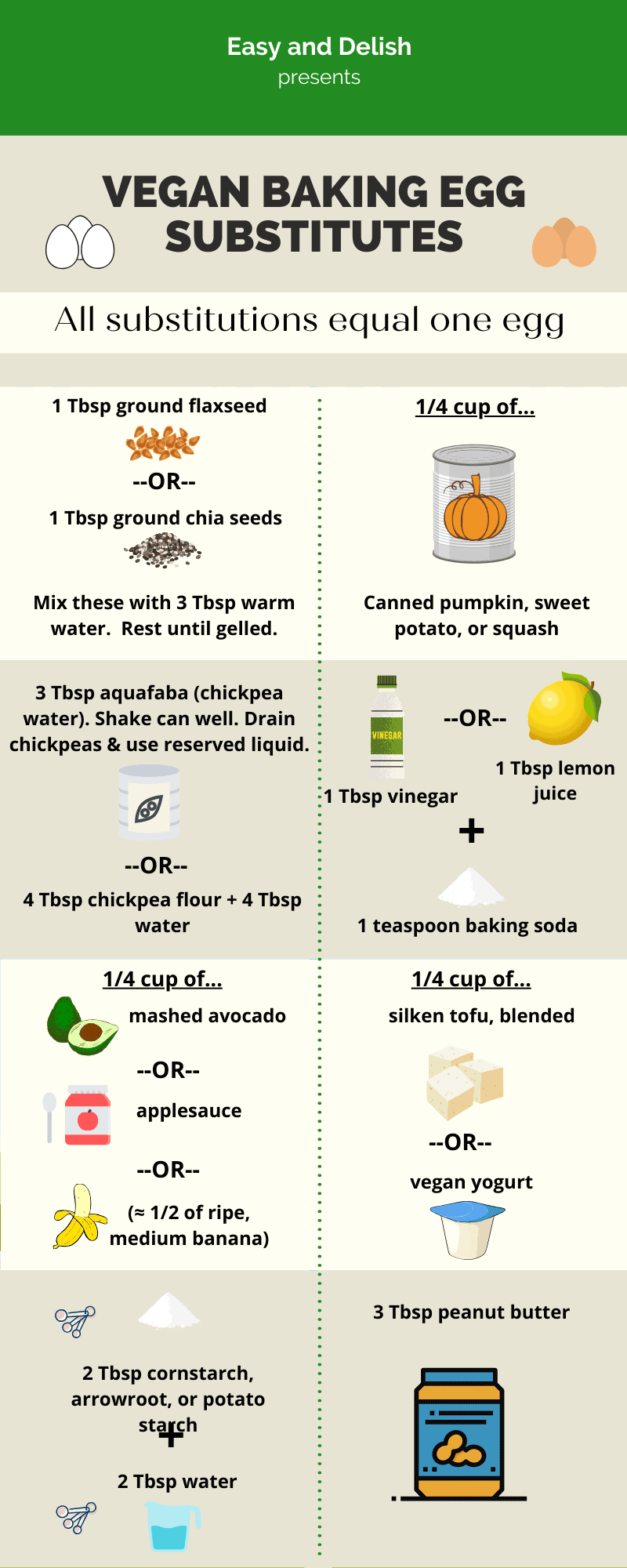 Eggs
1 egg = ½ cup unsweetened apple sauce or 1 tablespoon ground flaxseed mixed with 3 tablespoons water (mix and allow to sit for 5 minutes before using) or 3 tablespoons regular mayonnaise or ½ mashed banana (sometimes with ½ teaspoon baking powder for fluffy cakes) or ¼ cup silken tofu pureed.
There are many ways to get around using eggs in a recipe! A substitute for eggs in baking must do carry out the same important functions that eggs do: adding moisture, structure, and leavening. All of the vegan egg substitutes above in the chart can work very well, but it does depend a lot on the type of recipe you are making which one is the best choice.
Chocolate
Here are a few baking substitutes for chocolate:
1-ounce semisweet chocolate / 1 oz unsweetened chocolate plus 4 teaspoons white sugar

1-ounce unsweetened chocolate / 3 Tablespoons unsweetened cocoa powder plus 1 Tablespoon shortening or vegetable oil