Hamburgers?  That's always my hubby's first choice… But not mine!!! (with all due respect).  My favorite choice between two slices of bread has always been long and juicy: Hot dogs, Brazilian-style…. although I also have other faves, such as the comforting Top Hat Bananas Sandwich (Sanduíche de Cartola)  and the refreshing Beach-Style Cold Chicken Sandwich (Sanduíche Natural de Frango).
Now then, what is a Brazilian-style hot dog?  Well, if you've never had the opportunity to get a bite of our hot dog, now is your chance.  I highly recommend that you not waste one second more.  Make it happen NOW.  We are talking about a plump sausage link (plumpness technique below) topped with  well-seasoned and saucy ground beef and melted cheese. 😉
Oh, that's not all!!! It gets more and more interesting, because this wicked hot dog is usually served with a range of accompaniments such as shoestring potatoes, mashed potatoes, steamed corn and/or peas, pico de gallo (vinagrete),  chopped olives, grated carrots, etc.,  etc., all according to the preference of the customer.  It means that the basic, already superb HOT DOG can be exquisitely customized.
After the first bite, additional accompaniments are usually added on as well– huh?… by this I mean the words of praise that are generally expressed: "Heavenly," "gimme ALL of them," "wicked," "OMG," and so forth.  :):)   It's really up to you.  My words of choice?  Well, all that I can say is that I do prefer to eat my hot dog by myself…
Go get yours, quick!!! 😉
xx
Brazilian Hot Dog
Yield: 8 hot dogs
Segment: Brazilian cuisine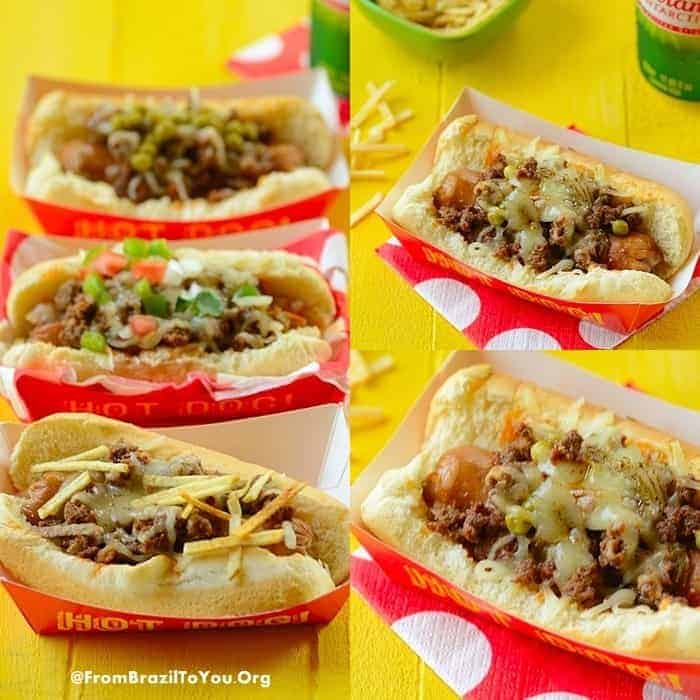 Ingredients:
1 pound (about 450 g ) ground beef (I made mine with lean beef)
Salt and ground black pepper to taste
A good pinch of cumin
8 hot dog links (on each sausage, make a lengthwise cut that goes from one end to the other.  The cut must be superficial, i.e., less than half of the thickness of the sausage) **
2 tablespoons vegetable oil
1 medium yellow or white onion, small diced
1 green pepper, small diced
3 cloves of garlic, minced
2 tablespoons of tomato paste
2 cups water or beef broth/stock
1 teaspoon dried thyme
Juice of 1/2 lime
8 loaves of French rolls or hot dog buns
Shredded mozzarella
** The best sausages are those that have a moist (not dry) appearance inside.
Directions:
1.  In a bowl , season ground beef with salt, pepper and cumin.  Reserve.
2.  In a large saucepan over medium-high heat, add the sausage and just enough water to cover.  Once the water comes to a boil, remove pan from heat.  You will notice that the sausages have nearly doubled in size (plumpness technique).  Reserve.
3.  In a medium stainless-steel saucepan over medium-high heat, heat the oil.  Sauté both the onion and bell pepper.  When the onion becomes translucent, add the garlic and let it cook, stirring constantly, for 30 seconds.  Add the ground beef and let brown. Stir in  the tomato paste.  Then add either water or broth/stock and thyme, and bring to a boil.  When it begins to boil, reduce heat to medium-low and let the meat cook, partially covered, for about 10 minutes, stirring occasionally.  Remove from heat, stir in the lime juice,  and cover the pan.
4. To assemble the hot dog, put a warm or hot sausage link into each roll/bun, and then on top of it spoon about 2-4 tablespoons  of the prepared, hot ground beef.  Top with shredded mozzarella cheese (only assemble the hot dogs right before serving, in order to prevent the bread from becoming soggy).  Mustard, ketchup, and mayonnaise are the preferred choices for condiments in Brazil.  The hot dogs can be served with the following accompaniments: steamed corn, steamed peas, pico de gallo, grated Parmesan cheese, shoestring potatoes, shredded lettuce, chopped parsley, chopped olives, grated carrots, mashed potatoes, requeijão cheese, etc..  Typical accompaniments vary from one region of Brazil to the next.
Vintage 1826 South America Map by Anthony Finley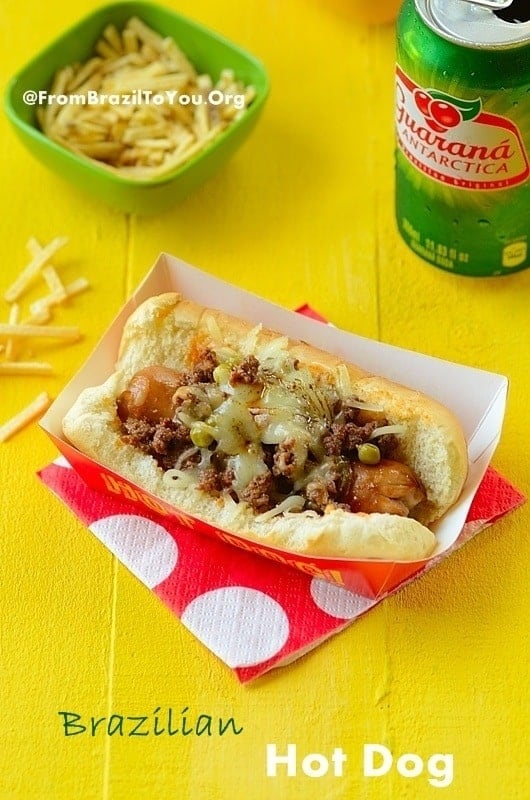 ** Canvas print ad was sponsored by W. Freys, who has provided both image and link.