Volume is something that every cook or baker must deal with often. Whether you are looking for measure equivalents for dry or liquid ingredients, these volume conversions tables will help you to find the measurement equivalents in the U.S. and convert from the US customary to the metric system and vice-versa.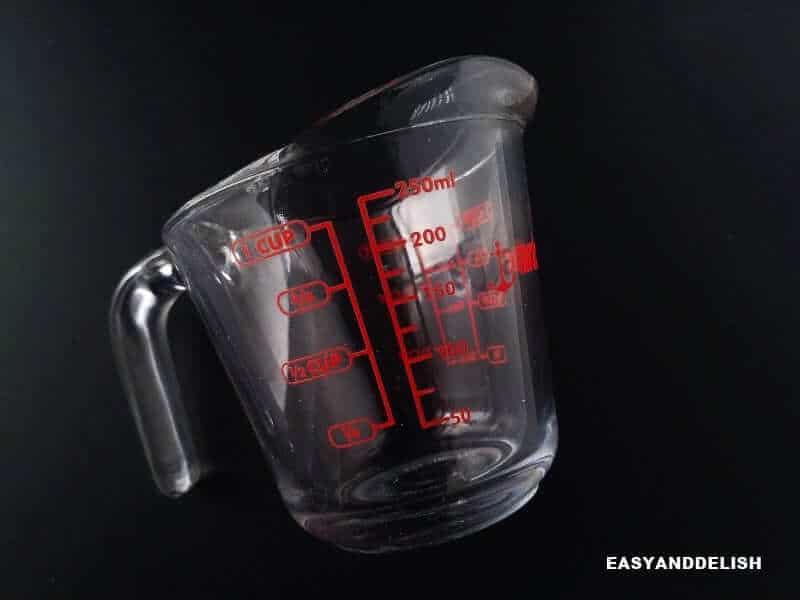 Of course, they are not as precise as a conversion calculator. However, they are good enough to use in cooking without causing disasters.
This is very important if you are from another country but using a cookbook from the United States, Myanmar (or Burma), and Liberia.
The recipes will contain measurements in cups, ounces, and fluid ounces, while you are used to the metric system. The opposite is also true!
In the rest of the world, including Brazil, the U.K, Canada, and Australia, you will have recipes in grams, kilograms, and milliliters.
That is why these conversion charts are useful and needed. After all, who would like to wind up with a glop instead of a brigadeirao for example?
Other Cooking Conversions that You Can Use:
Liquid Measurement Conversions
| CUPS | PINTS | QUART | GALLONS | FLUID OUNCES | MILLILITERS |
| --- | --- | --- | --- | --- | --- |
| ¼ cup | ⅛ pint | 1/16 quart | 1/64 gallon | 2 fl oz | 59 mL |
| ½ cup | ¼ pint | ⅛ quart | 1/32 gallon | 4 fl oz | 118 mL |
| ¾ cup | ⅜ pint | 3/16 quart | 3/64 gallon | 6 fl oz | 177 mL |
| 1 cup | ½ pint | ¼ quart | 1/16 gallon | 8 fl oz | 237 mL |
| 2 cups | 1 pint | ½ quart | ⅛ gallon | 16 fl oz | 473 mL |
| 4 cups | 2 pints | 1 quart | ¼ gallon | 32 fl oz | 946 mL |
| 8 cups | 4 pints | 2 quarts | ½ gallon | 64 fl oz | 1893 mL |
| 16 cups | 8 pints | 4 quarts | 1 gallon | 128 fl oz | 3785 mL |
Dry Measurement Conversions
TEASPOONS
TABLESPOONS
CUPS
FLUID OUNCES
(Rough Equivalent)
POUNDS
GRAMS
3 teaspoons
1 tbsp
1/16 cup
½ oz
14.3 g
6 teaspoons
2 tbsp
⅛ cup
1 oz
28.3 g
12 teaspoons
4 tbsp
¼ cup
2 oz
56.7 g
16 teaspoons
5 ⅓ tbsp
⅓ cup
2.6 oz
75.6 g
24 teaspoons
8 tbsp
½ cup
4 oz
0.25 lbs
113.4 g
36 teaspoons
12 tbsp
¾ cup
6 oz
0.375 lb
170 g
48 teaspoons
16 tbsp
1 cup
8 oz
0.5 lb
227
96 teaspoons
32 tbsp
2 cups
16 oz
1 lb
453.6 g
192 teaspoons
64 tbsp
4 cups
32 oz
2 lbs
907 g
Metric Volume Conversions vs. Imperial
In the United States, you will find that most recipes use volume measurements that are shown in imperial units.
Example: teaspoons, tablespoons, cups, ounces, pints, quarts, and gallons. Most other countries use the metric system. These will be units such as liters and milliliters.
Although the U.S. volume measurement system works well for recipes most of the time, for greater precision you will need to measure by weight instead.
A kitchen scale will ensure you use the exact amounts called for in a recipe.
For example, simply the way you scoop flour into a measuring cup can change how much flour is actually in the cup.
There is a big difference between spooning the flour into the measuring cup or dipping into the flour which can pack much more into the cup.
Weighing the flour is the best way to make sure you're using the correct amount.
There is another advantage to using the metric system: the measurements are done in multiples of 10 and 100 without needing to know any conversions.
No wondering how many tablespoons are in ¾ cup! Using the metric system in baking and cooking makes it much easier to double a recipe or cut it in half.
Volume Measurements vs. Weight
It is really important to be aware that volume in ounces is not the same as weight in ounces.
This is because liquids will be measured in volume ounces while dry ingredients (such as flour, sugar, salt, etc.) will be measured in weight ounces.
When you are looking at packaged goods, you will see that volume ounce is listed like this: NET OZ FL.
When you see "FL" listed, it stands for the fluid weight. On other packages, you will see weight ounces are listed like this: NET WT OZ. In these cases, "WT" stands for weight.
To be able to convert between weight and volume measurements, you would need to know the density of the ingredient, which is a whole other level of measuring and hard to do in a home kitchen, so this is not often done.
Volume Conversions: Difference Between Liquid and Dry Ounces
Fluid ounces are often marked on the outside of liquid measuring cups. They are measurements of volume rather than weight and thus different from weight ounces.
To measure liquids correctly, use liquid measuring cups and spoons. They are made of glass or plastic and have a spout for pouring.
On the other hand, dry measuring cups may not be as precise as weighing the ingredients, making a difference in the final dish, mainly when it comes to baked goods and desserts.
But still, they should do the job if you are not baking.