Tablespoons and teaspoons are units of volume (dry and liquid) both in the metric and US customary/imperial systems. They measure smaller amounts of ingredients such as spices and oil, avoiding the need to weigh them out. They are certainly essential measurements for cooking and baking.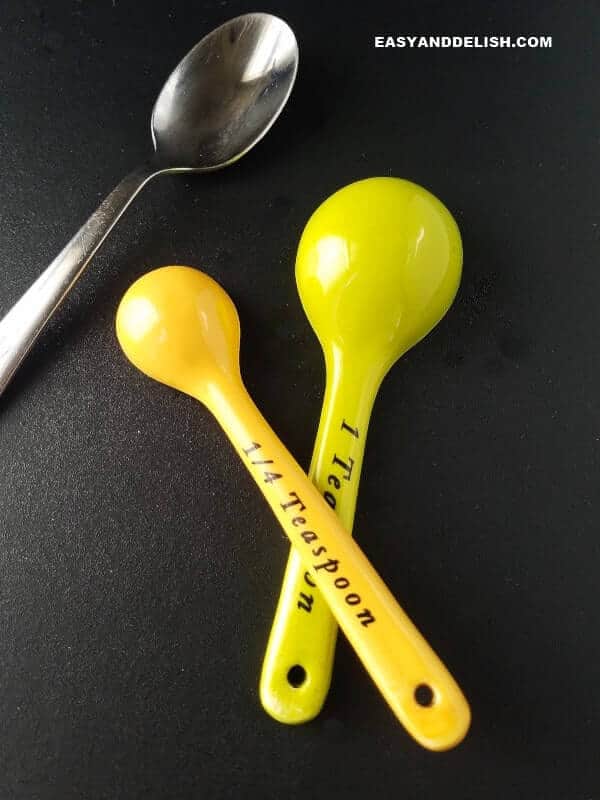 The most common question, even in my own kitchen, is about tablespoon and teaspoon conversion.
How Many Teaspoons in a Tablespoon?
Whether you're wondering, "how many teaspoons are in a tablespoon?" or "how many sticks of butter are in a cup?" or needing to know what to use instead of eggs in a recipe when you're in the middle of baking and realize you are out of eggs, you're in the right place!
Q: How many teaspoons are in a tablespoon?
A: There are 3 teaspoons in one tablespoon
Q: How many tablespoons are in one cup?
A: There are 16 tablespoons in one cup.
Q: How many cups are in one pint?
A: There are 2 cups in one pint.
Now that we have those important questions answered, let's talk more about measurements, volume conversions, and ingredient substitutes so you'll be cooking and baking like a pro in your own kitchen!
You may need to know how many teaspoons equal a tablespoon if you need to double (or more) a recipe or cut it in half. Teaspoons to tablespoons is a basic conversion you will probably use very often.
Volume vs. Weight
Teaspoons measure the length, width, and height of the spoon, which is the volume, not the weight. Volume is the measure of space occupied by the object and is calculated by multiplying length, width, and height. Whenever you measure ingredients with measuring spoons or cups, you are measuring the volume.
Dry ingredients like spices, salt, and leaveners are added to recipes in small amounts, so you can easily measure these ingredients with measuring spoons. Since most home kitchens do not have a scale with the precision to weigh teaspoons and smaller amounts, using measuring spoons is the best alternative. However, if are doubling (or more) recipe, you may want to weight the dry ingredients for precision.
Here is a handy list to refer to when needing to know the equivalent measurements:
1 teaspoon = 5 milliliters

1 tablespoon = 3 teaspoons = 15 milliliters

4 tablespoons = ¼ cup = 60 milliliters

1 ounce = 2 tablespoons = 30 milliliters

1 cup = 8 oz. = 250 milliliters

Also 1 pint = 2 cups = 500 milliliters

1 quart = 4 cups = 950 milliliters

1 quart = 2 pints = 950 milliliters

Also 1 gallon = 4 quarts = 3800 milliliters = 3.8 liters
Spoon Conversions
Here is a quick guide to converting teaspoons and tablespoons to cups, which you'll find especially helpful when doubling, tripling, or more, any recipe.
¼ cup = 12 teaspoons = 4 tablespoons

⅓ cup = 16 teaspoon = 5 ⅓ tablespoons

½ cup = 24 teaspoons = 8 tablespoons

⅔ cup = 32 teaspoons = 10 ⅔ tablespoons

¾ cup = 36 teaspoon = 12 tablespoons

1 cup = 48 teaspoons = 16 tablespoons
When scaling recipes up or down, remember that 1 tablespoon is equal to 3 teaspoons.
You can also use this tablespoon conversion chart with the equivalents in fluid ounces and milliliters.
How many tablespoons in a cup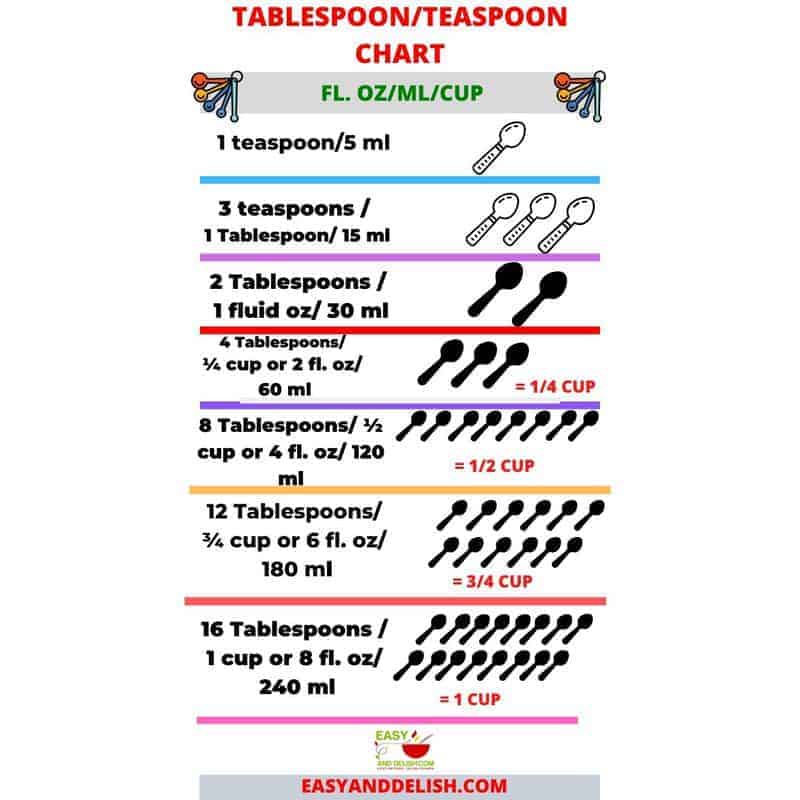 Dessertspoons
But that's not all! In the UK, as in Brazil, one also has to deal with dessertspoons. A dessertspoon is equivalent to 2 teaspoons in the Unites States, measuring 10 ml for liquid ingredients. As for dry ingredients, 2 rounded or heaping teaspoonfuls may be called for in Australian and British recipes.
Other useful cooking conversions: