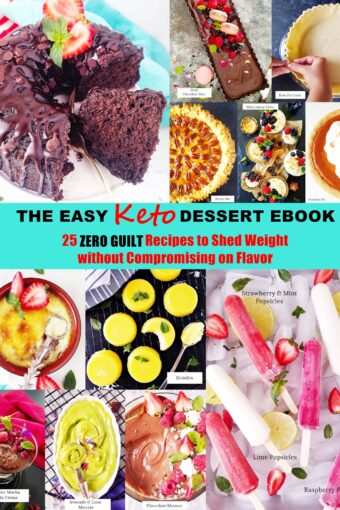 The Easy Keto Desserts Ebook
25 ZERO GUILT Dessert Recipes for Keto Dieters
We can't think of any better way to enjoy a scrumptious dessert without guilt than low carb, gluten-and-sugar-free treats that taste virtually like the real thing. Through the pages of this ebook, you will find out that you don't have to sacrifice your health or diet to indulge in these treats. They are perfect not only for those on a keto diet, but also for diabetics, PSOC survivors like me, and also for those who are gluten-or-lactose-intolerant.
Literally, every single dessert recipe is easy to prepare and delish... just like the recipes on our Easy and Delish blog.
This ebook contains 25 unique keto dessert recipes that can't be found on the blog. There are treats for 4 seasons-- both for every day (like our espresso brownies) and holiday recipes (such as pumpkin pie).
If you're ready to shed some pounds without compromising on flavor, this keto eBook is for you!
This keto desserts eBook will be delivered upon purchase via email.