Brigadeiro cupcakes are moist and made with a chocolate cake mix, requiring few ingredients. It's topped with a fudgy chocolate frosting like our brigadeiro cake.
Oh, Halloween is getting close... It's almost here. What are you going to be this year? I have already decided to dress up as an Indian (Bollywood Style). My girls have also picked out their costumes too: one will be Rapunzel and the other Princess Tiana... lol For my children, costumes are a big deal...For me, humm, not as big a deal as the treats! As always, we will have all kind of sugary treats... But none as sweet as my brigadeiro cupcakes. That's right!!!
Why?
Because these brigadeiro cupcakes are special...Our brigadeiro cupcakes are an authentic Brazilian treat! 🙂 They are called Brigadeiro cupcakes because they taste and also look just like Brazil's most popular candy: the infamous Brigadeiro!!!! It's perfect for Halloween and any other occasion. Try it and you'll end up agreeing with me.
In Brazil, although we have our monsters (known only from folklore), we traditionally do not celebrate Halloween. That is why I was not so sure about which direction to take for decorating the brigadeiro cupcakes. In the end, I decided to decorate them American-style. Since the flavor of these brigadeiro cupcakes is Brazilian, and the decorations for them are American, these treats represent a fusion between Brazilain and American cuisines.
And what loads of fun it was to go shopping in the supermarket candy aisle... so fun in fact that I ended up buying way too many candies. I was like a kid in the candy store!! 🙂
Well, see the results for yourself... Enjoy our brigadeiro cupcakes and Boo!
Happy Halloween!!!!!!!!!!!!!!!
Brigadeiro Cupcakes
Yield: 24 standard cupcakes
Segment: Fusions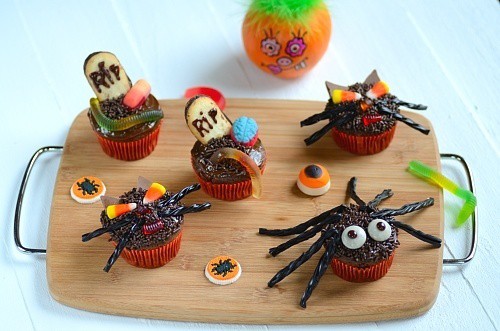 Ingredients:
For the Batter:
1 (15.25 oz or 432g) Betty Crocker milk chocolate super moist cake mix
1-¼ cups water (I used coconut milk for a moister batter)
⅓ cup vegetable oil
3 large eggs, at room temperature
For the Chocolate Frosting:
1 (14 oz or 396 g) can of sweetened condensed milk
¼ cup baking cocoa powder
2 tablespoons unsalted butter (softened)
1 tablespoon pure vanilla extract
1-2 tablespoons heavy whipping cream
Directions:
Preheat oven at 350º F (180º C) for a shiny metal cupcake tin or at 325º F (about 160º C) for a dark or non-stick cupcake tin. Line cupcake paper baking cups.
Place all the ingredients in a large bowl and beat on low speed for 30 seconds, then on medium speed for 2 minutes, scraping the bowl occasionally (It's important NOT to overbeat the batter). Use an ice cream scoop to fill the lined paper cups ⅔ full.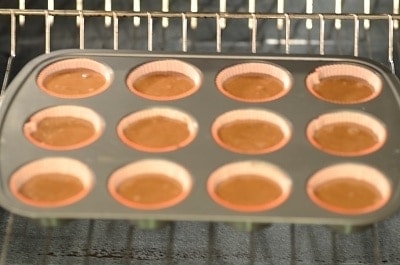 Bake for about 18-23 minutes (mine were ready in 20 minutes) or until a toothpick inserted in the center comes out clean. Let cool down completely before frosting.
To make the frosting: Mix the condensed milk, cocoa powder, and butter together. Then , choose your preferred cooking method below.
On the Stove: Cook in a medium saucepan over medium heat, stirring constantly, until the mixture starts to show the bottom of the pan when you scrape it with your wood spoon. The brigadeiro mixture should be thick enough to reveal the bottom of the pan for a couple of seconds before the mixture levels out again.
In the Microwave: Pour mixture into a deep microwaveable bowl. If 900 watts, let cook on full power for about 6 minutes -- removing and stirring at least every 2 minutes, or until thick. While it is cooking, do not leave the microwave unattended because mixture will rise and possibly bubble over, making a mess. Every time it rises, pause until mixture settles back down. If 1100 watts, cook at 80 % power. Double batches take more time to cook.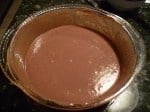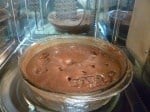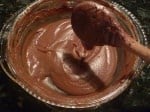 When it is ready, mix in the vanilla extract and the heavy cream well. Let cool to room temperature before spreading the chocolate frosting.
Note: The brigadeiro cupcakes can be stored in a clean airtight container either at room temperature (for up to 2 days) or in the refrigerator (for up to 4 days).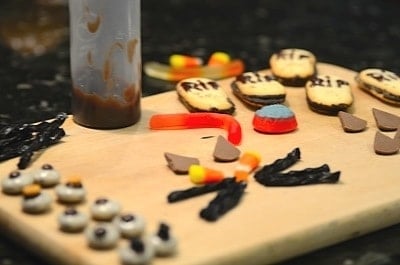 FOR THE DECORATION:
CUTE SPIDER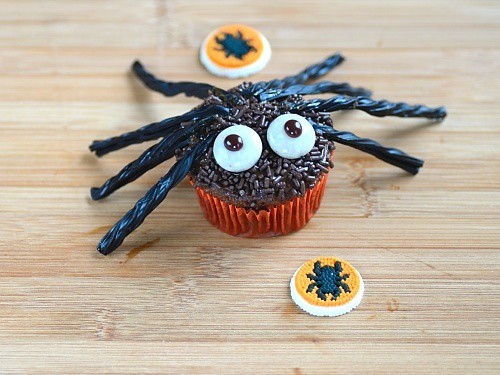 Chocolate vermicelli sprinkles
Black Twizzlers
White M&M's (Cookie and Cream)
Candy melts, melted and place in a condiment squeeze bottle
Frost cupcakes with the prepared chocolate frosting, mounding frosting in center of cupcake to create a dome shape. Then, sprinkle cupcakes with chocolate sprinkles. Cut black Twizzlers into 4-inch lengths, and then cut these sections in half lengthwise in order to use for the spider legs (Place twizzlers on top of the cupcake and press a bit. Do not stick them into the cupcake or it'll break the cupcake apart). Place white M&M's on each cupcake for the whites of the eyes, and then place a dot of melted candy melts on top of these to make the black part of the eyes.
ANGRY BLACK CAT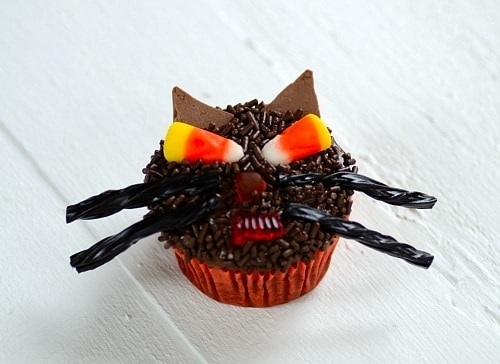 Chocolate vermicelli sprinkles
Black Twizzlers
Candy corn
Jelly beans
Gummi worms
Chocolate coating dots (aka Candy Melts, found in the baking aisle)
Frost cupcakes with the prepared chocolate frosting. Then, sprinkle cupcakes with chocolate sprinkles. Use candy corns for the eyes, jelly beans for the nose, a little piece of red gummi worm sliced in half lenghtwise for the mouth, 1-½ inch length string black Twizzlers for the whiskers, and cut chocolate coating dots into triangle shapes with a paring knife for the ears.
RIP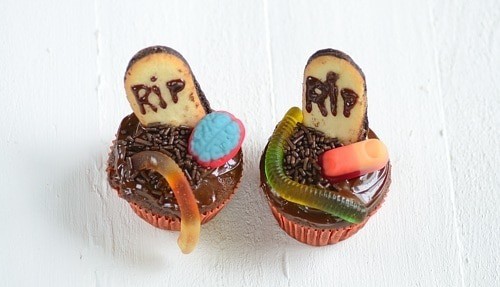 Chocolate vermicelli sprinkles
Pepperidge Farm Milano double chocolate cookies
Candy body parts
Gummi worms
Frost cupcakes with the prepared chocolate frosting. Place Milano cookie on the top of each cupcake with RIP written on the cookie (the lettering can be written by placing melted chocolate melts in a clean condiment squeeze bottle), sprinkle a little bit of the chocolate sprinkles close to the cookie to imitate dirt, and place a candy body part on the side and one or two gummi worms in the front.
Be spooked and enjoy!!!