Howdy! Are you ready for life getting easier after an Easter cooking marathon? Well, I am! 🙂 I decided to start my Monday with a simple yet nourishing breakfast -- real grab-and-go Gluten-free, 4-ingredient Strawberry Banana Chocolate Chip Muffins... that are so good that I am not sure whether there will be enough left over for an afternoon snack as well. 🙂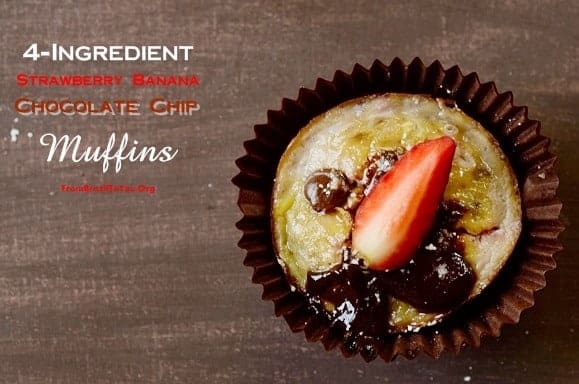 I ain't kidding, folks... there are really only four ingredients in these muffins: ripe bananas, eggs, strawberries, and chocolate chips.
This recipe is so easy that a kid could make it. All you have to do is to whisk mashed bananas with eggs, stir in chopped strawberries and chocolate chips, and bake for about 10-18 minutes. That's it!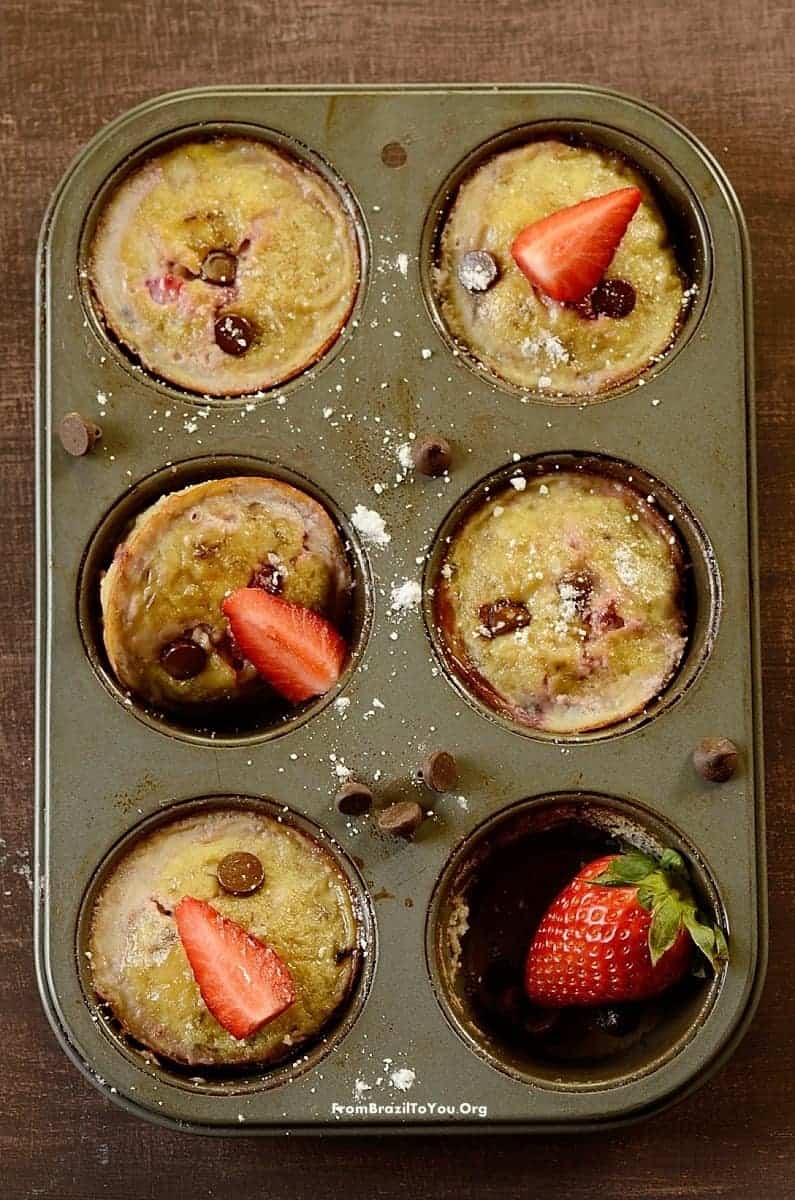 This is one of those recipes that you can make just from memory... and I thank Tip Hero for the inspiration.
I woke up early feeling like I was in a race -- having to prepare breakfast up against the clock, and then to serve it to my children before they leave for school. When my husband can't take them, I'm the one who has to face traffic and even a line to take them in. Having something quick yet healthy to serve them, and also to take with me on the way, is a blessing.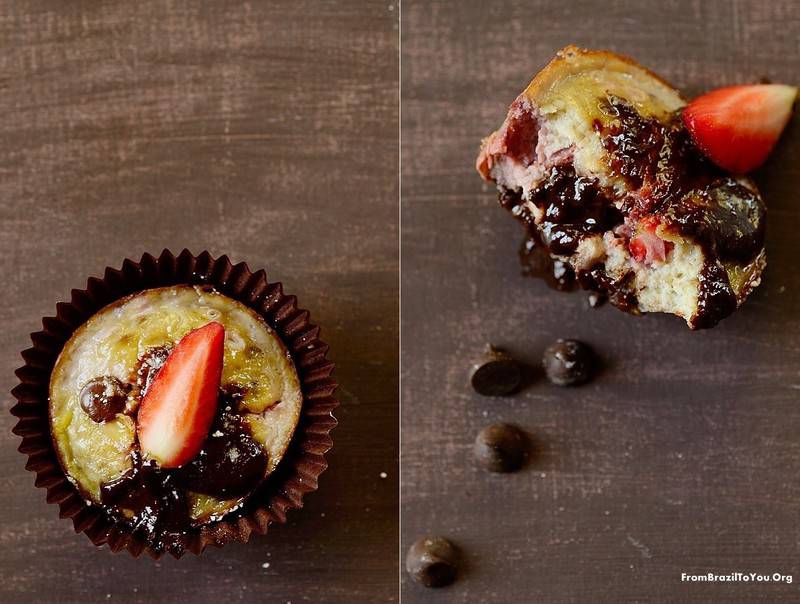 Even if you don't have children, these Strawberry Banana Chocolate Chip Muffins will ease your commute to work. Just put them in a brown bag to devour with a cup of joe on the way... They will easily put a smile on your face!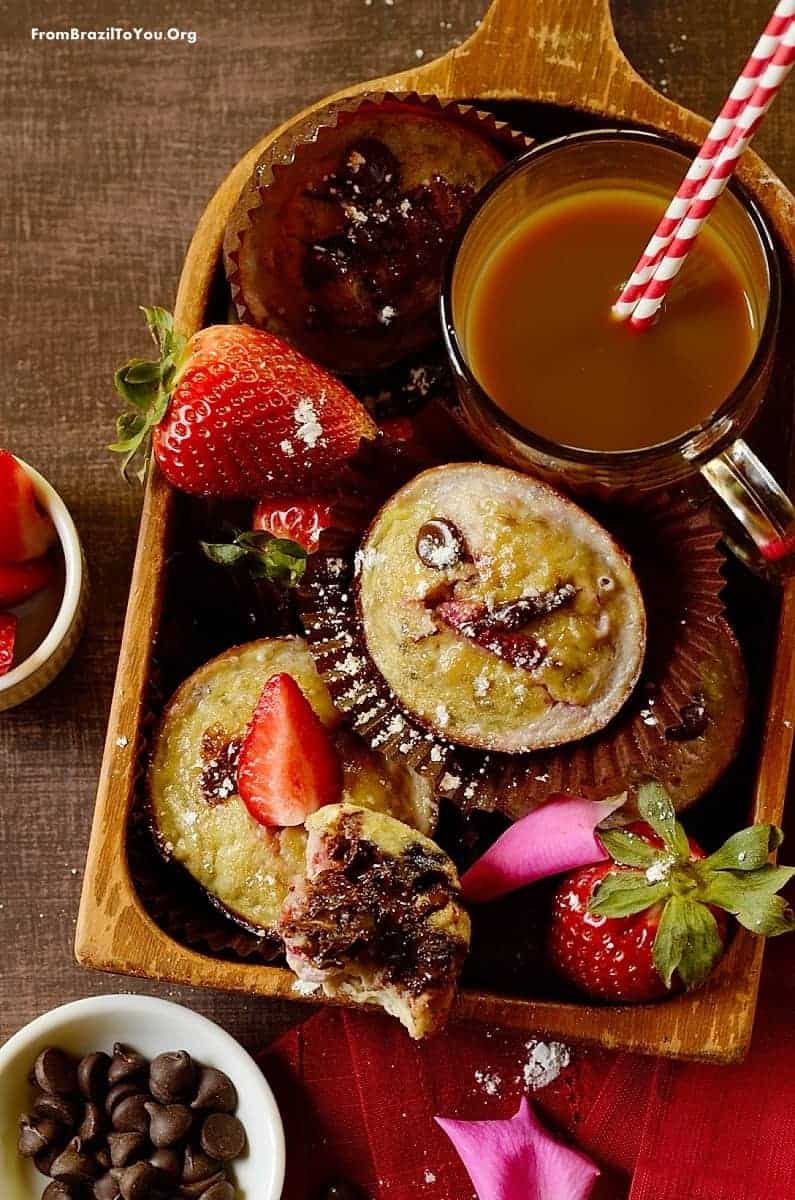 After all, it is all about making life easy -- for you and me!
4-ingredient Strawberry Banana Chocolate Chip Muffins
Gluten-free, 4-ingredient Strawberry Banana Chocolate Chip Muffins that are easy and quick to make for a grab and go breakfast or snack.
Ingredients
2

medium ripe bananas

4

large eggs

at room temperature

6

leaves

strawberries

removed and finely chopped

6-8

tablespoons

semisweet mini chocolate chips

Powdered sugar to sprinkle on top

OPTIONAL
Instructions
Preheat oven to 375°F (190°C). Spray down either a 6-cup standard-size or a 12-cup mini muffin pan with non-stick cooking spray and reserve.

In a medium bowl, mash the bananas with a fork and then whisk in the eggs. Stir in the chocolate chips.

Place an equal amount of the finely chopped strawberries into each muffin compartment. Pour the banana/egg/chocolate chip mixture on top. Beat the muffin tin against a hard surface to remove air bubbles from the muffin mixture. Bake for approximately 17-18 minutes (standard-size) or 10-12 minutes (mini), or until muffins are set.

Let them cool slightly and remove from the pan. Sprinkle/sift a bit of powdered sugar on top, if desired. Enjoy! YIELD: 6-8 standard-size muffins or 12 mini muffins.
** Nutrition labels on easyanddelish.com are for educational purposes only. This info is provided as a courtesy and is only an estimate, since the nutrition content of recipes can vary based on ingredient brand or source, portion sizes, recipe changes/variations, and other factors. We suggest making your own calculations using your preferred calculator, based on which ingredients you use, or consulting with a registered dietitian to determine nutritional values more precisely.
Please note that health-focused and diet information provided on easyanddelish.com is for educational purposes and does not constitute medical advice, nor is it intended to diagnose, treat, cure, or prevent disease. Consult with your doctor or other qualified health professional prior to initiating any significant change in your diet or exercise regimen, or for any other issue necessitating medical advice.
DID YOU MAKE THIS RECIPE?
Comment and rate the recipe. Also follow us on Pinterest at @easyanddelish for more delish recipes.