Honestly, I had planned another dessert for this week. But my husband had a sudden longing for a super creamy homemade mango ice cream with condensed milk.
It seems that his cravings came after tasting this Keto Carrot Cake Ice Cream and also this homemade Sweet Cream-and-Guava Ice Cream.
So the plans were quickly changed. I hope that you understand, and can pardon a little burst of spontaneity! 🙂
Making this mango ice cream base made me understand that this is a simple dessert, and a very delicious one, too. With temperatures here in Texas soaring between the 90's and 100's Fahrenheit, this will perfectly suit his (and mine, too!) cravings for a refreshing dessert.
Besides– there's nothing like an egg-free homemade mango ice cream, don't you agree? Ah yes, and made from a sinfully delicious tropical fruit so highly esteemed by Brazilians (and the rest of the world), as well as made from condensed milk to make that treat even creamier…. 😉
Need I say more?! Well, I hope that I already have your forgiveness.
Enjoy our super creamy mango ice cream with condensed milk!!!!!!!
Mango Ice Cream with Condensed Milk
Yield: About 1-1/2 pint
Segment: Brazilian Cuisine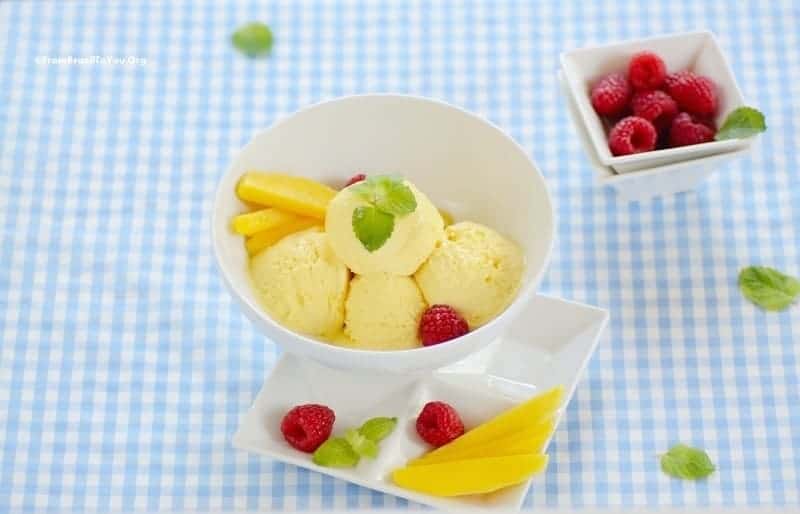 Ingredients:
4 large ripe mangoes (peeled, seed removed, and cut into chunks)
1-3/4 cups sugar
Fresh juice of 2 large limes (about 1/3 cup)
1-1/2 cups heavy whipping cream
7 oz (about 200 ml) sweetened condensed milk (It will make the ice cream creamier)
A pinch of salt
1/8 teaspoon pure vanilla extract
Directions:
Wrap the ice cream bowl in plastic wrap (in order to keep it clean) and freeze it for about 24 hours prior to making the ice cream.
On the following day, peel and cut the mangoes into chunks. Then, puree very well with the sugar and the lemon juice in a food processor or blender. Strain and discard fibers.
In a bowl, combine the pureed mango with the heavy whipping cream, condensed milk, salt, and vanilla extract, stirring well until obtaining a homogeneous mixture. Wrap it with plastic wrap and refrigerate for at least 2 hours.
Pour mixture into the ice cream maker bowl and follow the manufacturer's instructions. Let it churn for about 25 minutes or until firm. Transfer the mango ice cream to an airtight container and store in the freezer for at least 6 hours before serving. Enjoy!
On how to make ice cream without a machine, please click here.
** Adapted from Just One Cookbook Blog.