Disclosure: This is a compensated campaign in collaboration with Cacique Inc. and Society Culinaria. Herein, all opinions are honest and my own. Thank you for supporting the brands I consume and make this blog possible.
The month where Thanksgiving falls has finally arrived, and along with it we will be sharing several great recipes to make your holiday memorably delicious. Our first recipe this year is this ridiculously quick and easy Creamy Corn Gratin (Creme de Milho Gratinado) -- a side dish that can be prepared one day ahead, refrigerated and then baked minutes before serving. It will save you time so that you can concentrate your major efforts on the turkey! 😉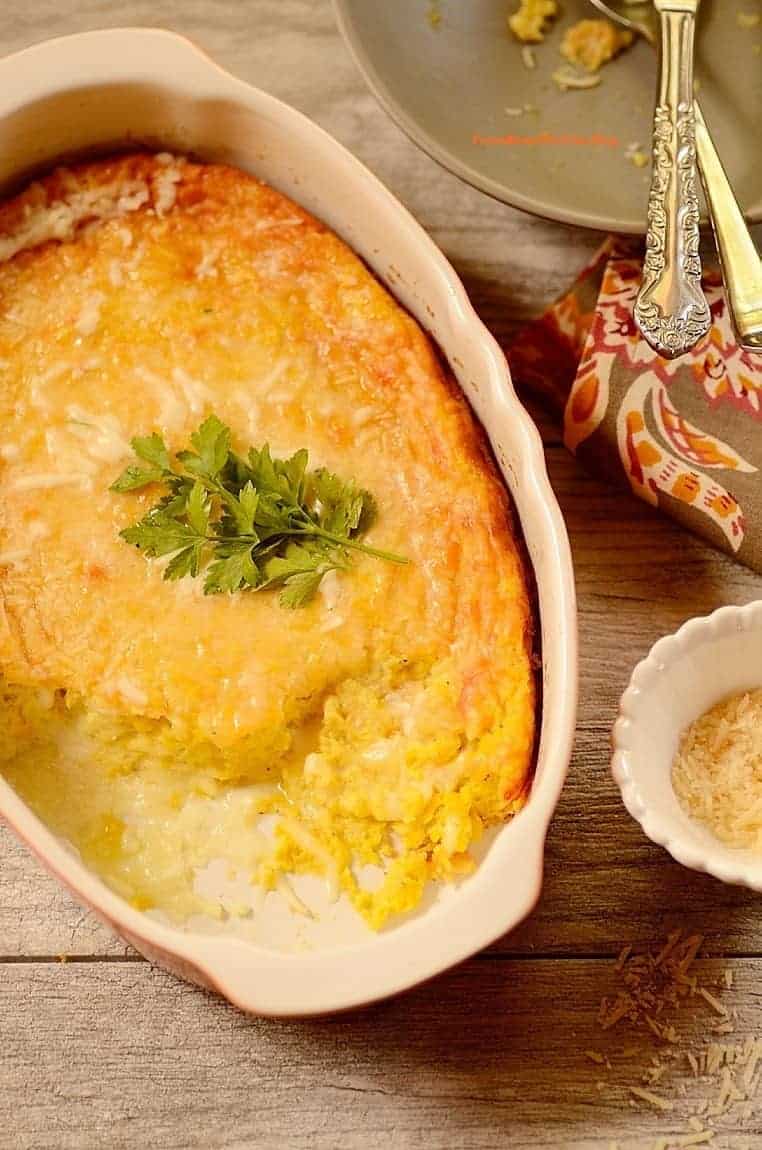 Seriously, preparing this creamy corn gratin couldn't be any simpler... because all you have to do is to blend the ingredients in a blender or process in a food processor, top with cheese, and bake. Easy, peasy...
... and you know what? The result is a smart side dish that actually combines the best of two dishes into one – cream of corn and a cheesy gratin (which are similar to the Brazilian casserole, creme de milho). Yet don't be fooled by its simplicity... This creamy corn gratin has a souffle-like consistency, a delicate balance of flavors, and is both comforting and elegant.
In other words, it pays back big without making you slave over the stove while preparing your holiday feast.
Another advantage is that all of the ingredients -- canned corn, milk, eggs, flour, butter, cheese, seasonings, baking soda, and Cacique Crema Mexicana Agria (a Grade A Sour Cream) -- are economical and widely available at local supermarkets.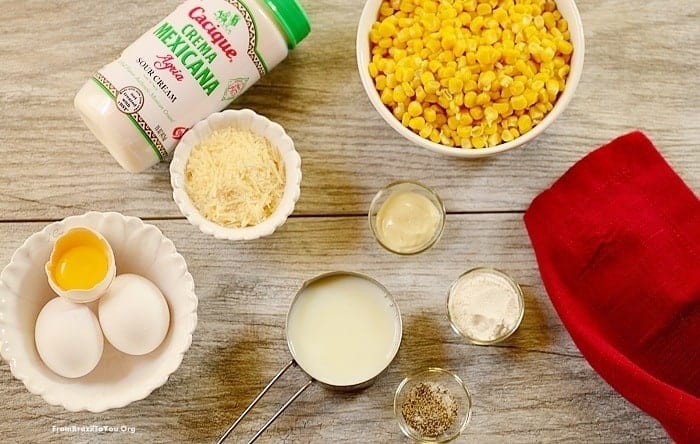 For those who may not know, the Cacique Crema Mexicana Agria is a cultured Grade A sour cream with a Mexican flair. It is thick (but not gelatinous like other sour creams), buttery, slightly savory, and has a rich mouthfeel with the perfect balance of heavy cream flavor and tart tang. It is a versatile product that can be used in all recipes and dishes that call for regular sour cream. This means you can use it in quesadillas, tacos, baked potatoes, or chili. It also makes a great base for soups, sauces, dips and dressings... and of course, for our creamy corn gratin, providing a bit of tang to balance the sweetness of the corn.
But that is not all! Cacique also has a line of other cremas and a variety of products to enhance your Thanksgiving dishes, including its Crema Mexicana and Crema Salvadoreña. For more info on Cacique products, go to www.caciqueinc.com... and for other yummy recipes, visit their Go Autentico Blog.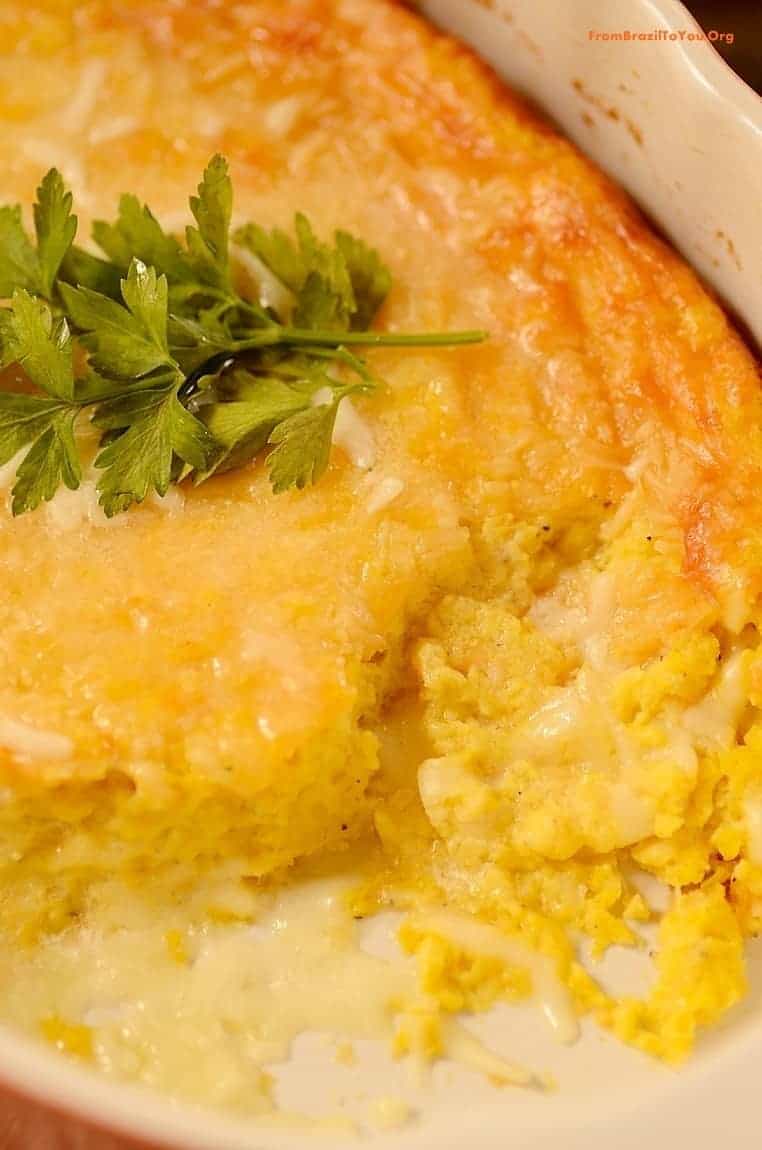 Enjoy our tasty creamy corn gratin and have a marvelous Thanksgiving!
Creamy Corn Gratin
Creamy corn gratin is a tasty, easy, and quick side dish made by blending most of the ingredients and baking in the oven. It's great for Thanksgiving and can be prepared ahead.
Ingredients
½

tablespoon

unsalted butter

at room temperature

½

cup

whole milk

½

cup

Cacique Crema Mexicana Agria

Grade A Sour Cream

2

cups

corn kernels

canned or fresh (if using canned corn, drain water. If using fresh, remove hair)

3

large eggs

at room temperature

2

tablespoons

all-purpose flour

½

teaspoon

salt

½

teaspoon

pepper

¼

teaspoon

baking soda

1

cup

shredded provolone cheese

optional

½

cup

shredded Parmesan cheese

or more
Instructions
Preheat the oven to 375 degrees F. Butter a 1.5-quart gratin dish and set aside.

In a blender or food processor, blend or process well the milk, crema, and corn kernels together until smooth. Add the eggs, flour, salt, pepper, and baking soda blending or processing a few times just until obtaining a homogeneous mixture. Stir in shredded provolone cheese if desired.

Pour the mixture into the buttered gratin dish, and sprinkle Parmesan cheese over the top of the dish.

Bake for 30-35 minutes, or until golden brown on top. Serve hot and enjoy as a side dish!
Recipe Notes
Dish can be prepared one day ahead, refrigerated, and then baked 30-35 minutes prior to serve.
** Nutrition labels on easyanddelish.com are for educational purposes only. This info is provided as a courtesy and is only an estimate, since the nutrition content of recipes can vary based on ingredient brand or source, portion sizes, recipe changes/variations, and other factors. We suggest making your own calculations using your preferred calculator, based on which ingredients you use, or consulting with a registered dietitian to determine nutritional values more precisely.
Please note that health-focused and diet information provided on easyanddelish.com is for educational purposes and does not constitute medical advice, nor is it intended to diagnose, treat, cure, or prevent disease. Consult with your doctor or other qualified health professional prior to initiating any significant change in your diet or exercise regimen, or for any other issue necessitating medical advice.
DID YOU MAKE THIS RECIPE?
Comment and rate the recipe. Also follow us on Pinterest at @easyanddelish for more delish recipes.