Disclaimer: Thanks to Parma Ham for sponsoring this post.
What a busy time of year!!! Thanksgiving is already knocking at the door and Christmas will arrive soon, too. Around this time of year people are traveling everywhere, shopping, planning, and preparing wonderful meals to share with family and friends.... And by the way, while we are on the subject of food-- it is always good to keep something delicious at the ready, that you can whip up ASAP. Do you think that because I am a Chef, I don't keep an easy ace up my sleeve? Oh yes, I do! This year it will be none other than a festive, naturally gluten-free appetizer: Bruleed Pears  with Prosciutto, Cranberry Sauce, and Goat Cheese.
Just thinking about these bruleed pears with prosciutto (also known as Parma ham) makes my mouth water and produces a big smile. They are gorgeous, festive, and ridiculously easy and quick to make. Our Bruleed pears with prosciutto are the ideal appetizer for entertaining guests without stressing out the cook. I can already foresee the smile on your face!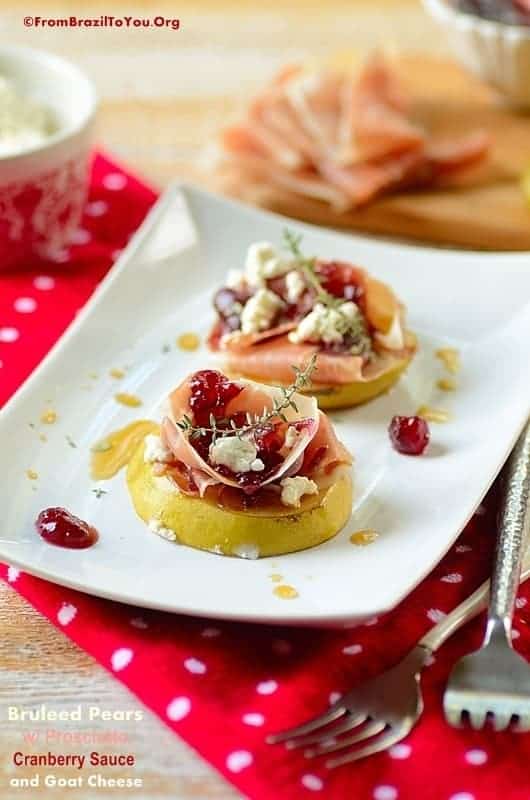 The only item that needs to be cooked is the cranberry sauce, which can be made in advance. All that is needed for the rest is just assembly. In these bruleed pears with prosciutto, you and your guests will be delighted by the contrast of differing textures (such as the crunchiness of the pears versus the softness of the cheese), as well as by the combination of different flavors: Tart from both the pears and cranberry sauce, sweet from the bruleed sugar, salty from the amazing prosciutto, and spicy from the pepper...
Our bruleed pears with prosciutto or Parma ham recipe is suitable for either Thanksgiving and Christmas due to its ingredients. I am telling you, this is one of the best "aces up your sleeve" that you could ever have...
Oh, and that's not all!!! Did you know that if you follow Parma Ham on Twitter you also have the chance to win $50 worth of the world's most famous ham? Click on the banner at the bottom of this post to participate.
Happy Holidays!!!!
xx
"Pass the Prosciutto - Bruleed Pears with Prosciutto, Cranberry Sauce, and Goat Cheese"
A quick, delicious, and festive gluten-free appetizer to brighten your holiday table.
Ingredients
3

fresh Asian pears

Juice of 1 lemon

6

tablespoons

light brown sugar

Freshly ground black pepper

12

slices

of prosciutto or Parma ham

¾

cup

cranberry sauce

Crumbled goat cheese

Sprigs of thyme
Instructions
On a cutting board, slice pears to make 4 rounds from each pear. Remove the core from each round using a melon baller or sharp spoon.

Dip pear slices into lemon juice diluted 1:10 with water to keep them from browning. Pat dry, place each round on a platter, and sprinkle ½ tablespoon of light brown sugar on top of each round. Using a culinary torch, brulée (brown) the sugar. Sprinkle a dash of pepper and top with a slice of prosciutto. Spoon 1 tablespoon of the cranberry sauce on top of each and sprinkle a little goat cheese on each piece. Garnish with a sprig of thyme. Serve immediately and enjoy!
** Nutrition labels on easyanddelish.com are for educational purposes only. This info is provided as a courtesy and is only an estimate, since the nutrition content of recipes can vary based on ingredient brand or source, portion sizes, recipe changes/variations, and other factors. We suggest making your own calculations using your preferred calculator, based on which ingredients you use, or consulting with a registered dietitian to determine nutritional values more precisely.
Please note that health-focused and diet information provided on easyanddelish.com is for educational purposes and does not constitute medical advice, nor is it intended to diagnose, treat, cure, or prevent disease. Consult with your doctor or other qualified health professional prior to initiating any significant change in your diet or exercise regimen, or for any other issue necessitating medical advice.
DID YOU MAKE THIS RECIPE?
Comment and rate the recipe. Also follow us on Pinterest at @easyanddelish for more delish recipes.
Follow Parma Ham on Twitter for a chance to win $50 worth of the world's most famous ham. Click on the banner below to participate. This post is a collaboration between the blogger and Parma Ham. 

Bruleed pears
bruleed pears with Parma ham