Nutella Funfetti Donut Cookies are easy to prepare in less than 30 minutes. They are made with a mixture of 5 simple ingredients and don't require pre-chilling in order to bake.
Cookies? My children love them... "What kind?" Well, ALL of them! 🙂 When I am not so busy and they want to have a taste of one of their favorite treats, I prepare these quick, easy and delish Nutella Funfetti Donut Cookies. Oh, you ought to see their faces!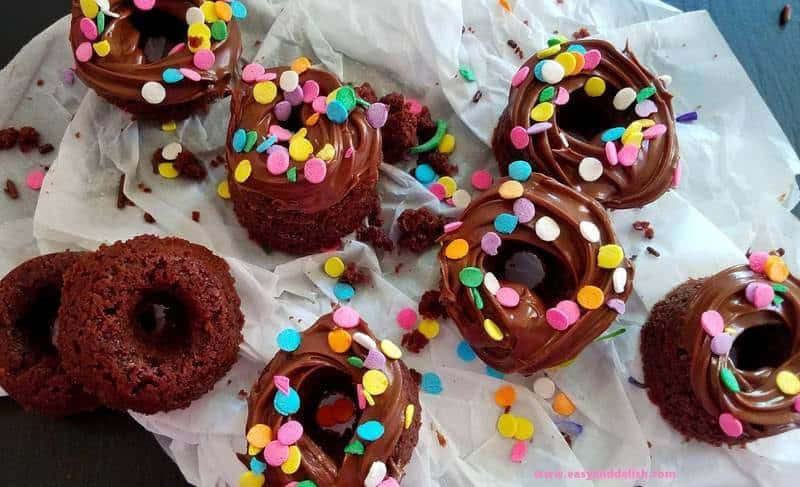 They are made from a mixture of 5 simple ingredients, including Nutella (yes, I said the magic word)... and then garnished with confetti sprinkles, for gobbling up in the blink of an eye.
One of the advantages of these cookies in the shape of a donut is that they don't require any pre-chilling in order to bake. Another one is that our Nutella Funfetti Donut Cookies are guilt-free since they are small-portioned. I can already see your smile!!
To prepare these cuties, all you need to do is to mix together Nutella, melted unsalted butter, an egg, flour, and sugar in a bowl...
Then place about 2 teaspoons of the cookie mixture into each ring of a mini donut baking pan and bake for about 7-8 minutes.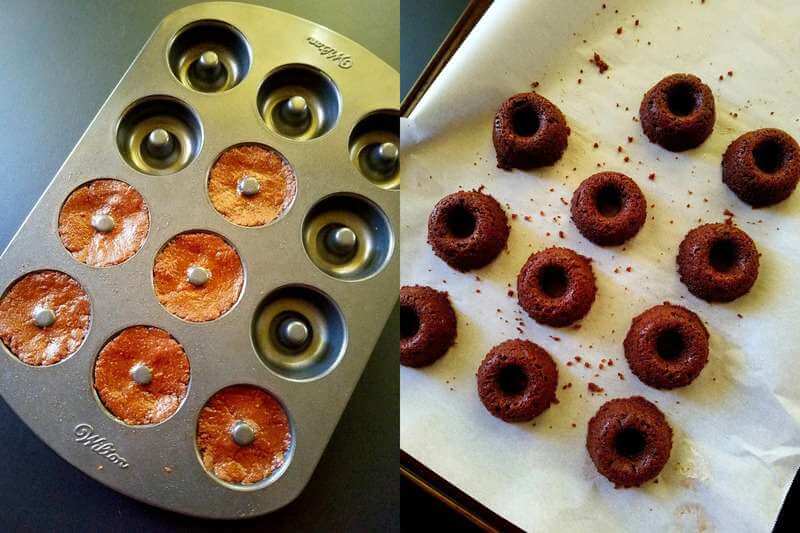 Decorate them with piped Nutella, and top with confetti sprinkles. And there you have it... The cutest and most decadent cookies are ready to delight both the eyes and the palate of the most demanding of children (and adults too!).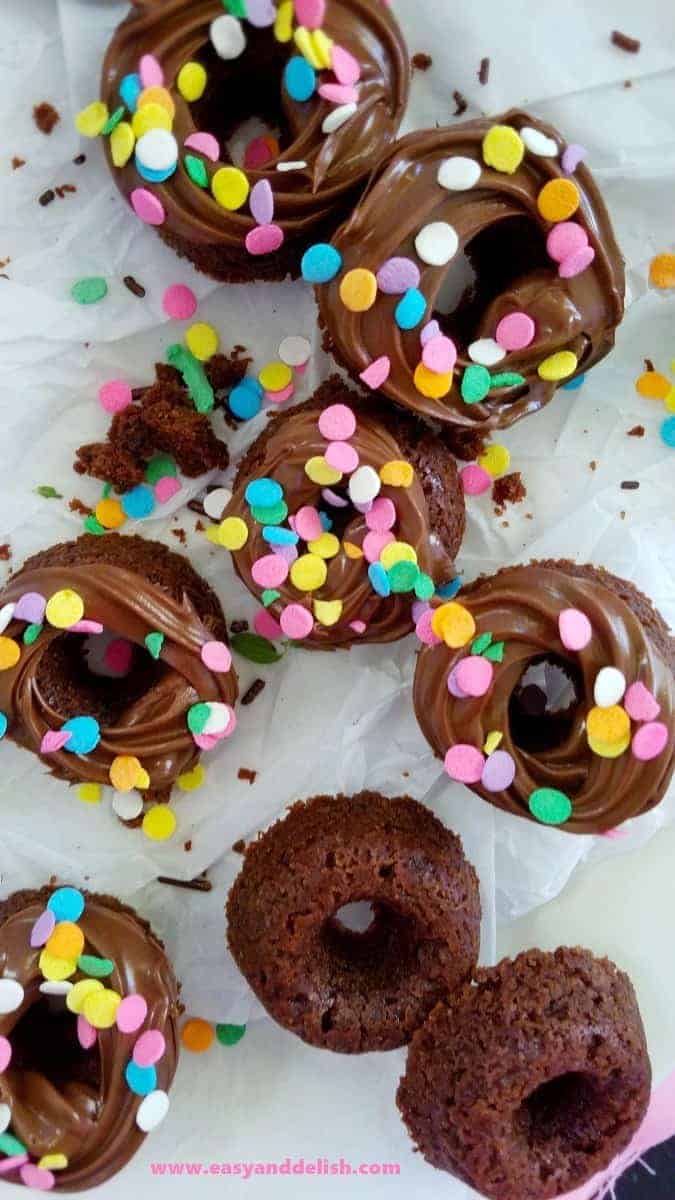 As you can see, they are easy to prepare and fun to decorate -- a great cooking project for mom and kids to do together.
Usually, a batch is enough to give away as edible presents and still have a good amount to devour along with a cup of milk. But if you are a cookie monster like my daughters, the whole thing will disappear like magic, because according to them (and me too... shhhh) these are simply addictive!
I hope that you try our Nutella Funfetti Donut Cookies and... are smart enough to save some just for yourself to enjoy later. A blissful "me" moment after a long, tiresome day. 😉 We deserve it, hon!
P.S: In need of some more quick and easy treats like these, jump on here.
PIN to your own heart's content!!!!

Quick Nutella Funfetti Donut Cookies
Nutella Funfetti Donut Cookies are easy to prepare in less than 30 minutes. They are made with a mixture of 5 simple ingredients and don't require pre-chilling in order to bake.
Ingredients
1

cup

plus 2 teaspoons Nutella or Chocolate Hazelnut Spread

12 oz, plus more to pipe on top of the cookies

2

tablespoons

unsalted butter

melted

1

large egg

at room temperature

5

oz

all-purpose flour

1 cup plus 1 teaspoon

2

oz

granulated sugar

⅓ cup

Confetti sprinkles to garnish
Instructions
Preheat oven to 350 degrees F.

In a large bowl, combine all first 5 ingredients together using a wooden spoon at first, and then finish by hand. Make sure to obtain a dough that is homogeneous and slightly crumbly, yet soft enough to roll into balls. Dough should have a fudge-like consistency.

Using a teaspoon for measurement, scoop about 2 teaspoons at a time and place into the well of a mini donut baking pan. Make sure to press dough and mold in such a way that the hole in the center is not covered with dough. Bake for about 7- 8 minutes and let cool. Invert pan over a large baking sheet and if necessary beat with a spatula to remove them from the mold. Pipe Nutella on top of each cookie and decorate with confetti sprinkles. Clean the donut baking pan and repeat the process. Yield: 36 cookies.
** Nutrition labels on easyanddelish.com are for educational purposes only. This info is provided as a courtesy and is only an estimate, since the nutrition content of recipes can vary based on ingredient brand or source, portion sizes, recipe changes/variations, and other factors. We suggest making your own calculations using your preferred calculator, based on which ingredients you use, or consulting with a registered dietitian to determine nutritional values more precisely.
Please note that health-focused and diet information provided on easyanddelish.com is for educational purposes and does not constitute medical advice, nor is it intended to diagnose, treat, cure, or prevent disease. Consult with your doctor or other qualified health professional prior to initiating any significant change in your diet or exercise regimen, or for any other issue necessitating medical advice.
DID YOU MAKE THIS RECIPE?
Comment and rate the recipe. Also follow us on Pinterest at @easyanddelish for more delish recipes.