Along with the arrival of Autumn come colds, congestion, seasonal allergies, and sleepiness, among other unpleasant effects. Drinking teas is one way to relieve symptoms while enjoying a comforting, warm beverage. With this in mind, I decided to share with you an easy and delicious recipe for a cranberry-like hibiscus tea. And I have included an useful guide to medicinal teas as well.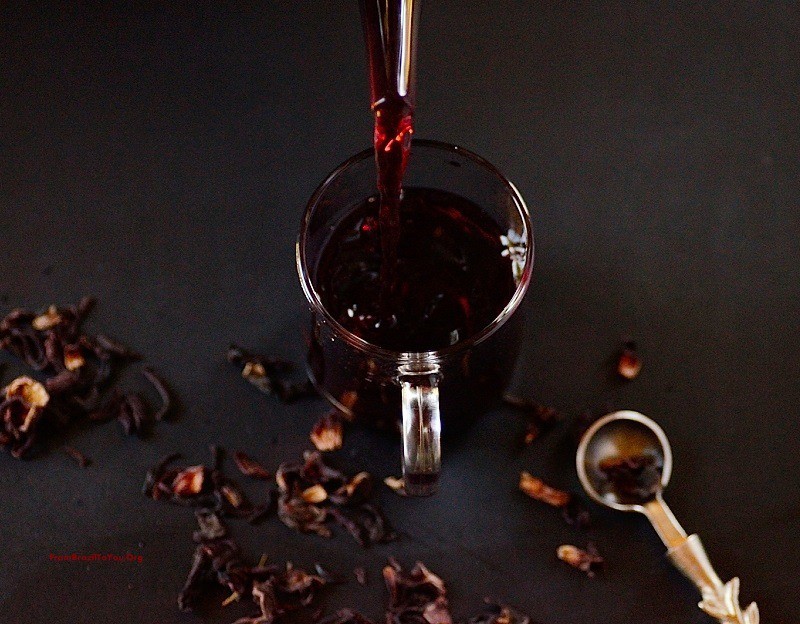 Coffee may be Brazil's preferred beverage... but herbal teas also are well-known and highly appreciated for their health properties.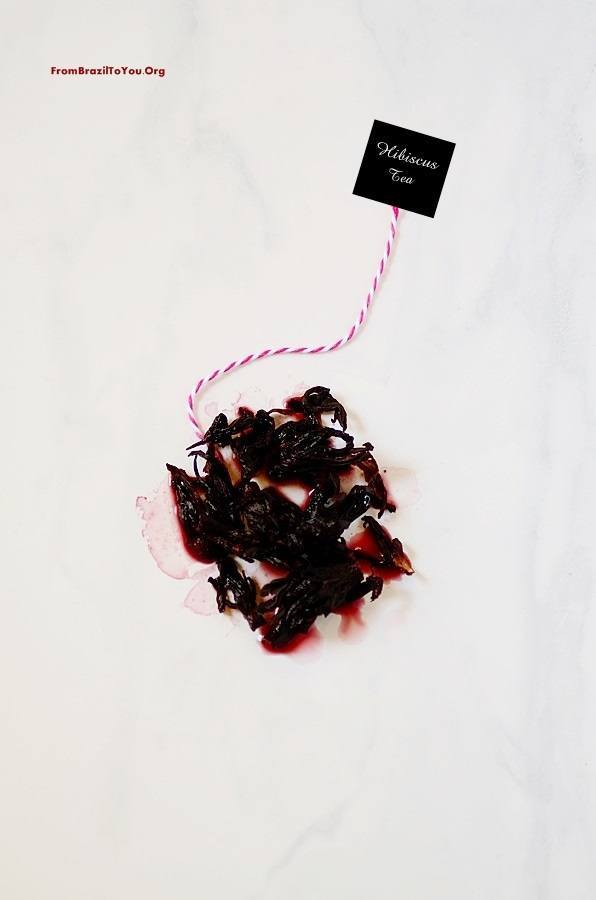 Brazilian tea culture has its origins in the infused beverages, or chás made by the indigenous cultures of the Amazon region. Most varieties of tea came from China and neighboring countries... But tea culture has evolved since the Portuguese colonial period to include imported ones from Japan, Sri Lanka, India, and elsewhere.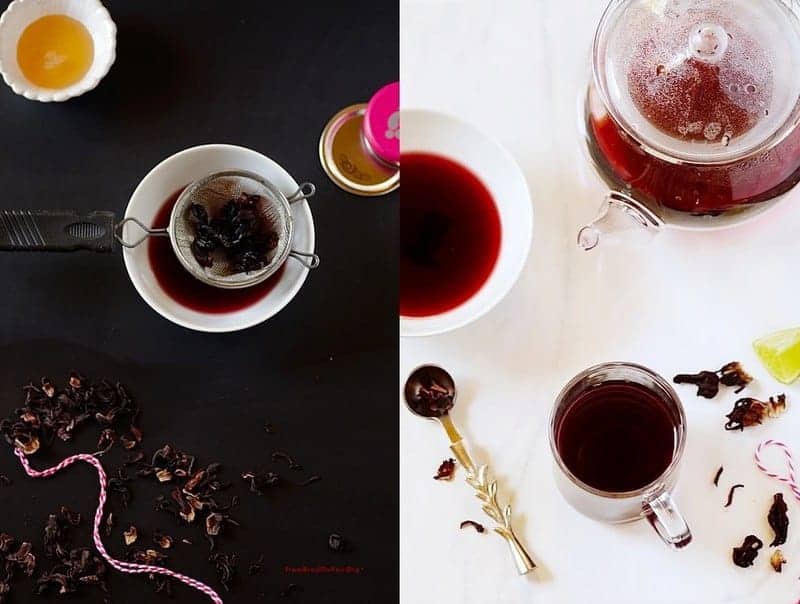 Among the many medicinal teas consumed in Brazil (as well as other countries, including the United States) are these:
HIBISCUS (hibisco): an herbal infusion made from the dried crimson flower of the roselle or hibiscus flower. It can be consumed either hot and cold. Hibiscus tea is used for treating colds, upper respiratory tract pain, swelling (inflammation), fluid retention, stomach irritation, and disorders of circulation. Because it has gentle laxative and diuretic properties, it is associated with weight loss. Dried hibiscus flowers, often labeled flor de Jamaica, have long been available in health food stores and Latin markets in the United States, especially in California and other areas influenced by Mexican customs. In local American supermarkets, hibiscus tea is available as "Red Zinger", popularized by the brand Celestial Seasonings. A great recipe for hibiscus tea can be found at the bottom of this post.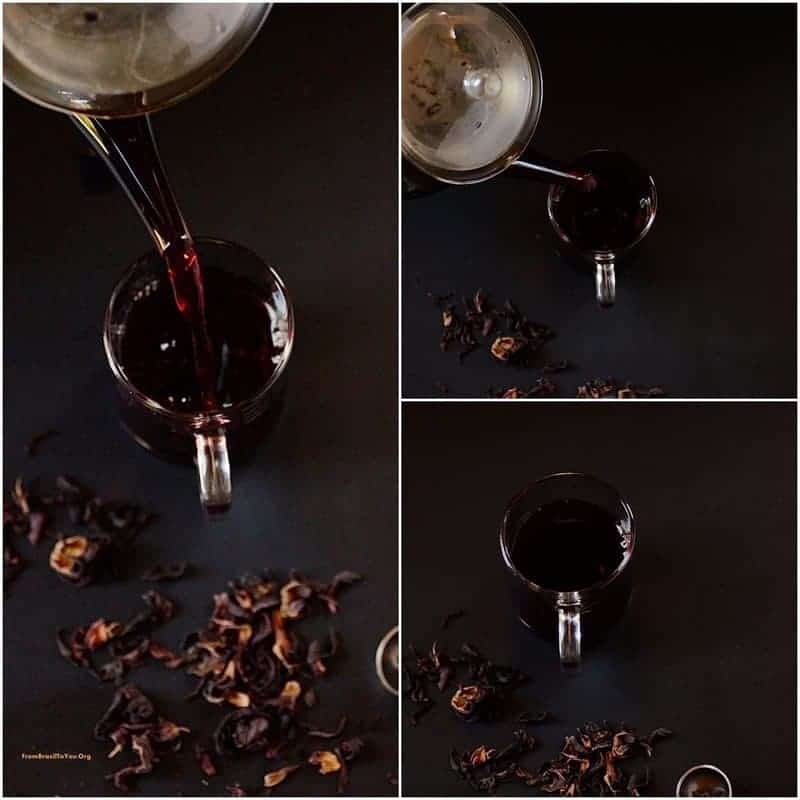 YERBA MATE (erva-mate or chimarrão): it is a South American beverage made by steeping the ground leaves and stems of the yerba mate plant in hot water... very popular in Southern Brazil and Chile, Argentina, Uruguay, Paraguay, and Bolivia (chaco) where is consumed in a calabash gourd. It is rich in antioxidants, enhances physical endurance and the ability to focus, aids digestion, helps with weight control, and supports cardiovascular health.
LEMON VERBENA (Lúcia-Lima): Although it is native to Argentina and Chile, it is grown around the world. Lemon verbena is known for strengthening the nervous system, aiding with digestive disorders, and minimizing fevers and colon spasms. It has anti-spasmodic, de-stressing and expectorant properties.
LEMONGRASS (erva-cidreira): This may help prevent the growth of some bacteria and yeast. Lemongrass also contains substances that are thought to relieve pain, reduce fever, stimulate the uterus and menstrual flow, and have antioxidant properties.
CHAMOMILE (camomila): Chamomile is an herb that has been used for centuries. In many parts of the world, it is used to calm upset stomach or to help with sleep or insomnia.
BLACK TEA (chá preto): This is a calorie-free beverage that contains caffeine and can help lower the risk of stroke and heart disease.
MINT (hortelã): This is used to relieve allergies, as a decongestant, to aid with indigestion, and to help with irritable bowel syndrome (IBS). It can be consumed hot or cold. In Brazil, it is often mixed with pineapple. For a recipe for

Homemade Pineapple Mint Iced Tea

, click HERE.
FENNEL (erva-doce): This is used for various digestive problems including heartburn, intestinal gas and bloating as well as loss of appetite and colic in infants. It is also used for upper respiratory tract infections, cough, bronchitis, and backache.
STAR ANISE (anis): Originating in southern China, star anise has a licorice-like flavor. It is used for easing respiratory tract infections, lung inflammation, cough, bronchitis, and flu (influenza). Star anise is also used for increasing sexual drive (libido).
BOLDUS, BOLDOA, or BOLDEA (Boldo): It is an evergreen shrub, small tree native to central Chile and Peru, also consumed in other South American countries such as Brazil. Boldo leaves have been used by South American natives against diseases of the liver and for the treatment of gallstones. It has been shown to exert anti-inflammatory and anti-fever effects.
HORSETAIL (cavalinha): Horsetail is astringent, antihemorrhagic, anti-inflammatory, and diuretic.
As everything else, herbal teas must be consumed in moderation, in accordance with their indication, and should never be used as a replacement for prescribed medicines. This includes our hibiscus tea.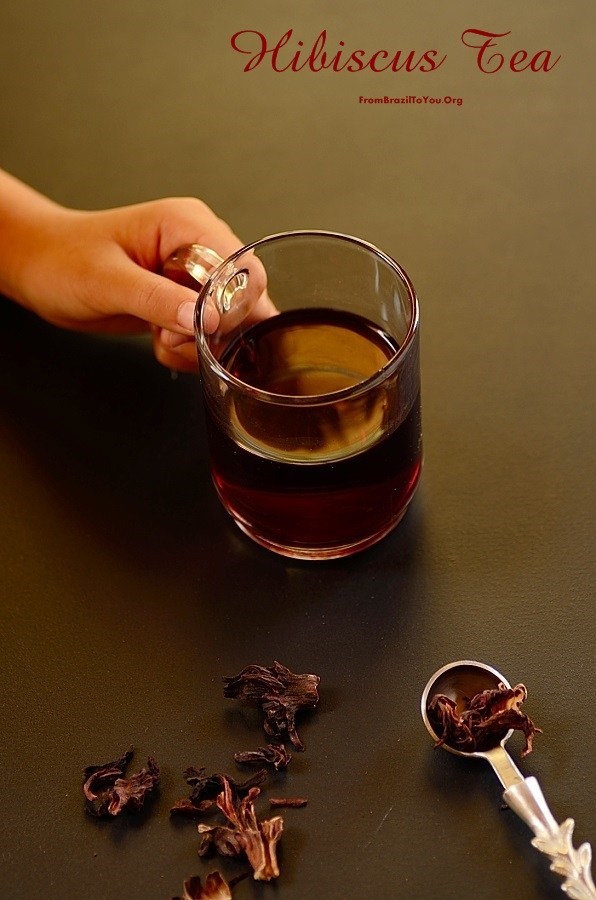 Enjoy the season as well as our almond milk matcha tea!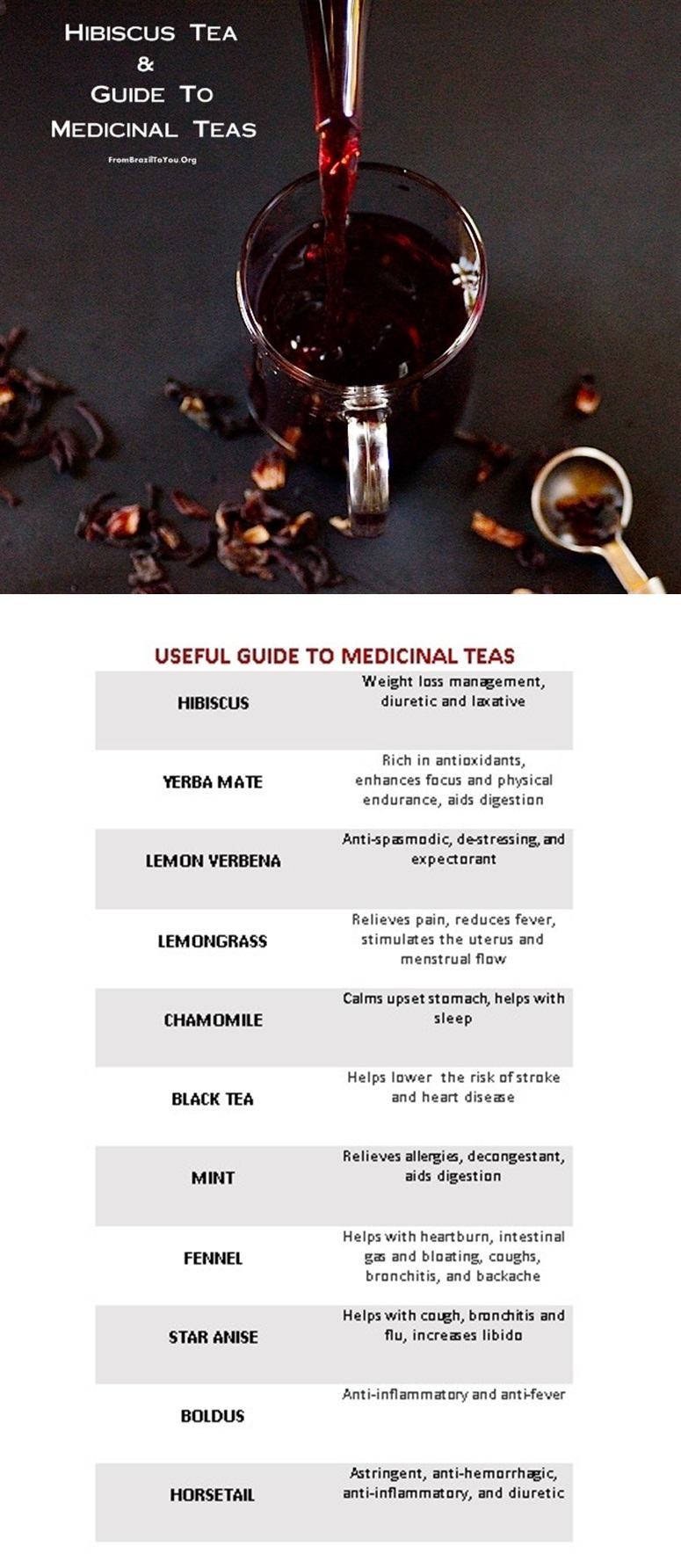 Hibiscus Tea & Guide To Medicinal Teas
Ingredients
6

cups

water

48 ounces

¼ to ⅓

cup

dried hibiscus flowers

1

stick

cinnamon

Sugar

honey, or sugar substitute to taste

Lime wedges
Instructions
Bring water to a boil (about 5-8 mins), turn off heat, and add the hibiscus flowers and cinnamon sticks. Cover and steep for about 15-20 minutes.

Strain tea into desired container and stir in sugar or honey to taste. Serve warm with lime wedges on the side. This tea can be served chilled instead. For this, add ice and orange or lime rounds.

NOTE: Do not steep tea for a longer time because it can become bitter. If its flavor needs to be strengthen, add more herbs but do not steep tea longer. Inactive prep time: 15-20 minutes. Yield: About 6 cups.
** Nutrition labels on easyanddelish.com are for educational purposes only. This info is provided as a courtesy and is only an estimate, since the nutrition content of recipes can vary based on ingredient brand or source, portion sizes, recipe changes/variations, and other factors. We suggest making your own calculations using your preferred calculator, based on which ingredients you use, or consulting with a registered dietitian to determine nutritional values more precisely.
Please note that health-focused and diet information provided on easyanddelish.com is for educational purposes and does not constitute medical advice, nor is it intended to diagnose, treat, cure, or prevent disease. Consult with your doctor or other qualified health professional prior to initiating any significant change in your diet or exercise regimen, or for any other issue necessitating medical advice.
DID YOU MAKE THIS RECIPE?
Comment and rate the recipe. Also follow us on Pinterest at @easyanddelish for more delish recipes.