Fruit cocktail drink is a refreshing and delicious blend of fruits blended with sweetened condensed milk, ice, and cachaça, white rum, or vodka.
What a hot and stressful day!!!!!!!!!!!!! To refresh myself and clear my mind, I made what in Brazil we call coquetel de frutas, which means literally fruit cocktail drink.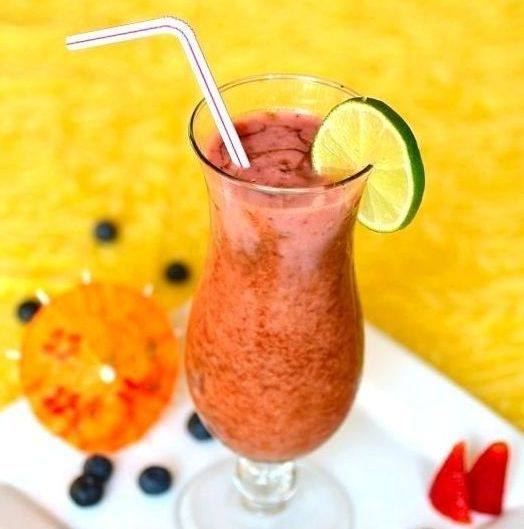 Because I rarely drink alcohol, I made mine virgin.
I basically blended tropical fruits with berries and condensed milk... and in just a few minutes, heaven in a cup was ready.
How I love this kind of treat: quick, easy, and delicious (QED) -- just like the many other recipes that can be found in the "QED" section of this blog.
I cannot have enough of these recipes. They are such bliss on troublesome days. If you have some favorites of your own, you will know exactly what I am talking about. If you don't, I invite you to make one of these virgin drinks for yourself, sit in a cool place, and relax. Ahhhhhh....
Enjoy the moment and our fruit cocktail drink!
Fruit Cocktail Drink (Coquetel de Frutas)
Fruit cocktail drink is a refreshing and delicious blend of fruits blended with sweetened condensed milk, ice, and cachaca,white rum, or vodka.
Ingredients
2

cups

fresh or frozen berry blend

strawberry, raspberry, and blackberry

1

cup

fresh papaya

peeled, deseeded, and cubed

1

cup

fresh pineapple

peeled, cored, and cubed

¾

cup

fresh orange juice

2

tablespoons

fresh lime juice

¾

cup

sweetened condensed milk

⅓

cup

granulated sugar

Ice cubes

2

tablespoons

cachaça or rum

for the non-virgin version (optional)

3

tablespoons

groselha syrup **

optional

** This is a syrup made of red currants

which is highly regarded by Brazilians and the Portuguese.
Instructions
Blend all the ingredients together in a blender -- except the groselha syrup-- until well mixed and creamy, and then, strain. Pour 1 tablespoon of groselha syrup into the bottom of each cup, swirl, pour in the fruit cocktail, and then serve chilled.

Note: There are many varied recipes for fruit cocktail in Brazil. You can personalize yours by blending together condensed milk with fresh or frozen fruits of your preference (always combining neutral with acidic fruits) or even fruit juices. Other optional ingredients include a little bit of heavy cream, or for a non-virgin version, alcohol.
** Nutrition labels on easyanddelish.com are for educational purposes only. This info is provided as a courtesy and is only an estimate, since the nutrition content of recipes can vary based on ingredient brand or source, portion sizes, recipe changes/variations, and other factors. We suggest making your own calculations using your preferred calculator, based on which ingredients you use, or consulting with a registered dietitian to determine nutritional values more precisely.
Please note that health-focused and diet information provided on easyanddelish.com is for educational purposes and does not constitute medical advice, nor is it intended to diagnose, treat, cure, or prevent disease. Consult with your doctor or other qualified health professional prior to initiating any significant change in your diet or exercise regimen, or for any other issue necessitating medical advice.
DID YOU MAKE THIS RECIPE?
Comment and rate the recipe. Also follow us on Pinterest at @easyanddelish for more delish recipes.
You might also like:
Coffee with Guaraná
Açaí MilkShake