How to color pasta with juice is something I have been learning about recently, and I would love to share this easy secret with you. So yes, from now on you won't have to pay extra for stored-bought colored pasta… or even spend time making your own pasta from scratch with special colorings.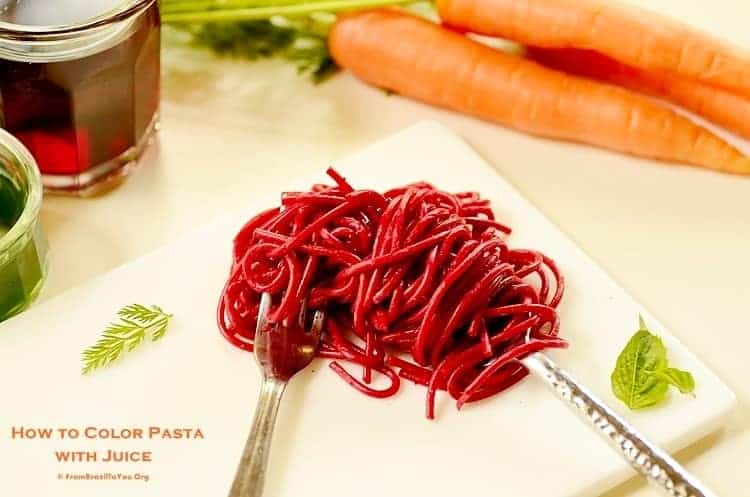 Simply obtain any regular dry pasta you prefer from the supermarket and color it yourself using vegetable juice. This is an ingenious technique similar to that of boiling pasta in wine. You can use beets, red cabbage, spinach or any other leaf vegetable, bell peppers, etc. The most important thing is to use sufficiently concentrated vegetable juice.
Coloring pasta with juice is a technique that not only infuses subtle flavors but also makes the dish more beautiful and fun. Ready to get started?
Well, without further ado, here is how to color pasta with juice…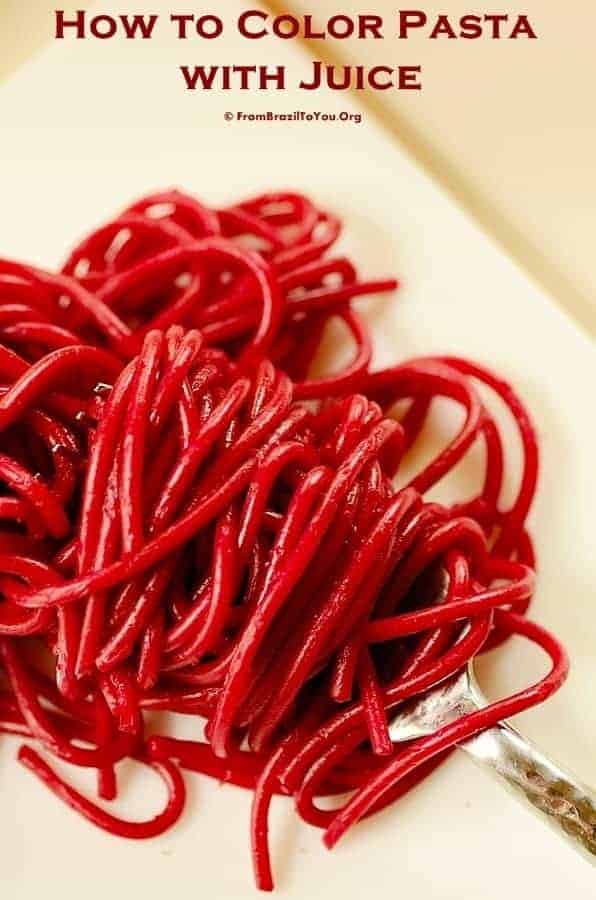 How to Color Pasta with Juice
Learn how to color pasta with juice and save both time and big bucks... and also make your pasta dish more beautiful and fun!
Ingredients
5

medium beets

washed, peeled, and cut into chunks

4½

quarts

water

divided

1

tablespoons

salt

plus more to sprinkle

1/2

pound

store-bought dry pasta of your choice

1

teaspoon

white vinegar

to intensify and freshen the color
Instructions
First, make the beet juice. Blend beet chunks and 1½ quarts of water in a blender until smooth. Strain juice and discard beet pulp. Reserve the beet liquid/juice.

In a medium to large pot, bring the remaining 3 quarts of water and 1 Tablespoon of salt to a boil. Add pasta and cook for about 2-3 minutes or until bendable. At the same time pasta is cooking, bring 4 cups (or 1 quart) of the reserved beet juice, a sprinkle of salt, and vinegar to a boil over medium high heat in a large sauté pan.

Using tongs or a pasta strainer, lift out partially cooked pasta from the pot and place in the sauté pan with the boiling juice. Cook pasta until al dente, stirring frequently, over medium-high heat. You may need to add another cup or two (or 1/4 to 1/2 quart) of the remaining beet juice to finish cooking the pasta. Once pasta is cooked, strain.

You can sauté colored, strained pasta with oil and/or butter, garlic, herbs, cheese, and pretty much anything else that you want.
Recipe Notes
You can use red cabbage, spinach or any other leaf vegetable, bell pepper, carrots (although color won't be vibrant. Definitely, not a fave ingredient to color pasta), etc to color pasta. The most important thing is to use a concentrated vegetable juice to achieve a vibrant color.
DID YOU MAKE THIS RECIPE?
Comment and rate the recipe. Also follow us on Pinterest at @easyanddelish for more delish recipes.