Want to find out how to meal prep easily? With this complete guide, you'll learn how to prep meals ahead and store them while you're busy and on a healthy diet, simplifying your week. All it takes is a little planning and some kitchen time!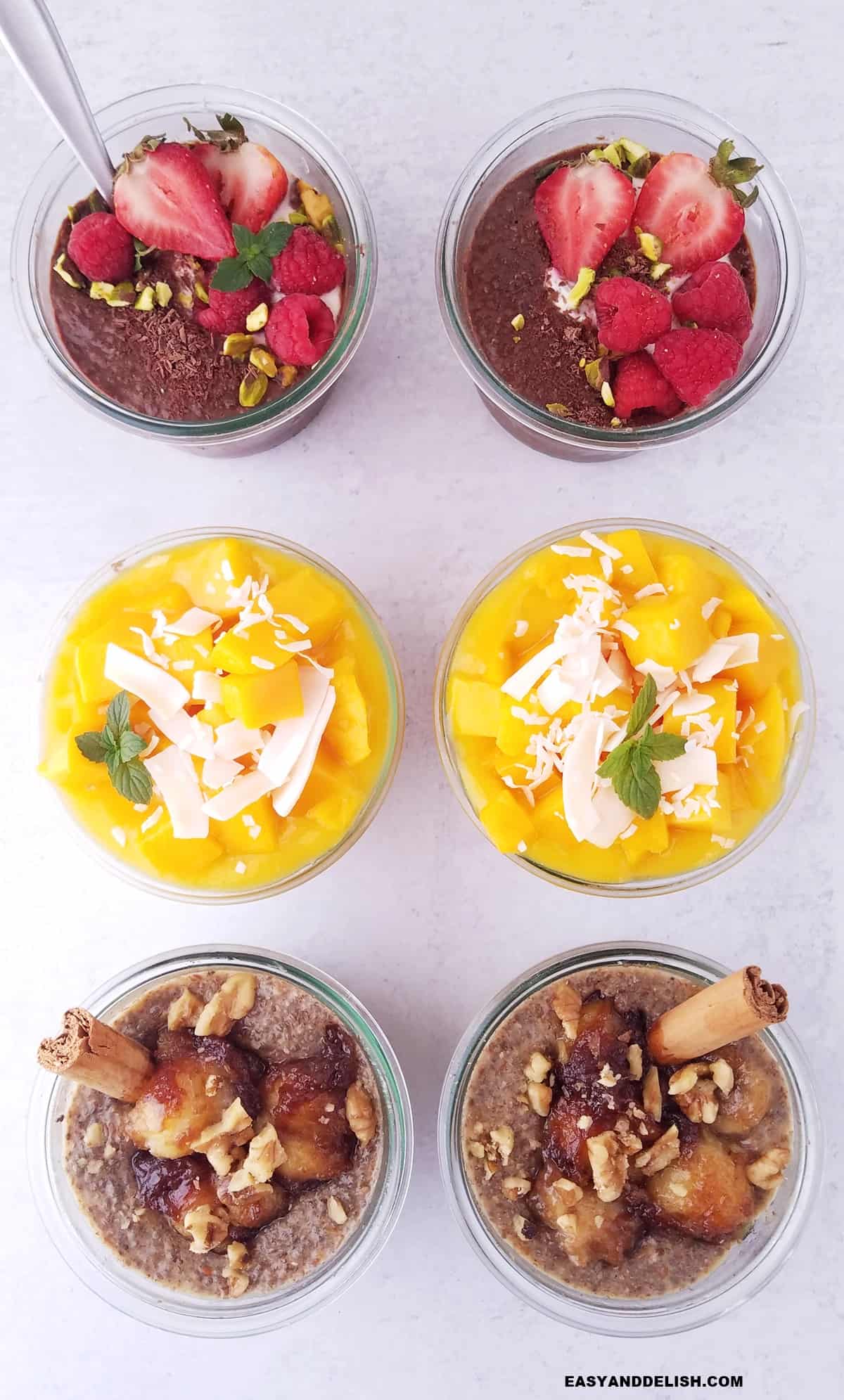 Let's meal prep for the week, y'all!
It will save you time and will help you lose weight too!
What is meal prep?
Meal prepping is the practice of planning and preparing meals or portions of meals ahead of time, typically for a week. This process involves choosing recipes, shopping for ingredients, and then cooking and storing the dishes in the portions you'll consume them.
The goal is to have readily available meals that require minimal effort to heat and serve, ensuring consistent and nutritious eating habits while saving time throughout the week.
Who is meal prepping for?
Meal prepping is ideal for individuals with busy schedules who still want to maintain a balanced diet. It's a lifesaver for professionals juggling work and family responsibilities, students balancing study and part-time jobs, or fitness enthusiasts tracking macros and nutritional content.
Regardless of your lifestyle, anyone looking to reduce the daily decision-making related to meals can benefit from meal prepping.
Pros and cons of meal prepping
Meal prepping can be a game-changer, but it's not without its challenges. Here are some of the advantages and potential drawbacks: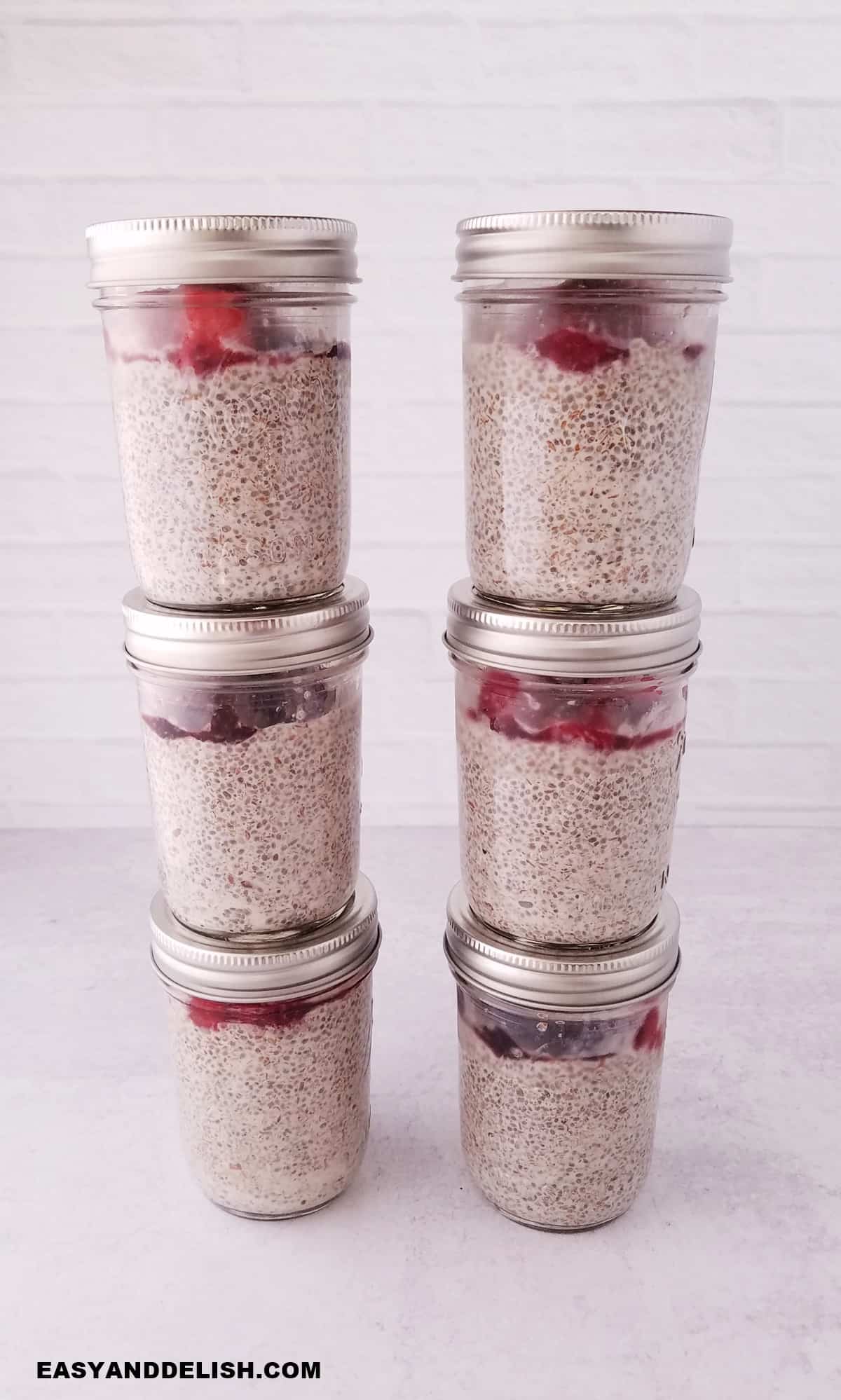 Pros
Time-saver:

If you spend a few hours a week preparing, you'll save time on all the other days by having meals ready to go.

Cost-effective:

Buying in bulk and reducing impromptu take-out meals can lead to substantial savings.

Well-balanced:

Having meals planned out can help you make more nutritionally balanced and healthy eating decisions.

Reduced stress:

Meal prepping eliminates the daily "what's for dinner?" dilemma.

Portion control:

It's great for those who manage their portion sizes for weight control or other dietary needs.
Cons
Initial time investment:

The preparation day can be time-consuming, especially in meal prep for beginners.

Potential for boredom:

Eating similar meals several times a week might get repetitive for some.

Storage constraints:

Meal prepping requires adequate fridge or freezer space, and you'll need numerous containers.

Planning required:

You'll need to plan your menu and shop accordingly.

Potential for waste:

If meals aren't eaten in time, they can go bad, leading to waste.
Different ways to meal prep
Meal prepping doesn't have to follow a one-size-fits-all approach. Depending on your lifestyle and preference, you can adopt various methods that work best for you.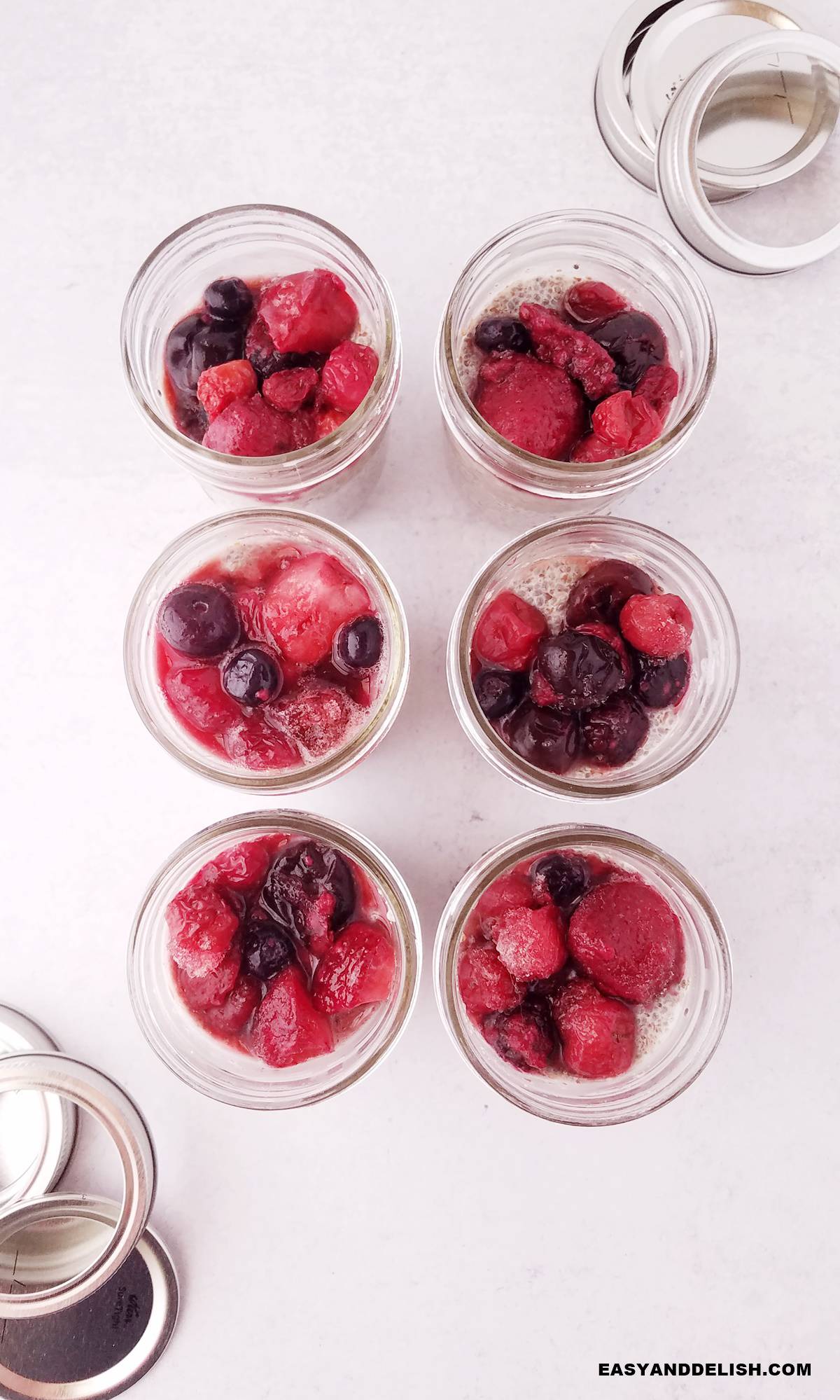 Make-ahead meals
How it works:

This method involves preparing entire meals ahead of time that you can heat and enjoy throughout the week.

Example:

Cooking a lasagna on Sunday and dividing it into portions to eat for dinner on Monday, Wednesday, and Friday.
Batch cooking
How it works:

Cooking meals or components in large quantities to be used in different dishes throughout the week.

Example:

Making a large pot of chili or stew that can be eaten as-is, over rice, in a wrap, or even as a topping for baked potatoes.
Individually portioned meals
How it works:

Meals are prepared and then portioned out into individual containers.

Example:

Prepping sliced chicken breast, steamed quinoa, roasted veggies, and hummus, then making individual grain bowls each in their own container for on-the-go lunches.
Ready-to-cook ingredients
How it works:

Prepping ingredients beforehand so that they're ready to be used in meals, reducing the cooking time during busy days.

Example:

Washing, chopping, and marinating vegetables on Sunday so they're ready to toss into a stir-fry or oven-roast midweek.
Most common foods to meal prep
These are the most commonly prepped foods that can serve as the basis of many dishes:
Carbs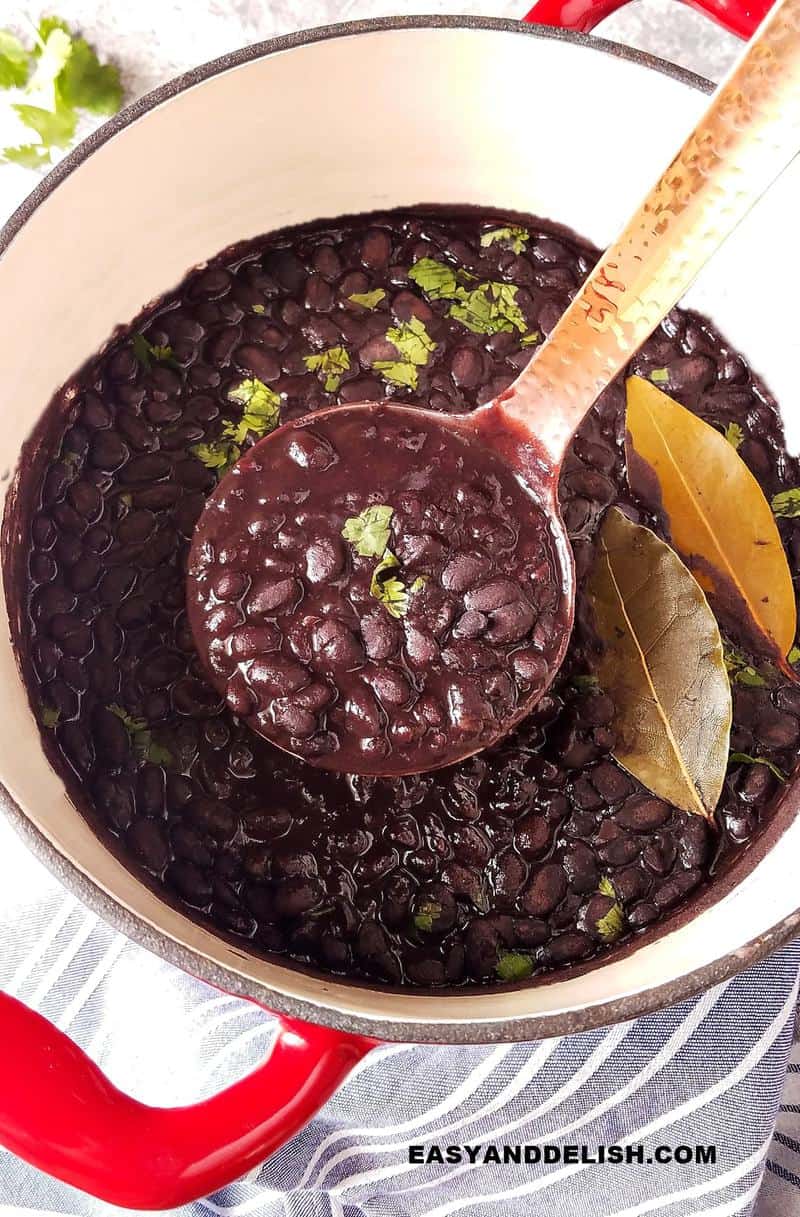 Beans:

Beans, like black beans or chickpeas, can be cooked in bulk and then added to salads and stews, or mashed for spreads.

Lentils:

Cook lentils once and add them to soups, salads, or make them into patties.

Quinoa or rice:

Steam a large batch of quinoa or rice and use it as a base for grain bowls, stir-fries, or side dishes.

Sweet potatoes:

Roast or steam whole sweet potatoes or cubes, then serve them on their own, mashed, or in salads and bowls.

Pasta:

Whole grain or alternative kinds of pastas can be cooked ahead and used in salads, casseroles, or main dishes.

Barley or Farro:

Prepare these grains as a base for soups, salads, or side dishes.
Protein
Chicken:

Baked or grilled chicken breasts can be sliced for sandwiches, salads, or main dishes.

Tofu:

Pressed and marinated tofu can be grilled, stir-fried, or crumbled into dishes.

Eggs:

Hard-boiled eggs serve as a quick snack or can be made into egg salad.

Tempeh:

Much like tofu, marinated or pre-cooked tempeh makes a delicious plant-based protein addition to stir-fries, grain bowls, and other dishes.

Fish:

Grilled or baked fish can be flaked into salads, served as mains, or added to tacos.

Legumes:

Legumes, like edamame or green peas, can be cooked and added to salads, stir-fries, or eaten as a snack.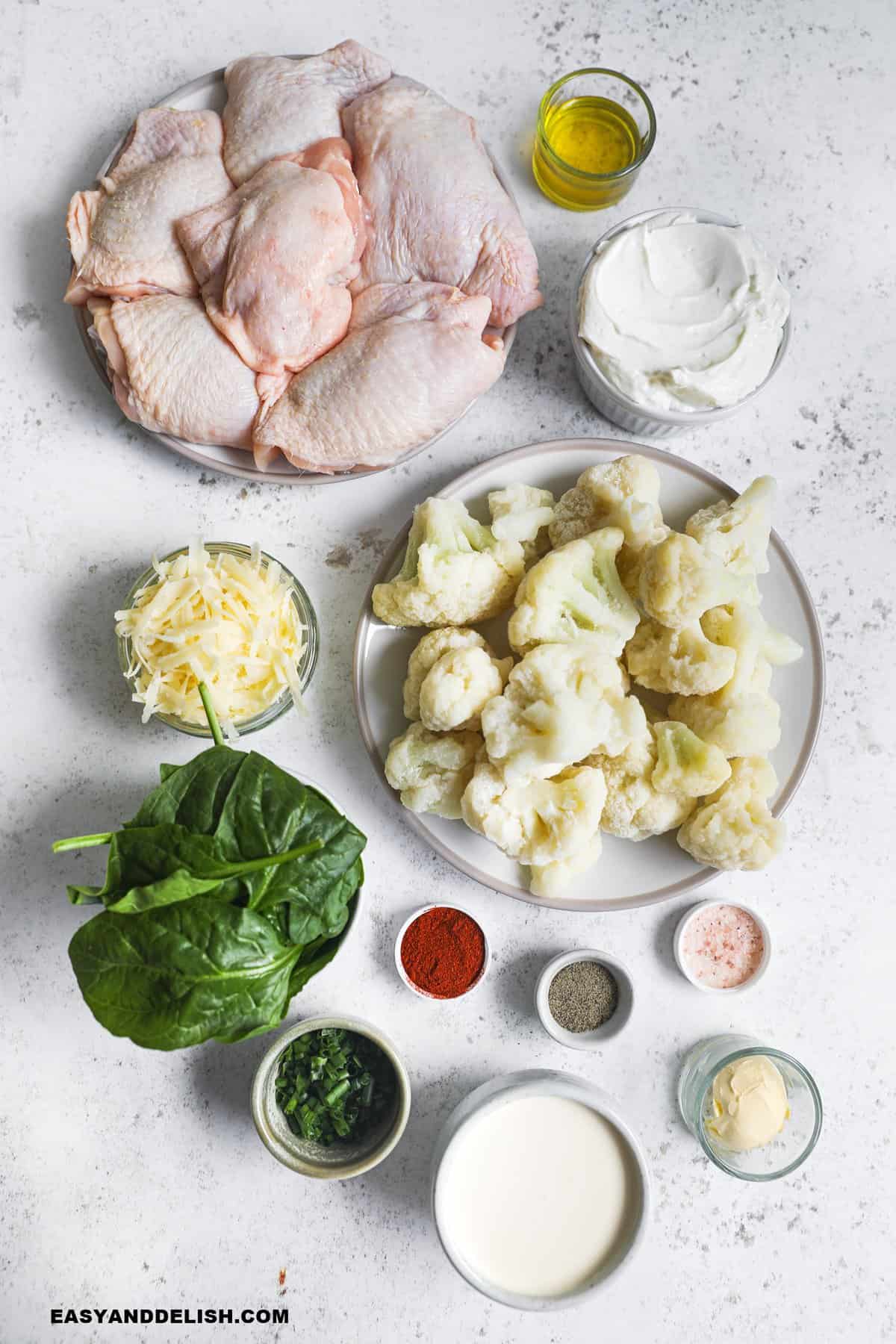 Vegetables
Bell peppers:

Slice and store peppers for quick additions to salads, stir-fries, or snacks.

Broccoli or cauliflower:

You can pre-chop broccoli and cauliflower for quick roasting, steaming, or adding fresh to dishes.

Zucchini:

Zucchini is great for spiralizing for zoodles or slicing for grilling.

Spinach:

Wash and refrigerate or freeze spinach for salads, smoothies, and sautées.

Carrots:

You can peel and slice or julienne carrots for snacks, stir-fries, or salads.
Fruits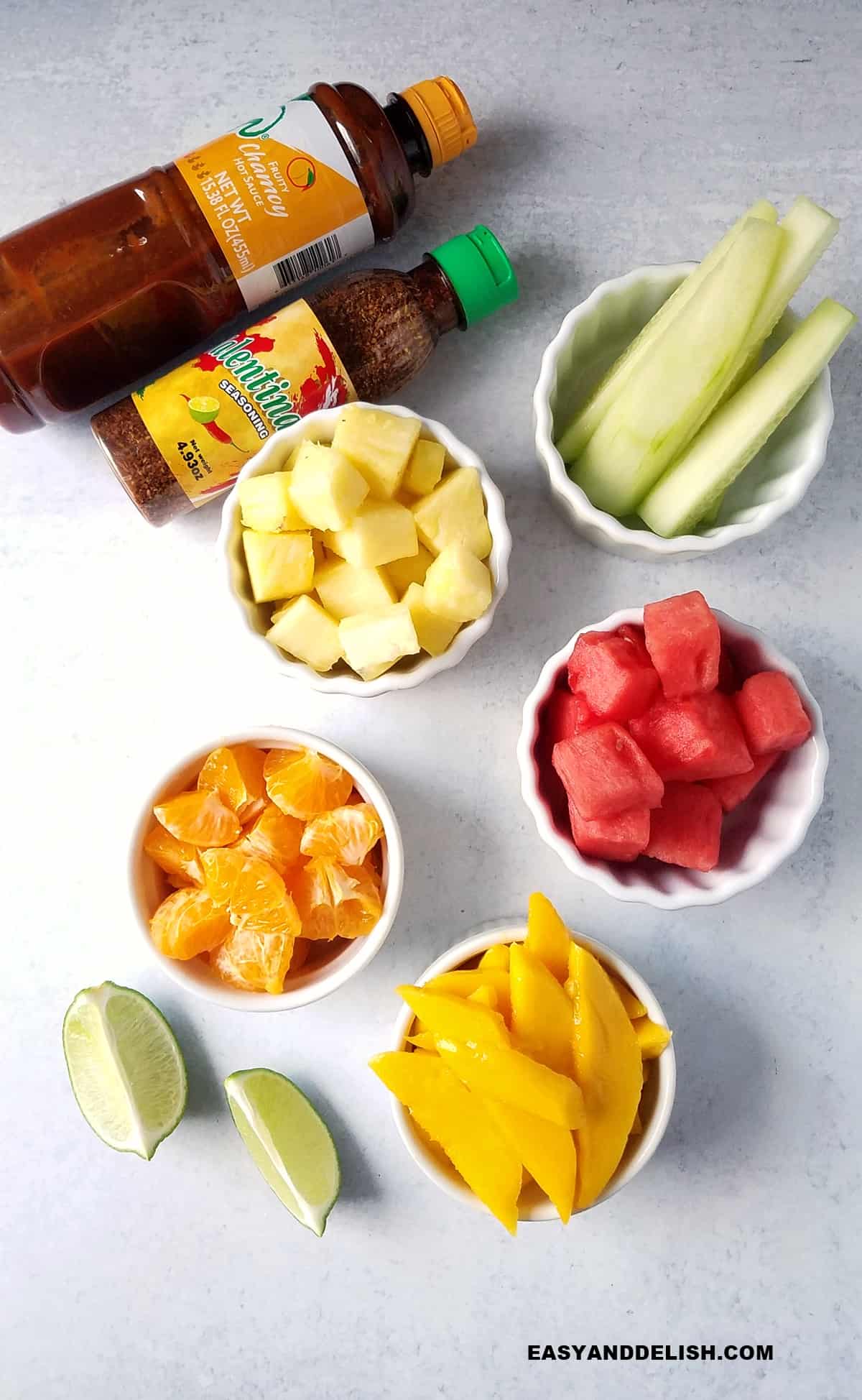 Berries:

They can be washed and portioned out for easy snack packs or morning smoothies, oatmeal, and yogurt additions.

Melons:

Pre-cut and store cantaloupe or watermelon for a quick snack or in addition to fruit salads.

Apples:

Slice and store apples with some lemon juice to prevent browning.

Grapes:

Grapes are easy to wash and store for weekly grab-and-go snacks.
Sauces, dressings, and spreads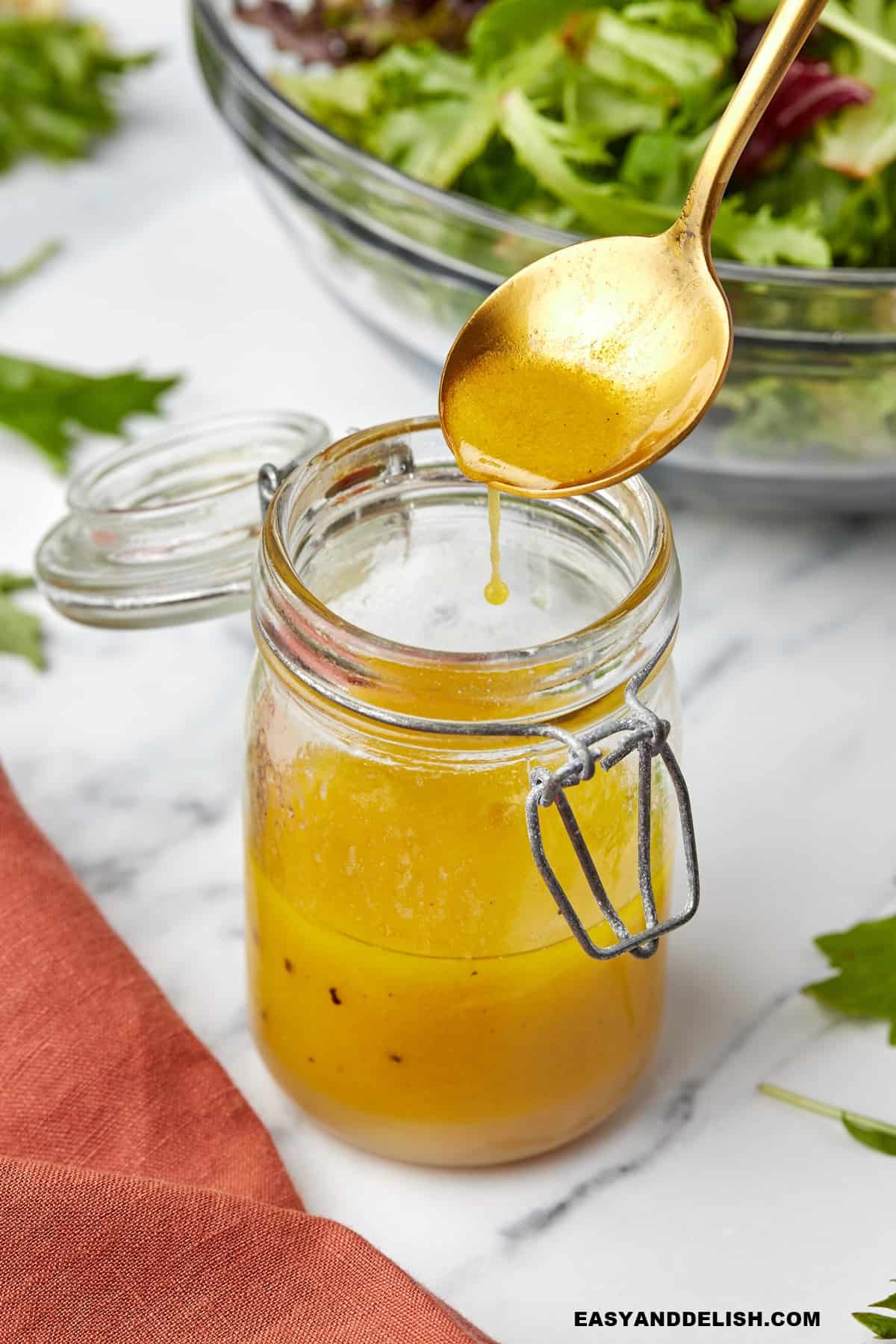 Pesto:

Easy to make in bulk and store for pasta dishes, sandwiches, or garnishes.

The same applies to chimichurri!

Vinaigrette:

Blend or whisk together oil, vinegar, and your favorite seasonings, then keep it on hand for drizzling over salads or cooked veggies.

Examples: apple cider vinaigrette!
Hummus

:

Blend together cooked chickpeas, tahini, lemon, garlic, and seasonings, then store it for a quick dip, spread, or salad addition.

Tzatziki:

Keep this yogurt-based sauce on hand for dipping or drizzling over grilled meats and veggies.

Salsa:

You can make fresh or jarred salsa for garnishing salads and proteins, or serving as a dip.
How to meal prep for the week
Prepping for an entire week might seem daunting, but with a little organization, it will become part of your normal routine. These are the steps you should follow:
Plan your menu:

Before anything else, decide on the dishes you want to eat throughout the week.

Inventory check:

Go through your pantry and fridge to see what you already have.

Shopping list:

Based on your menu, create a grocery list and stick to it at the store.

Schedule a prep day:

Dedicate a few hours one day for the bulk of your prepping tasks.

Start with long-cooking items:

If you're cooking grains or beans, start them first as they take the longest.

Chop veggies and proteins:

While things are cooking, chop, slice, or dice the veggies and proteins you'll need.

Assemble meals or ingredients:

Depending on your chosen prep method, either portion out entire meals or store ingredients separately.

Label everything:

Especially if freezing, label items with the date and what's inside.

Store properly:

Ensure everything is cooled before storing, and use airtight containers.

Rotate meals:

To avoid getting bored, rotate the meals you've prepped throughout the week. If you made multiple dishes, eat them on alternating days.
How to cut down on cooking time
If you want to reduce the time you spend in the kitchen without compromising the quality of your meals, try implementing some of these tips:
Prep ingredients:

Spend some time on the weekend washing, peeling, and chopping vegetables. Store them in airtight containers for easy access throughout the week.

Use a

pressure cooker or Instant Pot

:

These devices can considerably reduce the cooking time for dishes that usually take a long time, like stews or braised dishes.

Plan one-pan or one-pot meals:

Recipes that require just one pan or pot typically have fewer steps and require less active cooking time.

Invest in a food processor:

A food processor can chop, slice, dice, and even knead the dough, saving you a lot of manual prep time.

Opt for quick-cooking proteins:

Fish, shrimp, and thin cuts of beef or chicken cook faster than larger or denser cuts, especially ground beef.

Thaw

frozen foods or freezer meals

:

Instead of spending time thawing foods in the microwave or under running water, plan ahead and move them from the freezer to the fridge the night before.

Organize your workspace:

An organized kitchen and clear counter space can streamline the cooking process and help you work more efficiently.

Double-up recipes:

If you're already cooking a dish, make double the amount and freeze half for a future meal.

Use pre-made ingredients sparingly:

While not always the healthiest option, occasionally using pre-made sauces, broths, or dough can save time.

Learn to multitask:

While pasta boils, sauté veggies. While the meat is in the oven, prepare a salad. Learn to manage multiple tasks simultaneously for efficient cooking.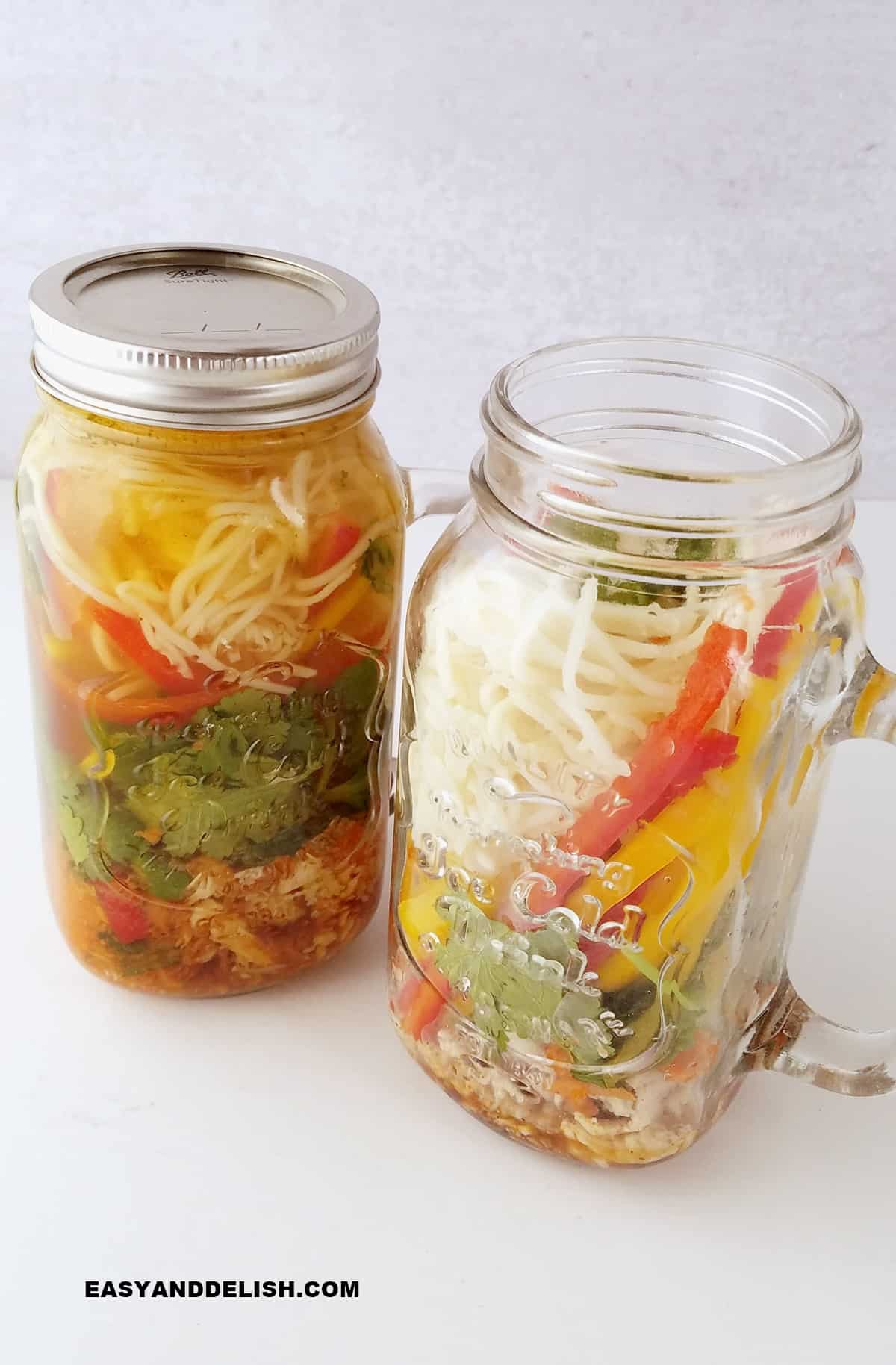 Best meal prep containers
Now that you know how to meal prep, you're going to want to invest in some containers that preserve all your hard work! Take a look at some of the best meal prep containers to decide which type might be right for your needs.
Glass containers with airtight lids
Durable:

Glass doesn't stain or retain odors.

Microwave safe

: Can be heated directly in the microwave without concerns about harmful chemicals.
Stainless steel containers
Lightweight and durable:

Ideal for on-the-go meals.

Eco-friendly:

A sustainable alternative to plastic containers.
Compartmentalized containers
Keep foods separate:

Also known as bento box containers, these allow different meal components to remain separate, preventing flavors from mixing.

Portion control:

Helps in keeping a check on portion sizes, especially for those tracking macros.
Silicone zip-top bags
Space savers:

Can be flattened and stored easily.

Versatile

: Great for both liquids and solids and can even be used for sous-vide cooking.
Insulated lunch boxes
Maintains temperature:

Keeps meals warm or cool, which is great for those without access to a microwave or fridge.

Portable:

Typically comes with handles or straps for easy carrying.
How to meal prep for weight loss
Here's how you can optimize a healthy meal prep routine to align with your weight loss goals:
Prioritize protein:

Include lean protein sources like chicken, tofu, legumes, and fish to help you feel full and support muscle retention.

Control portions:

Use meal prep containers to portion out meals and prevent overeating.

Whole grains:

Opt for grains, like quinoa, brown rice, and barley, which are not only nutritious but also keep you satiated.

Limit processed foods:

By prepping meals at home, you control the ingredients and can avoid added sugars, salts, and unhealthy fats.

Stay hydrated:

Pre-fill bottles or jugs of water to ensure you're drinking enough throughout the day.

Snack smartly:

Prepare healthy snacks like cut veggies with hummus, or a handful of nuts to curb hunger between meals.

Include healthy fats:

Incorporate sources of healthy fats like avocados, olives, or chia seeds, which are not only nutritious but also keep you full.

Diversify your meals:

This ensures you get a range of nutrients and don't get bored with your diet.

Plan for indulgences:

If you know you'll want something sweet or savory, prep a healthier version in advance.

Track your meals:

Knowing what you'll be eating in advance can make it easier to log your meals, whether you're using a physical journal or a digital app.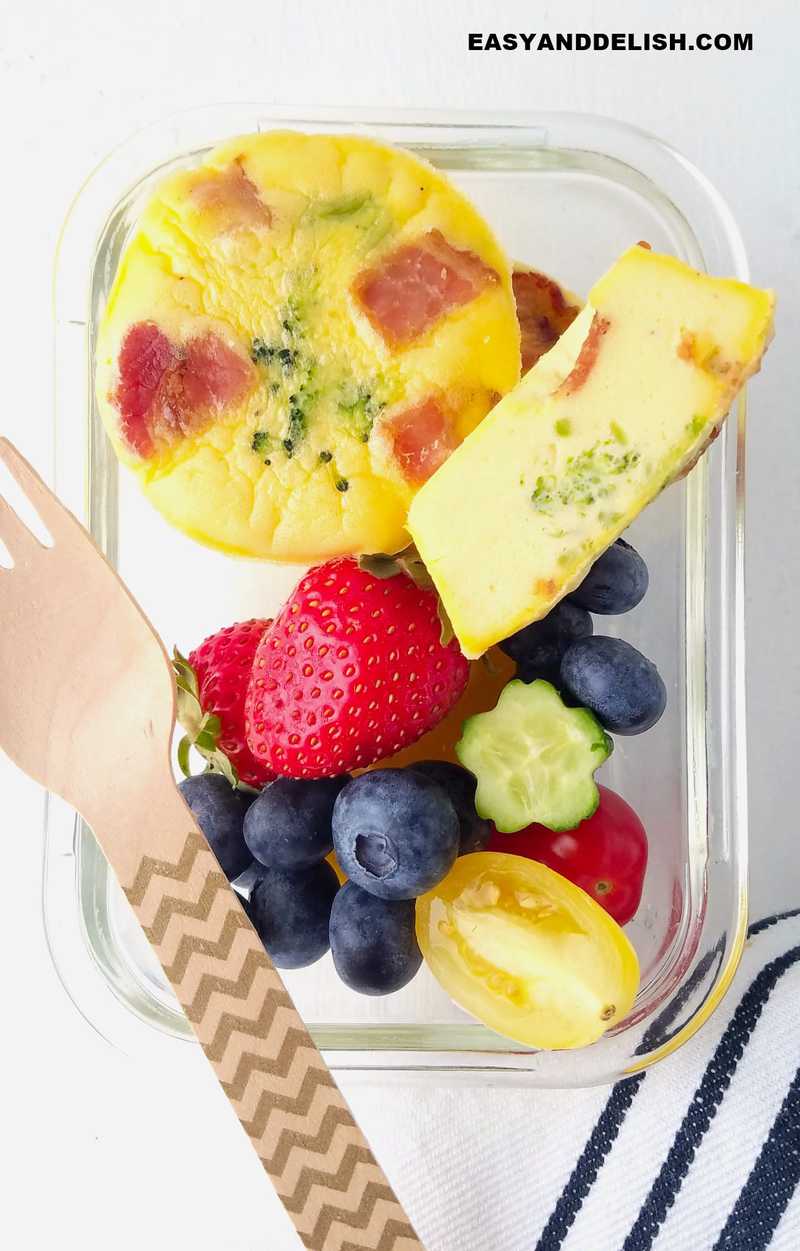 Tips for easy meal prepping on a budget
To keep your wallet in check, remember these essential guidelines when budget meal prepping:
Plan and shop:

Create a weekly menu and stick to a shopping list to avoid impulse purchases.

Buy in bulk:

Purchasing staples like grains, legumes, and spices in bulk can be cheaper in the long run.

Limit expensive protein sources:

Incorporate less expensive protein sources like beans, lentils, and tofu for some of your meals.

Freeze and store:

Take advantage of sales by buying extra and freezing items for later.

Minimize waste:

Use every part of your produce. For example, broccoli stems can be turned into soups or salads.

Skip pre-cut and processed foods:

These are often marked up in price. Instead, take some time to prep these yourself.

Cook once, eat twice:

Make larger portions of meals that can be eaten over multiple days to save time and resources.
FAQs
What should I avoid meal prepping?
Avoid prepping dishes that can become soggy or lose texture quickly, like salads with dressing or crispy items.
How should a beginner meal prep for the week?
A beginner should start with simple recipes, focusing on versatile ingredients and aiming to prep for 2-3 days to avoid overwhelming themselves.
Which food won't spoil quickly?
Root vegetables, grains, and canned goods typically have a longer shelf life than fresh produce or meats.
How long can chicken be meal prepped?
Cooked chicken can be safely stored in the refrigerator for 3-4 days.
How long can you meal prep rice for?
Cooked rice can be stored in the refrigerator for 4-6 days.
What is the riskiest step in food prep?
The riskiest step in food prep is cross-contamination, especially between raw meats and ready-to-eat foods.
What is the safest food to meal prep?
Vegetable-based dishes without dairy or meat are generally safer for longer storage.
How many times a week should I meal prep?
Ideally, you should meal prep once or twice a week to ensure freshness and variety in meals.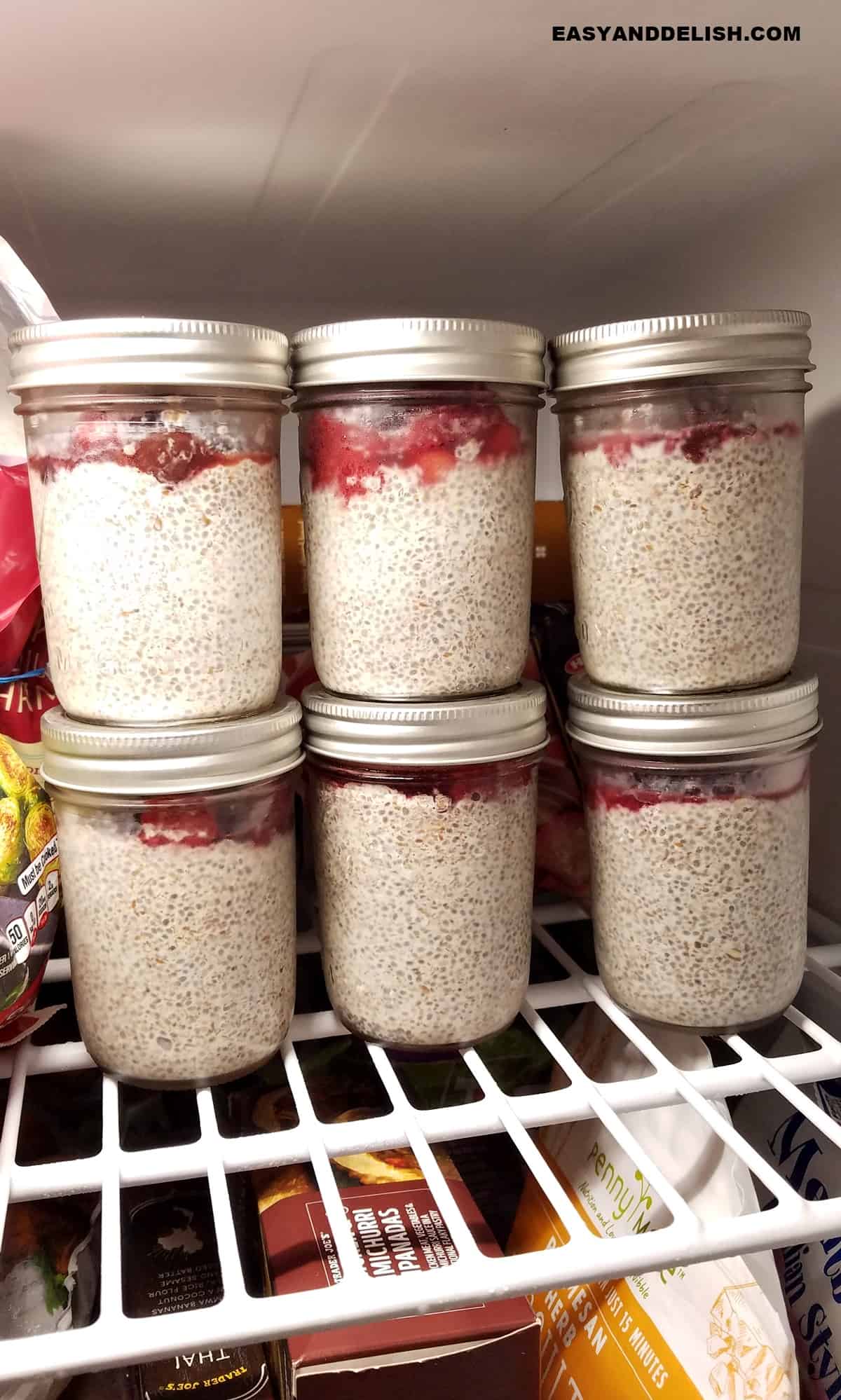 What day is best for meal prep?
Sunday is popular for meal prep as it allows for planning meals ahead of the typical workweek.
What is the difference between meal prep and food prep?
Meal prep refers to preparing whole meals in advance, while food prep involves getting individual ingredients ready for cooking.
Should meal prep go in the fridge or freezer?
Store your meal prep meals in the fridge if you'll be consuming them within 3-5 days. Otherwise, use the freezer for longer storage.
Meal Prep Formulas
Each formula varies according to the type of diet or menu you want to prepare:
Healthy:

Lean protein + High-fiber carb (grain or legume) + Vegetable + Healthy fat

Keto:

Protein + Low-Starchy Vegetables + Fat

Vegetarian:

Plant-based protein (legumes) + Carb (grain) + Vegetable + Fat

Paleo:

Protein + Carbs (Starchy vegetables) + Vegetables (non-starchy) + Fat
NOTE: You may use sauces, nuts, and seeds as types of fats. They make great options to easily alter a meal or make it more interesting and nutritious.
How long do my meal preps stay "good?"
The longevity of your meal preps largely depends on where you store them and the type of ingredients used. However, here are some general timelines: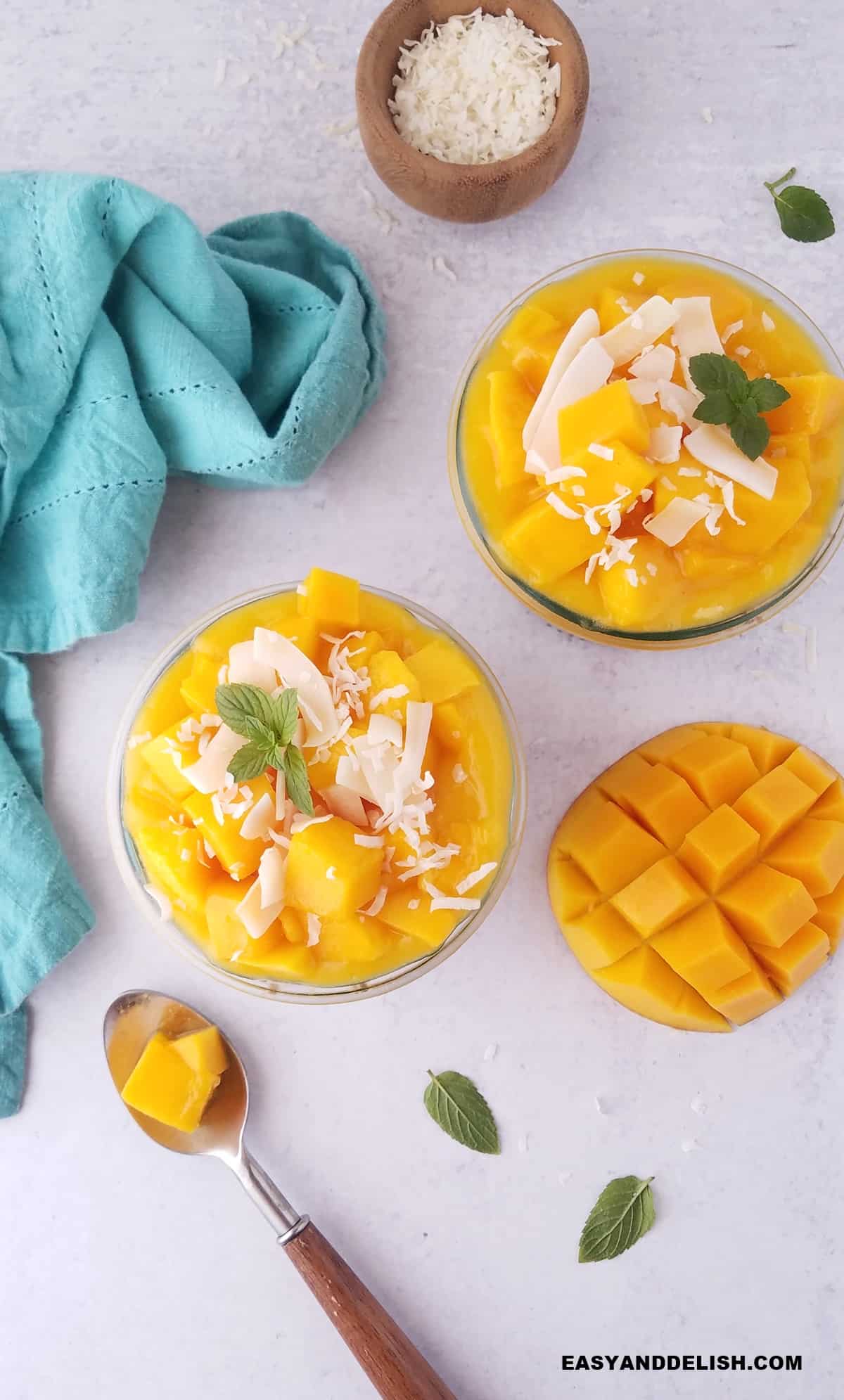 Fridge:

Most meal preps stored in the refrigerator remain fresh for 3-5 days. Foods high in moisture or lightly cooked might have a shorter shelf life. It's important to note that your fridge's temperature should be below 40 F to prevent bacterial growth.

Freezer:

If you're planning to eat your meal preps much later, they should be frozen. When properly stored, they can last for 2-3 months. However, while freezing can preserve food safety, the quality in terms of texture and flavor will degrade over time.
Some Meal Prep Ideas
Here are a few ideas on how to meal prep for the week, including breakfast, lunch, healthy dinners, and snacks.
PIN AND ENJOY!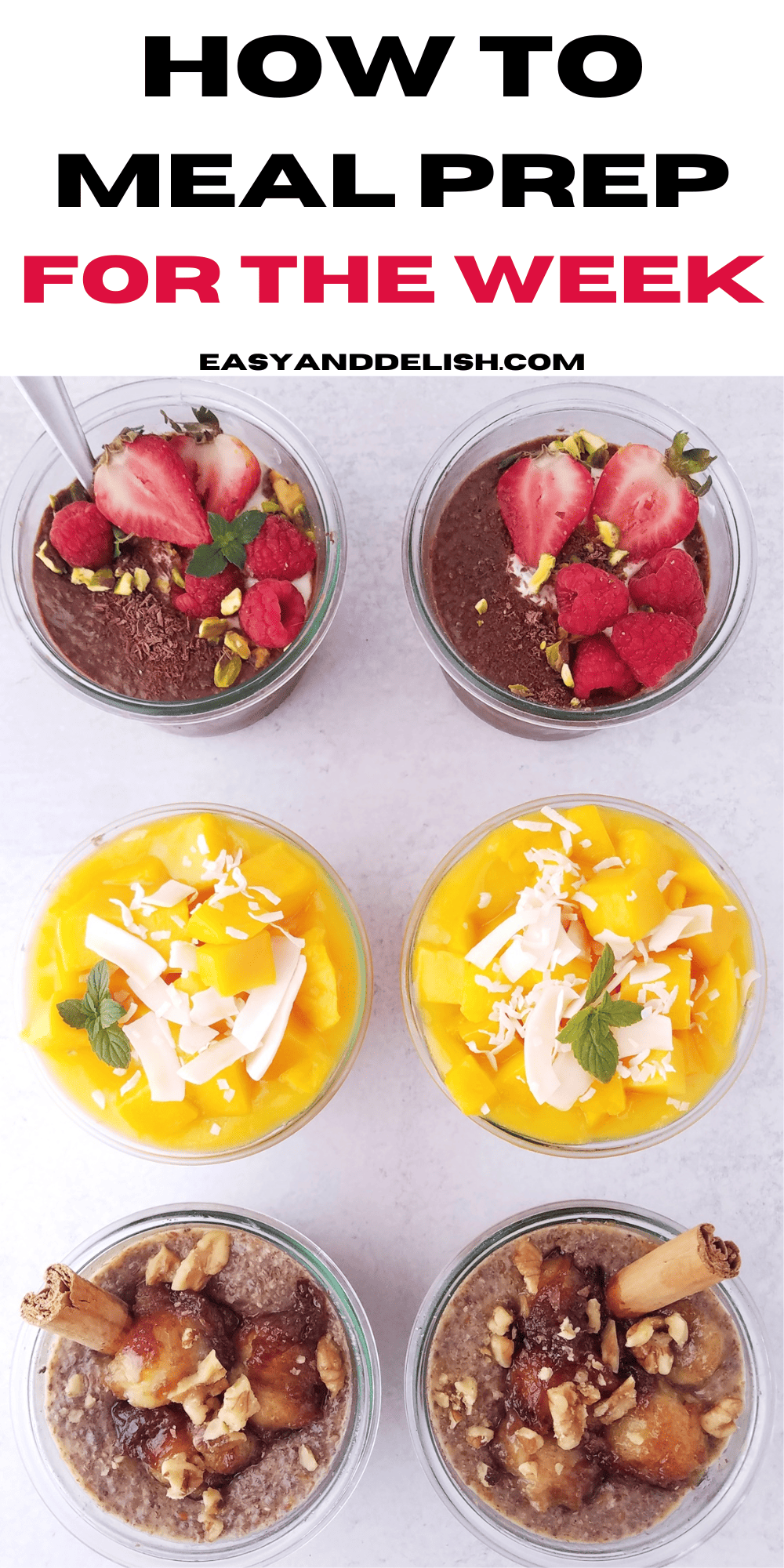 How to Meal Prep | Complete Beginner's Guide
Want to find out how to meal prep easily? With this complete guide, you'll learn how to prep meals ahead and store them while you're busy and on a healthy diet, simplifying your week. All it takes is a little planning and some kitchen time! 
Ingredients
12

tablespoon

chia seeds

6

tablespoon

ground flaxseed meal

optional

3

cups

plant-based milk

such as unsweetened coconut or almond milk, or any other milk of your choice

6

tablespoon

maple syrup or honey

or another sweetener of choice such as stevia, monk fruit, or brown sugar

1

teaspoon

pure vanilla extract

optional (or almond extract, etc)

1 ½

cups

frozen or fresh berries

or other fruit of choice such as mango
Instructions
Place 6 medium-size mason jars on a flat surface. Fill each with 2 tablespoon chia seeds, 1 tablespoon ground flax seed meal, ½ cup milk, 1-2 tablespoon maple syrup, and vanilla extract.

Stir well and let the mixture sit for 10-15 minutes or until the chia seeds start to thicken and gel.

Stir it again and top with ¼ cup of berries.  Secure each jar with a lid and store them either in the fridge or freezer.
Recipe Notes
If your chia seeds don't gel and thicken after 15 minutes, you probably have gotten dud chia seeds. They can go bad if they've been sitting in your pantry for too long or not stored properly in an air-tight container. But don't throw your chia pudding away. You can blend the entire mixture with the fruit in a blender, adding a little more of the liquid and fruit, to make a smoothie.
Yes, you can freeze chia pudding, but opt for containers with straight sides that won't risk shattering in the freezer. Also, make sure to defrost your chia pudding in the fridge about 2 days ahead of eating it. 
RATIO: The ratio of chia seeds to milk is 1 tablespoon of chia for every ¼ cup of milk. 
If you are in a hurry, you can heat your milk in the microwave and then mix in the chia seeds. Let it rest with the lid on for 5 minutes and then open the jar and stir in again. It will save about 10 minutes of your time as opposed to prepping with cold milk.  
How to Store
The longevity of your meal preps largely depends on where they are stored and the type of ingredients used. However, here are some general timelines:
Fridge:

Most meal preps stored in the refrigerator remain fresh for 3-5 days. Foods high in moisture or lightly cooked might have a shorter shelf life. It's important to note that your fridge's temperature should be below 40 F to prevent bacterial growth.

Freezer:

If you're planning to eat your meal preps much later, they should be frozen. When properly stored, they can last for 2-3 months. However, while freezing can preserve food safety, the quality in terms of texture and flavor will degrade over time.
Nutrition
Calories:
178.4
kcal
|
Carbohydrates:
17
g
|
Protein:
7.6
g
|
Fat:
9.6
g
|
Saturated Fat:
1.1
g
|
Polyunsaturated Fat:
7
g
|
Monounsaturated Fat:
1.1
g
|
Trans Fat:
0.03
g
|
Sodium:
49.2
mg
|
Potassium:
265.4
mg
|
Fiber:
9.9
g
|
Sugar:
3.9
g
|
Vitamin A:
282.3
IU
|
Vitamin C:
1.4
mg
|
Calcium:
305.3
mg
|
Iron:
2.5
mg
** Nutrition labels on easyanddelish.com are for educational purposes only. This info is provided as a courtesy and is only an estimate, since the nutrition content of recipes can vary based on ingredient brand or source, portion sizes, recipe changes/variations, and other factors. We suggest making your own calculations using your preferred calculator, based on which ingredients you use, or consulting with a registered dietitian to determine nutritional values more precisely.
Please note that health-focused and diet information provided on easyanddelish.com is for educational purposes and does not constitute medical advice, nor is it intended to diagnose, treat, cure, or prevent disease. Consult with your doctor or other qualified health professional prior to initiating any significant change in your diet or exercise regimen, or for any other issue necessitating medical advice.
DID YOU MAKE THIS RECIPE?
Comment and rate the recipe. Also follow us on Pinterest at @easyanddelish for more delish recipes.