Disclaimer: I have NOT being compensated for writing this article. All the opinions expressed are my own and based on my own experience as a shopper and saver.
Hello, y'all! It's that time of the year again-- Christmas season. Are you on a budget, like me? Well, fear not. We have prepared a very useful list of 10 ways to save BIG during the holiday while still enjoying the excitement of gift-giving. One strategy is homemade, inexpensive food gifts, of which this easy festive peppermint snowflake bark is the first of an upcoming long list.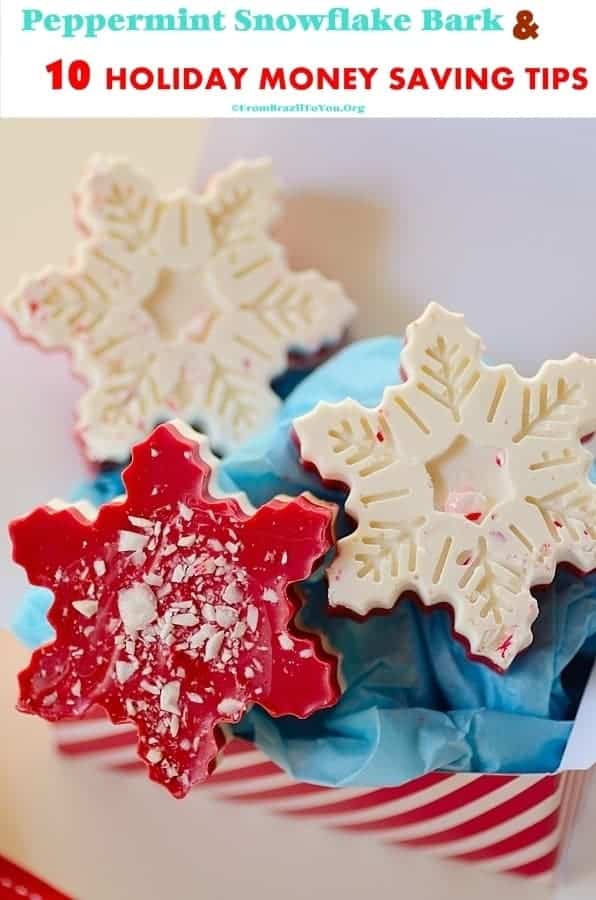 I have successfully used all of these strategies over the years and am sharing them with you because I want you too to be able to get what you want without breaking the bank. Start saving today with these 10 Holiday Money Saving Tips:
1. Make a list of presents, save up ahead of time, and stick to the budget: After creating a list of presents and totaling up the cost, set aside a certain amount for 2 months or more and make your purchases from that, without spending more than what you saved. Although it may be tempting to try to grab some last-minute deals, your wallet will thank you once the New Year rolls around.
2. Compare prices and start shopping earlier: I always do price comparisons before purchasing, which has saved me an amazing amount of money over the years. You can use one of these apps to compare prices , or even simply Google the name of the object along with the phrase "compare prices." A prime example is one of my daughter's presents for this year, a Little Live Pet toy. After comparing the prices at several retailers, I discovered that Walmart had the best price, which was nearly half of the price of other stores! This means that you shouldn't wait until Black Friday. Many retailers offer pre-sales, so it makes sense to begin comparing prices and starting your shopping online well before Black Friday. Exceptions: Shop at the right place (Amazon.com for Kindle) or during the right month for the best prices on toys (Nov.-Jan.), bikes (Sep.-Dec.), TV's (Jan, Mar., Nov.), digital cameras (Mar., Sep., Oct.), small consumer electronics like DVD players (Mar., May, Dec.), GPS devices (Nov., Dec.), and baby gear (Nov. and Dec.).
3. Take advantage of coupons and inquire about discounts: There is a drawer reserved in my kitchen just for coupons, and others come by email. I make sure to use them when I need something from a particular store. Even when I don't have coupons, I try to save anyway. How? By asking for discounts!!! Don't be afraid to ask for a discount—you would be surprised how often you can get a better price, even when it is not advertised. I notice that Americans tend to be a bit shy about this, and simply pay the sticker price. However, requesting discounts or bargaining is a time-honored tradition in much of the world, and there are still many opportunities to do this in the USA. It can be as simple as politely asking the salesperson, "Are there any discounts today?" or "Is that the best price you can give me?" I have used this tactic at the cash register at Pier 1 Imports and World Market and a few other stores, and gotten discounts of 10% or more. It is one of the reasons that I loooove Pier 1 Imports. 🙂
4. Combine price-match guarantees with coupons for the best deal: Some stores offer price-match guarantees if you find the identical product from certain competitors. On top of that, some will still let you use a coupon. This means that not only you will be able to buy a product for the lowest price on the market, but will even receive a discount on top of that-- that is, if you have a coupon, or a store credit card that guarantees a certain percentage discount every time you use the card (as for example, the Target card which gives a 5% discount when used for in-store purchases). It just doesn't get any better than that, does it? But before using this strategy, make sure to read their price-match policy since some retailers limit this to a certain number of items and only accept from certain competitors. Here are a few examples of price match guarantees: Toys "R"Us , Walmart, and Target.
5. Make use of flat rates and free shipping: At this time of the year, I don't buy anything online from a retailer that doesn't offer either a flat rate or free shipping. I have in-laws that live in other states, so buying something online and having the items delivered directly to them for a trivial amount or for free makes my life easier and my pocket happier. This means I don't have to be waiting in line at the post office... and also that I don't have to pay for shipping (or at least not a significant amount). 🙂 Since chocolate, candies, and gift baskets are always highly appreciated, they are one of the best presents to give. Certain brands offer a good flat-rate (great for large items such as gift baskets) or free shipping above certain amount.
6. Use credit cards that give you cash back or allow you to pay many months later without interest: Discover card, for example, gives money back to its users for buying certain items. Rooms to Go, a furniture store, recently launched a deal that allows people to buy today and pay monthly payments without interest until 2019. Also, if you are in Brazil, take advantage of the ability to break up credit card purchase payments over 10 months without interest in order to buy airline tickets, electronics, and other big value items. But whatever you purchase, always make sure that you can pay in full by the end, or otherwise prepare your pocket to pay a lot of interest.
7. Buy Gift Cards that give you back: Oh, yeah! I loooove the idea of giving someone a present and receiving a certain amount back. At this time of the year people are celebrating and eating out more often. A gift card from a national chain restaurant can be well appreciated not only for those who receive it but also for the purchaser. Why? Because by buying, for example, $50 in Chili's gift cards I receive $10 back, which can be used for my own meal. You see, I get a $60 value deal, while paying only $50. With this one deal I can save $10!!! Other restaurants also offer similar deals.
8. Buy presents for under $5 or $10: You can still find reasonable presents in the holiday aisle of certain retailers such as Walmart: from toys to food goodie baskets and personal care and beauty products. Select those that look more expensive to the eyes rather than to the pocket. 🙂 You can even buy chocolate-covered pretzels in bulk and divide them into pretty holiday boxes with festive bows. Yes, make the wrapping so pretty that anyone would be happy just to hold it. 🙂
9. Send FREE electronic greeting cards -- If you have no money at all this year, no worries...you can still make someone smile and feel special. Blue Mountain and other websites offer FREE holiday ecards that you can personalize and send by email. This means that you don't have to pay a single buck for the card and can even save on the price of a stamp. I also love sending a PNP- Portable North Pole Personalized FREE Video Message from Santa to my nephews that are in Brazil and to my friends' children. You ought to see their smiles when they hear their names right from Santa's mouth. It literally makes their day...mine, too! And all for free.
10. Inexpensive Homemade Goodies: For today's recipe I spent about $10 total in ingredients, the candy mold, plastic bags, and ribbon. I made 12 peppermint snowflake barks and placed 2 in each bag. Six people could enjoy our peppermint snowflake barks for $ 1.66 per bag/person. A great value, don't you think? Stay tuned and you will receive more suggestions for inexpensive homemade goodies in our next post.
I hope this helps you to save some money, making your holiday more enjoyable. I know that those who received our peppermint snowflakes bark loved their presents -- and my pocketbook did too!
xx
Peppermint Snowflake Bark & 10 Money Saving Tips
This peppermint snowflake bark is festive and quick to prepare (more time chilling than actually preparing them) -- and is inexpensive too! Yes, the average cost was about $1.66 per bag/recipient!!!
Ingredients
6

candy canes

12

oz

white candy melts

or white chocolate

12

oz

red candy melts

or semisweet chocolate

3

teaspoons

vegetable oil

divided

½

teaspoon

peppermint extract

divided (optional)

Snowflake Silicone molds

I bought mine at Target in the dollar aisle) or a baking sheet lined with parchment paper
Instructions
Place candy canes inside a ziploc plastic bag, zip, and place bag on a cutting board. Use a rolling pin or pan to crush candy canes. Set aside.

To make peppermint snowflake bark: In a medium microwavable bowl, add white candy melts or white chocolate and 1-½ teaspoons of vegetable oil. Melt in the microwave at 50% power in 30 second intervals, stirring well after each 30 seconds. This whole process will take about 1-½ to 2 minutes. When fully melted, add ¼ teaspoon peppermint extract (optional) and stir well!

IF USING THE MOLDS: Distribute one third of the crushed candy canes into the 12 snowflake molds. Using a small cookie scooper or a spoon, distribute the melted white candy melts or white chocolate into each of the 12 snowflake mold cavities. Shake molds a bit in order to distribute melted candy melts or chocolate uniformly over the bottom of the molds. Sprinkle one third of the crushed candy canes into the molds. Place in the refrigerator and let set for about 30 minutes.

Repeat process with red candy melts or semisweet chocolate. Sprinkle the remaining one third of the crushed candy canes over the red melted candy melts or semisweet chocolate.

After chilled and fully hardened, remove peppermint snowflake bark from molds. Store in a clean airtight container in the fridge or at room temperature.

Alternatively, IF USING A BAKING SHEET: Line a large baking sheet with parchment paper. Sprinkle one third of the crushed candy canes onto the lined baking sheet, and then pour melted white candy melts or white chocolate onto paper and gently spread, being sure to not allow it to go over the edges. Top with one third of the crushed candy canes, and let set in the fridge for about 30 minutes or until set. Pour melted red candy melts or semisweet chocolate on top of the set white layer, sprinkle the remaining one third of the crushed candy canes, and chill for 30 minutes. Break into chunks to gift, or store peppermint snowflake bark.
Recipe Notes
You can place 2 peppermint snowflake barks per bag (clear cookie plastic bags) and tie with a red bow.
** Nutrition labels on easyanddelish.com are for educational purposes only. This info is provided as a courtesy and is only an estimate, since the nutrition content of recipes can vary based on ingredient brand or source, portion sizes, recipe changes/variations, and other factors. We suggest making your own calculations using your preferred calculator, based on which ingredients you use, or consulting with a registered dietitian to determine nutritional values more precisely.
Please note that health-focused and diet information provided on easyanddelish.com is for educational purposes and does not constitute medical advice, nor is it intended to diagnose, treat, cure, or prevent disease. Consult with your doctor or other qualified health professional prior to initiating any significant change in your diet or exercise regimen, or for any other issue necessitating medical advice.
DID YOU MAKE THIS RECIPE?
Comment and rate the recipe. Also follow us on Pinterest at @easyanddelish for more delish recipes.