Remember our Chocolate Party last month, where we featured the infamous Chocolate-Strawberry Slump? Well, the day for our monthly Chocolate Party hosted by Roxana's Home Baking has arrived once again. And our secret ingredient this time? Cherries!!! What about our recipe for today? Whoo-hoo, get ready for this... it is none other than White Chocolate-Cherry Pie Bars!!! Just thinking about them sets my heart racing. 🙂
I am crazy for all kinds of fruit, and of course, for desserts made with fruit. And our two desserts that incorporate cherries so far, Almond-Cherry Cheesecake and these White Chocolate-Cherry Pie Bars, are no exception. What can I say? Both the cheesecake and the white chocolate-cherry pie bars are to die for... My hubby would also state the same thing, if his mouth weren't full. 🙂 He was already a big fan of the cheesecake, and I can tell he is hooked on the cherry bars now since I have caught him "sampling" them again and again with a big smile on his face. 🙂 🙂 Boy, oh boy! I hope I get the chance to enjoy at least one more before the whole batch disappears.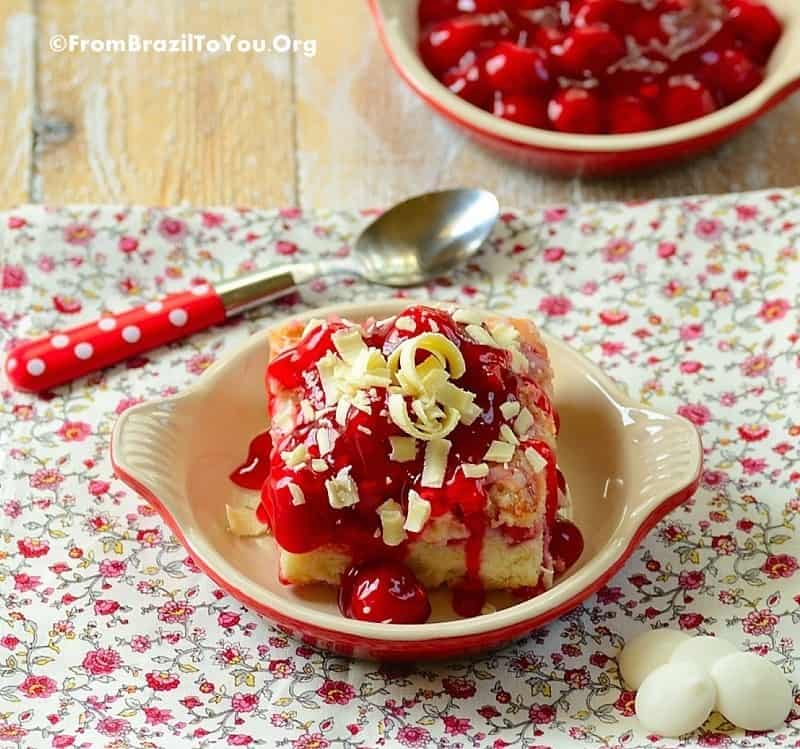 Talk about scrumptious cherry desserts! Well, I hope you try my recipe and also the other chocolate-cherry desserts from our sweet party. As you can see below, our chocolate-cherry beauties were crafted to be devoured both with the eyes and mouth!
Wishing you a great summer!
xx
White Chocolate-Cherry Pie Bars
Ingredients
For the batter:
1

cup

unsalted butter

softened, or 2 sticks

2

cups

granulated sugar

4

large eggs

at room temperature

3

cups

all-purpose flour

sifted

½

teaspoon

salt

1

tablespoon

pure vanilla extract

¾

cup

white chocolate chips

divided

1

cherry pie filling or topping

20 ounces/ 567 g
For the white chocolate glaze:
½

cup

white chocolate chips

1-½

tablespoons

heavy cream
Instructions
Preheat oven to 350º F (about 180º C). Grease a 13 x 9 inches (about 33 x 23 cm) baking pan and set aside.

In a mixer, cream butter and sugar together at medium speed. Add the eggs, one at a time, beating after each addition until just incorporated (Do not over beat the eggs!!!). Beat the flour and salt at low speed until just incorporated. Mix in the vanilla and ½ cup of the chocolate chips until combined.

Spread 3 cups of the batter in the greased baking pan.

Then, spread pie filling on top of dough.

Drop remaining dough by tablespoonfuls on top of cherry pie topping, spreading gently to cover filling as much as possible. Distribute the remaining ¼ cup of the white chocolate chips.

Bake for about 40-45 minutes or until toothpick inserted in the center comes out clean. Let cool on a rack and slice. Since I used only 1 can of cherry pie filling instead of the two called for in the original recipe, these bars won't turn out soggy if served the following day.

Make the glaze: Combine the chocolate chips and heavy cream in a microwave bowl and microwave at 50% power for about 1-½ to 2 minutes or until chocolate is melted, pausing and stirring well every 30 seconds. Drizzle over bars using a fork. Bars can be served plain at room temperature, or warm accompanied by vanilla ice cream (my favorite way). Enjoy!
** Nutrition labels on easyanddelish.com are for educational purposes only. This info is provided as a courtesy and is only an estimate, since the nutrition content of recipes can vary based on ingredient brand or source, portion sizes, recipe changes/variations, and other factors. We suggest making your own calculations using your preferred calculator, based on which ingredients you use, or consulting with a registered dietitian to determine nutritional values more precisely.
Please note that health-focused and diet information provided on easyanddelish.com is for educational purposes and does not constitute medical advice, nor is it intended to diagnose, treat, cure, or prevent disease. Consult with your doctor or other qualified health professional prior to initiating any significant change in your diet or exercise regimen, or for any other issue necessitating medical advice.
DID YOU MAKE THIS RECIPE?
Comment and rate the recipe. Also follow us on Pinterest at @easyanddelish for more delish recipes.