Disclosure: This is a compensated campaign in collaboration with Farmland® and Latina Bloggers Connect. As always, all the opinions expressed here are honest and my own!
First it was the Super Bowl and now, March Madness. Right along with sporting events comes FOOD, and the best eats are handy and tasty finger foods, such as these Baked Baby Potatoes with Bacon. Excited?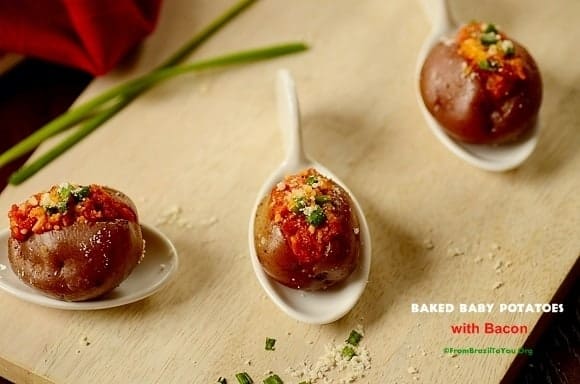 Now tell me, who isn't crazy for potatoes? How about bacon? Just the mention of them makes my mouth water!!! These baked baby potatoes with bacon are super easy to prepare and a real crowd-pleaser! Don't believe me? See for yourself!
Our baked baby potatoes with bacon follow the same concept of the American classic, stuffed baked potatoes. But instead of filling, full-sized potatoes, we used baby potatoes and bacon in tomato sauce to compose our mini-sized finger food.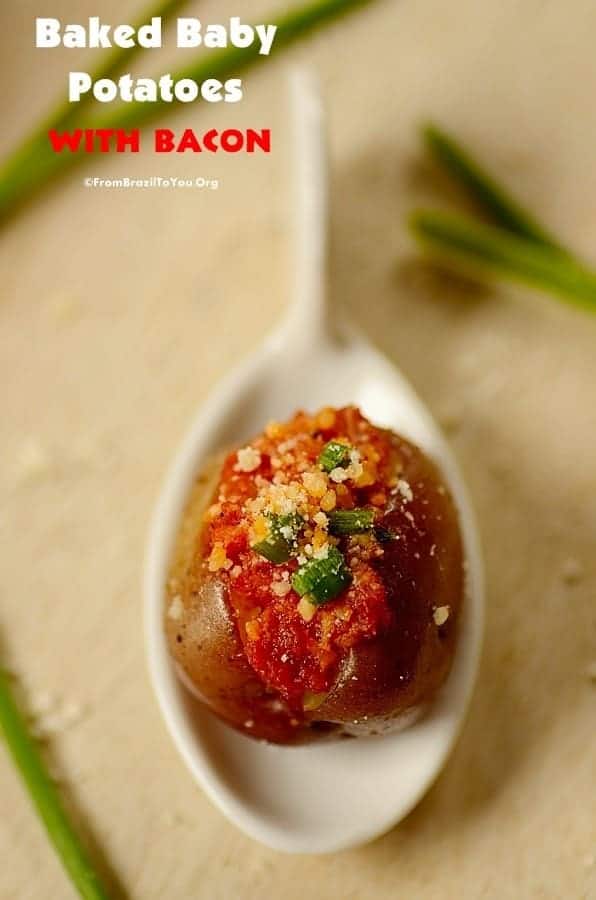 Indeed, my dears, the only thing you have to do is scrub, dry, and bake the baby potatoes; and then cut a slit in the top and fill with chopped bacon cooked in tomato sauce. It couldn't be any easier!
This recipe comes with an intentional tweak: this time we used low-sodium bacon to make these bites healthier. Farmland® bacon is one of our family's favorite -- especially my husband's. It is slow smoked over real hardwoods for maximum flavor, making a difference in every bite. This low-sodium bacon is ideal for those who have high blood pressure or are on a low-sodium diet. So yes, we can also say our baked baby potatoes with bacon are guilt-free -- both on account of their bite-sized proportions and also because of the low-sodium content.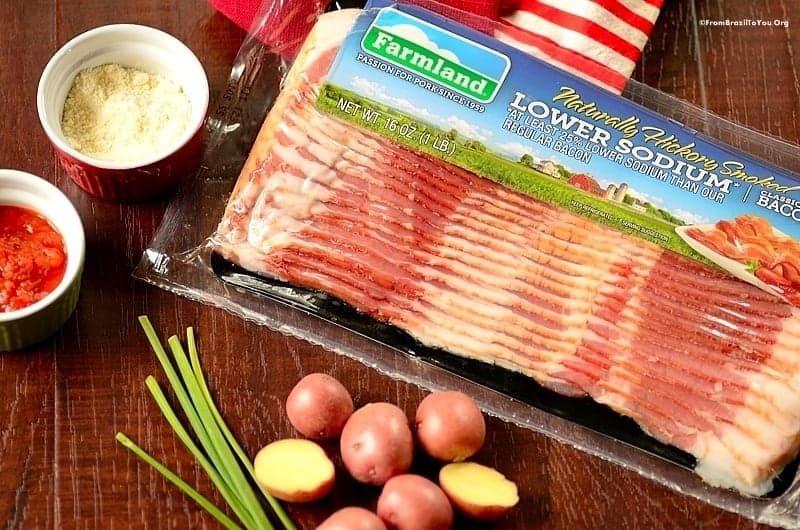 Some other great bites for March Madness would be our Palm Heart Bacon Bites which got rave reviews from many of you who made them for the Super Bowl.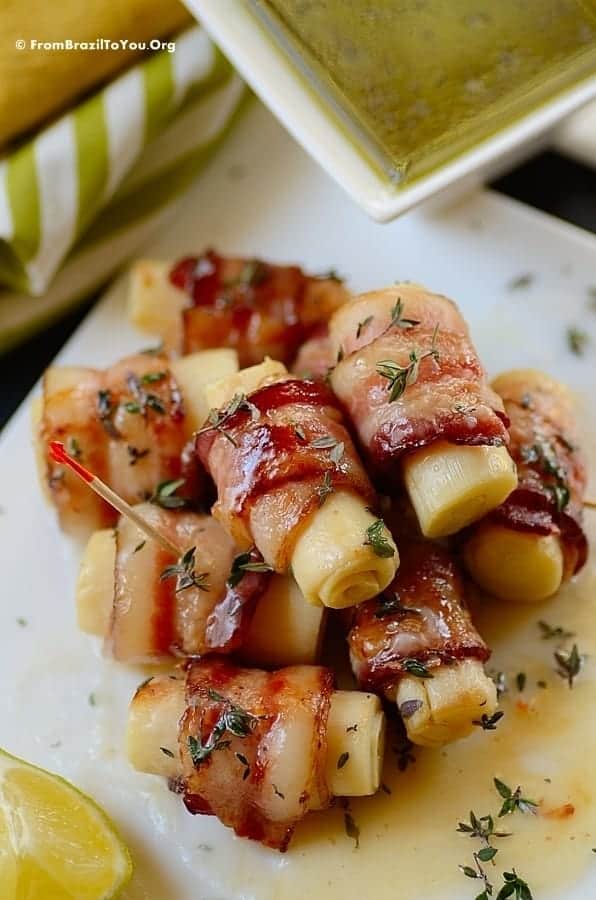 Well, for other tasty recipes click HERE. Enjoy our baked baby potatoes with bacon (and a also our Palm Heart Bacon Bites)... and have a fun during March Madness!!!
xx
Baked Baby Potatoes with Bacon
Easy, crowd-pleasing baked baby potatoes with bacon, sprinkled with Parmesan and chives... Great for watching sporting events and also for parties!
Ingredients
12

red baby potatoes

(washed, dried, and unpeeled)

1

tablespoon

olive oil

1

pinch

both salt and ground black pepper

2

strips

Farmland® Naturally Hickory Smoked Lower Sodium Bacon | Classic Cut

finely chopped or ground in a food processor

2

garlic cloves

minced

¼

cup

your favorite tomato sauce

2

tablespoons

red wine

¼

cup

water

2

tablespoons

fresh chopped chives

Grated Parmesan cheese to sprinkle

optional
Instructions
Preheat oven to 450°F (about 230°C).

Arrange baby potatoes in the center of a large sheet of aluminum foil. Drizzle olive oil and season with salt and pepper.

Seal the foil packet tightly on the top and both ends, leaving some empty space when sealing the packet to allow the heat to circulate. Place the foil packet, seam-side up, on a baking sheet.

Bake baby potatoes for about 35 minutes or until tender.

Meanwhile, heat a small nonstick saucepan over medium heat and cook chopped or ground bacon in its own fat until lightly brown (about 4 minutes). Add the garlic and sweat for about 1 minute, stirring occasionally (do not let garlic brown). Add and stir together the tomato sauce, wine, water and a pinch of ground black pepper; then reduce heat to medium-low and let simmer (large burner) for about 5 minutes, reducing the sauce almost completely. Turn off the heat, cover the pan, and set aside.

When potatoes are cooked, remove from the oven and place packet on a cutting board. Open the packet carefully to avoid injury from the hot steam. With the help of a knife, cut a wedge along the length of the top of each potato.

Fill the cavity by spooning in the bacon in tomato sauce, and sprinkle with chives and Parmesan cheese if desired. Serve baked baby potatoes with bacon while still warm and enjoy!
** Nutrition labels on easyanddelish.com are for educational purposes only. This info is provided as a courtesy and is only an estimate, since the nutrition content of recipes can vary based on ingredient brand or source, portion sizes, recipe changes/variations, and other factors. We suggest making your own calculations using your preferred calculator, based on which ingredients you use, or consulting with a registered dietitian to determine nutritional values more precisely.
Please note that health-focused and diet information provided on easyanddelish.com is for educational purposes and does not constitute medical advice, nor is it intended to diagnose, treat, cure, or prevent disease. Consult with your doctor or other qualified health professional prior to initiating any significant change in your diet or exercise regimen, or for any other issue necessitating medical advice.
DID YOU MAKE THIS RECIPE?
Comment and rate the recipe. Also follow us on Pinterest at @easyanddelish for more delish recipes.
This is a compensated collaboration with Farmland® and Latina Bloggers Connect. However, all opinions expressed are my own.