As I have stated many times before, I love corn as well as most dishes made from it, both savory and sweet. I especially love Fried Polenta or Polenta Frita! It is both an excellent appetizer and side dish.
Since I have presented a corn-based dessert recently -- Corn Crème Brulée, this time I'd like to share with you a very easy-to-make, delicious Christmas appetizer to impress your guests: Christmas Fried Polenta or Fried Polenta decorated for Christmas.
Fried Polenta is a very popular side dish in Southern Brazil as well as at Brazilian steakhouses (churrascarias) in the US. It's usually cut either in a triangular or rectangular shape, but because of the joyous holiday season I am using a star-shaped cookie cutter for ours.
Before we start, here are a few important tips to keep in mind:
1. Make your polenta four to six hours in advance or buy a packaged prepared one. Why? Because when first prepared, polenta has an oatmeal-like consistency, and needs a few hours to solidify enough for pan-frying.
2. Cut polenta into ¾ to 1-inch-thick pieces, which is sufficiently thick to support topping with sauce or other moist ingredients without becoming soggy.
3. Pan-fry in butter, oil, or a mixture of both in a non-stick pan, which prevents the polenta from sticking to the pan and helps brown the exterior more quickly.
4. If pan-frying several pieces at the same time, use a large skillet to give the pieces  enough room to crispen properly (but avoid the temptation of overcrowding the pan or else the polenta will ended up soggy instead of crispy).
Alright now, let's roll up our sleeves...
Enjoy our fried polenta, the star of the party!!!
xx
Pan-Fried Polenta
Yield:  Homemade polenta (9 medium or 24 mini stars);
Store-Bought Polenta (6 medium stars)
Segment: Brazilian Cuisine (Appetizer)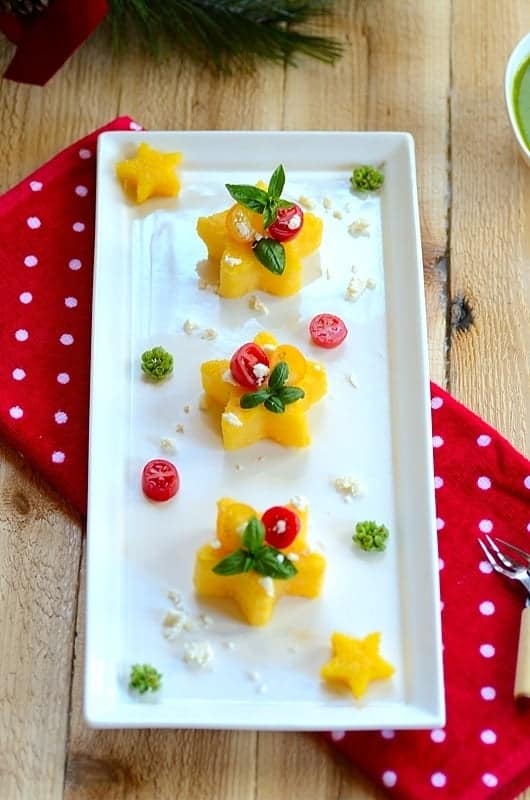 Ingredients:
4 cups homemade polenta (recipe follows)  or use a packaged prepared polenta (Traditional or Basil Garlic)
About 1 tablespoon olive oil per slice for pan-frying
Cherry tomatoes (yellow and red)
Fresh basil
Crumbled goat cheese to decorate (for a dairy-free and/or vegetarian version, omit the cheese or use a soy-based crumbled cheese)
Salt
Directions:
1. Lightly oil an 12 x 9-inch baking dish. Transfer the hot polenta to the prepared baking dish, spreading evenly to about ¾ to 1-inch thick. Refrigerate until cold and firm, for at least  4-6 hours. Note: If using a store-bought polenta (Traditional or Basil Garlic), just slice the polenta in ¾ to 1-inch thick circles (thick enough not to get soggy); then, follow the instructions below.
2. Preheat the oven to 250 degrees F (120 degrees C).
3. Cut the polenta into star shapes using a cookie cutter. Heat enough oil to lightly cover the bottom of a large skillet over medium-high heat. Working in batches (do not overcrowd the pan or polenta will steam instead of browning), pan-fry the polenta pieces until golden brown on both sides, about 3-5 minutes per side.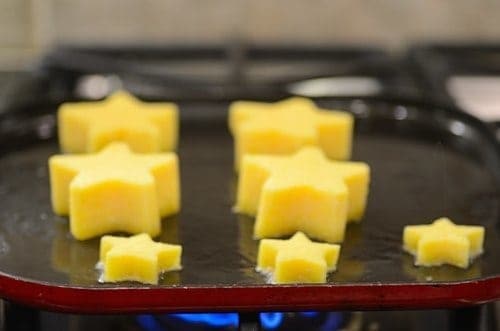 4. Using a metal spatula, transfer carefully the polenta pieces to paper towels and drain.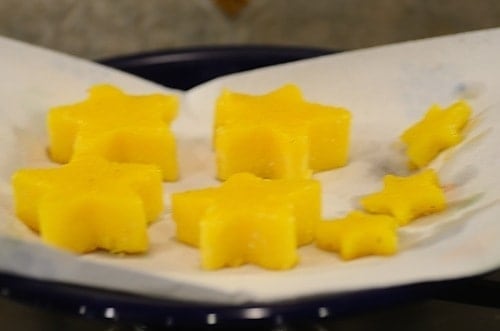 5. Place the polenta pieces on a baking sheet and keep warm in the oven while cooking the remaining batches.
6. Transfer the fried polenta pieces to a serving platter. Top the fried polenta with tomato halves and a few leaves of basil, and sprinkle with the crumbled goat cheese and a dash of salt. Serve fried polenta immediately either alone or with a Chimichurri Sauce or Pesto Sauce on the side. Bom apetite!
NOTE: The yield will vary depending on:
1. If the polenta was homemade or store-bought.
2. The size of the cookie cutter that was used to cut the pieces.
___________________________________________________________________________________________
For the Homemade Polenta:
Yield: About 4 cups
Ingredients:
4 cups water
1 teaspoon salt
½ teaspoon red pepper flakes, or ¼ teaspoon if you prefer your polenta less spicy
1 cup yellow cornmeal
2 oz ( about 55 gr.) soft goat cheese**
3 tablespoons grated parmesan cheese**
1 tablespoon unsalted butter**
**For both a dairy-free and vegetarian version, omit these ingredients or use their dairy-free version.
OR
Use a packaged prepared polenta (Traditional or Basil Garlic), which should be sliced in 1-inch circles and then, cut into a star shape using a cookie cutter.
Directions:
In a large heavy stainless steel* saucepan, bring 4 cups of water to a boil. Add both the salt and red pepper flakes. Gradually whisk in the cornmeal (4:1 is the right ratio of water to cornmeal). Reduce the heat to low and cook until the mixture thickens and the cornmeal is tender, stirring often, about 10-15 minutes. Turn off the heat. Add the cheese and the butter, and stir until smooth.
* Never whisk in an aluminum saucepan or the result will be a grayish mess caused by scratching the pan with the whisk. Because of chemical contamination, the mixture will have to be discarded.