Disclosure: This cranberry dip is a sponsored post written by me on behalf of Holland House. It's a no cooking, 10-minute gluten-and-dairy-free vegetarian appetizer served with pita chips and crudité veggies.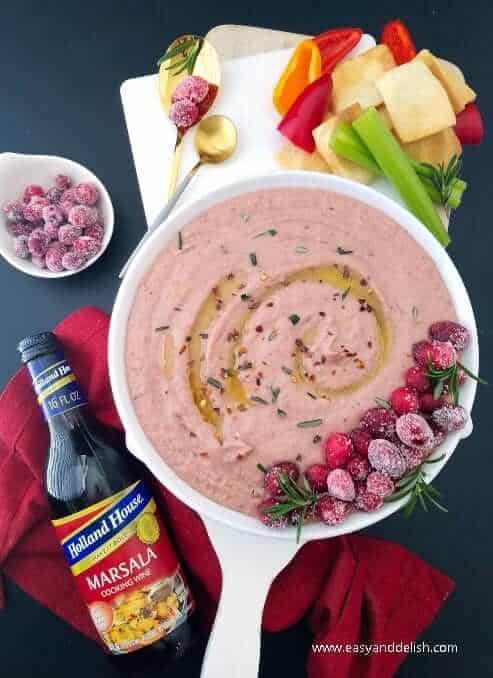 The holiday season is on! Along with it comes holiday food, and the best dishes are easy to prepare yet tasty, agree?!
This 10-minute hummus dip recipe is served with Pita Chips and Crudité Veggies will blow your mind.
It's gluten-free, vegetarian, festive, and requires no cooking. It's a fool-proof holiday hit! Are you happy?
Our Cranberry Hummus follows the same concept as the classic gluten-free Levantine cuisine dip or spread prepared with garbanzo beans.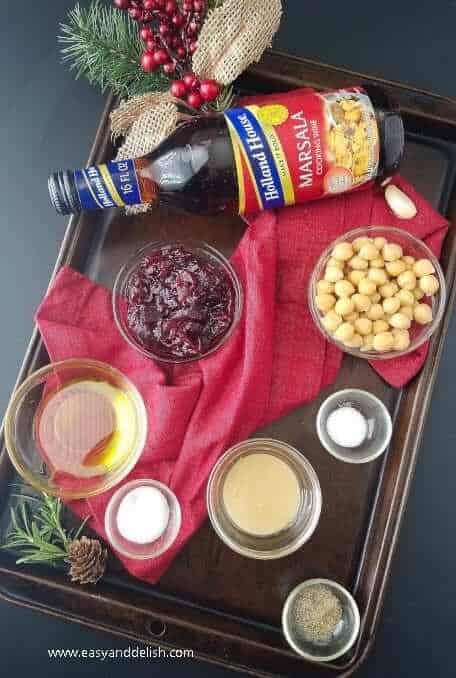 We mde it with canned chickpeas, tahini (sesame seed) paste, seasonings, sugar, garlic, and olive oil.
The addition of canned cranberry sauce and use of Holland House Marsala Cooking Wine instead of lemon juice are a couple of flavor-boosting twists on the classic recipe!
The appetizer is garnished with frozen cranberries and fresh herbs to give the dip a warm holiday touch...
...while adding a sweet-sour flavor that contrasts so well with the savory taste of the hummus.
All ingredients are available at many local supermarkets near you, including Holland House Marsala Cooking Wine...
... which, by the way, has a smooth, well-rounded, sweet wine taste with a hint of hazelnut that is versatile and ideal for cooking beef, chicken and pork.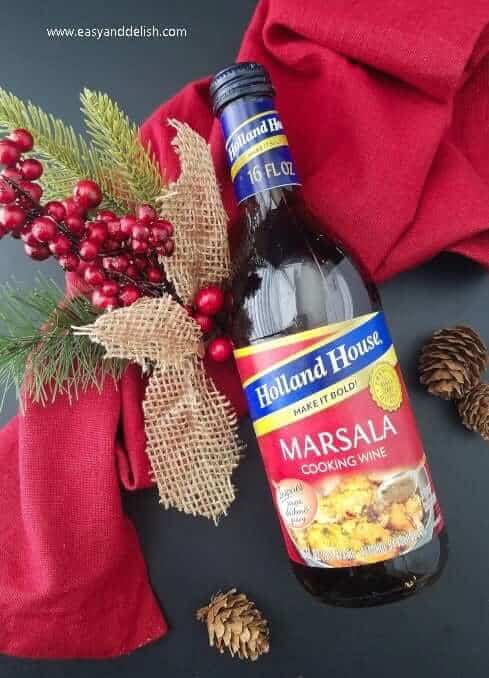 For a flavor-boost, add two tablespoons of Marsala cooking wine to your fave meat dish for some great flavor.
In fact, Holland House Cooking Wines are available in five versatile and flavor-boosting varieties – Marsala, Sherry, White, Red and White with Lemon.
Each provides extra zing for a variety of daily dishes, such as slow cooker and vegetarian dishes, soups, and cold-weather faves, as the flavors hold up in high heat.
And what's more, they easily deliver a greatl boost of flavor to comforting holiday recipes, giving any dish an instant upgrade.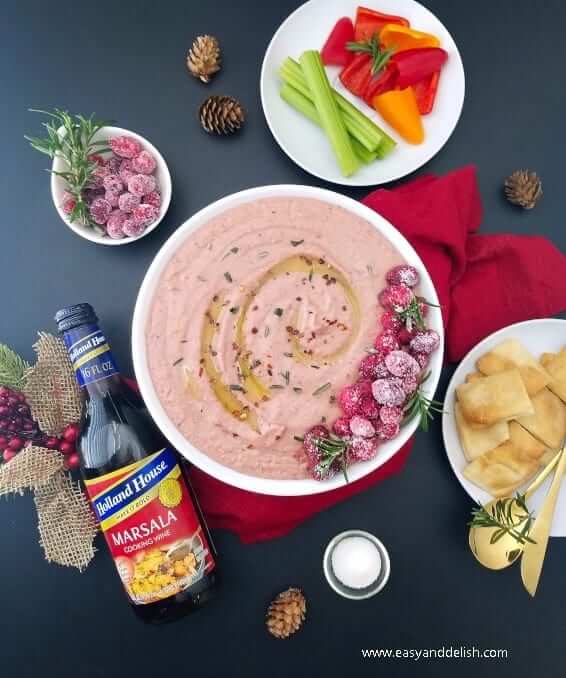 Ready to prepare our yummy dip?
HOW TO MAKE CRANBERRY DIP
To prepare our cranberry dip,

blend all the ingredients in a blender until cramy and smooth.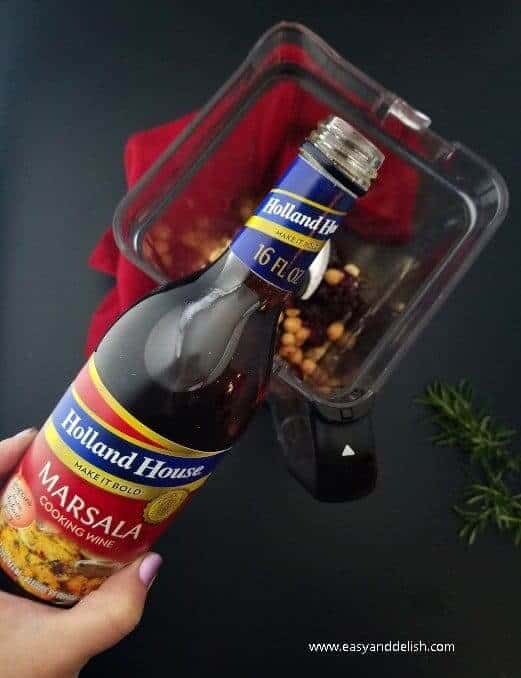 Then, place mixture into a serving bowl, drizzle a little bit of olive oil on top, and sprinkle on chopped rosemary.
Serve with pita chips and crudité veggies such as celery stalks and sweet peppers.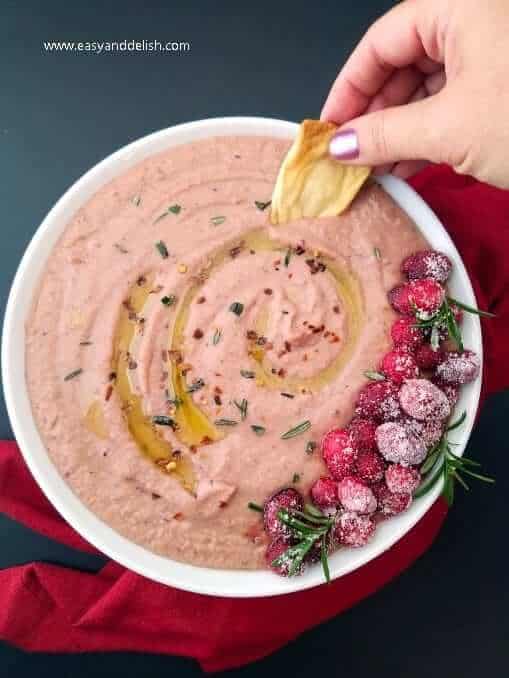 Could any appetizer be easier and more festive than that?
Well, for tips and more delish recipes like our Cranberry Dip, also follow Holland House on Facebook and Pinterest.
Moreover, visit the Holland House website to download a redeemable coupon for your next visit to the grocery store.
I hope you enjoy the best time of the year, along with our yummy Hummus Dip and brined turkey.
HOW TO MAKE SUGARED CRANBERRIES AS A GARNISH
If you want to,, add an extra holiday touch to this Cranberry Dip by garnishing with sugared cranberries.
For this, combine ¼ cup white granulated sugar and ¼ cup water in a small saucepan over medium heat. Stir well until sugar dissolves ( about 1 ½ to 3 minutes).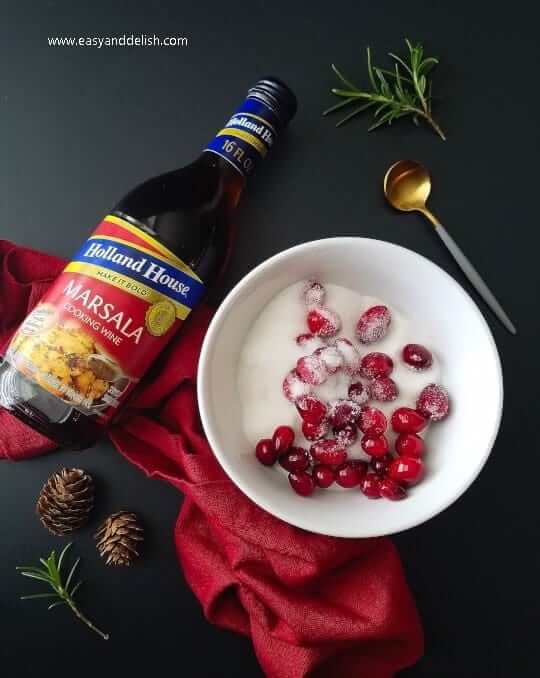 Then, stir in 6-ounce fresh cranberries until well coated. Using a slotted spoon, transfer to wire rack; let dry for at least 1 hour.
Working in batches, roll cranberries in ¾ cup sugar until well coated; let dry for at least 1 hour.
Happy Holidays!
TO PIN & ENJOY!

10-Minute Cranberry Dip
Cranberry Dip is a no cooking, 10-minute vegetarian appetizer served with pita chips and crudité vegetables.  It's the perfect hummus dip recipe for the holiday season!
Ingredients
2

cups

canned chickpeas or garbanzo beans, drained

1

cup

cranberry sauce

2

teaspoon

tahini paste (optional)

2

garlic clove

1 ½

teaspoon

salt

¾

teaspoon

ground black pepper

½

teaspoon

sugar

¼

cup

Holland House Marsala Cooking Wine

¼

cup

olive oil

(plus extra to drizzle on top)

2

teaspoon

fresh rosemary, chopped
Instructions
Place all ingredients (but only 1 teaspoon of the rosemary) in a blender. Blend all until creamy and smooth. If necessary, add additional 1-2 tablespoons Marsala Wine to help blend mixture more easily.

Then, spoon mixture into a serving bowl, drizzle a bit of olive oil on top, and sprinkle on remaining 1 teaspoon chopped rosemary.

Serve with pita chips and crudité vegetables such as celery stalks and sweet peppers. Enjoy!
Recipe Notes
Storage: Store hummus in a clean airtight container for up to 3 days in the refrigerator, or up to 6 months in the freezer. Don't let hummus sit more than 3-4 hours at room temperature. 
Leftovers can be used as a spread for sandwiches and roll ups, or as a filling for savory pastries.  
Hummus is a popular Middle Eastern dip/spread that is packed with vitamins and minerals. It is traditionally made with chickpeas, olive oil, tahini, lemon juice, garlic, salt, and pepper. But our

homemade

holiday hummus replaces lemon juice with Marsala wine and adds canned cranberry sauce to the recipe. 
For sugared cranberries as an

optional

 garnish, see recipe above (in the body of the post).
Nutrition
Calories:
78
kcal
|
Carbohydrates:
14
g
|
Protein:
1
g
|
Fat:
1
g
|
Sodium:
418
mg
|
Potassium:
53
mg
|
Fiber:
1
g
|
Sugar:
9
g
|
Vitamin A:
20
IU
|
Vitamin C:
0.7
mg
|
Calcium:
14
mg
|
Iron:
0.4
mg
** Nutrition labels on easyanddelish.com are for educational purposes only. This info is provided as a courtesy and is only an estimate, since the nutrition content of recipes can vary based on ingredient brand or source, portion sizes, recipe changes/variations, and other factors. We suggest making your own calculations using your preferred calculator, based on which ingredients you use, or consulting with a registered dietitian to determine nutritional values more precisely.
Please note that health-focused and diet information provided on easyanddelish.com is for educational purposes and does not constitute medical advice, nor is it intended to diagnose, treat, cure, or prevent disease. Consult with your doctor or other qualified health professional prior to initiating any significant change in your diet or exercise regimen, or for any other issue necessitating medical advice.
DID YOU MAKE THIS RECIPE?
Comment and rate the recipe. Also follow us on Pinterest at @easyanddelish for more delish recipes.
This is a sponsored post written by me on behalf of Holland House.