Disclosure: I have NOT received any compensation for this post. All opinions expressed are my own!
I will be celebrating the 4th of July with a summery, refreshing Brazilian drink: Batida de Coco Light or "Shaken Coconut" cocktail! This is my way to say: Happy Birthday, dear America!!!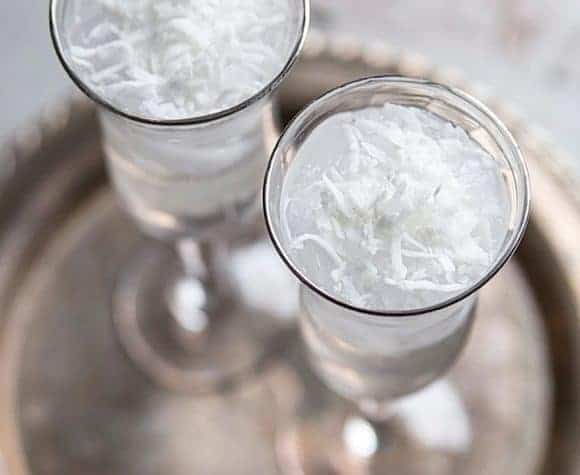 And the recipe is from a festive book to whose signing event I was recently invited and had the opportunity to attend in San Antonio, Texas. We got a chance to meet the authors, sip their fantastic sangria, and sample delicious Mexican food at La Paloma Mexican Restaurant.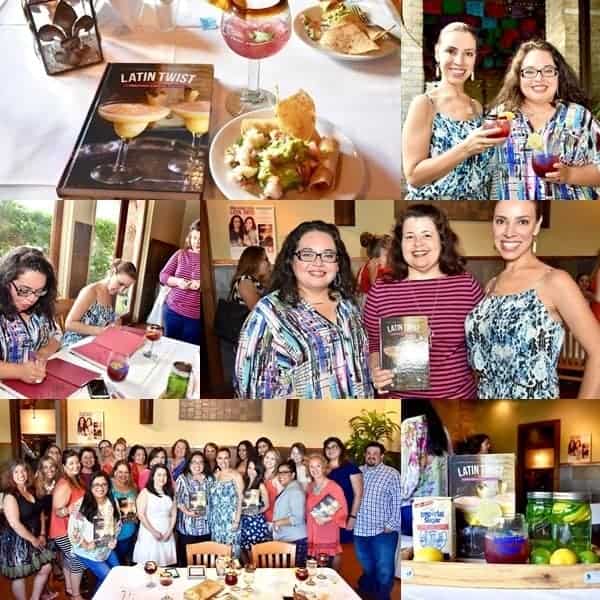 Two award-winning Latin fellow bloggers, Vianney from Sweet Life and Yvette from Muy Bueno Cookbook, co-author the book Latin Twist: Traditional and Modern Cocktails... A book with 97 delicious cocktail recipes from 18 Latin American countries and Spain. The book goes into the history of each country's special ingredients, wines, and liquors with gorgeous photography by professional photographer Jeanine Thurston.
Latin Twist is a book that celebrates Latin cultures, dedicated to those who enjoy drinking and entertaining. It's a book for both formal and casual celebrations at all seasons -- featuring from the summery, refreshing batida de coco  and coco loco to the wintery, warm zucarrapote. In my opinion, Latin Twist screams FIESTA... and with a lot of SABOR!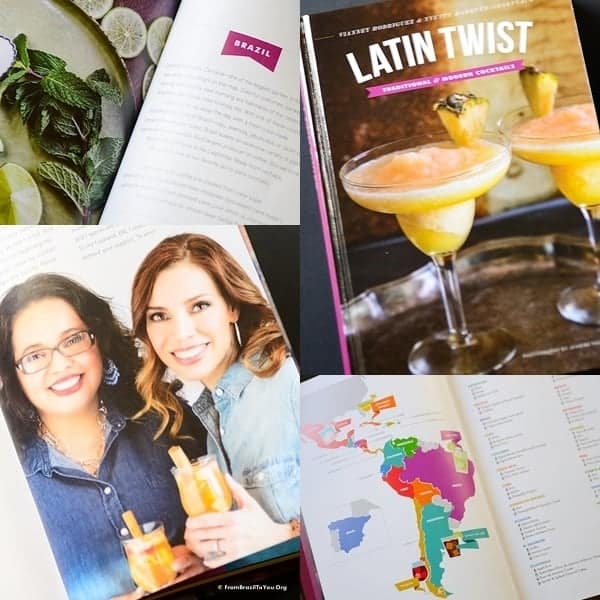 One of the chapters is dedicated to cocktails of Brazil, among which the recipe for batida de coco is included. Because the authors' recipe is made with fresh coconut water instead of the traditional coconut milk (and optionally sweetened condensed milk), I call it batida de coco light. Theirs is the modern and much healthier and refreshing version of the traditional Brazilian batida de coco.
Whenever celebrating a special occasion, throwing a barbecue in your backyard, getting together with family and friends, or simply intending to bring vacation to your kitchen, Latin Twist is the book for you! It's available at Amazon.com, Barnes and Nobles, and other book sites.
Wishing y'all a very Happy 4th of July sipping this batida de coco light!
Cheers!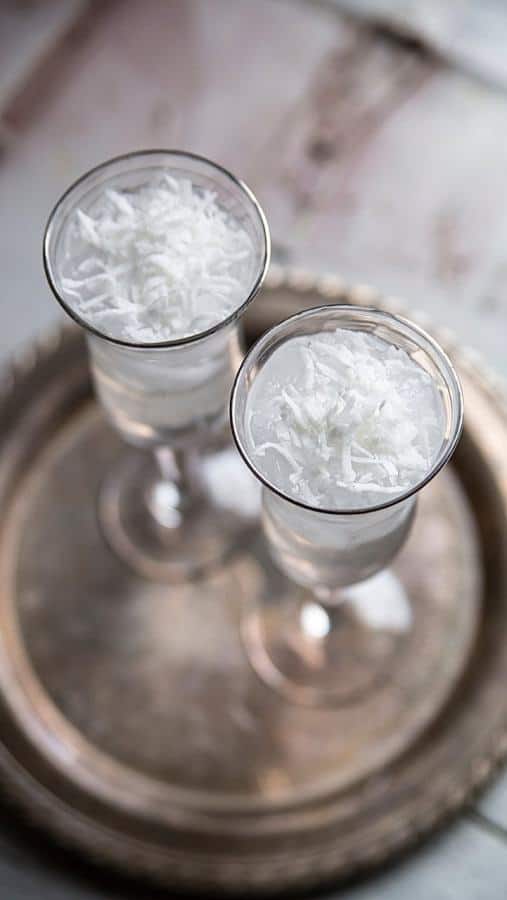 P.S.:  CREDIT & THANKS -- Batida de Coco image by photographer Jeanine Thurston. Book signing images by photographer Alejandro Montoya. A special thanks to Vianney and Yvette for the delicioso cocktail book and invitation. I am so happy for you two! Thanks also to Hippocrene Books, Inc. for authorizing the feature of the batida de coco image.
GIVEAWAY RULES:
This giveaway is for U.S. residents only, 18 years old and older, and will be opened from June 30 (12 am ET) to July 10, 2015 (12 am ET). To compete for the prize book, all you have to do is to LIKE both Sweet Life and Muy Bueno Cookbook on Facebook (mandatory), FOLLOW From Brazil To You on Instagram and SHARE our giveaway on your social media of choice (not mandatory, but will increase your chance of winning). Winner will be selected randomly by Random.org. Once the winner is selected, he/she will be contacted by e-mail and asked to send his/her mailing address (which will NOT be published). If he/she doesn't reply within 48 hours, another candidate will be drawn as the winner. Thank you and good luck!
Enter the giveaway through the Rafflecopter below:
Batida de Coco (Light)
This batida de coco light is a refreshing, modern version of the traditional batida de coco (Brazilian 'shaken coconut' cocktail) . A tasty drink ideal for summer!
Ingredients
1

cup

fresh coconut water

4

tablespoons

granulated sugar

2

ounces

cachaça or vodka

Shredded coconut

for garnish
Instructions
"Blend together coconut water, sugar, and cachaça in a blender. Serve over ice and garnish with shredded coconut."
** Nutrition labels on easyanddelish.com are for educational purposes only. This info is provided as a courtesy and is only an estimate, since the nutrition content of recipes can vary based on ingredient brand or source, portion sizes, recipe changes/variations, and other factors. We suggest making your own calculations using your preferred calculator, based on which ingredients you use, or consulting with a registered dietitian to determine nutritional values more precisely.
Please note that health-focused and diet information provided on easyanddelish.com is for educational purposes and does not constitute medical advice, nor is it intended to diagnose, treat, cure, or prevent disease. Consult with your doctor or other qualified health professional prior to initiating any significant change in your diet or exercise regimen, or for any other issue necessitating medical advice.
DID YOU MAKE THIS RECIPE?
Comment and rate the recipe. Also follow us on Pinterest at @easyanddelish for more delish recipes.