The Fourth of July, America's Independence Day, is just around the corner. Last year we celebrated with mouthwatering Grilled Chicken Legs Wrapped in Bacon (Churrasco de Frango). But this year we will be celebrating the date with none other than a summery Chocolate Pudding Ice Cream Pie... And since we're making it for America's birthday, in a manner of speaking you could even say we will be making some "American Pie," like the famous song that's even now playing in my head. 🙂
This recipe also represents our contribution for the month of July to the Chocolate Party hosted by Roxana's Home Baking. Our secret ingredient this time is ice cream!!! But don't forget about our other equally delicious previous Chocolate Party treats: Chocolate-Strawberry Slump and White Chocolate-Cherry Pie Bars.
Now, I know, I know... some folks might reasonably be asking: " Why do you, as a Brazilian, celebrate America's Independence Day?"
My answer is simple: "My beloved Brazil is my mother land, but the United States is my 'father' land." Huh?! By this I mean that the United States is the country that I came to know later-- it is where I live by choice. Moreover, I legally became an American citizen several years ago -- by choice! And do you know what? Just as I love my biological mother and father, I love both countries -- A LOT!!! I have been molded, culturally speaking, by both countries. And I am grateful for and to both!!! So just as I celebrate the Independence of Brazil every September 7th, I also celebrate America's birthday every 4th of July. The difference is, I celebrate Brazil's Independence as a proud native Brazilian, and America's as the American that I am -- not by birth, but in heart. That means a lot to me... For those who have experienced only one citizenship it might be hard to fully comprehend. But not for me, as I stand for two countries. I know exactly who I am, and how much of an honor it is to be a citizen of both countries -- despite each of our/their respective problems and adversities...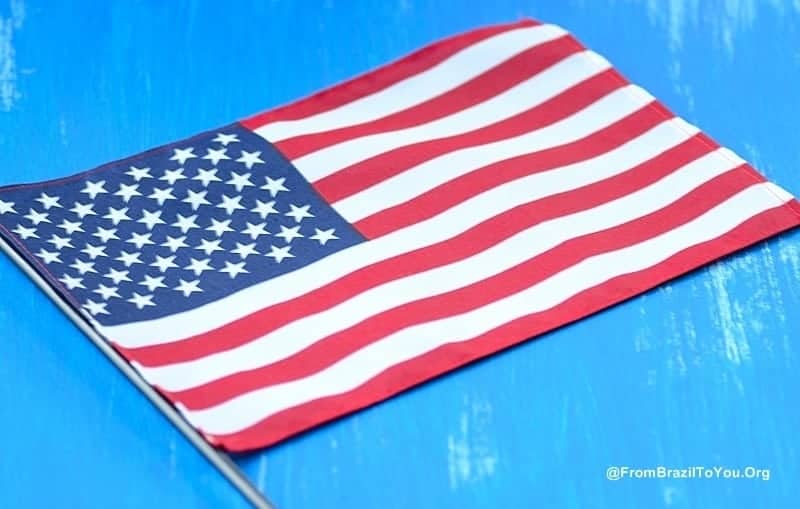 Well, I am sharing a slice of my American Chocolate Pudding Ice Cream Pie with you. 😉
Happy Independence Day, Dad America!!!
"...Gave proof through the night that our flag was still there.
Oh, say does that star-spangled banner yet wave
O'er the land of the free and the home of the brave?...
Oh! thus be it ever, when freemen shall stand
Between their loved home and the war's desolation!
Blest with victory and peace, may the heav'n rescued land
Praise the Power that hath made and preserved us a nation.
Then conquer we must, when our cause it is just,
And this be our motto: "In God is our trust."
And the star-spangled banner in triumph shall wave
O'er the land of the free and the home of the brave!"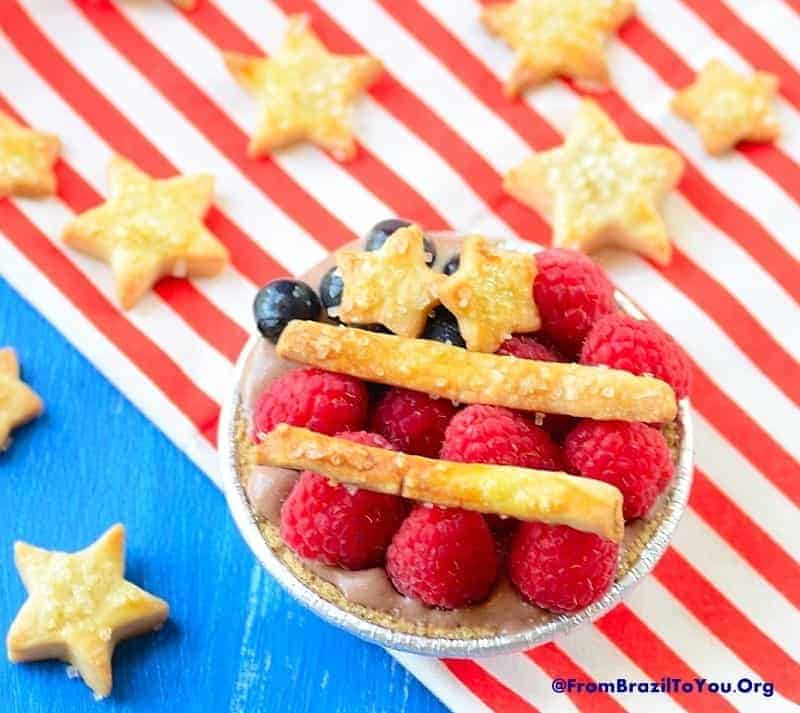 Chocolate Pudding Ice Cream Pie
Effortless, creamy, and delicious frozen chocolate pudding ice cream pie recipe. A must-have on hot, busy summer days!
Ingredients
For the pies:

1-⅓

cups

vanilla ice cream

melted (I used my favorite: Blue Bell Homemade Vanilla Ice Cream)

1

package instant chocolate pudding mix

3.4 ounces

6

mini graham cracker pie crusts

Blueberries and raspberries

optional

Whipped cream

optional

For decoration:

optional

1

ready-to-fill pie crust

thawed, 9-in

1

large egg

slightly beaten

Sanding or coarse crystal sugar
Instructions
In a large bowl, whisk melted ice cream and pudding mix for 2 minutes. Pour into graham cracker crusts.

Freeze chocolate pudding ice cream pies for at least 8 hours or until firm. Garnish top of the mini pies with berries and whipped cream if desired -- and serve!!! ; or decorate according to the instructions below.

To decorate pies (optional): Roll out thawed pie crust over a floured surface. With a pastry wheel or sharp knife, cut about several ¼-in.-wide strips (about 3 for each mini pie). The length of the stripes will be about 3 inches long. With a cookie cutter, cut 2 mini stars for each pie from remainder of the crust.

Brush strips and stars with beaten egg; sprinkle with sanding sugar.

Preheat oven to 400°F. Line one or more baking sheet with parchment paper. Arrange stripes and stars on the baking sheet (s) and bake for about 8 minutes or until pastry is lightly golden brown. Place on wire rack and cool completely. Decorate top of the frozen chocolate pudding ice cream pies with both the berries and pastry. Serve immediately!
** Nutrition labels on easyanddelish.com are for educational purposes only. This info is provided as a courtesy and is only an estimate, since the nutrition content of recipes can vary based on ingredient brand or source, portion sizes, recipe changes/variations, and other factors. We suggest making your own calculations using your preferred calculator, based on which ingredients you use, or consulting with a registered dietitian to determine nutritional values more precisely.
Please note that health-focused and diet information provided on easyanddelish.com is for educational purposes and does not constitute medical advice, nor is it intended to diagnose, treat, cure, or prevent disease. Consult with your doctor or other qualified health professional prior to initiating any significant change in your diet or exercise regimen, or for any other issue necessitating medical advice.
DID YOU MAKE THIS RECIPE?
Comment and rate the recipe. Also follow us on Pinterest at @easyanddelish for more delish recipes.