I am tired yet happy, for two main reasons. First, I had a great time this past Friday teaching a successful Brazilian cooking class at Central Market Cooking School in San Antonio, Texas as part of the Passaporte Brasil Festival.... This is my third class there!!! The menu for the evening included Tapioca Couscous with Garlic Shrimp and Mango Coulis (appetizer), Coconut Risotto (side dish), Tilapia with Passion Fruit Sauce and Toasted Sesame Seeds (main dish), and a Vanilla Bean Bread Pudding with Guava-Port Sauce (dessert). Although all of the dishes were plated by the sous chefs, I developed all the recipes and taught the class. It was so thrilling to see many familiar faces (returning students), and several new ones as well... And of course it is such an honor to have a chance to share my country, culture, and the one-of-a-kind food from the place that I call home in Brazil: the Northeastern region -- more specifically Pernambuco state. I loved seeing the curiosity in their eyes, the smiles on their faces, and the clean plates after every single course of our meal. I am not forgetting our recipe for today: Chocolate-strawberry slump! Here it comes...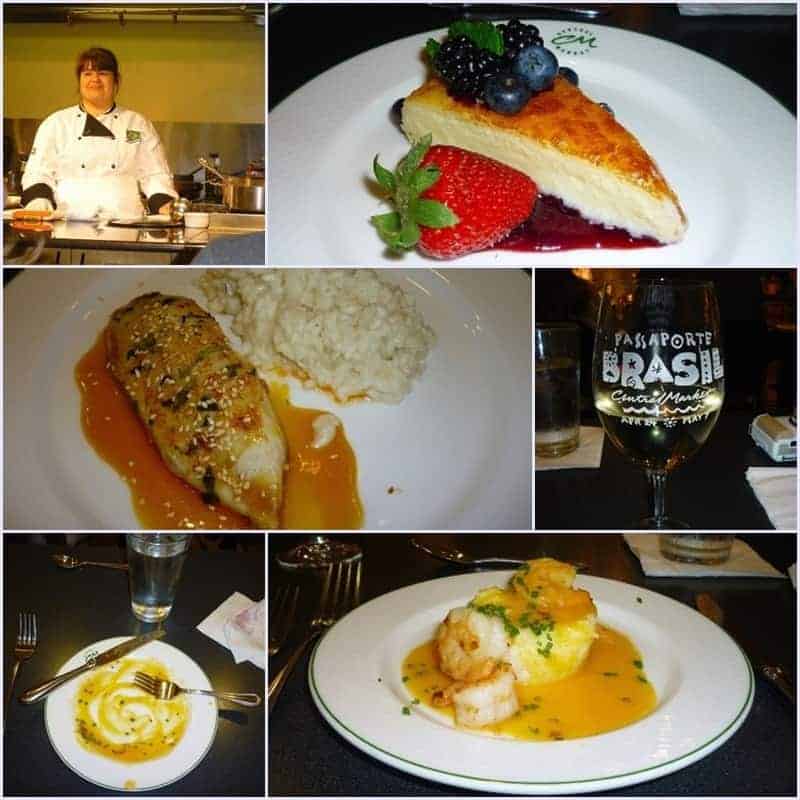 Second, this month I started participating in a very nice Chocolate Party held once a month by Roxana's Home Baking. Our recipe for today, Chocolate-Strawberry Slump, is a kissing cousin of fruit cobbler. It was crafted specifically to fit the sweet menu of this wonderful party where we celebrate the infamous and decadent chocolate. Our secret ingredient for the month? Strawberries!!!! Yummm... Just thinking about it sets my heart racing. 🙂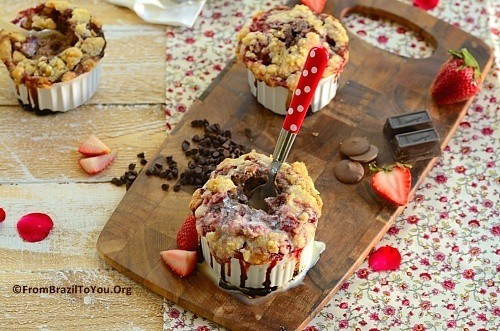 Well, I do hope you try my chocolate-strawberry slump and many of the other chocolate-strawberry desserts from our sweet party.
Wishing you a very happy week!
xx
Chocolate-Strawberry Slump
Yield: 4 servings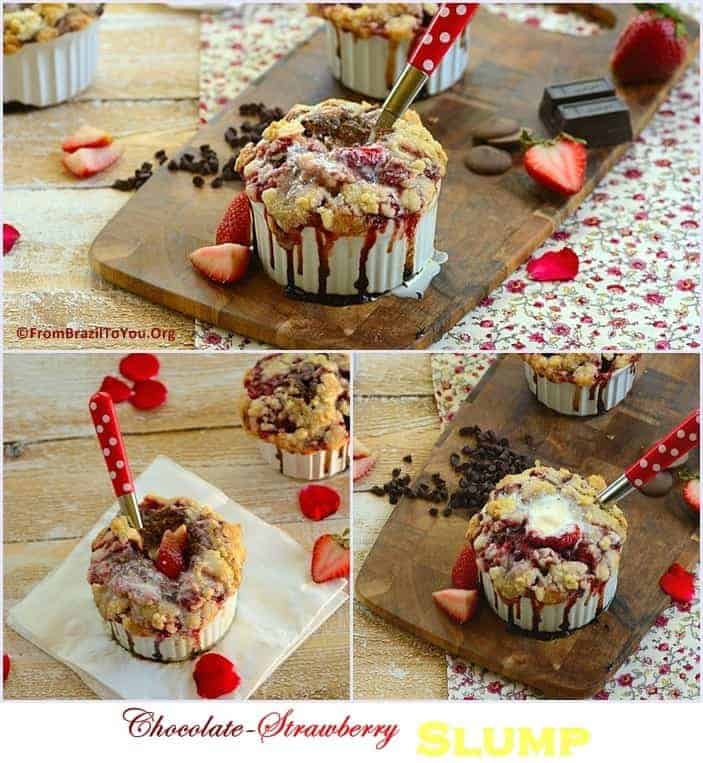 Ingredients:
1 cup plus 2 tablespoons all-purpose flour
½ cup plus 4 tablespoons sugar
1 tablespoon unsalted butter, cut into cubes, chilled, plus 4 tablespoons melted and more for greasing
¼ teaspoon baking powder
3 tablespoons cocoa powder
⅛ teaspoon salt
¼ cup dry white wine
½ teaspoon pure vanilla extract
1 large egg, at room temperature
8 ounces (227 g) fresh or frozen and thawed strawberries, chopped
Vanilla ice cream, for serving
Directions:
1. To make crumb topping: In a food processor, combine 2 tablespoons of flour, 2 tablespoons of sugar, and 1 tablespoon of chilled cubed butter and process until mixture acquires a texture of coarse bread crumbs, about 10 seconds. Refrigerate for 30 minutes.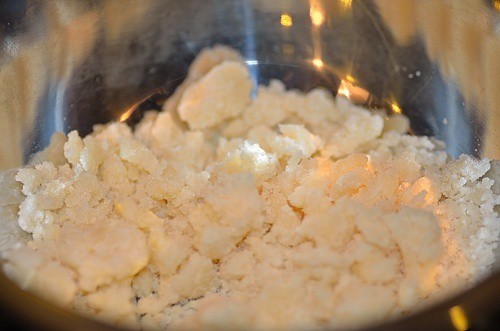 2. Heat oven to 350°F (about 180°C). Grease four ( 6 oz.) ramekins with butter and dust with flour; reserve.
3. In a medium bowl, whisk together remaining 1 cup flour, baking powder, cocoa powder, and salt; reserve.
4. In a large measuring cup, whisk together 4 tablespoons of melted butter and wine; set aside.
5. In a large bowl, whisk together the remaining ½ cup-plus-2 tablespoons of sugar, vanilla, and the egg until pale and thick (about 2 minutes); then, whisk in wine/butter mixture to egg until smooth. Whisk in flour mixture until just combined.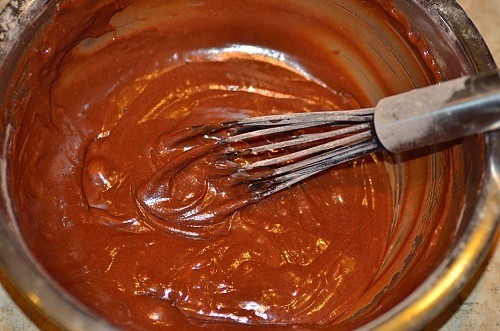 6. Split batter between the four ramekins and top each with the chopped strawberries.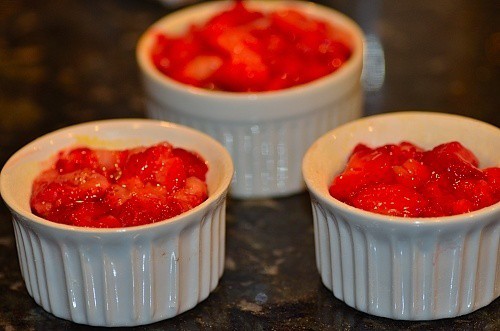 7. Sprinkle reserved crumb topping evenly over the strawberries.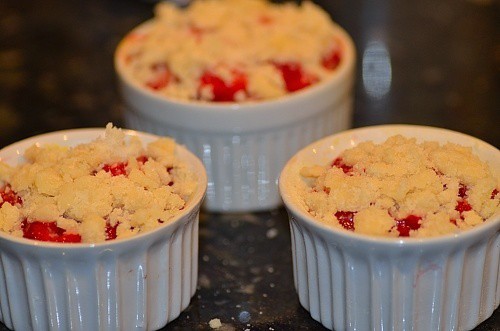 8. Place ramekins on a baking sheet lined with parchment paper and bake for about 50 minutes or until golden brown and bubbly. Transfer to a rack and let cool for 10-15 minutes.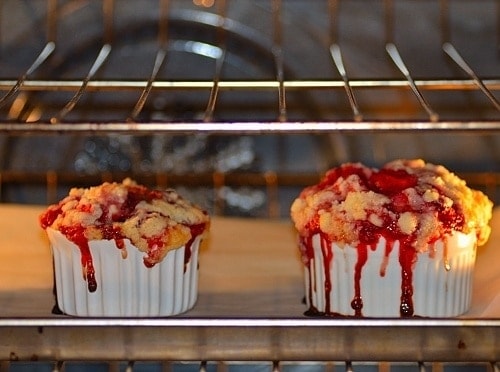 Serve chocolate-strawberry slumps with scoops of vanilla ice cream on top.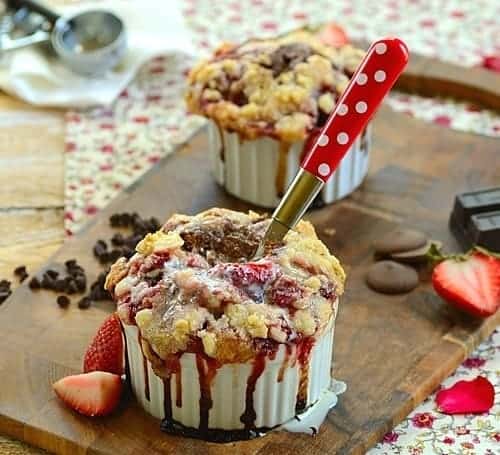 Note: This recipe was adapted from Blackberry Slump featured in Saveur Magazine.
You might also enjoy: