Fun, decadent, soft, Easy Birds Nest Cookies will be our Easter treat this year!!! They are also one of the treats for our Chocolate Party hosted by Roxana's Home Baking this month.
I must say that I initially intended to make a chocolate roll cake with coconut brigadeiro filling. But when I was rolling the cake, disaster struck!!! The cake broke apart, and there was no way that I could present it here, deformed, for these two special occasions. At first, I felt like fainting... Then, the furious chef took over me in such a way that I was about to smash the cake against a wall. I know, I know...Poor cake! But then at that moment, something somewhat unusual happened. I backed off, took a deep breath, and decided to go with the flow. And you know what? My family and I took care of the entire roll within one day. 🙂
Since there was a bit of extra batter, I transformed into the chocolate cookies that you see here. Next I topped the chocolate cookies with a quick coconut icing, sprinkled them with coconut flakes, decorated with Cadbury eggs, and voila... Delectable, easy birds nest cookies are what we had the pleasure of munching on for the next few days.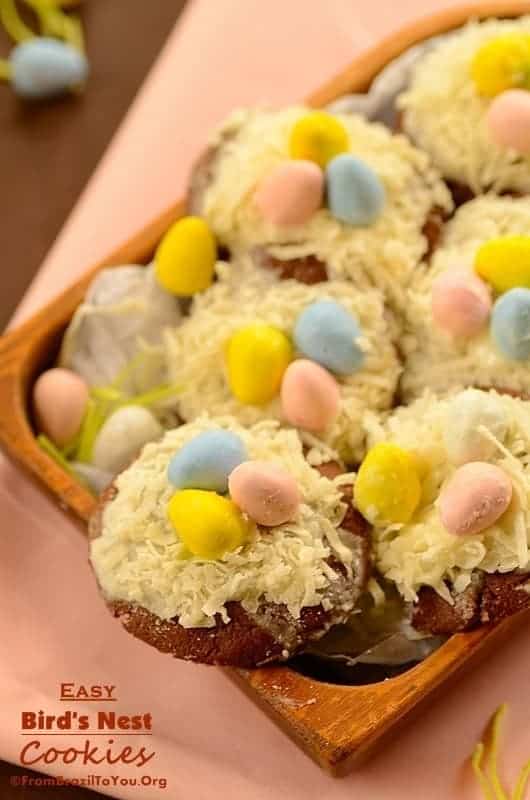 Oh... and they are fun to decorate, too. They make a great cooking project for children, to serve as Easter treats. Perhaps you may still have fixed in your mind our Easter Chocolate Cake from last year, a favorite of many...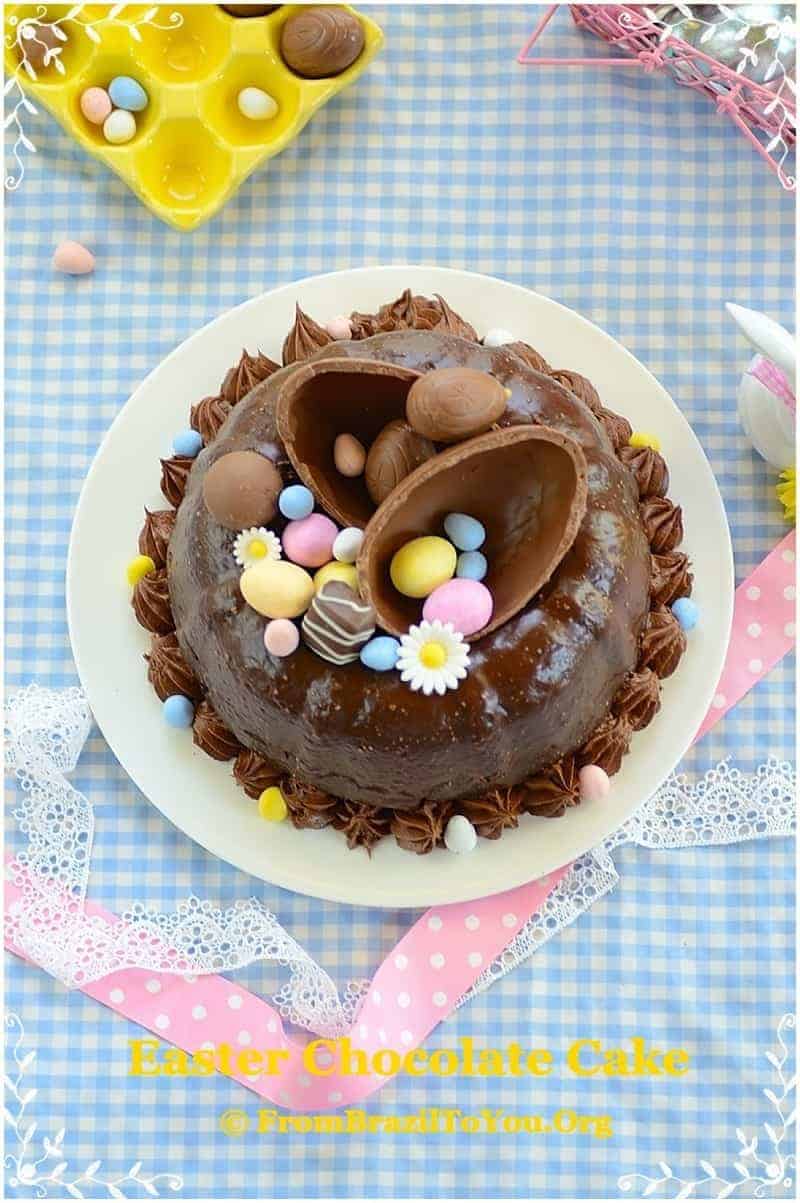 But for now, enjoy our birds nest cookies!!!
JOIN THE CONVERSATION!
What do you usually do when disaster strikes in the kitchen? Which recipe(s) have you transformed into something novel?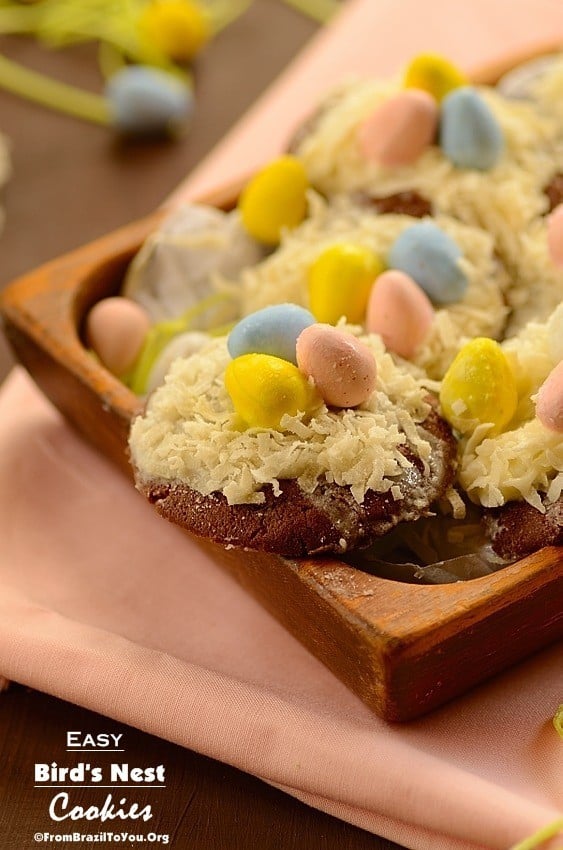 Easy Bird's Nest Cookies
Fun, decadent, soft, and easy Bird's Nest Cookies...A great Easter cooking project for children!
Ingredients
For the Bird's Nest Cookie Dough:

½

cup

unsalted butter

softened, or 1 stick

⅔

cup

white granulated sugar

2

large eggs

at room temperature

1

cup

all-purpose flour

3 - 4

tablespoons

baking cocoa powder

½

teaspoon

pure vanilla extract

For the Bird's Nest Cookie Topping:

1

cup

powdered sugar

2

tablespoons

coconut milk

Sweetened Shredded coconut

Cadbury mini eggs
Instructions
To prepare the cookie dough:

Preheat oven to 180°C/350°F. Grease/Spray a large baking sheet with non-stick cooking spray. Set aside.

In the electric mixer with a paddle attachment, cream butter and sugar until fluffy. Add one egg at a time, beating well after each addition, until just incorporated into the dough. Add both the flour and the cocoa powder, beating only until mixture is homogeneous. Stir in the vanilla.

Scoop dough with a cookie scoop and drop over the greased baking sheet, spacing at 2 inch (5 cm) intervals. Bake for 8 to 10 minutes. Transfer baking sheet to a rack and let cookies rest for about 3 to 5 minutes or until they can be handled without breaking apart.

Meanwhile,

prepare the topping

. In a small bowl, whisk in the sugar and coconut milk together until smooth. Spread the icing on top of each of the slightly warm cookies in a circular motion, sparing the edges. Let rest for 3 to 5 minutes. Dip each cookie, icing-side down, into shredded coconut, or simply place a mound of shredded coconut on top of the cookies. Drip a bit of icing on the center of the cookies to serve as glue for the mini eggs, and decorate with 3 mini eggs. Enjoy!
** Nutrition labels on easyanddelish.com are for educational purposes only. This info is provided as a courtesy and is only an estimate, since the nutrition content of recipes can vary based on ingredient brand or source, portion sizes, recipe changes/variations, and other factors. We suggest making your own calculations using your preferred calculator, based on which ingredients you use, or consulting with a registered dietitian to determine nutritional values more precisely.
Please note that health-focused and diet information provided on easyanddelish.com is for educational purposes and does not constitute medical advice, nor is it intended to diagnose, treat, cure, or prevent disease. Consult with your doctor or other qualified health professional prior to initiating any significant change in your diet or exercise regimen, or for any other issue necessitating medical advice.
DID YOU MAKE THIS RECIPE?
Comment and rate the recipe. Also follow us on Pinterest at @easyanddelish for more delish recipes.
Enjoy these birds nest cookies...Birds nest cookies are easy to make and very delicious. Birds Nest Cookies is a great Easter cooking project for children! I love this birds nest cookies recipe.