Yummm!!! Our dish today is Escondidinho de Frango (or Brazilian Chicken Shepherd's Pie), a variation of the popular Escondidinho de Carne Seca ("Sun-dried Beef Shepherd's Pie") from my native Northeast region of Brazil. A true one dish wonder or casserole that can be made from leftovers. Happy? If only you could see my beaming smile...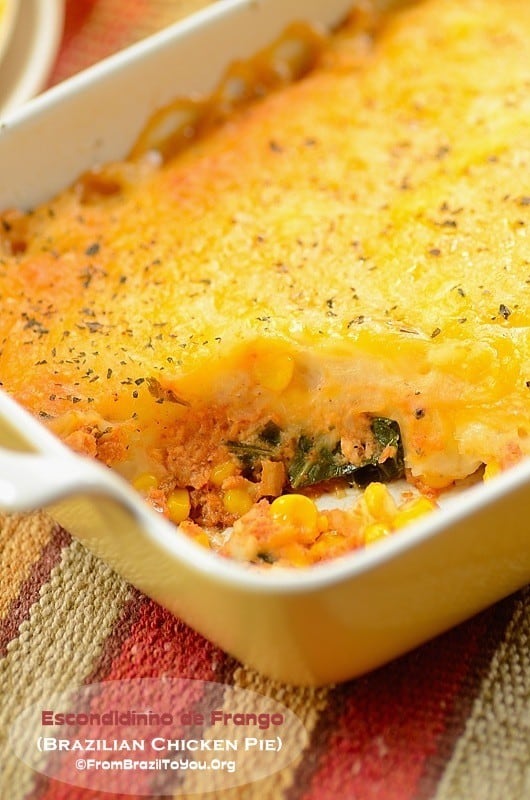 Originally, escondidinho (pronounced es-kohn-jee-JEEN-yoo or es-kohn-dee-DEEN-yoo, depending on the region of Brazil) was made from carne seca (sun-dried beef) topped with mashed cassava and cheese (queijo de coalho). As you see, it follows the same general concept of a cottage pie, popularly known as shepherd's pie. But just as cottage pie has its many variations, so does its Brazilian fellow, escondidinho. Nowadays, escondidinho may be made from chicken, charque (a meat similar to jerked beef), shrimp, ground beef, or codfish, among other things. One has not changed though... It is always topped with mashed cassava or yuca and cheese (mostly queijo de coalho). Although halloumi cheese from Cyprus has a similar taste and texture to queijo de coalho, I adapted my escondidinho de frango to incorporate a simple melting cheese (e.g. fontina, cheddar, gouda, gruyère, asiago, etc). Similar to the cottage pie in its origins, escondidinho was a dish created by the poor and affordable to all.
Escondidinho de frango can be served by itself (one dish wonder) or accompanied by a fresh salad or steamed vegetables. It's really up to you!
I made this escondidinho de frango -- along with other dishes-- for a Brazilian friend's baby shower that I hosted at my house. I was so happy to eat it again after such a long time, as well as to see everyone's else excitement at having escondidinho de frango.
I do hope you enjoy this escondidinho de frango as much as we all did...
xx
Escondidinho de Frango (Brazilian Chicken Shepherd's Pie)
Escondidinho de frango (Brazilian chicken shepherd's pie) is a homey, comforting one dish wonder or casserole that can be made from leftovers!!!
Ingredients
For the mashed cassava/yuca:

2.2

pounds

cassava or yuca

frozen or fresh (if you prefer, use potatoes instead), 1 kg

2

tablespoons

butter

softened or melted

1 to 1-¼

heavy cream

warm, or whole milk or coconut milk

1 to 2

tablespoons

Knorr chicken flavored bouillon powder

optional

Salt and pepper to taste

2

cups

of any shredded melting cheese of your preference

(e.g. Gruyère, white cheddar, fontina, gouda, etc)

For the chicken:

6

strips

thick-cut uncooked smoked bacon

medium diced

½

large yellow onion

small diced

2

garlic cloves

minced

1-½

pounds

roasted chicken

shredded, about 700 g

1

cup

collard greens

cut into thin strips

½

cup

dry white wine

1-½

cups

tomato sauce

Salt and pepper to taste

1

cup

cooked corn kernels

¼

cup

chopped parsley or cilantro
Instructions
To prepare the mashed cassava/yuca:

If using fresh cassava or yuca, peel it first (frozen cassava, such as Goya brand, is already peeled). Then, place peeled cassava in a pot filled with cold water and let boil over high heat for about 15-20 minutes or until fork-soft. Remove from the heat, reserve about 1 cup of the water, and drain. Place cooked cassava on a cutting board and while cassava is still warm but can be handle without burning, remove the woody fiber from the center. Place warm cassava back into the pot, pour the reserved warm water on top, and mash very well using a masher. Stir in the butter, heavy cream, chicken bouillon (optional), salt and pepper to taste. Set aside. Cheese will be used later in the assembling of the dish!

Preheat oven to 350 degrees F (177 degrees C). Butter or spray (with non stick cooking spray) a 13 x 9-inch (about 33 x 23 cm) baking dish and set aside.

To prepare the chicken:

In a medium to large non stick dutch oven, cook the diced bacon over medium-high heat for about 5-6 minutes, stirring occasionally with a wooden spoon. Remove bacon from the pan with a slotted spoon, place into a bowl or plate, and set aside. In the same pan where bacon has just cooked, sweat the onion in the residual bacon fat over medium heat for about 2-3 minutes, stirring occasionally. Then, add the minced garlic and let cook for about 1 minute over medium heat. Add the shredded chicken and sauté over medium-high heat for 1-2 minutes, stirring occasionally. Add the greens and sauté for about 1 minute. Add the wine and let almost evaporate. Stir in the tomato sauce, the reserved cooked bacon, and salt and pepper to taste. Let cook uncovered over medium heat for 3-4 minutes. Remove from the heat, stir in the cooked corn kernels, and the chopped parsley or cilantro. Set aside.

To assemble the escondidinho de frango (chicken pie):

Spoon chicken mixture in one single layer into the greased baking dish. Layer mashed cassava/yuca on top of the chicken layer. Finish by sprinkling shredded cheese on top of the mashed cassava/yuca, distributing uniformly. Cover tightly with a sheet of aluminum foil (Please, make sure that the foil does not touch the cheese or grease the inner part of the foil with cooking spray so cheese won't stick to the foil). Bake for 30-40 minutes. Serve escondidinho de frango warm by itself or accompanied by a fresh salad or steamed vegetables. Enjoy!!!
Recipe Notes
There is more than one way to make escondidinho de frango (or Brazilian chicken pie). This is my version which takes corn and collard greens in it.
** Nutrition labels on easyanddelish.com are for educational purposes only. This info is provided as a courtesy and is only an estimate, since the nutrition content of recipes can vary based on ingredient brand or source, portion sizes, recipe changes/variations, and other factors. We suggest making your own calculations using your preferred calculator, based on which ingredients you use, or consulting with a registered dietitian to determine nutritional values more precisely.
Please note that health-focused and diet information provided on easyanddelish.com is for educational purposes and does not constitute medical advice, nor is it intended to diagnose, treat, cure, or prevent disease. Consult with your doctor or other qualified health professional prior to initiating any significant change in your diet or exercise regimen, or for any other issue necessitating medical advice.
DID YOU MAKE THIS RECIPE?
Comment and rate the recipe. Also follow us on Pinterest at @easyanddelish for more delish recipes.
Escondidinho de frango is a delicious casserole made from chicken, mashed cassava/yuca, and cheese...Escondid