Healthy Breakfast on the Go is the latest Brazilian thing! Just like Americans and many other people in the world, Brazilians are getting busier and busier. Many cannot afford to sit down and eat breakfast before heading off to work. Because of our crazy traffic, many have to leave home earlier and earlier. Our breakfast on the go is a complete meal stored in a jar that requires no cooking at all, and can be prepared the night before and refrigerated, making it easy to transport to work or any other place. It can also be eaten at lunch time, if desired.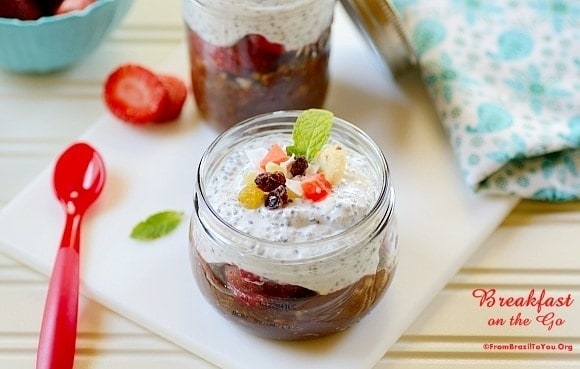 It is a meal for starting off the day energized! Our healthy breakfast on the go consists of 3 layers of pure yuminess: Mashed banana mixed with unsweetened cocoa powder, nuts, and uncoooked rolled oats makes up the first layer, followed by a second layer of strawberry slices. The third and final layer consists of a mixture of Greek yogurt mixed with chia seeds and a hint of honey. To make it prettier, you can garnish with dried fruits. As you can see, our breakfast on the go is loaded with fibers, proteins, vitamins and antioxidants... If this is not healthy and fulfilling, then I don't know what healthy is...
You can customize your breakfast or lunch according to your diet and needs. You can try this and many other versions combining oats, granola, quinoa, cooked tapioca, peanut butter, nuts, seeds such as chia, pepitas and sunflower, fruits both fresh and dried, and high protein, low sugar yogurts (and if you are sensitive to dairy, soy yogurt for example). You can also store in a jar or lunch box salads made from whole grains, legumes, vegetables, fruits, nuts, and seeds to take along with you. All that you will need is a refrigerator to store it.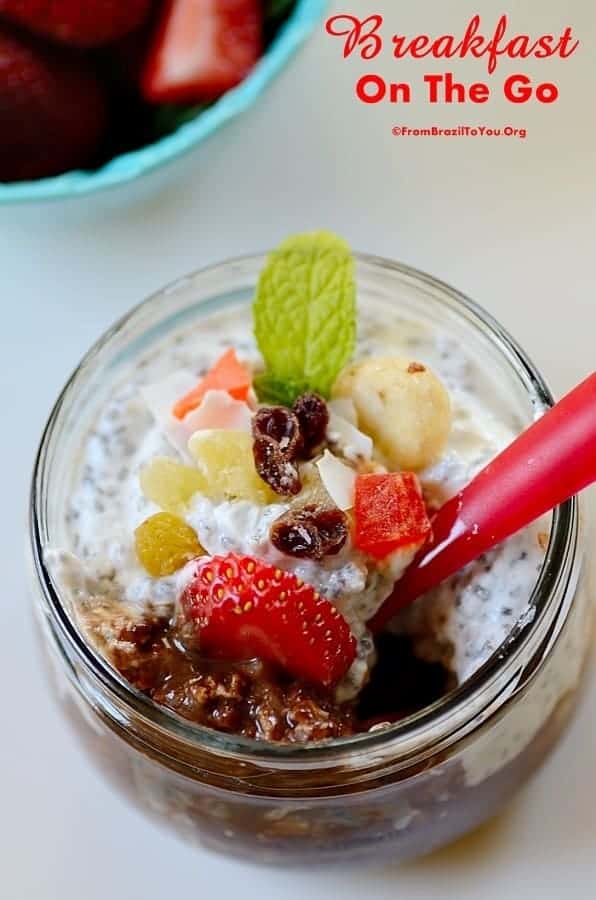 Another advantage is you will be taking with you just the right sized portion, avoiding overeating and excessive snacking.
Try it and fall in love! Your waistline will certainly thank you...
xx
Healthy Breakfast on the Go
Our Breakfast on the Go is a healthy and quick meal stored in a jar that can be easily transported to work or any other place. It requires NO cooking and is also great for a quick lunch.
Ingredients
For the 1st layer:

2

medium bananas

1

tablespoon

unsweetened cocoa powder

3

tablespoons

uncooked rolled oats or granola

2

tablespoons

chopped cashew nuts or other nut of your choice

For the second layer:

4

large fresh strawberries

sliced

For the 3rd layer:

½

cup

plain Greek yogurt

1-2

teaspoons

honey

2

tablespoons

chia seeds

For garnishing:

1-2

tablespoons

of your favorite dried fruit mix

I used tropical dried fruit mix
Instructions
In a plate or bowl, mash the banana with a fork and mix it with cocoa powder, oats or granola, and nuts until obtaining a homogeneous mixture. Divide amount and place into 2 sterilized jars.

Place strawberry slices on top of the banana layer.

In a separate bowl, mix yogurt with honey and chia seeds, and then place on top of the strawberries. Garnish with the dried fruit mix.

Place the lids on and keep refrigerated for up to 2 days. It can be transported to work and other places, and eaten chilled either for breakfast or for lunch.
** Nutrition labels on easyanddelish.com are for educational purposes only. This info is provided as a courtesy and is only an estimate, since the nutrition content of recipes can vary based on ingredient brand or source, portion sizes, recipe changes/variations, and other factors. We suggest making your own calculations using your preferred calculator, based on which ingredients you use, or consulting with a registered dietitian to determine nutritional values more precisely.
Please note that health-focused and diet information provided on easyanddelish.com is for educational purposes and does not constitute medical advice, nor is it intended to diagnose, treat, cure, or prevent disease. Consult with your doctor or other qualified health professional prior to initiating any significant change in your diet or exercise regimen, or for any other issue necessitating medical advice.
DID YOU MAKE THIS RECIPE?
Comment and rate the recipe. Also follow us on Pinterest at @easyanddelish for more delish recipes.
link