Recipe for the most delicious Nut-Free Baklava ever, made from phyllo dough, dried apricots, dates or figs, and golden raisins.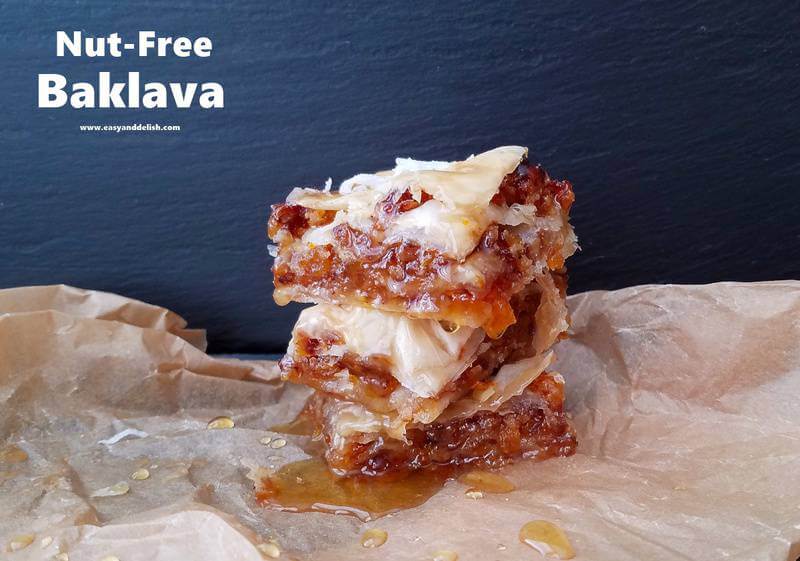 What's your favorite Middle Eastern pastry? Mine is baklava! Yep — a sweet pastry made with layers of phyllo dough, traditionally filled with chopped nuts, and soaked in a syrup containing honey, rosewater, or orange flower water.
Ours, however, is a nut-free baklava. Are you allergic to nuts? No problem! You will be able to enjoy ours without fear.
Never tried a nut-free version version of baklava? Go for it. This is the best nut-free baklava ever… In fact, the best that I have ever tasted so far — and I have tried many.
I call it 'ours' because it is being published on our blog. But the recipe actually is Lauren's.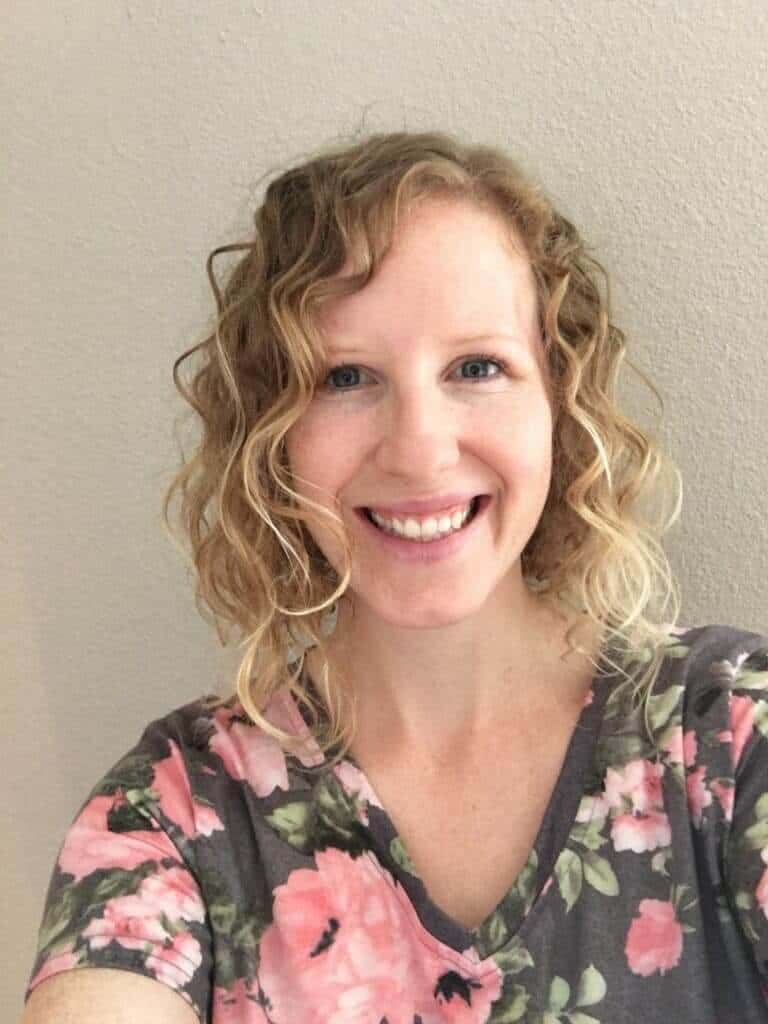 I met her for the first time at a bake sale organized by my friend Kirsten Bates. The event was held to benefit those affected by Hurricane Harvey, and half of the money was donated to Coastal Bend Food Bank and the other half to Houston Food Bank.
Lauren, along with other generous ladies, brought many baked goodies to a city park. Cookies, cupcakes, cinnamon rolls, donuts, and sweet popcorn among many other treats — including the infamous homemade nut-free baklava we are featuring today.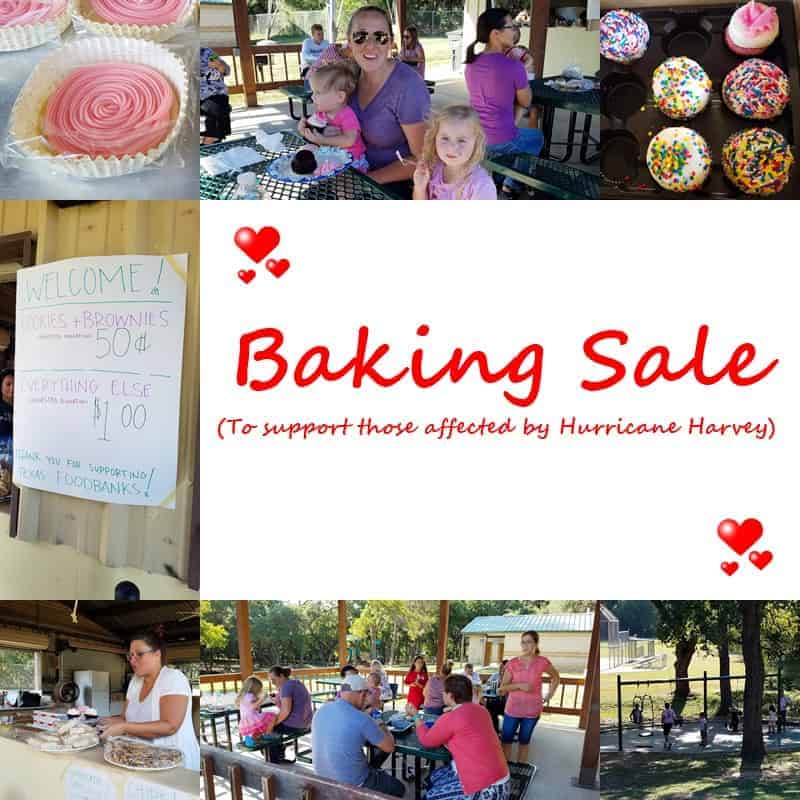 I am not kidding… After the first bite of that baklava, I bought almost all of the rest that they had left. Each bite seemed like a delectable new discovery. I brought all of them home to share with my husband and children — but shamelessly, I ate most of them. 😉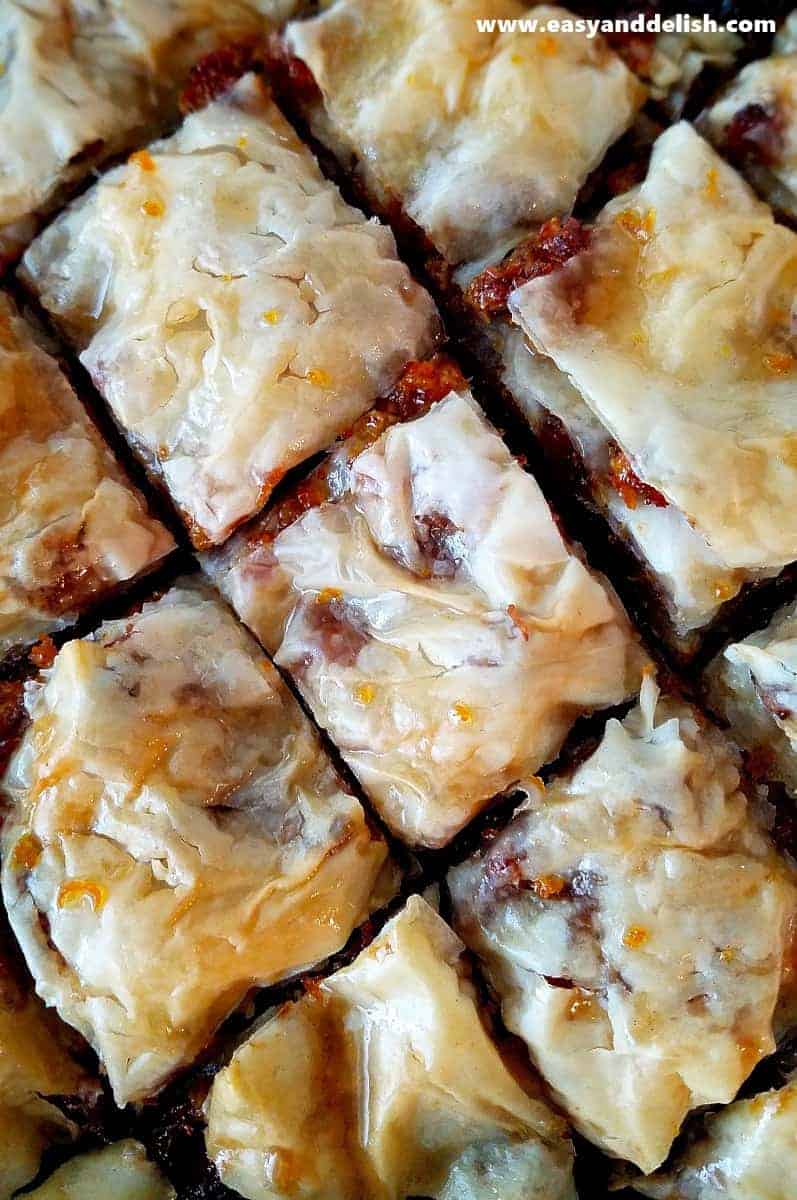 I simply could not stop eating them. This thing is ADDICTIVE!
I loved the baklava so much that I asked Lauren for the recipe. She was kind enough not only to share the recipe with me, but also to make a batch specially for me. Needless to say, Lauren became my new best friend! 🙂
Is it complicated to make? No!
Nut-Free Baklava
All we have to do is butter and fold in half a sheet of phyllo pastry dough, press into a glass baking pan, sprinkle a mixture of shredded coconut (replace it with dried dates or figs for a nut-free treat), dried apricots, and golden raisins on top and repeat the process with remaining pastry sheets.
Cut into 16 diamond shaped pieces, bake, and then pour syrup on top to soak.
And there you have it. Any time you want to drink tea or coffee (with or without our homemade caramel pumpkin spice coffee creamer), pair it with this super delish nut-free baklava.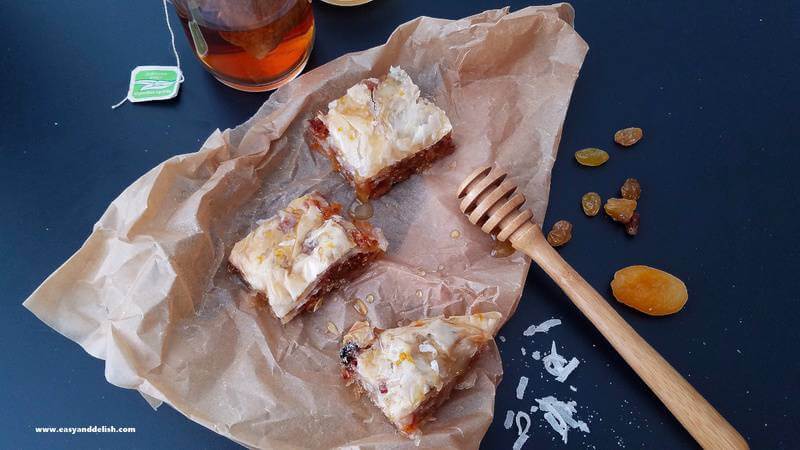 I hope you have been enjoy the baking season, with all the goodies and the warm, comforting flavors that it has to offer.
See ya!
TO PIN TILL YOU DROP:

The Most Delicious Nut-Free Baklava
Recipe for the most delicious Nut-Free Baklava ever, made from phyllo dough, dried apricots, dried dates or figs, and golden raisins.
Ingredients
For the Baklava:
1

cup

shredded coconut

For a nut-free version of Lauren's recipe, replace coconut with dried dates or dried figs (same amount)

3/4

cup

dried apricots

3/4

cup

golden raisins (or currants)

1/4

cup

caster sugar (granulated would work too)

1/2

teaspoon

ground cinnamon

16

sheets

phyllo dough pastry, thawed in the refrigerator

200

grams

unsalted butter, melted (about 8 Tbsp)
For the Syrup:
1

tablespoon

honey

1/2

teaspoon

ground cinnamon

1

teaspoon

finely grated orange

1

cup

sugar
Instructions
Preheat oven to 400 degrees F. Grease a 10 x 7-inch glass pan (double recipe for a 13 x 9-inch).

Place coconut (or dried dates or dried figs), apricot and raisins in a food processor. Add sugar and cinnamon. Process until finely chopped. Mixture will be clumpy.

Place pastry on clean work surface. Cover with a damp towel to prevent from drying out. Brush 1 sheet pastry with melted butter. Fold in half. Press into pan. Trim excess dough from edges to fit the side of the pan. Sprinkle 1/2 cup dried fruit mixture evenly on top of pastry.

Brush another sheet of pastry with melted butter and fold in half. Press into pan on top of the first layer. Sprinkle with 2 Tablespoons of the fried fruit mixture. Repeat process this process with remaining pastry sheets, butter, and 2 Tablespoons of the dried fruit mixture per layer, trimming edges as you go to fit the side of the pan.

End layering with a pastry sheet buttered and folded in half. Using a sharp knife, carefully cut the stacked layers of pastry into thirds lengthwise. Then cut crosswise diagonally to make 16 diamond-shaped pieces.

Bake for 30 minutes. Reduce heat to 325 F for about 10-15 more minutes or until golden brown. Note: fruit mixture will darken faster than pastry.

While baklava is baking, make syrup. Place honey, cinnamon, orange rind, sugar and 2/3 cup cold water in sauce pan over medium-heat. Cook, stirring, until sugar dissolves. Bring to a boil. Reduce heat to medium. Simmer for 5 minutes or until syrup is slightly thickened. Pour hot syrup over hot baklava. Cool in pan. Serve and enjoy!
Nutrition
Calories:
282
kcal
|
Carbohydrates:
37
g
|
Protein:
2
g
|
Fat:
15
g
|
Saturated Fat:
10
g
|
Polyunsaturated Fat:
1
g
|
Monounsaturated Fat:
3
g
|
Cholesterol:
27
mg
|
Sodium:
99
mg
|
Potassium:
171
mg
|
Fiber:
2
g
|
Sugar:
24
g
|
Vitamin A:
533
IU
|
Vitamin C:
1
mg
|
Calcium:
15
mg
|
Iron:
1
mg
** Nutrition labels on easyanddelish.com are for educational purposes only. This info is provided as a courtesy and is only an estimate, since the nutrition content of recipes can vary based on ingredient brand or source, portion sizes, recipe changes/variations, and other factors. We suggest making your own calculations using your preferred calculator, based on which ingredients you use, or consulting with a registered dietitian to determine nutritional values more precisely.
Please note that health-focused and diet information provided on easyanddelish.com is for educational purposes and does not constitute medical advice, nor is it intended to diagnose, treat, cure, or prevent disease. Consult with your doctor or other qualified health professional prior to initiating any significant change in your diet or exercise regimen, or for any other issue necessitating medical advice.
DID YOU MAKE THIS RECIPE?
Comment and rate the recipe. Also follow us on Pinterest at @easyanddelish for more delish recipes.