I can almost hear someone saying: "Are you kidding me? Does such a thing as Fio de Ovos (or Portuguese Eggs Threads) really exist?"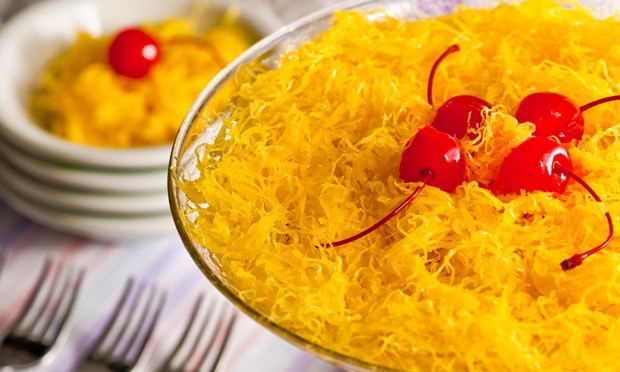 If you are that someone, I recommend not only to continue reading this post but also to give them a try. Then you will understand how different and delicious they are, and how decorative they can be. Amazing is the right word to describe fio de ovos, in my opinion.
Fio de ovos or Eggs threads are not a Brazilian invention (unfortunately), although they are extensively used in several of our dishes. They are from the mother land, Portugal.
Fio de ovos are so versatile that they can be used as a topping for ice cream and flan, utilized to decorate a multiplicity of different cakes (especially chocolate ones), or served with Brazilian-style Turkey (Peru à Brasileira, traditionally eaten at Christmas) and other meats such as ham and fish.
In Brazil, fio de ovos are so popular that they can be purchased ready-made in supermarkets and bakeries, although these are more expensive because of the labor involved.
The recipe is simple indeed... But the labor is intensive since only a few threads can be dropped into the syrup at a time. No problem! We love cooking.
Fio de Ovos (Portuguese Eggs Threads)
Fio de Ovos or Portuguese Eggs Threads are cooked egg threads in syrup that can be used as a topping for cakes, an accompaniment for turkey and other meats, or decorative garnish for either savory or sweet dishes.
Ingredients
15

egg yolks

3

cups

sugar

1 - 1 /2

cup

water

1

tablespoon

vanilla extract
Instructions
Separate the egg yolks from the whites and strain only the yolks through a fine strainer to remove the clear yolk sac. place the egg yolks in a plastic bag and reserve. Cut a very tiny hole right before cooking them in syrup.

Make a thin sugar syrup by mixing together the sugar with the water in a large, flat frying pan over medium-high heat. Bring to a boil and reduce it to medium-low. Add the vanilla extract and swirl pan in order to vanilla mix in vanilla. Let sugar dissolve completely, approximately 3 minutes. Instead of vanilla extract, a cinnamon stick or other spices can be used to flavor the syrup (boil them for 5 minutes); however, before starting to drop the yolks into the syrup, remove the cinnamon stick/spices.

Slowly drizzle the yolks into the sugar syrup in circles, dropping only a few strands at a time from a height of about 2 inches or 5 cm. The threads must be long [at least 5 inches (13 cm) or more]. When they have fully cooked (about 1 minute per batch), they turn a bright yellow-gold. Remove them from the sugar syrup with a slotted spoon and placed into medium to large sized sieve. Hand-sprinkle ice cold water over them and let drain. Then, untangle them from one another with two long toothpicks. If covered with wax paper in an airtight container, the fio de ovos or eggs threads will keep for up 3 days in the fridge or 15 days in the freezer.

Fios de ovos can be used as a topping, an accompaniment, or decorative garnish for either savory or sweet dishes.

NOTE: Alternatively, an empty and cleaned-out condensed milk can may be used to drop the yolks into the syrup instead of the plastic bag with a tiny hole. In that case, make 5 holes in the bottom of the can with a thin nail. Another thing: Fill the can by ⅓ full at a time to avoid making too many threads at once.
** Nutrition labels on easyanddelish.com are for educational purposes only. This info is provided as a courtesy and is only an estimate, since the nutrition content of recipes can vary based on ingredient brand or source, portion sizes, recipe changes/variations, and other factors. We suggest making your own calculations using your preferred calculator, based on which ingredients you use, or consulting with a registered dietitian to determine nutritional values more precisely.
Please note that health-focused and diet information provided on easyanddelish.com is for educational purposes and does not constitute medical advice, nor is it intended to diagnose, treat, cure, or prevent disease. Consult with your doctor or other qualified health professional prior to initiating any significant change in your diet or exercise regimen, or for any other issue necessitating medical advice.
DID YOU MAKE THIS RECIPE?
Comment and rate the recipe. Also follow us on Pinterest at @easyanddelish for more delish recipes.
Credits:
* Image of fio de ovos from TV Aparecida -- Google Search
* Image of Chocolate Cake decorated with eggs threads from the blog Cinco Quartos de Laranja.