Roasted Sweet Potato Creme Brulee -- an easy, creamy, and flavorful Autumn dessert to dazzle both the eyes and palate. It is love at first spoonful!
Cravings, cravings, and more cravings... Fall hasn't even officially arrived, yet I am already craving after everything that reminds me of it... especially this Roasted Sweet Potato Creme Brulee. 😉
Yes, I have already baked apple desserts, and prepared some hearty savory dishes, but today it's time to eat something made with sweet potatoes. No, it won't be a pie or a casserole. Today it's time to make something unusual... a crème brûlée.
Forget about it! I am not talking just any ordinary crème brûlée, but a Roasted Sweet Potato Creme Brulee. 🙂  I don't think it can get any better than that, can it?
This recipe has been partially adapted from Chef Emeril Lagasse's Pumpkin Creme Brulee.
Certainly I put my own personal touches into this recipe in a way that I can truly say it became my own. I also roasted the potatoes instead of simply boiling them, preserving their natural sweetness.
In this recipe several different cooking techiniques are employed (e.g roasting, simmering, steeping, tempering, bain-marie, sugar caramelization, broiling) ... However, don't feel intimidated at all!!! Each one of them is well-explained in the recipe, and easy to follow. Learning is always a gratifying experience, don't you think? Besides, each spoonful of this extraordinary custard is worthy every minute spent in preparing it.
Enjoy our Roasted Sweet Potato Creme Brulee!
xx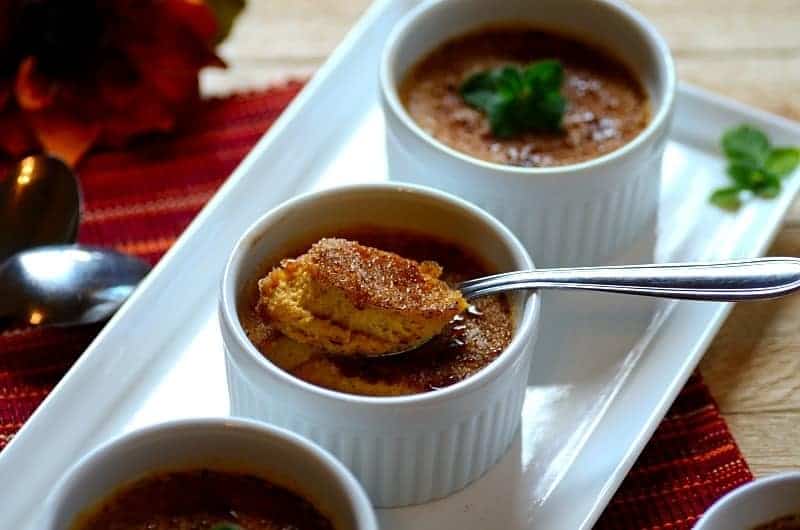 Roasted Sweet Potato Creme Brulee
Ingredients
2

cups

heavy whipping cream

1

in

vanilla bean pod

splithalf lengthwise and its seeds scraped out and reserved

½

cup

light brown sugar

½

cup

sugar

plus 6-8 teaspoons (1 teaspoon per custard-filled ramekin )

8

large egg yolks

1

teaspoon

pure vanilla extract

1

tablespoon

and ½ teaspoon ground cinnamon

divided

⅛

teaspoon

grated nutmeg

1

cup

mashed roasted sweet potatoes

recipe follows
Instructions
Preheat the oven to 325º F (about 160º C).

In a medium saucepan over medium-high heat, simmer the cream, the split vanilla bean pod and its seeds, brown sugar, and ½ cup granulated sugar, stirring constantly to dissolve the sugar. Remove from the heat as soon as bubbles start forming and gently rising to the surface of the cream mixture. Cover and allow to sit for 20 minutes (steeping technique). Remove the vanilla bean pod.

In a medium bowl, whisk the egg yolks until foamy and lightly discolored. Slowly add ¾ cup of the hot cream mixture, whisking constantly. Then, add the egg mixture to the remaining hot cream, and whisk (this technique is called tempering). Add the vanilla extract, ½ teaspoon cinnamon, nutmeg, and roasted sweet potatoes, and whisk until smooth. Strain through a fine mesh strainer into a large bowl. Divide among 6 - 8 (½-cup) ramekins or custard cups.

Arrange the ramekins or custard cups in the metal baking pan. Add carefully enough hot water to come halfway up the sides of the ramekins. Bake in this bain-marie until the custards are just set in the center but still trembling, about 50 minutes. Remove from the oven, let cool down a bit, and refrigerate until well chilled (for at least for 2 hours and up to 3 days).

Remove the crème brûlée from the refrigerator for at least 30 minutes prior to browning the sugar on top. Combine the 6-8 teaspoons of granulated sugar (1 teaspoon per ramekin) with 1 tablespoon cinnamon and a pinch of nutmeg. Sprinkle evenly each custard with 1 teaspoon of the sugar-cinnamon-nutmeg mixture on top . Using a kitchen torch, caramelize the sugar. Alternatively, you can preheat the broiler, and broil for about 1 to 2 minutes until the sugar melts and caramelizes, rotating the cups and watching closely to avoid burning. Let the crème brûlée sit for at least 5 minutes before serving. Do not brulee the dessert more than 20 minutes in advance of serving. Enjoy!

To prepare the Mashed Roasted Sweet Potatoes

, use 3 large whole sweet potatoes, scrubbed and patted dry. Preheat oven to 425º F (220º C).

Arrange potatoes in a baking pan, place pan on the middle rack of the oven, and bake for about 80 minutes or until a knife can be inserted in the center of each potato effortlessly. Remove from oven, let cool down for about 15-20 minutes, and peel carefully.

In a medium bowl, mash the potatoes well with a potato masher or fork. Reserve.

** This cooking method will preserve the natural sweetness of the potatoes which is partially wasted when the potatoes are boiled instead.
** Nutrition labels on easyanddelish.com are for educational purposes only. This info is provided as a courtesy and is only an estimate, since the nutrition content of recipes can vary based on ingredient brand or source, portion sizes, recipe changes/variations, and other factors. We suggest making your own calculations using your preferred calculator, based on which ingredients you use, or consulting with a registered dietitian to determine nutritional values more precisely.
Please note that health-focused and diet information provided on easyanddelish.com is for educational purposes and does not constitute medical advice, nor is it intended to diagnose, treat, cure, or prevent disease. Consult with your doctor or other qualified health professional prior to initiating any significant change in your diet or exercise regimen, or for any other issue necessitating medical advice.
DID YOU MAKE THIS RECIPE?
Comment and rate the recipe. Also follow us on Pinterest at @easyanddelish for more delish recipes.