An easy and delish Shrimp Gratin that can be prepared in less than 30 minutes. It makes a perfect gluten-free main dish for Easter or any time of the year!
Disclosure: This is a compensated campaign in collaboration with Society Culinaria and Cacique Inc. Thank you, friends, for supporting the brands that I work with and love.
Easter celebrations will be coming up very soon. Of course, I had to share with you this easy and delish 5-minute broiled Shrimp Gratin to brighten your table. It is comforting, flavorful, and can be prepared quickly, leaving us free to put all the other courses together.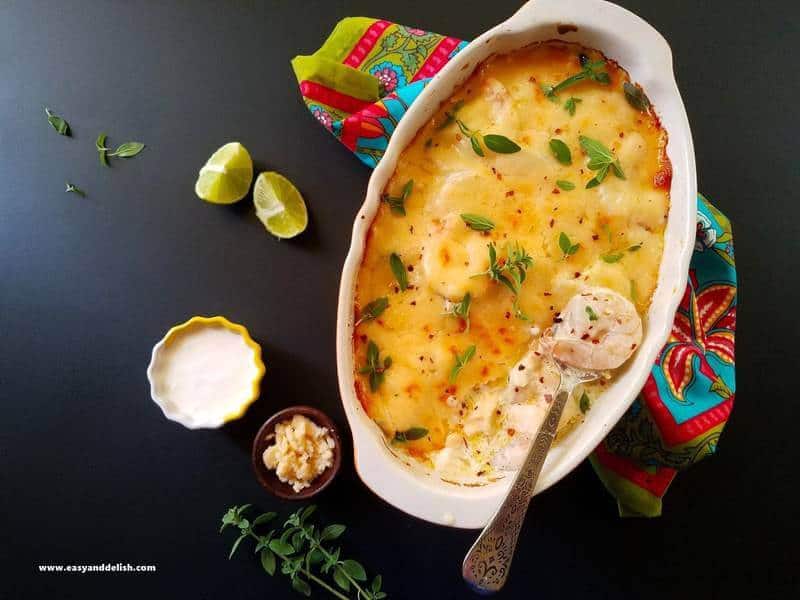 Our Shrimp Gratin is made with simple ingredients such as shrimp marinated in lime juice, fresh oregano, seasonings, onion and garlic cooked in olive oil and layered in a baking dish. But the crowning glory of the dish is a mixture of Cacique Crema Mexicana (Grade A Table Cream) and Cacique Manchego Cheese (a great semi-soft melting cheese made with cow's milk with aroma similar to a sharp cheddar), which is topped over the shrimp. The dish is then broiled in the oven for about 5 minutes or until cheese is golden. Can I hear you say 'Yummmmm'?!

Cacique has been maintaining its tradition of Mexican-style products for over 40 years, using only the finest ingredients in authentic recipes. And yes, it has remained a family-owned company dedicated to producing the highest quality, authentic products.
This yummy Shrimp Gratin is proudly prepared with two Cacique products, making a perfect gluten-free dish for any who choose to refrain from eating red meat during this Lent period… as well as a great weeknight meal for all the whole year round.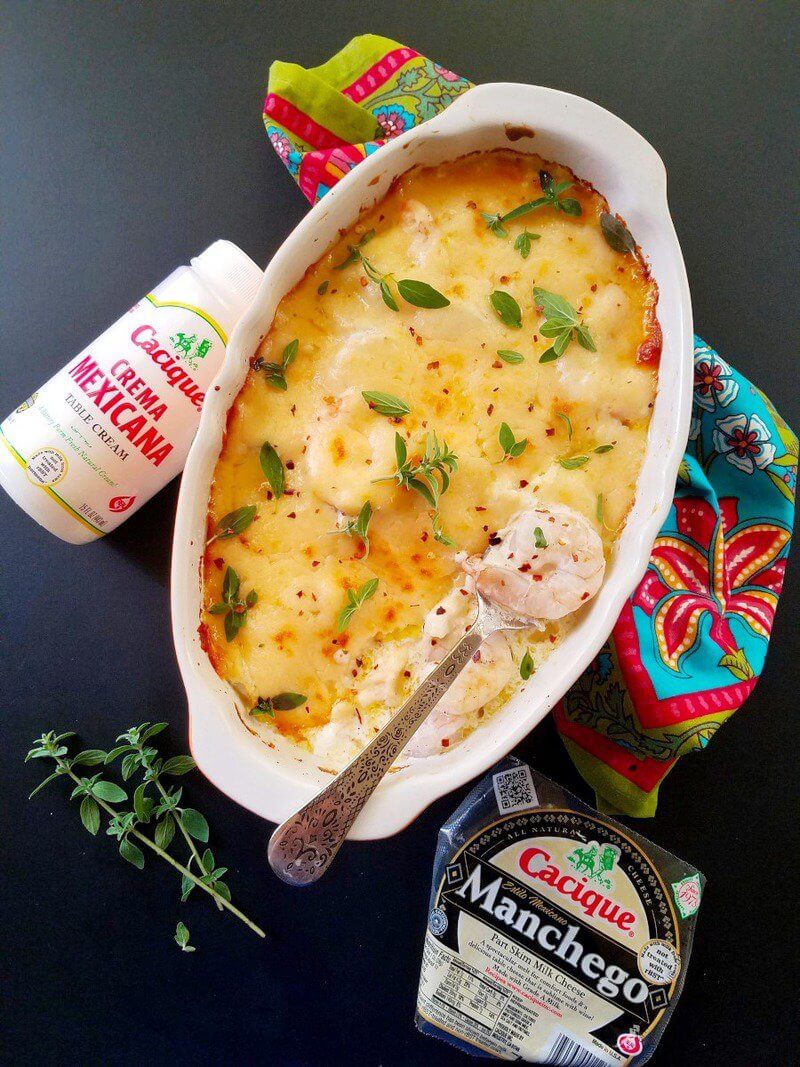 It's a dish inspired by a Brazilian super-fave of mine: Camarão aos 4 Queijos (Four Cheese Shrimp Gratin). 😉 Rice, shoestring potatoes, pasta, mashed potatoes, or steamed or roasted vegetables are just a few sides that can be served along with this amazing gratin.
And yep, yep, yep… The whole cooking process only takes about 5 minutes. That is music to my ears… and I bet to yours, too!
Free time and energy are what we all need to prepare the other courses, do the egg-hunting, and catch a breath or two! Hehe!!!
For more info about these and other Cacique products, a store locator… and of course, amazing recipe ideas, click HERE. It is Easter celebrations made easy!
I hope you enjoy our Shrimp Gratin and…
HAPPY EASTER!!!
>>>> RECIPE <<<<