Disclosure: This is a compensated campaign in collaboration with Hunt's Tomato Sauce and Latina Bloggers Connect.
As a Latina, I enjoy cooking with fresh, natural, and quality ingredients -- just like my Mom and grandmas. These Spicy Tomato Soup Shots with Mini Grilled Cheese Sandwiches-- cooked with Hunt's® Tomato Sauce and Kraft® Parmesan Cheese -- are a family favorite and will be a real sensation among guests.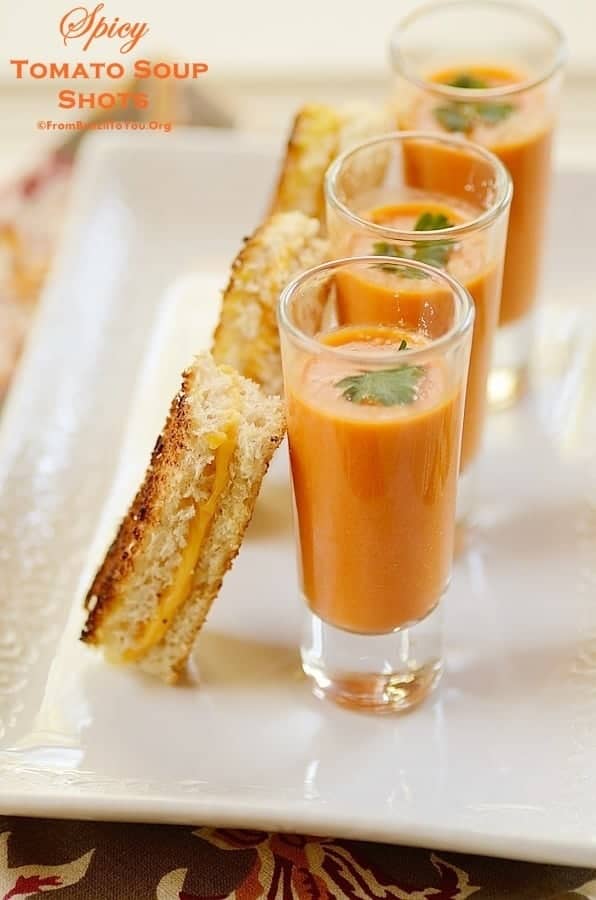 The reason why I trust Hunt's® tomato products (to prepare this dish and many others) is because they have no artificial preservatives and are 100 % natural. If you didn't know, all Hunt's® tomatoes are grown in sunny California (the state where I used to live) and canned within hours of being picked.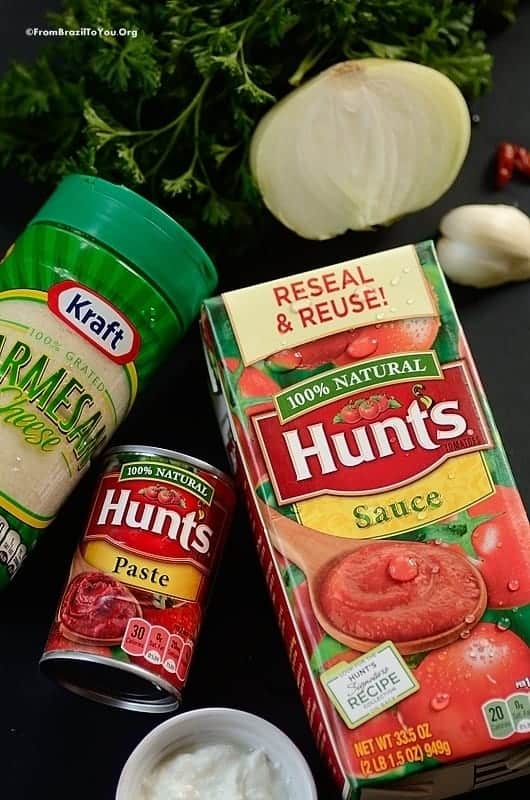 I loooove to create Latin recipes (many of which call for tomatoes and tomato products), like our spicy tomato soup shots. They are small in portion, yet full of flavor -- and can be served as a party or holiday appetizer, or as a starter to a great meal.
Talking about great meals, I am always looking for ideas to diversify my Latin table. For this reason, I also use the Hunt's® Signature Recipe Collection™, and Hunt's Kraft® Recipes available at Hunts.com. The recipes found there are easy to prepare, combining natural and nutritious ingredients.
Since October is National Tomato Month, now is the perfect time to try out any of Hunt's® Signature Recipes that will delight your family, such as Easy Chicken Parmesan, Nacho Macaroni and Cheese Bake, and Chorizo Bolognese. Mmmmmm!!! Since Hunt's has teamed up with Kraft® for a second year to create 12 new signature recipes featuring Hunt's® canned tomatoes and Kraft® Parmesan Cheese, check out those recipes as well to find meal ideas that your family will love.
Ah yes... and don't worry about those tomato sauce leftovers. Hunt's Tetra Pack packaging keeps its products fresh for longer. You only have to reseal and reuse... This can be quite handy, don't you think? Well, try Hunt's tomato sauce. its other tomato products, and easy recipes --  which will add big flavors to your table...
... And next time that you are receiving guests, serve our spicy tomato soup shots paired with mini grilled cheese sandwiches (sopa de tomate com mini sanduíches de queijo)-- or simply fill a bowl and enjoy a comforting meal, like I did!!!
xx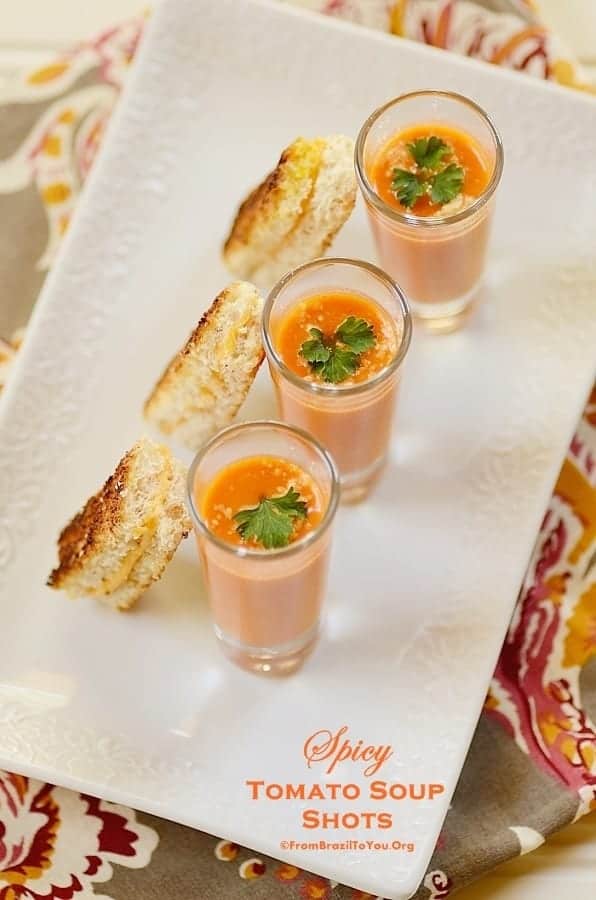 Spicy Tomato Soup Shots
Spicy tomato soup (Latin-style) is versatile since it can be served as a party appetizer in glass shots or as a main dish in bowls. It can be accompanied by grilled cheese sandwiches.
Ingredients
2

tablespoons

olive oil

½

medium yellow onion

chopped

1

tablespoon

Tablespoon finely chopped garlic

1-2

malagueta or tabasco pepper

s

2

cups

Hunt's® Tomato Sauce

or ½ carton of 33.5oz

1

teaspoon

Hunt's® Tomato Paste

2

cups

water

¼

cup

nonfat plain yogurt

1

dash

cumin

Salt to taste

Kraft® Grated Parmesan Cheese to sprinkle

A few leaves of cilantro or parsley to garnish

optional
Instructions
In a medium stainless steel saucepan, heat oil over medium heat. Sweat onion until tender, about 2 to 3 minutes. Add garlic and pepper, and cook for about 1 minute.

Add tomato sauce, tomato paste, and water; stir to combine. Reduce heat to medium-low and let simmer for approximately 15 minutes or until thickened slightly, stirring occasionally.

Remove soup from heat. Add the yogurt, the soup, cumin and salt to a blender. Blend until soup is smooth (To avoid spillage, make sure to press the lid of the blender on tightly). Pour in glass shots or bowls, sprinkle Parmesan cheese on top, and garnish with cilantro or parsley if desired. Spicy tomato soup can be accompanied by mini grilled cheese sandwiches. This recipe yields 5 (8-ounce) cups of soup.

NOTE: To make Mini Grilled Cheese Sandwiches, sprinkle Kraft® Grated Parmesan Cheese on the buttered sides of each sandwich and fill sandwich with a slice of your favorite semi-soft cheese (e.g. American cheese, Asadero, and the Brazilian Minas and Prato). Grill sandwiches in skillet until cheese melts and bread is toasty and golden brown. Slice into mini sandwiches (each standard-size sandwich can be sliced into thirds) and serve with spicy tomato soup shots.
Recipe Notes
Any tomato soup leftovers can be refrigerated up to 2 days and serve after heating for lunch or dinner in bowls.
** Nutrition labels on easyanddelish.com are for educational purposes only. This info is provided as a courtesy and is only an estimate, since the nutrition content of recipes can vary based on ingredient brand or source, portion sizes, recipe changes/variations, and other factors. We suggest making your own calculations using your preferred calculator, based on which ingredients you use, or consulting with a registered dietitian to determine nutritional values more precisely.
Please note that health-focused and diet information provided on easyanddelish.com is for educational purposes and does not constitute medical advice, nor is it intended to diagnose, treat, cure, or prevent disease. Consult with your doctor or other qualified health professional prior to initiating any significant change in your diet or exercise regimen, or for any other issue necessitating medical advice.
DID YOU MAKE THIS RECIPE?
Comment and rate the recipe. Also follow us on Pinterest at @easyanddelish for more delish recipes.