Brazilian Corn Magic Custard Cake is a mildly sweet, flan-like coffee cake easily prepared in a blender and then baked in a ring baking pan.
The June Festivals ("festas juninas") are popular Brazilian festivities that take place in June in Brazil... And we will be celebrating these cultural festivities this year with Brazilian Corn Magic Custard Cake. This delish cake with a flan-like consistency, known there as "Bolo Pega Marido de Milho" or "Bolo Engorda Marido de Milho," is prepared in the kitchen blender. Yep, basically the blender and oven do most of the work for us. 🙂 Don't believe me? Well, check it out for yourself...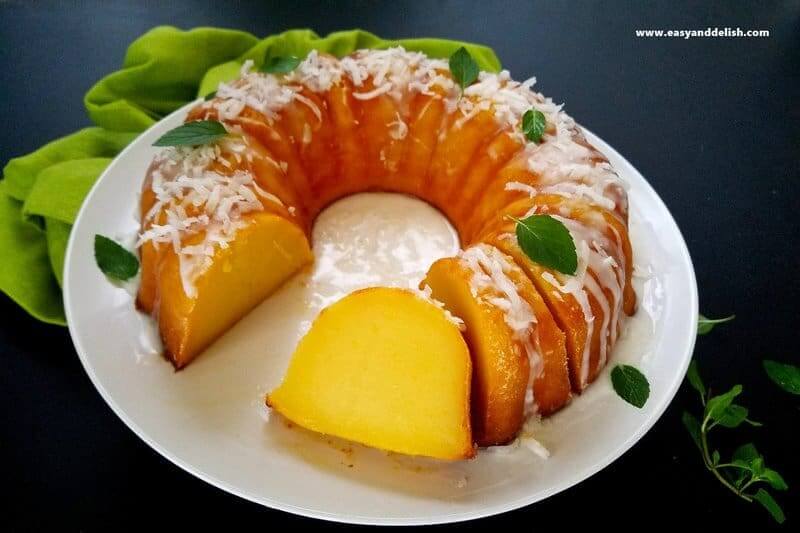 As people express their thanks to Saint John for the rain and the abundant corn harvest, a huge event space (arraial) is set up. It's brightly decorated with strings of colorful flags and paper balloons, and filled with tents or crude stalls. The festivities are all illuminated with sky lanterns, showers of fireworks, and bonfires. It is big party... for all the senses!
People dress up in typical country bumpkin outfits with straw hats, painted-on freckles, and gap-teeth, and women often sport checkered gingham dresses and pigtail braids. My kids, as you can see, are the living image of Brazilian hillbillies!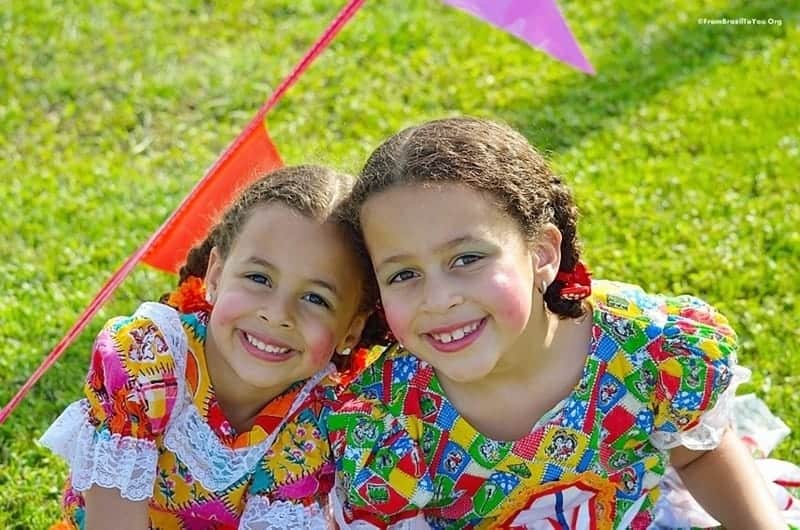 Our Brazilian Corn Magic Custard Cake is super easy to make since the ingredients are simply mixed together in a blender and then baked in a ring baking pan. As I mentioned earlier, the blender and the oven do most of the work for us. 🙂 One curiosity about this cake is that it doesn't take any baking powder, yet it still rises as it does.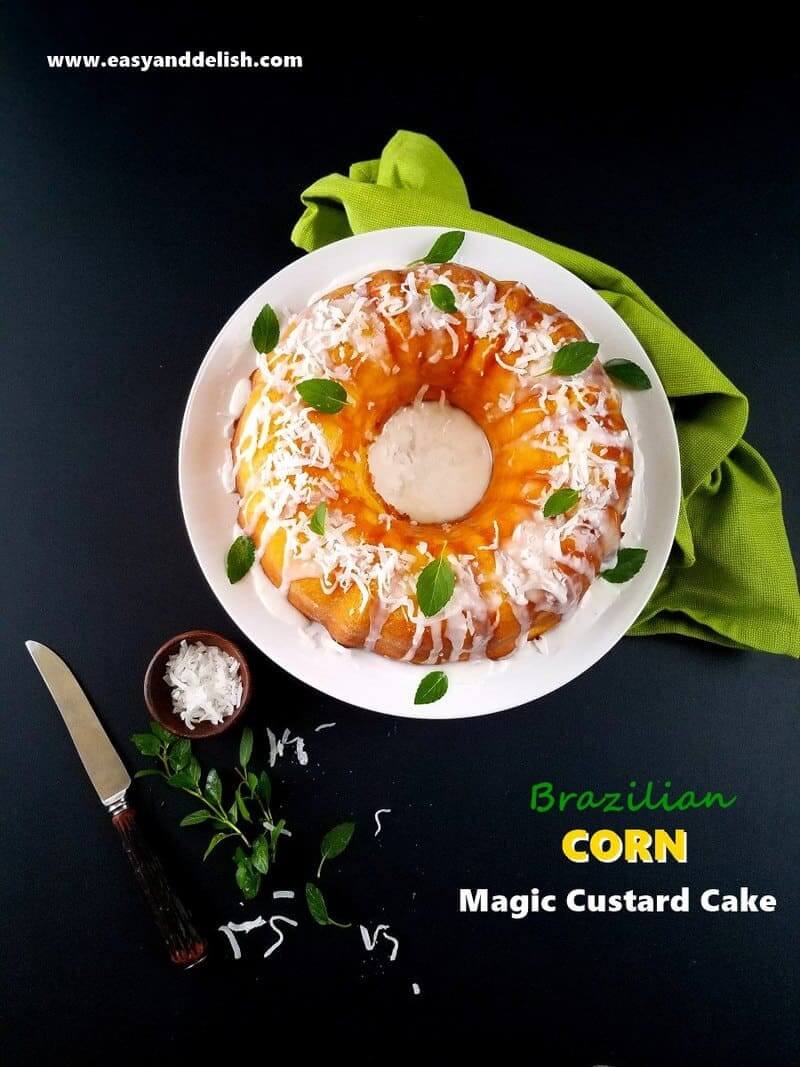 Canned coconut milk is used instead of whole milk, making a perfect pairing with corn -- a staple in Brazil.
This Brazilian Corn Magic Custard Cake is a coffee cake and ever so mildly sweet. It is perfect for serving either at breakfast or as a snack (with or without the coconut glaze), at room temperature or chilled accompanied by a cup of coffee.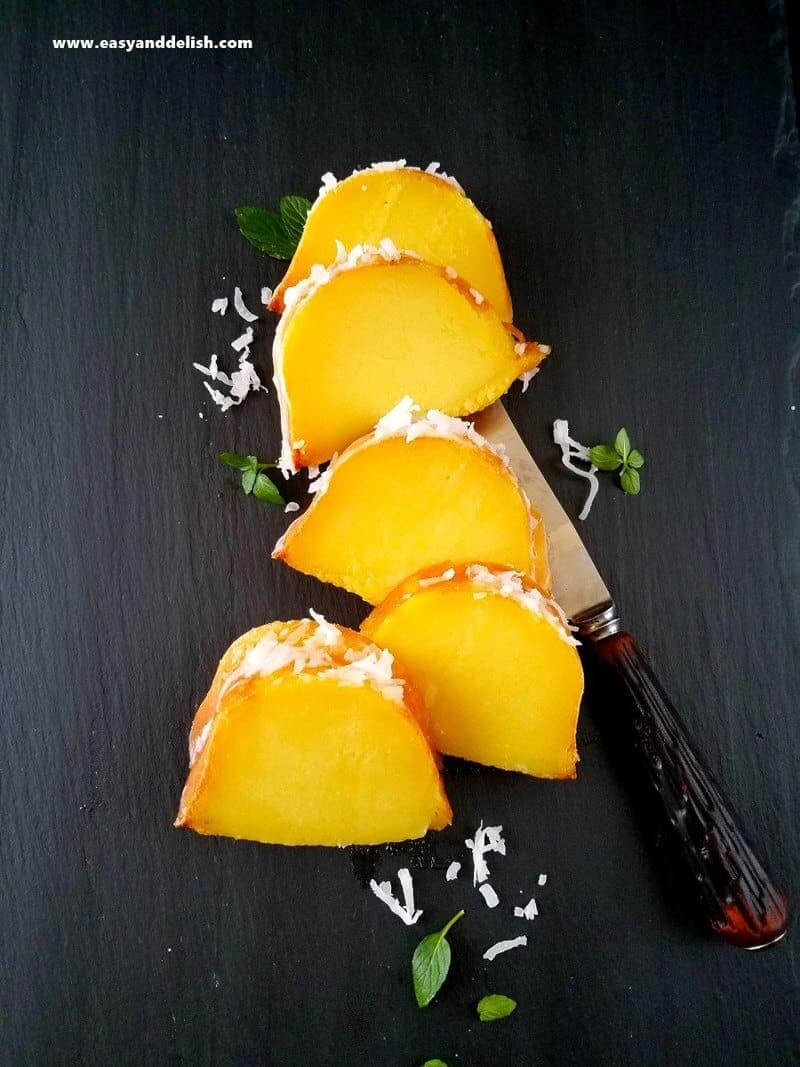 Fortunately, you don't have to be in Brazil, celebrating Festas Juninas, in order to try this Brazilian Corn Magic Custard Cake...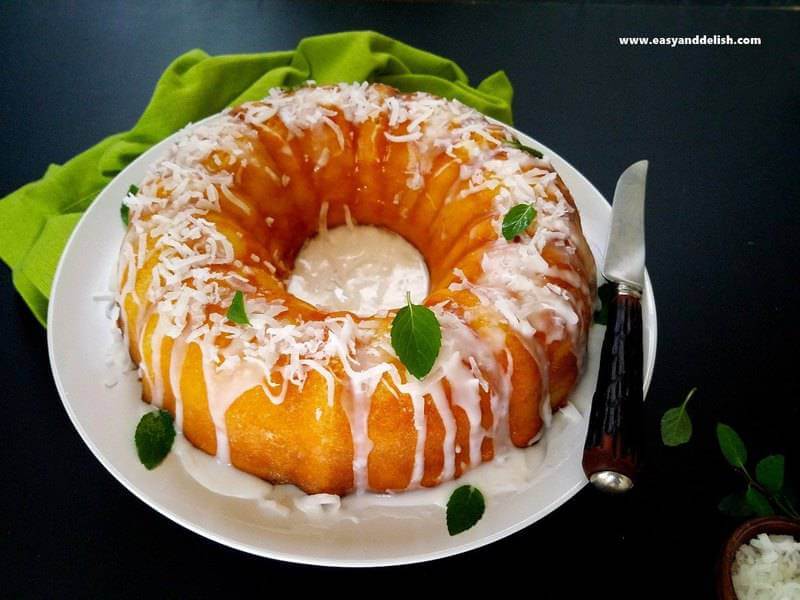 Enjoy!
TO PIN TILL YOU DROP:

Brazilian Corn Magic Custard Cake
Brazilian Corn Magic Custard Cake is a mildly sweet coffee cake easily prepared in a blender and then baked in a ring baking pan.
Ingredients
1 (15.25-ounce)

can

sweet whole kernel corn, drained

2 ⅓

cups

canned coconut milk

1(14-ounce)

can

sweetened condensed milk

1

cup

all-purpose flour

2

cups

sugar

3

large eggs at room temperature

3

Tablespoons

unsalted butter, melted

⅓

cup

powdered sugar

2

Tablespoons

canned coconut milk

¼

cup

sweetened coconut flakes
Instructions
Preheat oven to 392 degrees F (200°C). Grease and flour a 10-inch ring pan and set aside.

Blend corn and coconut milk in the blender until obtaining a creamy mixture. Strain the mixture into a bowl and reserve.

Wash blender quickly to remove corn leftovers and blend well the reserved mixture with sweetened condensed milk, flour, sugar, eggs, and butter until obtaining a homogeneous mixture. You may have to stop the blender once or twice to scrape flour down the blender walls. Make sure mixture has no lumps.

Place mixture into the prepared baking pan and bake cake for about 50-60 minutes or until a toothpick comes out mostly clean. A sheet of aluminum foil may be placed loosely on top of the pan during the last 25-30 minutes of the baking process in order to avoid excess browning.

Remove baking pan from the oven and place on a rack to cool down. You can run a knife around to help loosen the cake. Invert onto a serving plate and serve as is or with a coconut glaze.

For the coconut glaze (optional), whisk well the powdered sugar and coconut milk together until no lumps are found. Drizzle over the cake and sprinkle the coconut flakes on top. Enjoy! If desired, cover the cake and refrigerate. Chilled (and on the second day) it is even more delicious than at room temperature and on the first day.
** Nutrition labels on easyanddelish.com are for educational purposes only. This info is provided as a courtesy and is only an estimate, since the nutrition content of recipes can vary based on ingredient brand or source, portion sizes, recipe changes/variations, and other factors. We suggest making your own calculations using your preferred calculator, based on which ingredients you use, or consulting with a registered dietitian to determine nutritional values more precisely.
Please note that health-focused and diet information provided on easyanddelish.com is for educational purposes and does not constitute medical advice, nor is it intended to diagnose, treat, cure, or prevent disease. Consult with your doctor or other qualified health professional prior to initiating any significant change in your diet or exercise regimen, or for any other issue necessitating medical advice.
DID YOU MAKE THIS RECIPE?
Comment and rate the recipe. Also follow us on Pinterest at @easyanddelish for more delish recipes.